These instructions explain how to download, install, and configure the IRC chat client Colloquy in order to join the live chat during NosillaCast Live. You can also join the live chat via the web client at http://podeet.com/live if you like, but using a chat client allows you many more features.
Go to Colloquy.info to Download

Download Colloquy
The downloads page hasn't been updated since March 2014 but the application works just fine up through High Sierra in 2017. Click on the downloaded here link, or use the link below: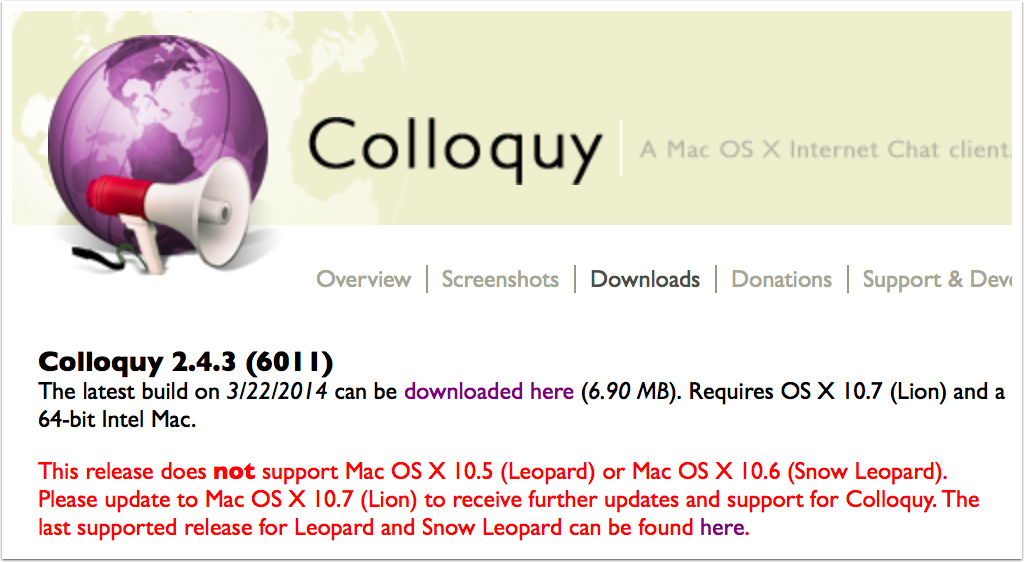 Unzip Colloquy and Move to Applications Folder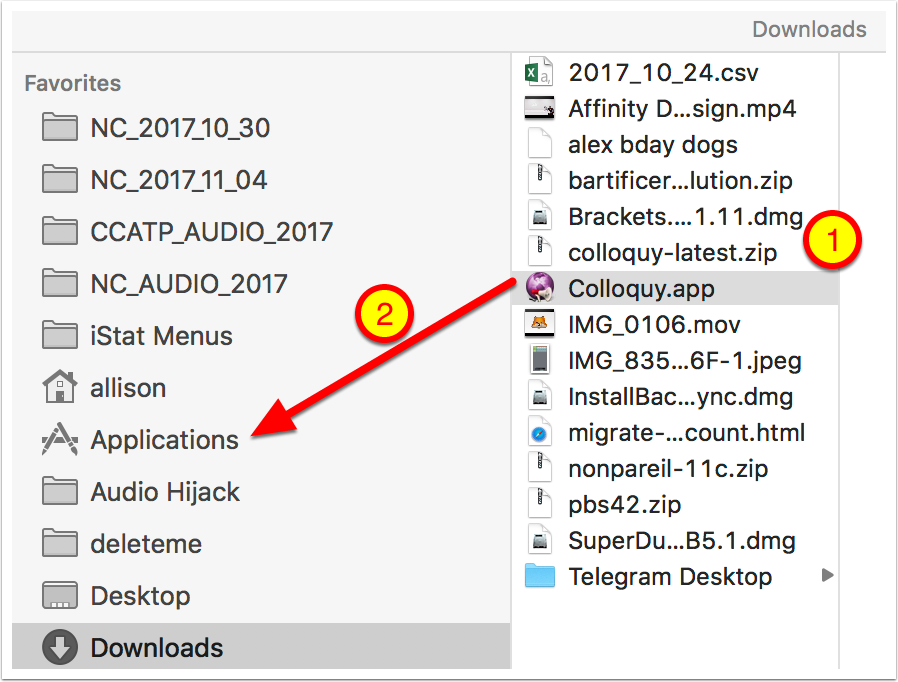 Colloquy is from an Unsigned Developer
When you open Colloquy for the first time, you will find that it's from an unsigned developer. This may be a security concern for you and if so you should turn back now and choose another client, such as the non-free Textual. Colloquy has been around a very long time and has a good reputation so for me it's not a concern.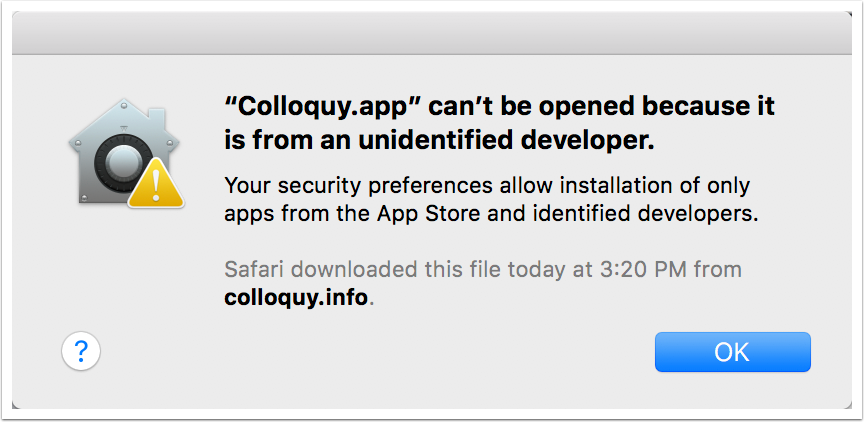 Right or Control-click to Open Colloquy
You'll get the same unidentified developer message but now you'll have an Open option.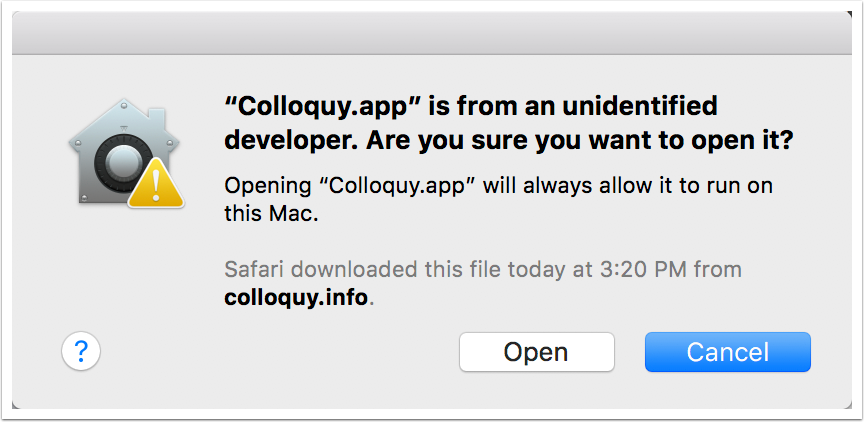 Allow Analytics to be Sent
Make a decision on whether you want to help the developer by sending analytics. Choose send or don't send.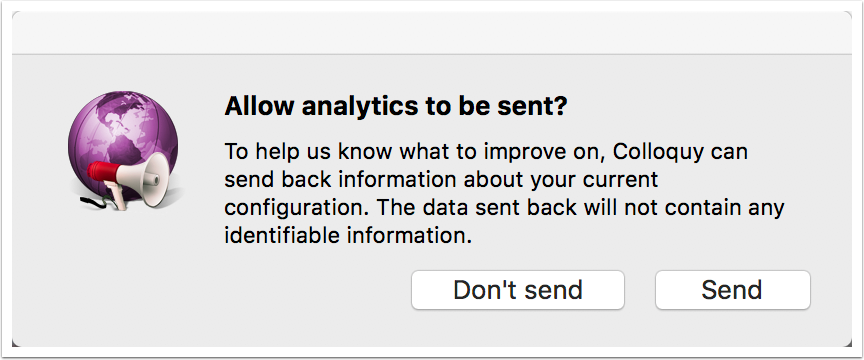 New Connection
We're finally ready to configure Colloquy specifically to enter the chat room for NosillaCast Live.
Enter. Nickname of your choosing (I'm showing podfeet as an example, don't pick that!)
Leave Server Protocol set to IRC (internal Relay Chat)
Set the Chat Server to chat.podfeet.com
Click the checkbox to Remember this Connection
Don't hit connect yet – Tap the chevron next to Details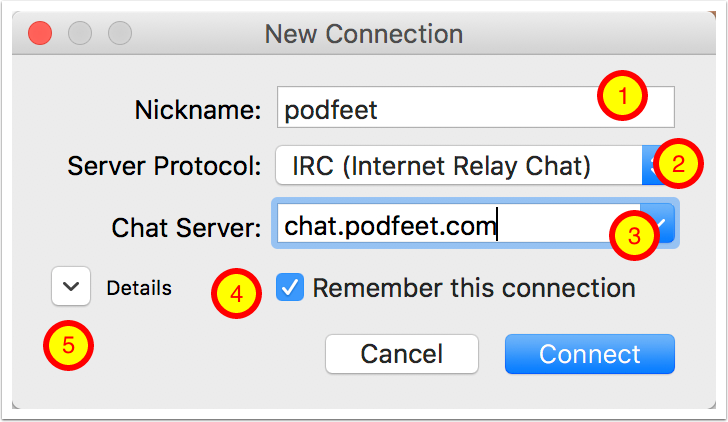 Fill in the Rest of the Details
Add a username (not really sure if you need to but I make it the same as my nickname (nicknames can be changed)
Type in your real name (not mandatory but nice for people to see who you are sometimes)
Tap the Plus button next to Join Rooms
In the field that shows up in the box, type #nosillacast. This is really important because there can be multiple rooms on the same server
NOW hit Connect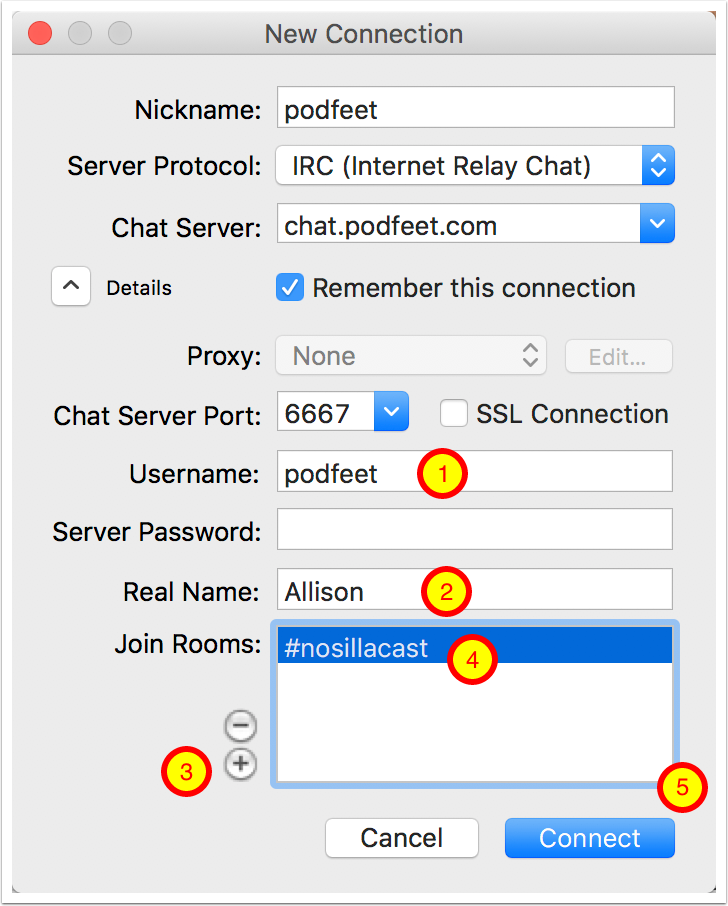 Your Connections Window
You will now see a window entitled Connections. Across the top you'll see a Disconnect button (because we already told it to connect). Select the next button over, Join Room.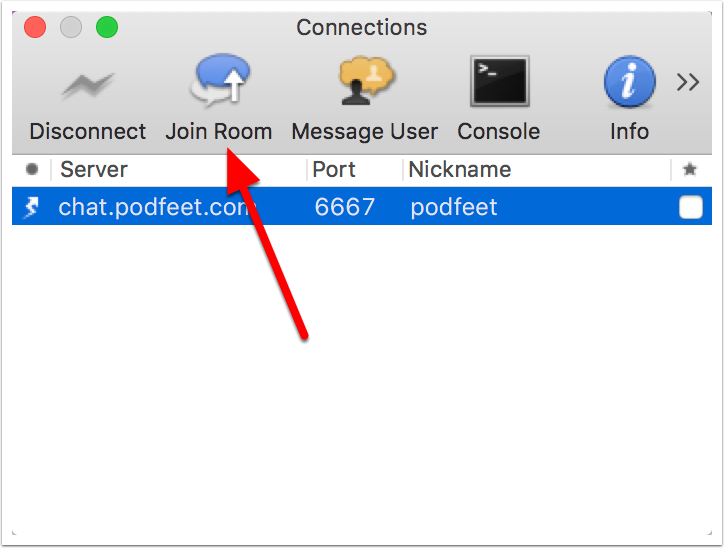 Tell Colloquy the Room (Again)
I know we already told Colloquy to join the #nosillacast room, but you need to tell it again. Then tap join. By the way, #nosillacast will be available in the pulldown in the future.

Start Chatting
You're now one of the cool kids and can chat away!
List of members of the chat room
Where you'll see chats
Where you can start typing