These instructions explain how to download, install, and configure the IRC chat client Textual in order to join the live chat during NosillaCast Live. You can also join the live chat via the web client at http://podeet.com/live if you like, but using a chat client allows you many more features.
Textual isn't free, but it's in current development and is a very robust client. You can also consider using Colloquy which is free, but hasn't been updated since 2014.
Purchase Textual from the Mac App Store
Enter Information for the NosillaCast Live Chat Room
Set destination to chat.podfeet.com
Choose a nickname (I've shown podfeet but don't use that!) You can change it while in chat later if you like.
Click the Plus button to add a new channel
Enter the Channel as #nosillacast (also know as the chat room)
It can be really handy to have Textual auto-connect to the chat room upon launch. If you use Textual for many different chats that might be annoying
Select Start Chatting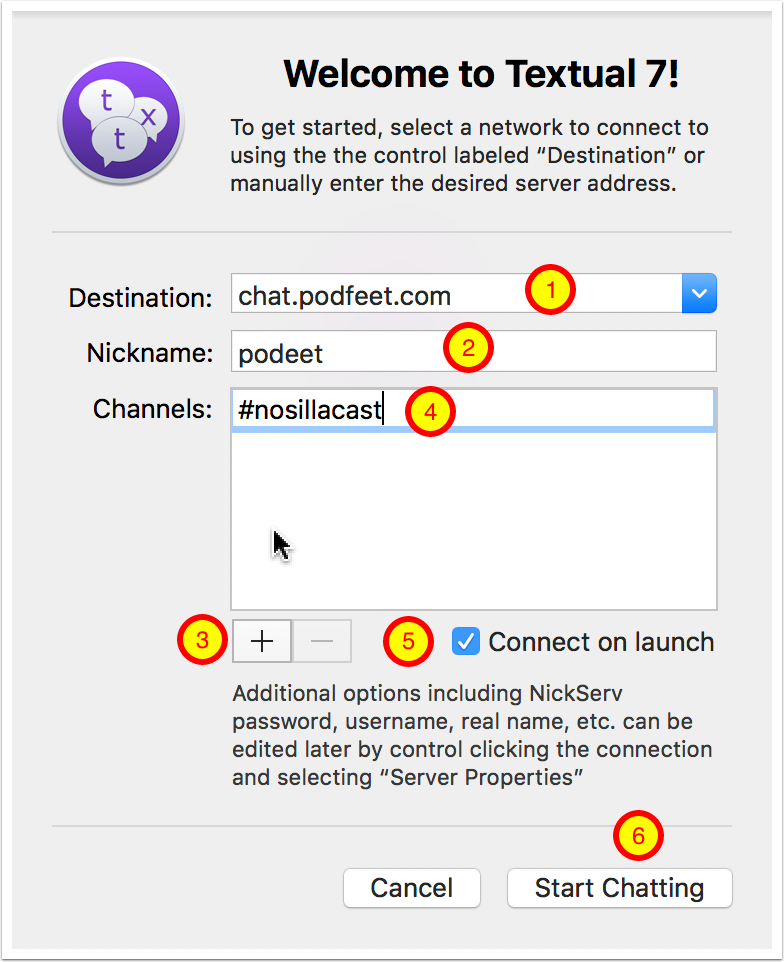 Start Chatting
It takes a few seconds to connect but eventually you'll see the window below if you click on the #nosillacast room under chat.podfeet.com.
List of members of the chat room
Where you'll see chats
Where you can start typing
Hope you'll join the friendly and enthusiastic NosillaCastaways some time soon!