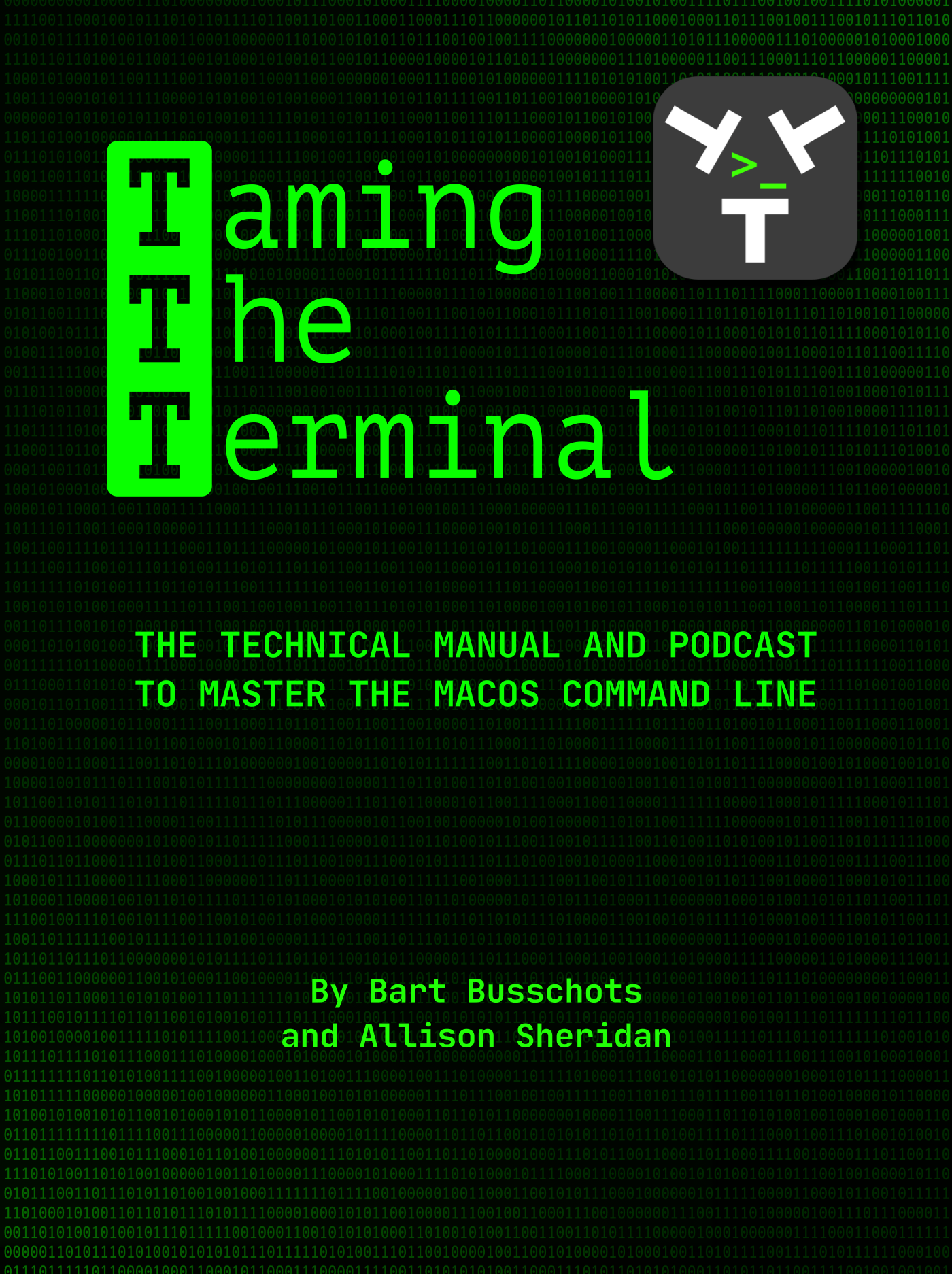 Taming the Terminal is a free and Open Source technical manual to master the macOS Terminal. The instructions apply also to Linux, and for Windows for Linux Subsystem. Taming the Terminal comes in many downloadable forms so you can get the book the way you want to read and listen to it.
If you'd like to be notified when new releases come out (new chapters but also bug fixes and new formats), follow this link to read how to subscribe via our Github repository.
All of the written content for the book was created by Bart Busschots and the embedded podcast audio in the book was created by Allison Sheridan and Bart Busschots. The production of the book was executed by Helma van der Linden. This work is licensed under a Creative Commons Attribution-NonCommercial-NoDerivatives 4.0 International License. You are free to share this work as long as you give attribution to the authors, don't use it for commercial purposes, and don't distribute derivative versions.

The open source project for Taming the Terminal is available at github.com/…
File to Download
Platform
Best For
Details
ttt.epub in Apple Book Store
iPhoneiPadMac
Best for those who want to get the book from the Apple Book Store
• Podcast audio links open in Safari (Apple won't allow HTML5 audio player in Book Store)
ttt-audio.epub
iPhoneiPadMac
Best for those who want to be able to play the podcast audio from inside the book
• Just like Apple Book Store version but includes embedded HTML5 audio player
ttt-us.pdf
Any device
Best for those who want to read in PDF
Formatted 8.5″x11″
• Includes QR code to scan with mobile device to play the podcast audio, or a link to open in a browser window
ttt.pdf
Any device
Best for those who want to read in PDF
Formatted A4
• Includes QR code to scan with mobile device to play the podcast audio, or a link to open in a browser window
ttt-a5.pdf
Any device
Best for those who want to read in PDF
Formatted A5
• Includes QR code to scan with mobile device to play the podcast audio, or a link to open in a browser window
ttt_html.zip
Any browser
Best for those who want to read in a browser on mobile or desktop
• Podcast audio can be played within the page with HTML5 player, or in a link for download, or via QR code scan on another device
• This is a zip file because it contains a folder with the referenced images in the book
Kindle
Best for those who want to read on Amazon Kindle eReader
• Amazon discontinued their command-line tools & they won't let us give the book away for free, so a Mobi version is not available.
• However, you can download the ePub and use a free service like Zamzar to convert it to Mobi and then follow Amazon's instructions to email the book to your Kindle