This page documents the setup for the NosillaCast Live broadcast on YouTube Live and Discord (audio only). This show takes place every Sunday night at 5pm Pacific Time and can be found at podfeet.com/live.
I'm providing diagrams of the setup and below you'll find the text explanation of each service and piece of hardware along with the purpose of each item. Click on the thumbnails of the diagrams to see them in full size.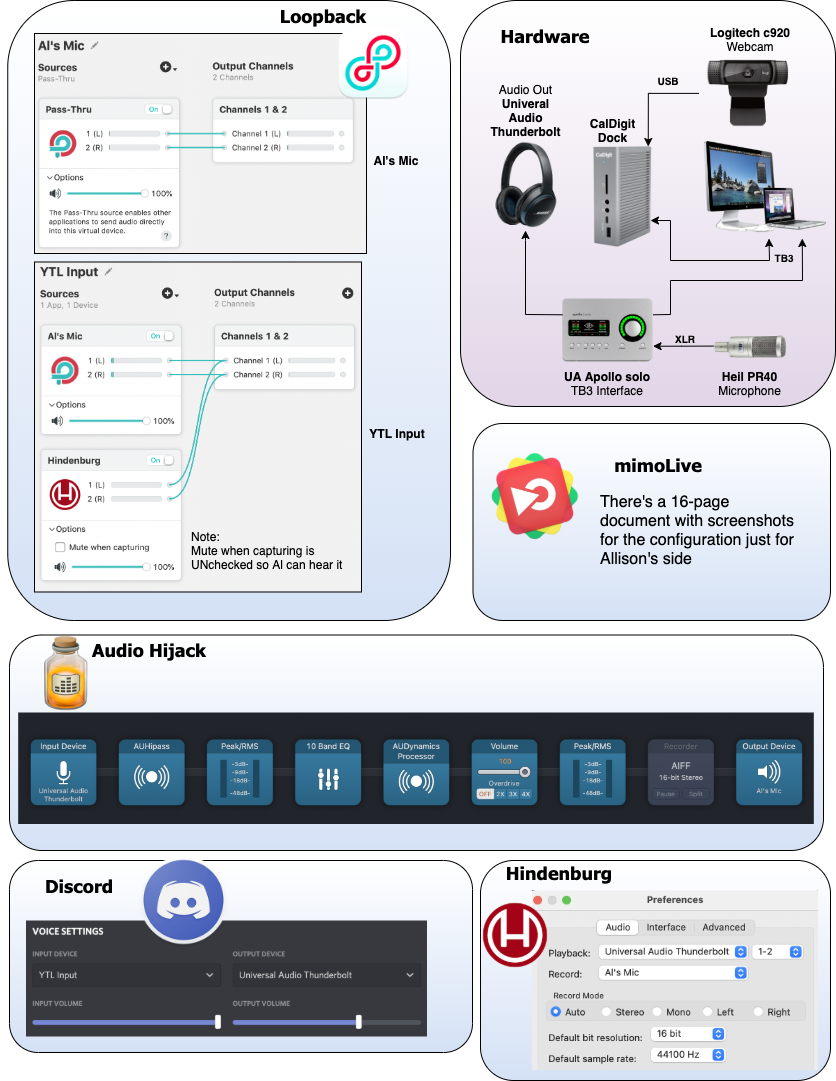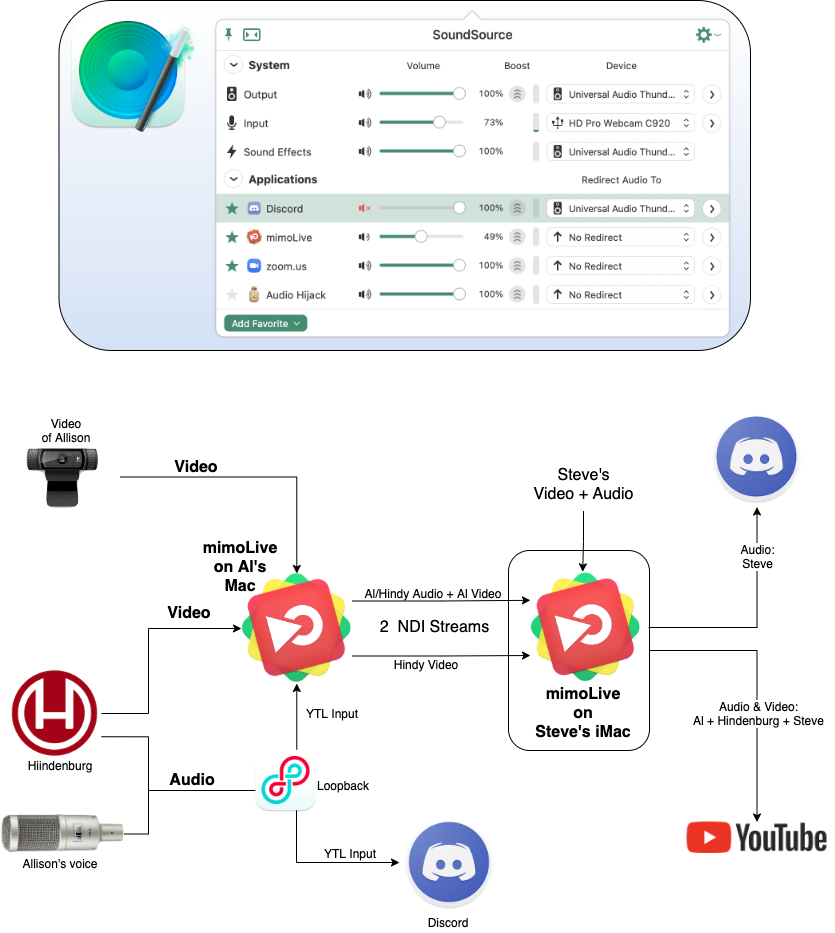 NosillaCast Live Tools Inputs/Outputs on Al's Mac
Mic & Headphones
I use a Heil PR-40 mic that has an XLR connector so it cannot be plugged directly into the Mac. I use a Universal Audio Apollo Solo Thunderbolt interface to connect the mic to the Mac. I also plug my headphones directly into the interface so I can monitor my voice directly from the mic. Since it's Thunderbolt there is no discernible delay in monitoring my own voice.
This model means that throughout the diagrams below, you'll see Universal Audio Thunderbolt as both the input source and the output source, because it's the interface for the mic and the headphones.
Loopback
Purpose: Creates two virtual sources:
Al's Mic – simple passthru virtual source
YTL Input (YouTube Live Input)
YTL Inputis a combination of Al's Mic virtual input and the audio recording application I use, Hindenburg. This allows me to use YTL Input wherever I need to send both my voice and any playback from Hindenburg.
Audio Hijack
Purpose: Sweetens my audio and sends it to the virtual source Al's Mic
mimoLive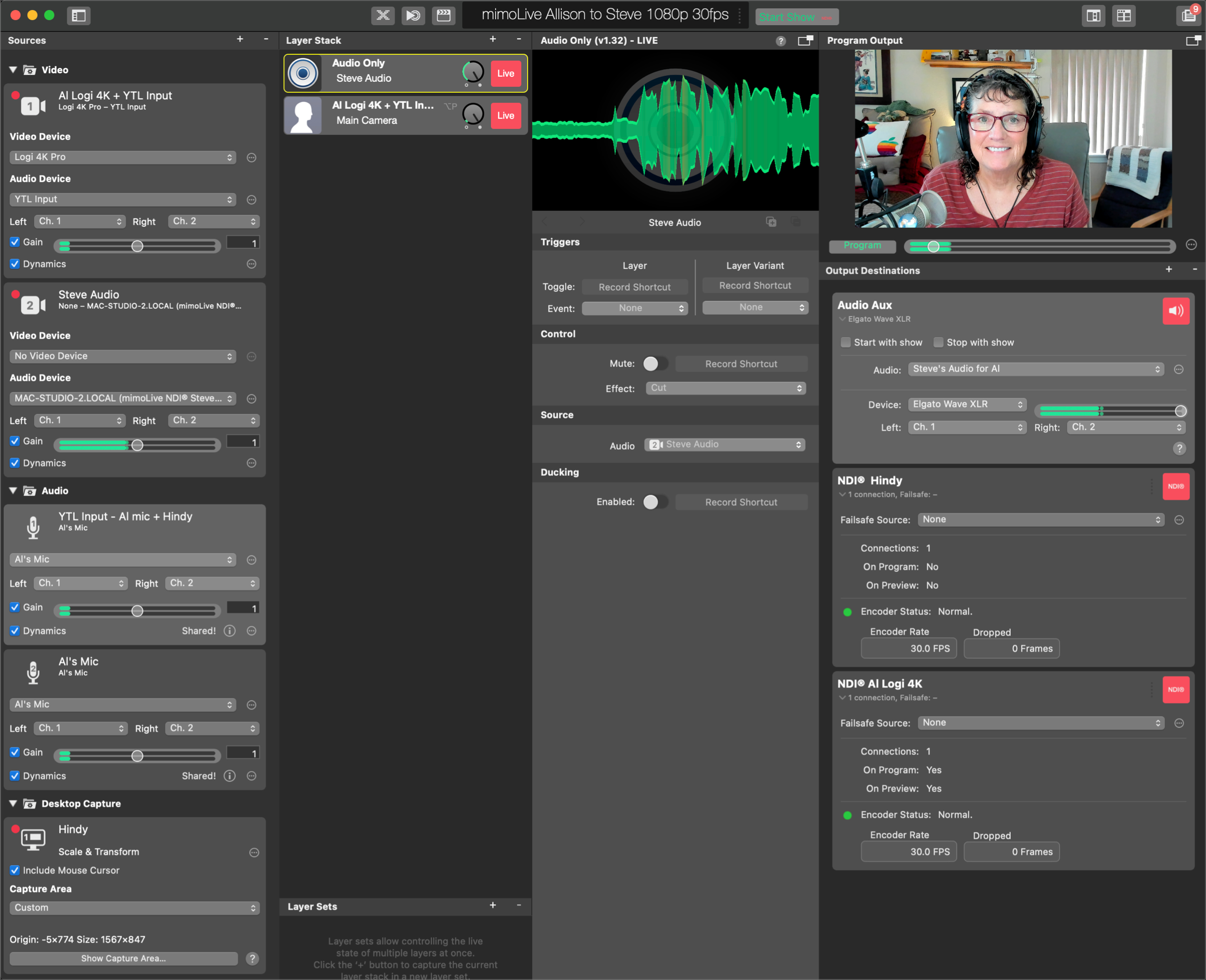 Purpose: Broadcasts my video/audio as well as a video feed of Hindenburg as two separate NDI streams to Steve's Mac, which is also running mimoLive.
This is a complex setup for which I have separate documentation for my mimoLive session.
Hindenburg (aka Hindy)
Purpose: This is my audio recording software.
The input is set to Al's Mic so I record the sweetened version of my mic.  I need to hear playback so output goes to Universal Audio Thunderbolt, aka my headphones.
Discord
Purpose: This is where many people listen to the live show and chat with each other. They get the audio more quickly than the video streaming from YouTube Live. Steve also sends his audio to Discord so he can chat with them.
SoundSource
Purpose: Allows individual control of each Application's audio out.
This lets me mute Discord (so I don't hear Steve in there) without disabling the audio from mimoLive. While I'm actually recording, I also mute Steve in mimoLive using the mimoRemote app on my iPad mini, and then Steve unmutes himself when I stop recording and he wants to talk.
Note that there's a 15 minute period before the live show starts streaming on YouTube where Steve disables our audio in mimoLive. This means the only way I can hear Steve is through Discord. SoundSource allows this muting of individual applications through menu bar icons so it's super quick to toggle hearing between mimoLive to Discord and back to mimoLive. I also adjust the volume independently between the two apps because for some reason Steve is much louder coming through mimoLive