This is Jill from the Northwoods. I've looked for a task manager for a long time. I have tried everything: pen and paper, the Franklin Planner, and all the different ways that you can keep track of tasks. I've tried the apps offered by Microsoft and some other apps out there.
Nothing quite did it for me. I either got frustrated because it didn't have enough features, or it had so many features it was so busy and so complicated that I couldn't even get through the tasks anymore.
Also, I wanted to use the app on any device. I had Windows. iOS, now the MacBook, or through a web interface, and if I'm on my work computer, which doesn't allow me to install any apps.
 
The last consideration I had was that I wanted to be able to work offline and take my tasks with me, whether I was on a plane, on an international trip, or camping in the North Woods. I wanted to have all my tasks with me all the time. So, after trying many different apps, looking through many additional features, and reading tons of reviews, I came to Todoist, and it has become my home for tasks for several years.
 
##It Manages Tasks##
First, as a task management system, it makes the basic list of Tasks just like you would expect it would. You can give it a Name, and a brief description to know more about it. I have created Tasks where I have no idea what in the world they are for. I would write them down to make sense to me, usually at 2 am. And then, when it came down for me to do the Task, who knows what it meant. The Descriptions are excellent, which allows me if I need to, to put in a little bit more detail. Of course, I can put a Due Date.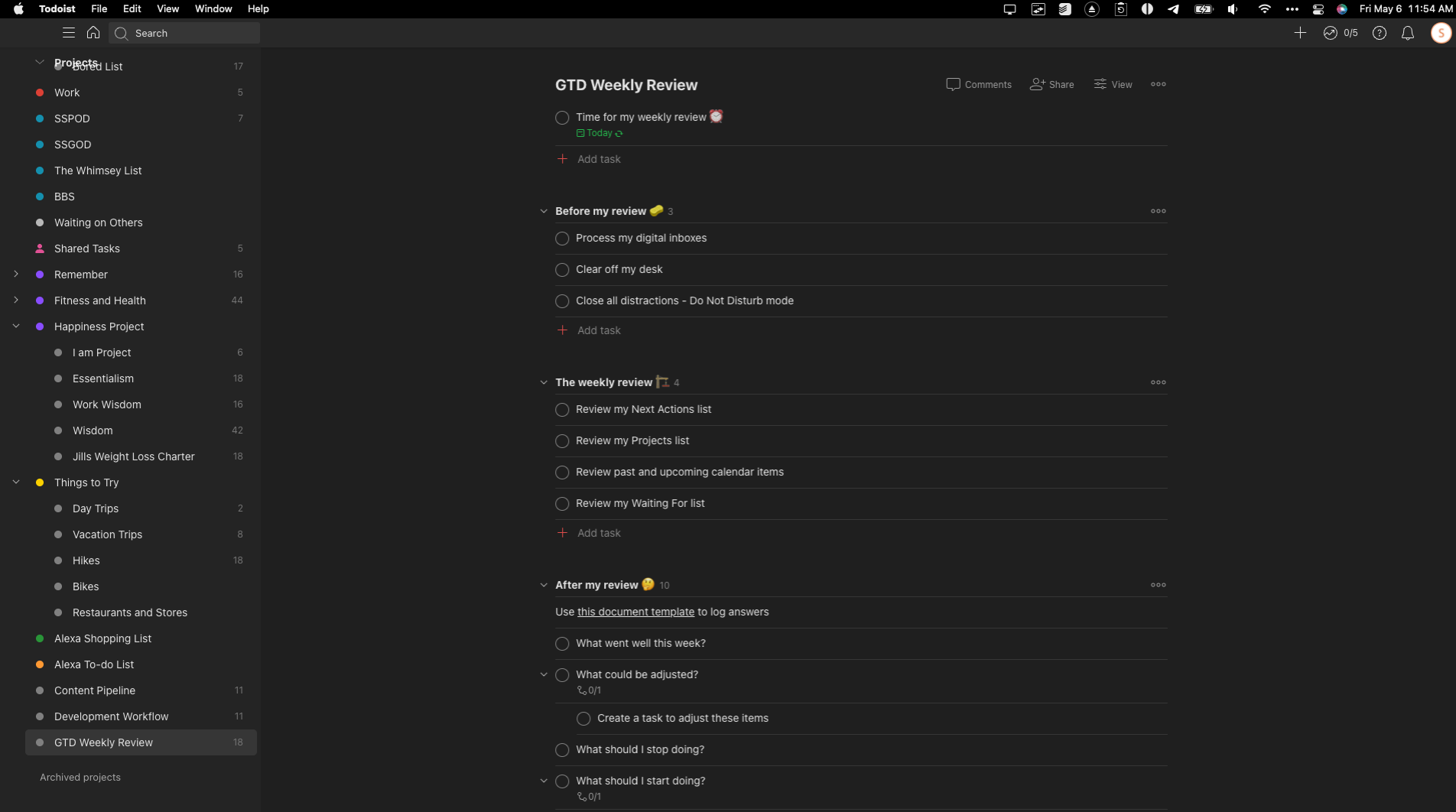 I can put down Priority, Labels, or Views so that I can organize them. For example, I use that for my podcasts. Maybe my tags are the names of the various podcasts I'm working on. I can see which ones need to be written, need to be recorded, need to be edited, need to be posted, and then eventually completed. I can just keep dropping them into the next column once I get that far.
So now I can break down the various Tasks into different columns. I can get the list I want to have for that moment. Sitting up in my recording room, I want to see what's ready to record. I can set a Priority to the Task and a Reminder so it lets me know that I need to do this. I have a friend who also uses Todoist. So, I can also assign Tasks to her, which is nice for me.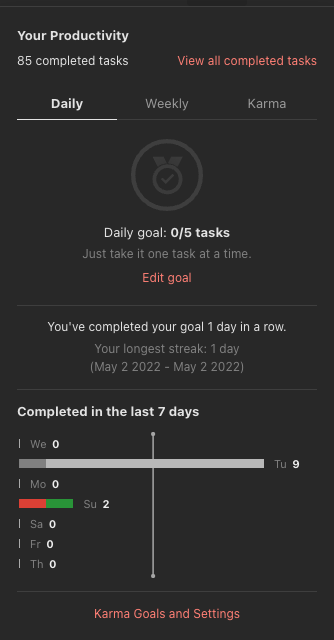 There are various ways to create new Tasks. I can enter them in manually. I can use extensions on a browser or through my watch. I can even email the system. There are a lot of integrations which we'll talk about later. It has a nice clean view.
I can create my own Views to see the Tasks that I really want to see when I want to see them and even hide the finished Tasks. They don't clutter my view with things that happened in the past that I don't care about anymore. Even a Productivity View will allow me to see how well I've been doing on my Tasks. Am I keeping up with the things I'm supposed to get done?
It even gives me what they call a Karma score, which just says how well I'm doing. It feels a little bit more fun than just completing Tasks. If I want, I can have a Task that is "uncompleteable." Maybe I want to use it as a header or a note. Or it's a top-level Task that doesn't ever get accomplished or just the subtasks that get accomplished. I can put an asterisk and then a space (* ) in front of the Task name. And that will make it "uncompleteable" which I can't check off my list. That should make some people who are the people who love to check off tasks completely crazy. What do you mean by having a Task that you can't complete? Weird.
 
##Use Projects to Organize Tasks##
The system also allows for Projects. Projects are ways of organizing Tasks. You can put in the Priority and the Due Date. You can formulate the Project in a List form to see the Tasks in a giant list, which is nice. The lists have Sections to organize a Project by the category and the Tasks under it. Or you can view it as a Board, which means that it shows up on a grid, what's called in the productivity world a Kanban board, which just means that you can have columns a little bit like the app Trello.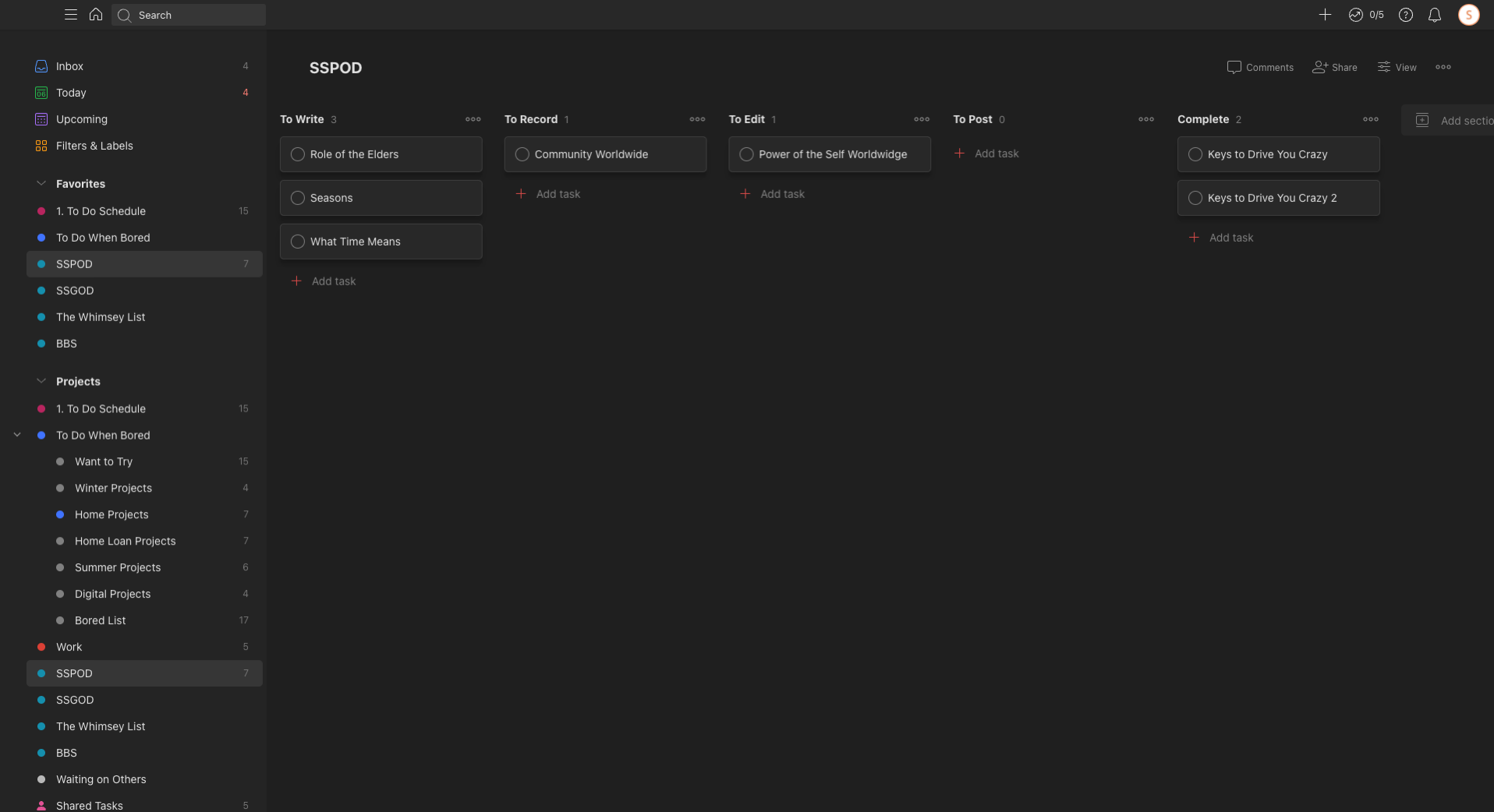 You can import or export Projects as a Template or import other Templates that you may want to use from their system, which is handy. It also shows you a more professional way to set up these Projects built by the people who made the software, so they know how to use all the functionality. Some of the Project Templates include the GTD or Get Things Done Template. There are also meeting notes, developer Templates for bug tracking, or other Templates to help you get started.
 
When it comes to the Projects themselves, you can add comments and see the activity when things got completed, which is handy if you are sharing Tasks with other people on a team or your friends.
There are ways of categorizing your Tasks, including Priority if you want to set if it's a high priority item, a low priority item, or whatever you like. There are 1 through 4 that come with the system. Then there are Labels, which are just like tags that allow you to categorize your Task again to see a different view of the Tasks you have outside of the Projects.
 
##Use Priority, Labels, and Views to See What Is Important##
I use a view that I call my "shopping" View, which shows me my shopping lists, restaurants that I would like to try in town, and the money I owe my friend. I go out with my friend quite a bit, and a lot of times, one of us is buying something for the other because they left their wallet at home, or we pay for lunch. So we keep a tally inside that view that lets us know how much we each owe each other so that we can settle the score later.
 
The Views are just a way of bringing forward the Tasks that you want to see in the way you want them. When traveling with my phone, I want to see the shopping list. When I'm at home and looking at my MacBook, I want to see my list bucketed according to when I need to get them done to know what I must do today, tomorrow, or this weekend. It makes it nice and easy for me.
The concept of Views is another way of categorizing how you see your Tasks. In a way, Priority, Labels, and Views are all really just tags, so you can create ways of partitioning out specific Tasks that may not be in the same Project but maybe the same activity. This way, you can pull them all together, regardless of what Project they're in.
 
##Other Useful Tasks Features##
I do some other things that are set up to be Tasks. I keep lists of important things to remember, like subscriptions and household maintenance supplies. I have a "bored list," which means that if I'm sitting around bored, not knowing what to do with myself. I have a list of fun things that I could think of doing that sometimes I don't remember when I'm particularly bored. I have some fun home projects. And I do a lot of crafts.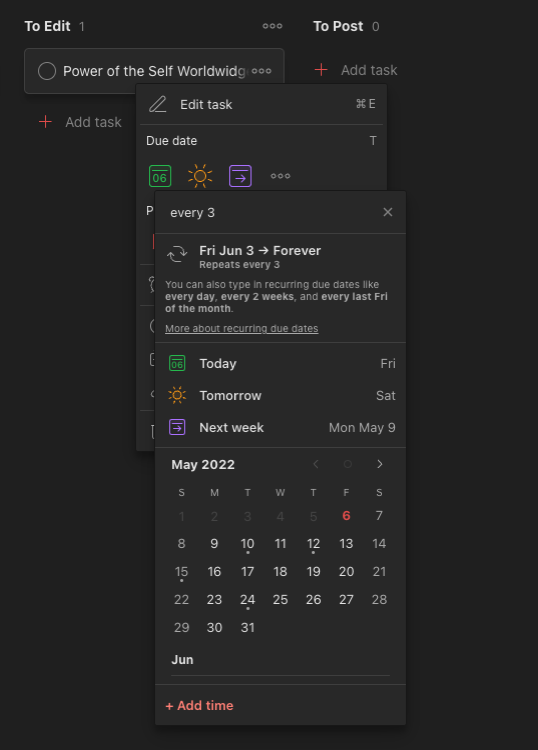 You can sort your Task when creating these Views or just to view your list of Tasks. You can sort by the alphabetical method, who the Task is assigned to, the due date, the date the Task was added, and the Task's Priority. Because sometimes I want to see when they're due, but I want to see what the Priority is. They may not be the same thing, so that makes it nice for me to know what to do next.
 
There are some great Date shortcuts. I won't go through them all. You can see the list here Date Language from Todoist so you know how you can schedule due dates and reminders. Like you can say "every day," that would be every day at 9 am. It'll give you a reminder, or "every evening," which is every night at 7 pm. There is also "every day," "weekday," and "workday." So if I say "every three days," it'll remind me every three days if I put an exclamation mark after every "every! three days" it will do three days after I complete the Task last.
 
It'll even try to parse out your language. So, for example, if you write "create monthly report" as a task, it will set up a recurring due date for you because it reads the word "monthly." But if you don't like the smart dates, if you don't like it doing that, you can press the delete button or the backspace key, and it'll get rid of it.
 
You can also decide if you want it just to be Mobile Notifications or Desktop Notifications, or Email Notifications.
##Integrations##
There are many integrations available for Todoist, such as email. You'll be able also to duplicate Tasks, archive them or delete them through email. There are integrations like Fantastical, Drafts, Gmail, If This, Then That, JIRA, Outlook, Teams, Spark, Slack, and even Garmin through an API token. You can also integrate with the home assistants to say, "Hey, you know who, add a Task to my List" or "add a shopping item to my shopping list," and it'll be in the right spot. So then I can add things on the fly when I have a stray thought. <ical.png>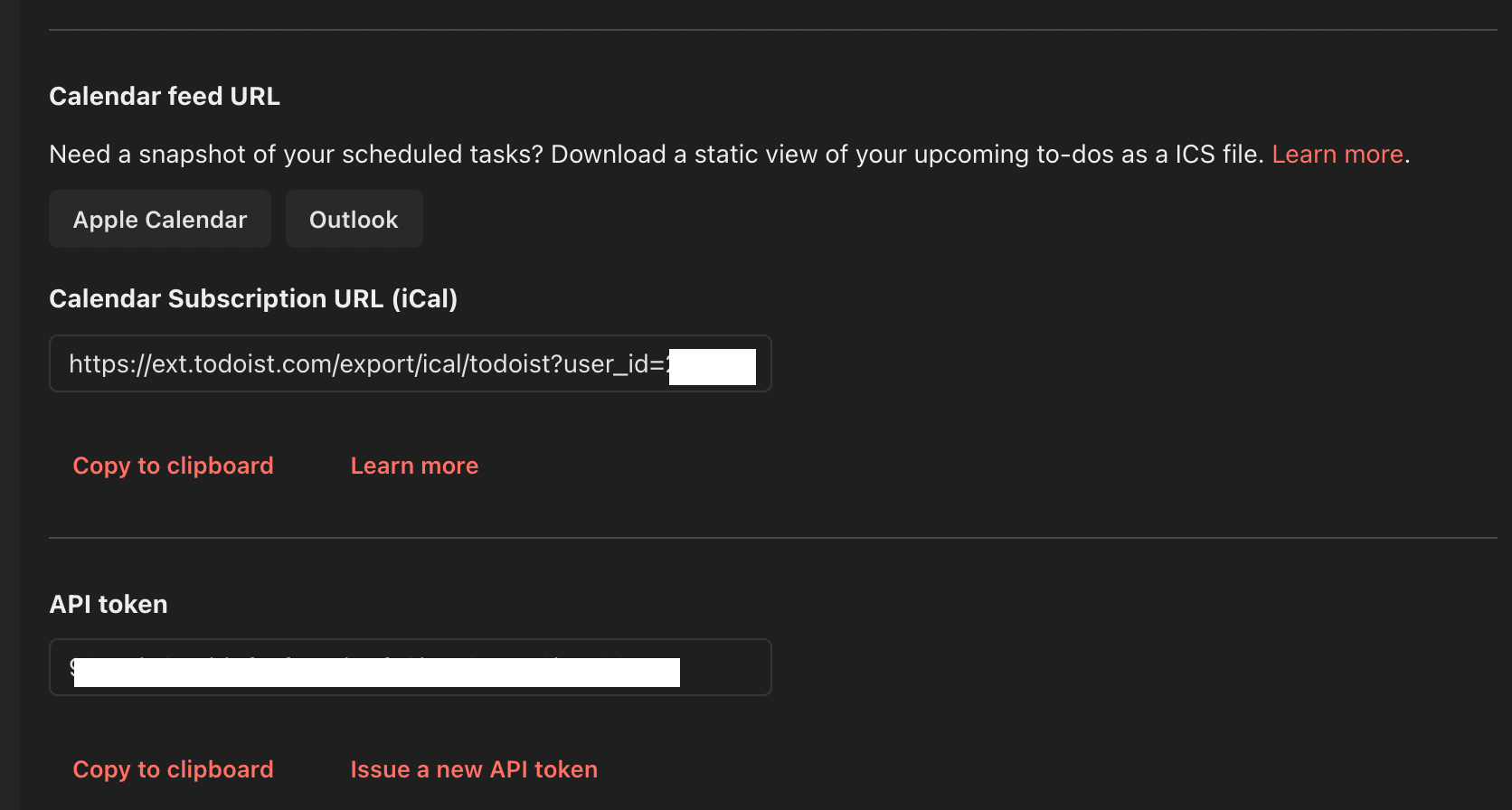 ##Other Integrations##
There's a healthy community of people who have created automation through Workflow or Keyboard Maestro, and I'm excited to start working with that. I've not done those things but sounds neat. And if you have a paid account, you can automatically get backups. There are even ways of getting the calendar built into other calendar systems. For example, you can use iCal or an API token to bring that calendar of Tasks into other systems.
 
##Account Levels: Free, Pro, and Business##
There is a free account that does most of the things that the Pro account does, but there are some limitations. For example, you are limited to how many Projects, Tasks per Project, how many uploads, Filters, and Views you can have. You don't get automatic backups, priority support, or background themes if you use a free account. Also, you get no Reminders. And that's what most people are sad about with the free version.
There are also Business accounts that allow for team Projects and other types of activity. Free users can even share Projects with up to five additional users. Pro users can share their Projects with 25 people, and Business users can share them with 50 people. You can get the Pro version for $4 per month or $36 per year. You can get the Business Edition for $6 per month or $60 per year.
 
##Todoist is On Many Platforms##
The other nice thing about Todoist, which attracted me to it, was that it works on iOS and Android mobile devices. I can keep track of all my tasks and do everything I need to. I get notifications too. It's nice for desktop machines with macOS, Windows, or Linux. There are browser extensions for Chrome, Edge, Firefox, and Safari. Again, you can get reminders or send emails to add to your Tasks, which is nice. They both work in Outlook and Gmail. They work on both the Apple Watch and the Android Watch. You can always use Todoist Online , which I do when I'm on my work computer, and I want to see my lists.
 
##Tips##
If you're going to start with any task management system, my suggestion is to be detailed about the tasks you write or the Projects you write. Then pick a system. Some people like the GTD system, Get Things Done, or have other ways of doing it, a bucket system. Or there's another method called the Time Sector method, to which I spent the week switching my system over to.
The thing that helped me learn the most about doing this is a fellow on YouTube called Carl, Pullein. He does a deep dive into every feature, how he sets up his system, uses it, and the pros and cons of the different methods. I highly recommend his videos. You can find his videos here: Carl Pullein On YouTube.
The Todoist documentation is also fantastic. They have well-documented YouTube videos, and they're very well done. When I get involved in new software, I look at third-party people to teach me how to use the app. But I found that Todoist is so good at their documentation, that I never really had to leave their website to find out more information.
So that's my review of Todoist. I hope it helps determine what to do app you would like to use. I really think in the end. It does it all in a nice, clean interface. I feel like I get things done with it, and easily find the things I'm supposed to get done. And it doesn't cause me to deal with a high level of complexity. Nor do I ever think it is missing any features. So, to me, Todoist is that perfect level of simplicity and features.
Again, this is Jill from the Northwoods, and if you have any questions, please let me know. You can find me in the NosillaCast Slack channel or comment on the blog post on Allison's website.