I have been promising this review to Allison for 6 months and I don't think Allison ever thought she'd see it.
First, the problem to be solved. I wanted a good, quality set of headphones that I could use for things like watching TV at night while others in my family are sleeping. I also wanted to use them to listen to podcasts while doing chores like mowing the lawn, and for the few times a year I travel either by airplane or train.
The features that were important to me are good noise cancellation, lightweight design, good battery life, that they support connecting to more than one Bluetooth device at once, and the ability to plug in a standard analog headphone cable for emergency use.
I first tried the Anker SoundCore Life Q30 headphones. They had all the required features, and they were even a very affordable option at just over $100 Canadian Dollars. The big drawback though, was that after only a few months of use, the plastic in the headband started breaking and falling out. It got to the point where every time I used them, a new bit of plastic would fall out. So I decided I should try and see if I could find a better option.
Then two things happened. First, I won a sizeable Amazon gift card from work, and secondly, the Sony WH-1000XM4s went on sale at Amazon.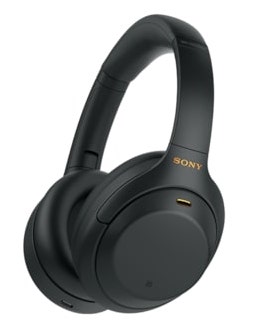 The Sony WH-1000XM4 have a foldable design that allows them fit into a fairly small carrying case (that is included with the headphones). They are made from a good quality plastic that is strong, and creak free, but still nice to handle. They have touch controls on the right ear cup that allow you to invoke your voice assistant, volume up and down, play, pause, skip back and forward. It can do all those things, that is, when you can get it to work. I found the touch controls to be very fiddly, and almost never use them. I usually just control my media on my phone or MacBook Air instead of the touch controls on the headphones.
These headphones sound great! They have nice highs, good mids, and good bass without being too over powering. If you are the type that likes to tinker with the equalizer, the Sony Headphones iOS app will let you set many settings on the headphones. You can change noise cancellation modes, what the button on the left ear cup does, and it has a user configurable EQ. Once the EQ is set on your phone, it will stay with the headphones and function for any of the other devices you use with them. They support all the fancy wireless CODECs you'd expect like AAC and LDAC (a High Resolution CODEC supported on Android phones but not the iPhone I use).
The noise cancellation works really well. I wrote this review while sitting on a Via Rail train somewhere between Toronto and Montreal, and they do a really good job at filtering out things like wind noise and mechanical noise. If I had a complaint, it would be that it doesn't filter out higher-frequency sounds like voices well enough, although this may be by design so you don't miss things like public announcements.
Connecting to them is really easy. I simply hold the button on the left ear cup, the nice lady lets me know I'm in connection mode, and then they appear in the Bluetooth menu on my Mac or iPhone. They support being connected to two different devices at once, so hopping from my Mac to my iPhone doesn't require going through the connection process again.
Sony rates them for having a battery life of 30 hours with noise cancellation, and if you run that down it has a quick charge feature where 10 mins of charging will get you 5 hours of playback. I can go several days without needing to charge them. They charge through a USB-C port located on the right-side ear cup.
Another feature Sony advertises is an artificial intelligence feature they call Edge-AI to enable DSEE Extreme (Digital Sound Enhancement Engine) to upscale lower bit rate music and make it sound better. In my limited use of it I haven't noticed it, but maybe that's a good thing, meaning it's doing a good job of making lower quality sources sound similar to higher quality sources.
There are some negatives. It has a feature called Speak-to-Chat which is supposed to pause your music or video if you start speaking to someone, then resume your media when you have stopped speaking. In practice it does pause the podcast or video, but will take a very long time to resume, and often it will pause even if you do something like cough, or clear your throat. I have turned this feature off.
Sony recently released the next version of these headphones, the WH-1000XM5. The XM5s have a completely new design, tweaks to the noise cancellation algorithms, and are lighter, but they don't fold down as much as the XM4s. Sony is still selling the XM4s as a less expensive option.
To finish off, I think these are great headphones. They sound great, are comfortable to wear, have long battery life, great noise cancellation, and can be found on Amazon for $278 USD, which is $100 cheaper than the brand new XM5s.