Hi Allison, this is Steve back with a product review … well actually more of a product comparison. In my endless quest for the perfect sports headphones, I'll compare the PowerBeats3 Wireless headphones that you recently got me for Father's Day (thank you very much!) against the previous pair of headphones I used, the older model Jabra Sport Wireless+. As another comparison point, you can check out Allister Jenks' excellent review of the BeatsX bluetooth headphones back in March.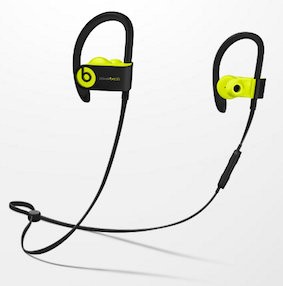 Both the PowerBeats and Jabra Sport are Bluetooth headphones designed for use on the go or while involved with physical activity. Both headphones are wireless and connect to a Bluetooth enabled device, such as an iPhone. Both have external controls for volume, pause, skip ahead/back and call answering. You may have heard me talk about how almost all regular earbuds do not fit in my ears at all. For example, I haven't been able to find a pair that will stay in my ears while running. So I depend on headphones that have hooks that attach the earbuds to my ears. Both the PowerBeats and Jabra Sport have these ear hooks to keep the earbuds in place while I'm active.
Bottom line is that I like the new PowerBeats3 headphones but there are still some situations where I prefer the Jabra Sport headphones, so I use both now, but each in different situations.
Now I've talked about these headphones' similarities, so let me talk about where they differ.
Continue reading "PowerBeats3 vs Jabra Sport Headphones Comparison"