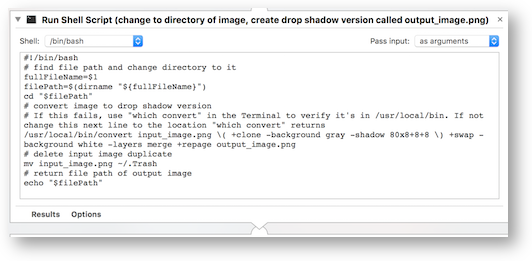 Have you ever had a favorite piece of software be abandoned by the developer? I'm not even talking about Apple or Google here, but maybe some nifty little utility that does exactly what you want. For years I have been adding a pretty little drop shadow to all images I post on the blog with a utility called Drop Shadow from Del Sol Software. As Tim Verpoorten used to say, "it does one thing and does it well."
Del Sol's Drop Shadow app let you change the angle and size and blur of the shadow and even add a little border to the image as well. The border was handy when I had a screenshot with a white background, otherwise it would wash out on the top and left against my white blog post.
A few weeks ago I thought to write to the developer to ask for an enhancement. I wanted a way to save the parameters of my drop shadows. It's not hard to drag the little sliders, but I have to do it every time I edit an image. To my surprise, Del Sol Software is nowhere to be found. I searched on the web, on Twitter, Facebook, Google Plus and even LinkedIn, but it has vanished. Oddly you can still buy Drop Shadow from the Mac App Store so someone must be cashing the checks, but there's no way to get updates ever again.
When software is abandoned, you can take one of two paths. You can keep using it and just hope each time a new OS comes out it will still work. Then when it stops working you can hold off on the update, or try to find hacks to keep it working (I'm looking at you, George.)
I choose a different path. As soon as I know something is abandoned, I find an alternative. I don't want to be held hostage by an app. It was time to find an alternative for my beloved Drop Shadow.
Continue reading "DropShadow App Made With Automator and ImageMagick"