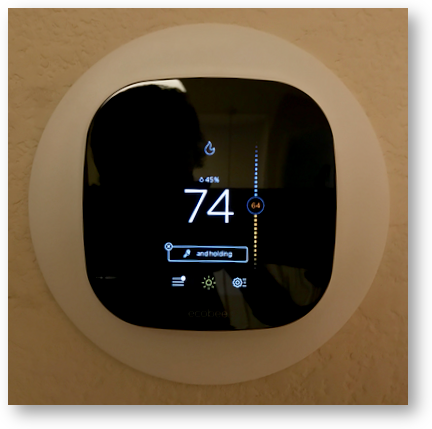 When I was in college, my roommate Sandy and I wanted to put up a hanging plant. Remember the 70s when macramé plant hangers were all the rage? If not, go ask your mom. Anyway, she said we should go get a boy to help us. I told her that if we couldn't do it ourselves, then we weren't allowed to have it.
A few years later when I was first dating Steve, I wanted a new stereo in my car. Steve said he'd install it for me. That got me to thinking. Maybe it's ok to have different talents and help each other do stuff. Maybe everyone doesn't have to be able to do everything themselves. Maybe that's what helps us all get along. I let him install the stereo and for the past 35 years, Steve has done everything in our lives that required electrical wiring.
But this week I decided to put our marriage to a real test. For my birthday, Steve and Kyle got me the ecobee3 HomeKit-compatible Smart Thermostat with three remote sensors, and I wanted to do the installation and wiring setup myself, instead of having Steve do it. Steve and I discussed whether he could stand it, and he agreed he could survive supervising me. I really wanted to do it myself because I wanted to know whether a reasonably bright girl such as myself, but without experience or education in electrical engineering, could pull it off.