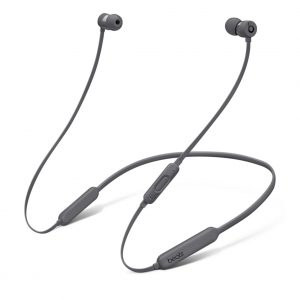 I have long preferred in-ear earphones for two very important reasons. First, it's just not possible to get a decent bass sound from lightweight earphones without creating a seal in the ear canal, and as my hearing is more sensitive to high frequencies, I need all the bass I can get, otherwise they sound feeble. Second, my typical listening environment is "out in the world." I listen to podcasts or music on my 40 minute commute. This involves riding a train with other (sometimes noisy) commuters, and walking in a city with people and cars and buses and construction and wind. I tried EarPods for one day of commuting and confirmed that these two reasons are very good ones not to invest in AirPods, as cool as they are.
When Phil Schiller announced the AirPods, he also announced a few other products which would use the same W1 chip technology. The Beats Solo3 on-ear earphones would be an interesting proposition, but not for commuting –they'd be too bulky for me. The Powerbeats3 are a sport-style in-ear earphone solution. I'm not a fan of the over-ear hooks which secure these, and with their "sports" features, such as water resistance and an incredible 12 hour battery life (which I wouldn't need), the price goes up, making them the most expensive of the in-ear products. That just leaves the cheapest product which includes the W1 chip – BeatsX. These are in-ear, designed for comfort, and last 8 hours on a charge.
The BeatsX design is based on a "strap" that hangs around your neck then continues with a wire up to each earbud. When I set off on my commute I "put them on" by draping them around my neck. It's important to get them the right way around, with the inline control on the left, as the earbud design is not reversible. When I'm ready to listen, I raise the buds into my ears, then reach back to the power button which is mounted on a "lump" in the strap, sitting on my right collar bone. Holding the power button for one second turns them on. There's an LED alongside the power button which shows they're on, but this is not much use when I'm wearing them. However, a moment later they pair with my phone and I am greeted with a chime to confirm this. I do find the power button a little difficult to operate, but manage it first time most of the time. Note the initial pairing is done similarly as for AirPods, but with a press on the BeatsX power button in place of opening the case.
Once paired, a single click of the centre button on the inline remote then starts my podcast or music. After using a pair of wired Sennheiser earbuds for many years, I'm not used to how high up the remote sits, but it really couldn't be any lower than it is. Like on the EarPods, the remote can be used to pause and skip and alter volume. I find it hard sometimes to press the slightly recessed pause button and end up hitting volume up or down instead, but located with care, it is satisfying click and the audio responds immediately. I tend to use my Apple Watch for skipping, but always use the inline control to pause. One useful feature of the design is when I enter a shop I can not only pause the audio, but also remove one or both buds so I can hear clearly and also not appear rude to the serving staff. If both buds are removed, I can snap them together magnetically for a little more protection from them falling off.
This magnetic snapping together is also very useful when stowing them in the included soft case. It's not an easy task stowing them. It's a little bit of a puzzle to get them to fit snugly, but I succeed every time. The case is made of silicone and the surface feels very similar to Apple's silicone iPhone cases.
Charging the BeatsX is as simple as plugging any Lightning cable into the other "lump" on the strap, opposite the power control lump. They charge fully in 45 minutes, or you can get 2 hours of listening with a 5 minute charge. In real world use, and remembering to turn them off when I'm not using them, after three days of use they were at 9% charge. As best I can work out, that was around 7 hours of listening.
Wearing the BeatsX is as comfortable as promised but there can be a few challenges. The wires that rise to the earbuds tend to bow outwards which can interfere with jacket or shirt collars, although this is generally less of a problem than my old wired earbuds interfering with clothing. Some have suggested a single twist will cause the wires to go closer to your face but in my experience this causes them to rub on my jawbone, which is uncomfortable, and also tend to pull more readily out of my ears on their own.
The fit of the buds is like all such earbuds. You get four different size silicone tips plus some additional "wings" to customise the fit but inevitably for some people, none of them will be perfect. I've still yet to decide on the best configuration for me. A good fit is essential for the best sound quality and also to hold them in your ears in active or windy conditions. The flat profile wires do tend to catch the wind and if you're walking into a stiff wind, I can imagine losing them off your person entirely if not careful.
The sound quality is excellent. When I first began using them I didn't like the sound as much as my Sennheisers, but they now sound almost normal to me. I think they are a touch crisper and have slightly less bass. They perform admirably in my noisy environments, letting me comfortably hear most podcasts at around 50% volume. When a good seal is maintained they are very pleasant to listen to. If the buds begin to creep out the bass is reduced but it is still easy to hear spoken words, just not as pleasant. These are not noise cancelling, just noise isolating so I can hear traffic well enough to not get run over.
Overall I'm happy with my purchase. My favourite features are how I can wear them while not actually in use, and the ability to pull my phone out of my pocket at any time without having to deal with the wires, which used to risk yanking the buds out or dropping my phone.
BeatsX are available in white, black, blue, or grey directly from Apple and cost USD$149.95.