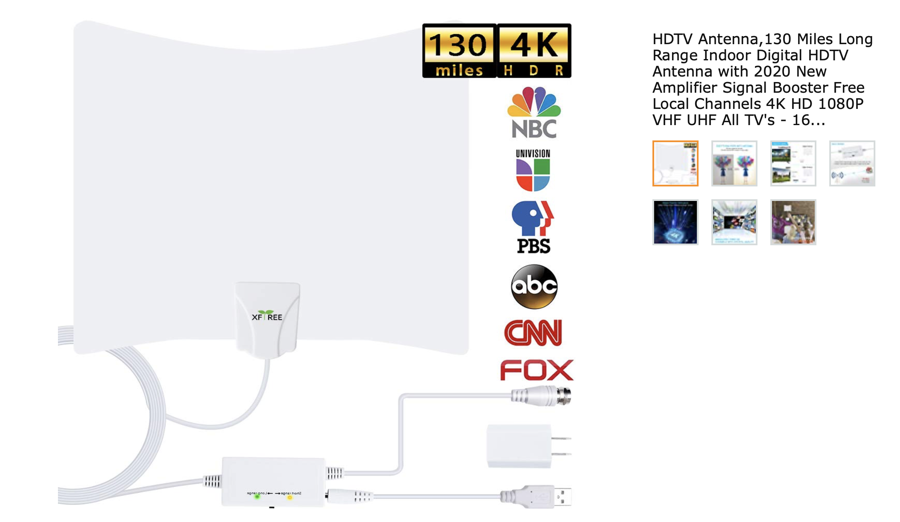 Let me start with the problem to be solved – I was looking for a solution that would let me to use my Apple TV to watch live HD content using an OTA (over the air) antenna.
It was not my intention to use this as a full cord-cutting solution, rather I was looking for something to watch TV when I lose cable TV due to fiber cuts, or water/gas line installations that take out my cable TV. Also, living in Florida, to have something if broadband goes down due to hurricanes.
My primary criterion was for a solution that would allow me to watch OTA channels on my Apple TV. A secondary criterion was a solution that would have no monthly recurring costs. in considering crafting the solution I ultimately determined that this would be broken down into two activities
How to obtain HD stations over the air
How to watch OTA channels on my Apple TV
Let's cover these one at a time.
How to obtain HD stations over the air
So, to obtain over the air content I first needed an inexpensive over the air antenna and they are easily purchasable from Amazon – there are many choices and often showing 25-mile or 50-mile or 60-mile coverage … usually cost less than $30 … and has been my experience that no matter how many miles advertised, they pretty much all do a good job unless you live far away from where the OTA channels are broadcast. In those cases, you may need an external roof-mounted OTA antenna or maybe install the inside antenna in an attic space. Reception may also be dependent on the elevation of your house, direction to the broadcast location, or any obstructions such as mountains in the way. For most that live anywhere close to a city, the inexpensive wall-mounted versions work well.
I then needed some type of TV capture device, referred to as a tuner. The tuner would connect to the OTA antenna on one side and connect to my home network on the other side via an Ethernet connection. Tuners come in different configurations such as a dual tuner or quad tuner … the number of tuners is important because this means you can watch TV and record shows at the same time (just like with any cable tv provider).
<a href="https://amzn.to/2w3QFB7″ rel="noopener" target="_blank>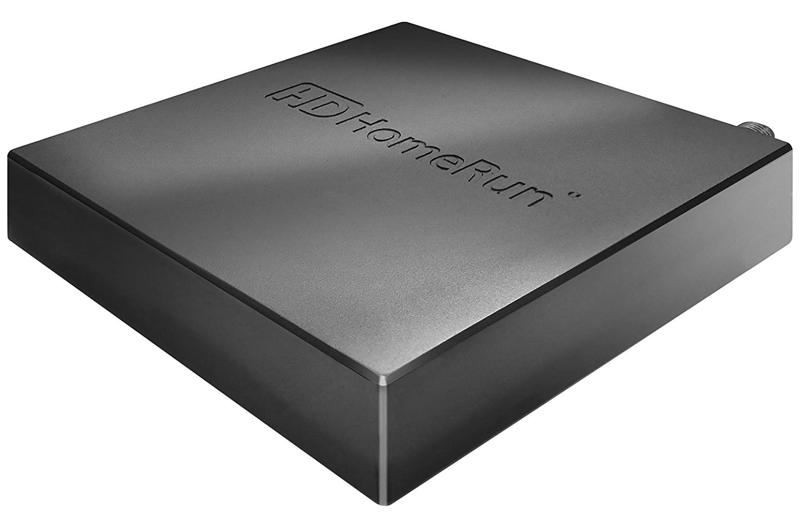 Silicon Dust is a company that offers several models and I settled on the ones called 'HD HomeRun Connect' intended for use with OTA antennas. At present you can buy the HDHomeRun Connect Duo 2 tuner box for about $79 and the HDHomeRun Connect Quattro 4 tuner box for about $149. I opted to go with the Connect Quattro and get 4 tuners just because more is better, right?
I should mention that while some of the tuners include an OTA antenna, buying a better OTA antenna from Amazon would be my recommendation. Some OTA antennas – the ones covering larger distances – have a power injector to enhance reception.
Installation of the HDHomerun tuner was extremely simple. After mounting the OTA antenna on the wall of my office I simply connected the coax on one side of the tuner and then connected the other side via ethernet to my home router. Setup and config was a breeze, accomplished by connecting to the web site my.hdhomerun.com. The tuner was automagically detected and channels were located, listed and could be kept or removed from the active channel lineup (more on this later).
In my case, I was able to receive HD stations from CBS, ABC, and NBC along with some lesser-known SD channels that seem to come along for the ride. Only FOX was not able to be received, and I eventually found out that was because the local FOX affiliate was still using an older broadcast frequency transmitter. So, be aware that you may not get all networks.
Btw, while not required for my solution, there is an HDHomeRun Mac app available – free and downloadable from the HDHomerun web site and allows you to watch live TV on a MAC.
Lastly, occasionally going to the my.hdhomerun.com web site will refresh the channel lineup and also notify you about and download new versions of the firmware running on the tuner.
As an aside, you may be wondering how to know what OTA channels are available in your area. A variety of web sites can be found by googling "OTA stations near me". These sites will typically ask for your address and/or zip code and then show you a listing of channels and where located and often the signal strength to your location. My favorite is the web site tvfool.com. It offers mapping and lots of details on location, distance, signal strength and even elevation information for the best reception. I consider it the most 'geeky' of the sites that provide OTA channel information.
But you don't need to worry about all that, because the myhdhomerun.com setup will automatically detect OTA stations, so it's just plug and play. Perhaps more 'plug and pray' if you do not live in or close to a metropolitan area.
Ok, so now we have installed an OTA antenna, a tuner box, connected to our network, and can use the HDHomeRun web and client apps to receive HD content and watch it on our Mac as a proof point. I consider this the first milestone. AND … If you only need to watch live OTA stations on your Mac, you can stop here and call it a day!
How to watch OTA channels on my Apple TV
The next step is to enable the Apple TV to serve up live tv using the previously installed tuner and OTA antenna.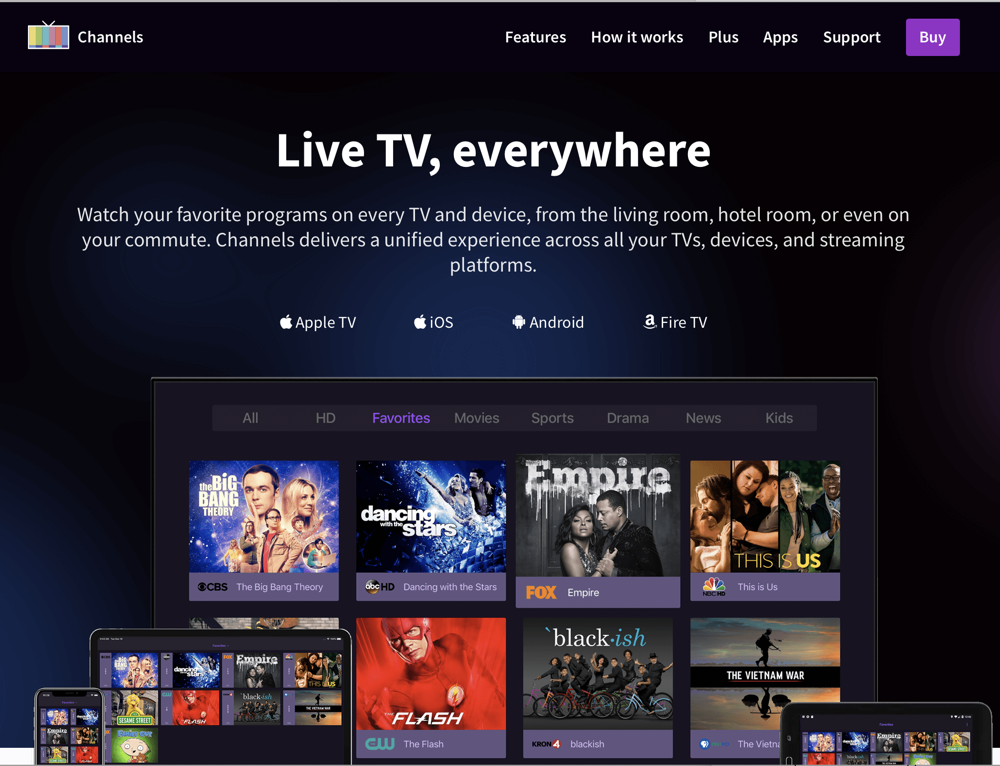 My research concluded that the two best solutions were an Apple TV app named 'Channels' and also one named 'Tablo TV'. I opted for the Channels app because the on-screen guide experience seems to be superior to Tablo. However, I think lots of folks are happy and use either. As an aside, Plex Pass includes running an add-on called 'Plex Live TV and DVR' … but in my view, it's a poor UI on the Apple TV and the Plex Live TV grid guide is slow. However, it is functional and free if you have a Plex Pass. Back to my solution … Channels on Apple TV costs $25 one-time … you can learn more at the web site getchannels.com. Also, there is a free companion IOS application and also a premium version available by a monthly subscription which includes DVR capabilities (more on that later).
The Channels TV app is available in the Apple TV App Store and installs easily. When first launching, it will automatically scan and detect the HDHomeRun tuner on the network. From there it is seamless and presents a grid-style guide onscreen and works just like any cable TV grid guide. It also has a sidebar that allows filtering by HD, SD, or all Channels.
I have not personally used Tablo TV, but know it is used by many. My preference is Channels because it just works and the grid guide is easy to navigate and the app launches quickly on the Apple TV.
Ok, so now the problem is solved … we have an OTA antenna attached to a tuner on the home network and a seamless app on the Apple TV for watching over-the-air broadcasts. There is even the bonus of receiving full native HD content, which is often compressed as switched digital video on many cable TV systems and set-top boxes. If you have a high-end TV, watching native HD content can be as clear as blue-ray 4k media.
A few notes about DVR capabilities. I mentioned that getting a 2-way or 4-way tuner allows for watching and recording HD shows at the same time. While Plex Live TV and DVR is included with Plex Pass, I will again say the UI is poor and the DVR playback on Apple TV is just awful. Back to my solution … both HDHomeRun and Channels TV have DVR add-ons.
If you want a one-stop-shop interface for live TV viewing and DVR viewing on the Apple TV, make sure to NOT use HDHomeRun DVR because Channels can NOT access those recordings. So, you need to use the Channels DVR add-on which installs easily on a MAC and costs about $8 monthly or $80 yearly, so a bit expensive. Channels DVR Server does work on the popular Synology NAS and more info is available at the previously mentioned getchannels.com web site.
Lastly, I recently learned that in mid-2019 Channels TV Everywhere was announced … which supposedly lets you watch and record streaming content from many/most providers in addition to OTA channels – all within the Channels eco-system. I will be looking in that and will report back.