Ryan here, you sometimes see me in the chat as "DopeyOne".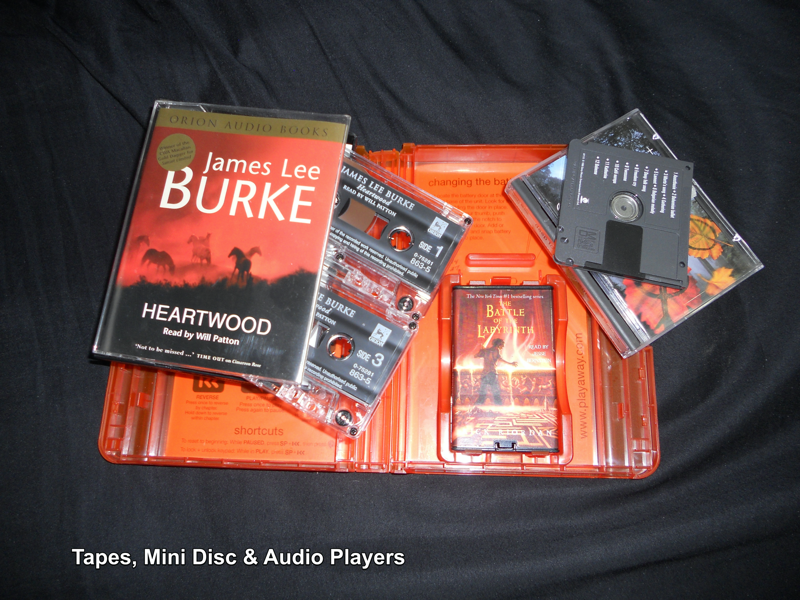 I keep hearing these great reviews for the new Apple hardware that you, or one of your listeners have purchased and I have to admit that I, sometimes, get a little envious.
Today I want to talk about a purchase that I made for a piece of Apple kit and what I do with it.
Let's start with the problem or problems to be solved.
Problem one, I enjoy listening to audiobooks and over the years I have collected quite a few. I actually started my collection when it was called "books on tape". The issue there is that I have all of these tapes but tape players are hard to come by these days.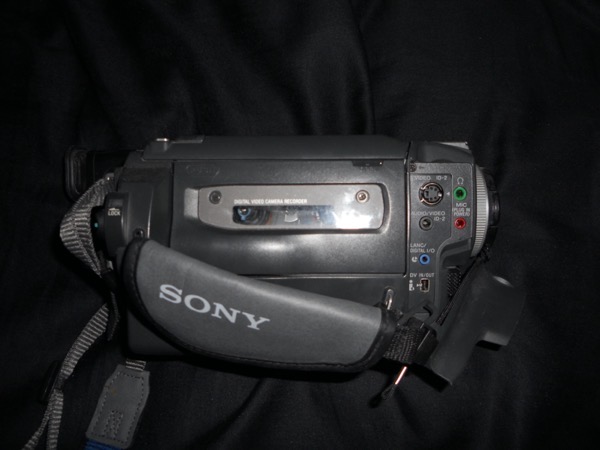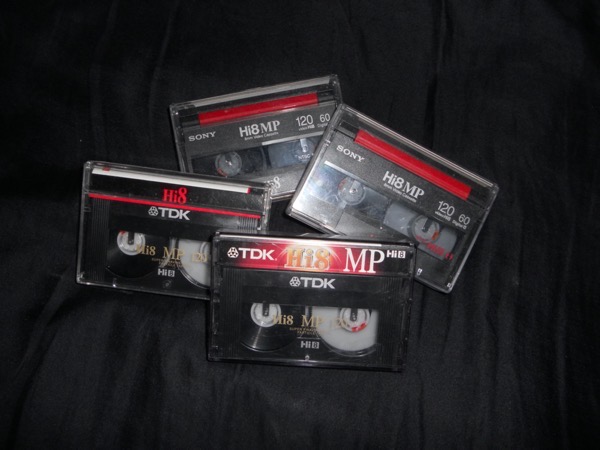 Problem two, my family and my wife's family purchased video camera's that were made by Sony or Cannon in the 8 mm format. My dad also purchased a newer version of the 8 mm camera that was called HI8, which basically had better audio and video. Also, when my wife and I were first married I pushed a Sony Digital 8 camera that had an onboard video converter with Firewire port. You probably wouldn't believe it but when I purchased that camera it was over $600.00. In today's money, that camera would be well over a thousand dollars.
Anyway, let's get out of the weeds and talk about these two problems.
I would like to convert my "books on tape", books on CD, books on electronic player into digital format.
I would also like to convert all of those family 8 mm, HI8 and Digital 8 tapes into digital format.
Luckily for me that Digital 8 camera I purchased and spent so much money on has that Firewire connector on it and it can play the old 8 mm, HI8 and even the newer Digital 8 tapes.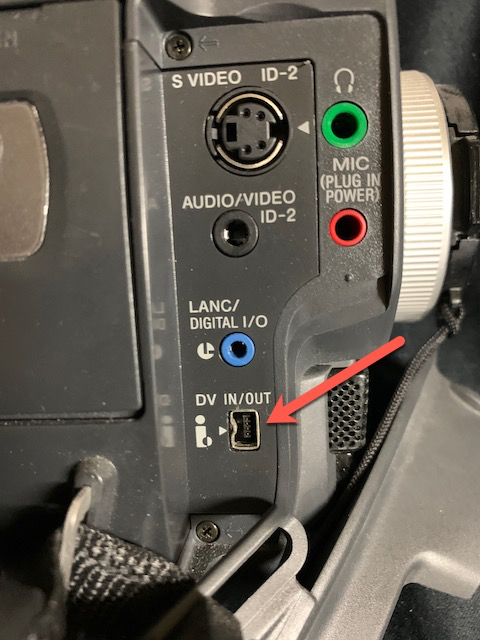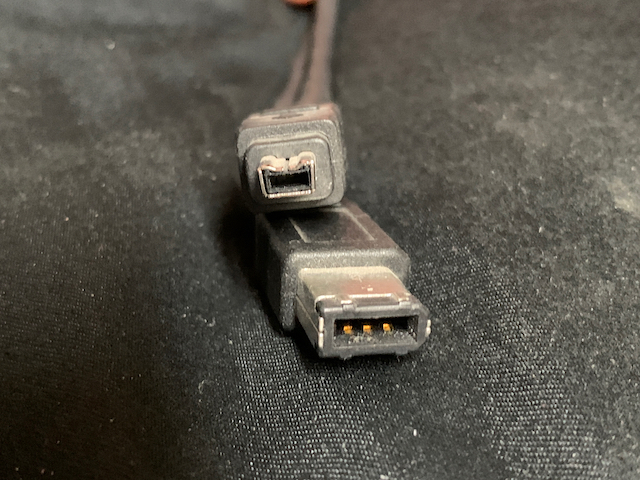 Note: This is the firewire connector on the camera and the cable that I used. The cable is a Firewire A to Firewire Mini cable.
These projects actually started years ago with me using the family 2010 iMac running Mac OS X 10.7 Lion.
This worked o.k. but I had issues with iMovie that caused the longer playing videos to not sync up the voice and video as well as the iMovie output file was some sort of strange QuickTime format that other non-Apple video editing software really didn't like. The other issue I had was that someone would inevitably need to use the computer when I was trying to use Audacity to record those long-playing tapes.
Note: iMovie output files from Mac OS X Lion and newer use the "mov" file extension and I found them to be harder to edit when using third party editing software. The iMovie on Mac OS X 10.5.8 outputs an M4V file format, the M4V format is more compatible with third-party software.
Years went by without any progress when I happened to be at a Junior high school that was liquidating some old items in a yard sale. On one of the tables what did I see? It was a iMac G5 running Jaguar, that is Mac OS X 10.2 for those of you who find it easier to keep track of the numbers rather than the names. Believe it or not, it even had a working keyboard and they only wanted a pittance for it. It did have a note however that said the mouse was missing and the hard drive really didn't sound very good.
I purchased the iMac and went to my friends, Mac Sales.com, and purchase a 2 GB memory upgrade kit a 2 TB hard drive, and a refurbished mouse (which they do not appear to have any more of).
Using videos on Mac Sales web site and video's on Youtube.
Note: Newer better instructions are now available on iFixIt
I replaced the failing hard drive, which I found out later had many, many bad sectors and upgraded the Ram to the maximum 2 GB.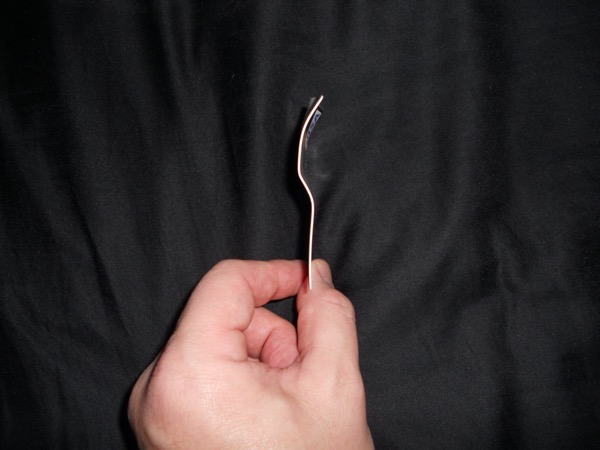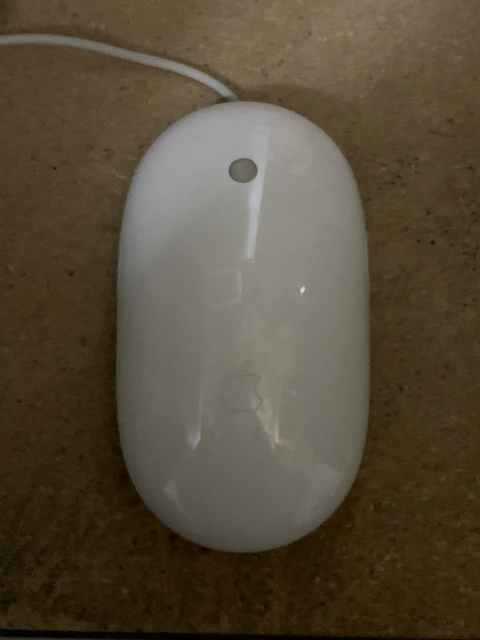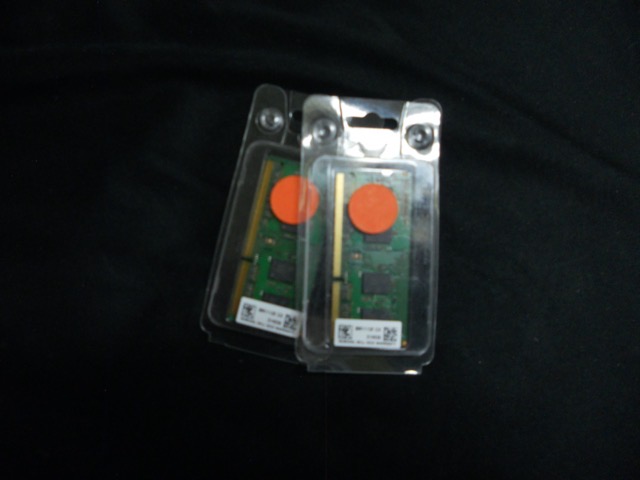 Note: The picture on the left shows the SODIMM's I used to upgrade the RAM in the iMac G5. The Picture on the right is the old credit card that I boiled in hot water so I could bend it to the correct shape in order to press the release tabs inside the back vent of the iMac G5. If you watch the iFixIt video you will see that a device like this is needed to releases the top of the case. The picture in the middle is the wired used mouse that I purchased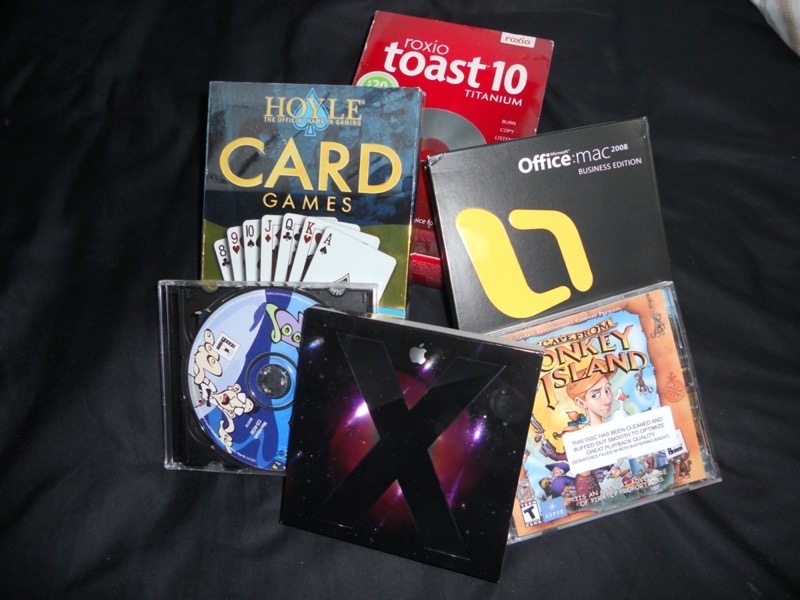 Now I needed an operating system.
Well, I jumped online and found someone selling the install CDs for Mac OS X 10.5, Leopard.
I also found an old copy of Microsoft Office for Power Mac and Toast, the CD burning software so I had to buy all three. You know a few games could be run too, I don't think I even spent $40 for all of the software.
Now with a freshly upgraded iMac G5 running the latest possible version of Mac OS X that it can support, version 10.5 I jumped online, and downloaded Audacity for PowerPC.
I also splurged and purchased a new, new to me that is, Yamaha duel tape deck, that only the "A" tape player works but it was only $15 with shipping, so I couldn't pass it up.
After purchasing the correct RCA to 1/8" cable for the audio and the correct firewire to mini firewire cable for the video recorder, I was off and recording.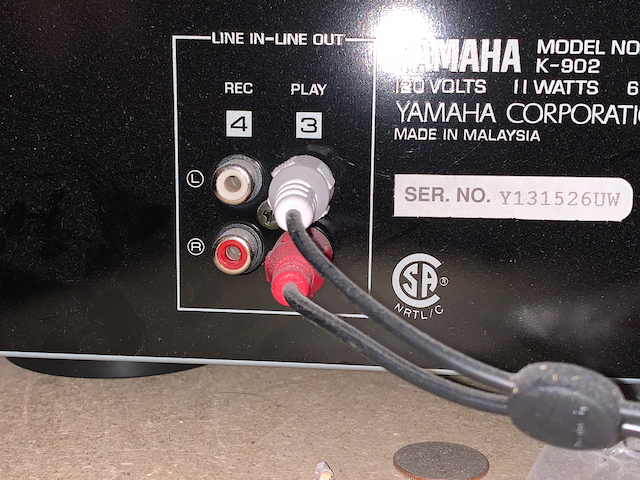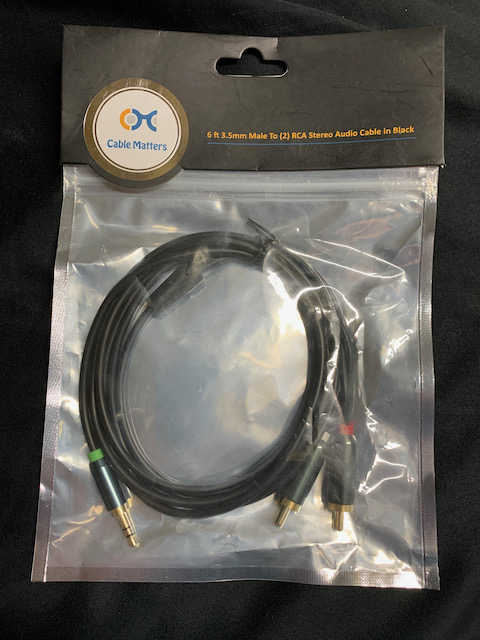 Would you believe it, iMovie works perfectly and doesn't use that stupid QuickTime file format that most video editors don't import correctly and Audacity it works like a dream with that $15 eBay tape player.
That little iMac can sit and run un-disturbed because no-one in the house wants to use such an old piece of antiquated Kit.
Up to now I have used this setup to convert stacks and stacks of 8 mm, HI8 and digital 8 video tapes and countless audiotapes.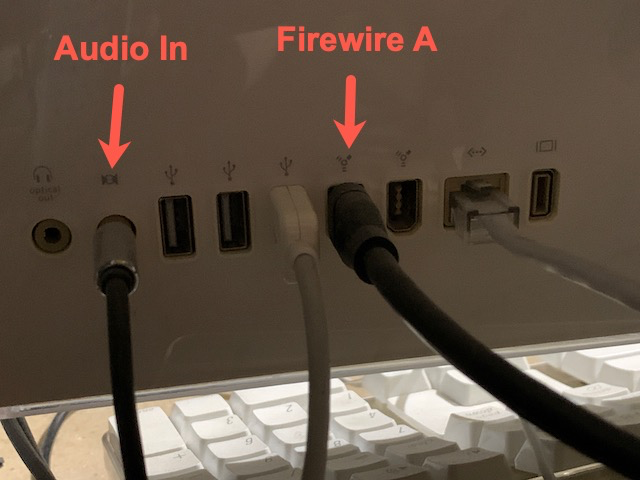 Note: The 1/8" to RCA cable plugs into the "play" or "output" jacks on the back of the tape player. The firewire cable for the video camera plugs into the Firewire port.
The fun thing is that in my area I have found that over the years the local library and schools sell off "books on tape" for $0.25 a book or even less on the last day of the sale.
Anyway, that is my review of one of my Apple purchase, the iMac G5 upgraded to 2GB of RAM, a 2 TB hard drive running Mac OS X 10.5.8.
Have a great day and don't be too quick to get rid of perfectly good, yet old, Apple Kit.
Now with the freshly upgraded iMac PowerPC G5 running the latest possible version of Mac OS X, software version 10.5.8 Leopard.
Resources: