Review of the Apple Beats Flex Wireless Bluetooth Earphones, by Kurt Liebezit, also known as PDX_Kurt in the live chat room.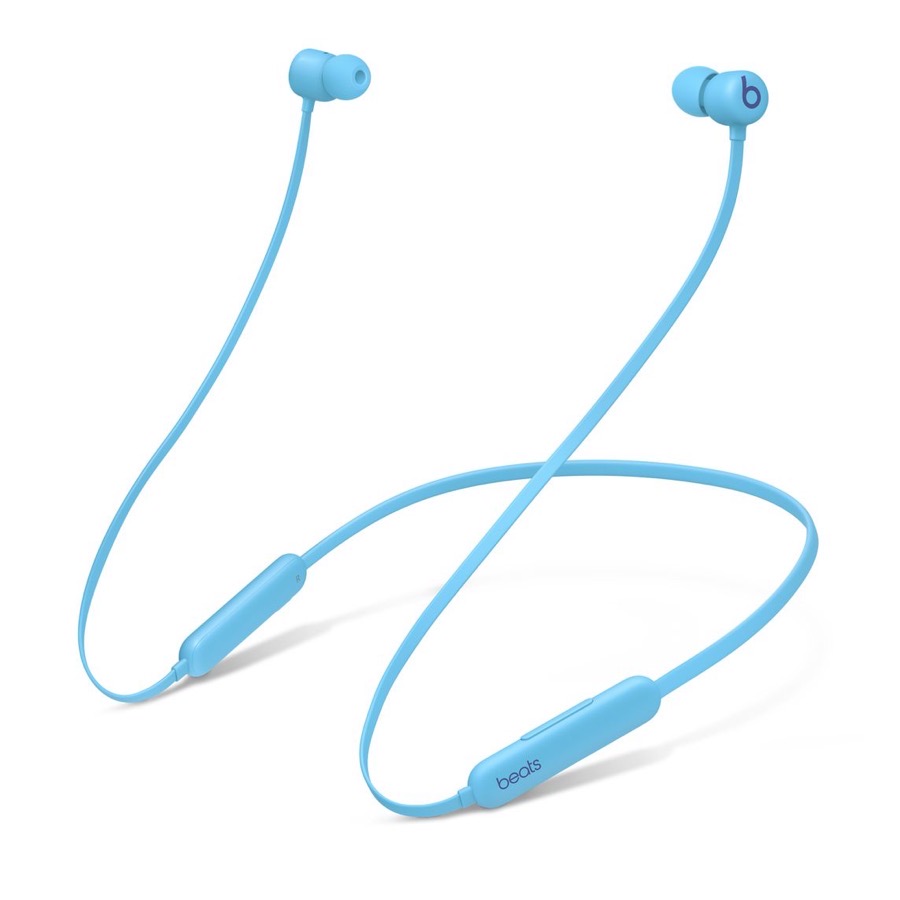 This is a review of the Apple Beats Flex wireless Bluetooth earphones. As you might guess, I'm a fan of podcasts. For quite some time I've used an iPod Nano 6th Generation (the small square ones that clip on your clothing) as my main podcast player. However, there are problems: they only accept wired earphones, which frequently catch on bicycle handlebars and doorknobs.
They wear out and have to be replaced with chancy purchases off eBay. They are too limited in capacity for the many podcasts that I'd like to listen to while cycling or farming. Worst of all, when I listen to some podcasts on the little iPod Nano and some via my phone's Bluetooth connection in my car, iTunes gets confused and starts marking episodes that I've listened to already as unheard.
For all these reasons, it made sense to consider switching all of my podcast listening over to my phone, and use wireless earphones. I know, welcome to 2016!
My decision to change over coincided with Apple's release of the Beats Flex earphones last fall. The headline features of the Beats Flex that were attractive to me were the battery life, listed as 12 hours of listening time, and the expectation that they would be a seamless integration with Apple's devices.
The Beats Flex have delivered on both counts: I haven't actually run them down for 12 hours, but I have done several multi-hour listening sessions, and when I've checked the battery level afterwards it has always appeared consistent with that 12 hour specification. And they are seamless in use, much like AirPods, I suppose: pairing them to a phone is a breeze, the battery level is visible on my iPhone or iPad, they function as a talk and listen device on phone calls, and you can invoke Siri with a long button push.
Physically, the Beats Flex are of the necklace style: a cable connects the right and left earbuds, with two small in-line capsules that house the battery and the controls; these capsules sit on your shoulders, while the cable goes around the back of your neck. The right capsule has the charging port and the power button, which also has a tiny status LED built into it; the LED glows faintly white while the earphones are on and the battery charge is plentiful, turning first red and then pulsing red as the battery charge depletes down to the last half hour.
The charging port is USB-C, which is not that unusual; however, the cable supplied is a) very short and b) USB-C to USB-C. If you're like me, and don't have recent Apple charging equipment with a USB-C port, then you'll have to buy a little USB-C female to USB-A male adapter.
The left side capsule has an up/down volume rocker button and a multi-purpose play/pause/Siri/phone control bump, as well as the microphone. The button sizes are distinct enough for me to discern them by touch, which is good, since you can't see the capsules while wearing them on your body.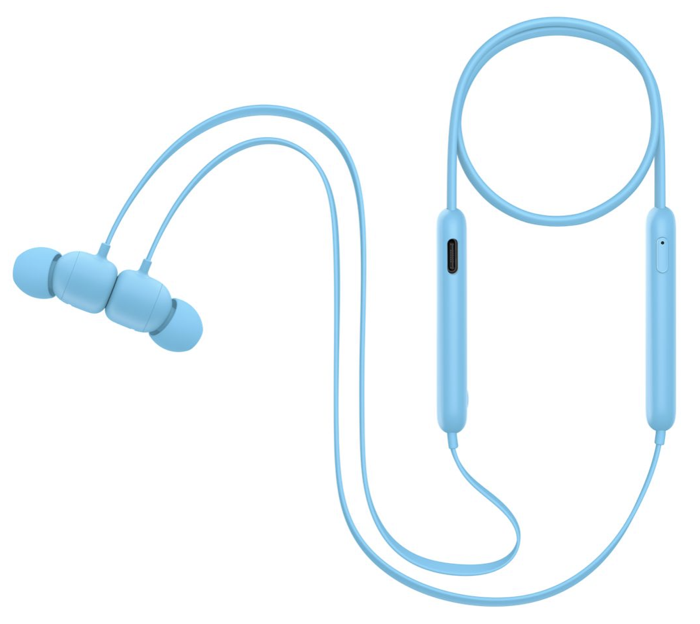 The earbuds incorporate a magnet in each, so they snap together around your neck when you're not using them. This is more secure and less likely to lead to a tangled mess, which you might get if you simply jammed them into a pocket. If a phone call comes in while they're snapped together, unsnapping them will answer the call; similarly, if you are listening to music or a podcast and snap them together, this will act like a pause command.
The cable that connects the earbuds and capsules is flat and a little stiff; this makes it resistant to snarls and tangles, but I've found that folding it into a loop that will fit in a little rectangular zippered case can be a bit tricky.
That is really all there is to say about features, so let's talk about what are probably the two most important attributes for earphones: fit and sound quality. The earbuds are of the in-ear variety, which I usually have trouble keeping in my ears. I have a drawer full of various in-ear earbuds that I've tried and given up on. However, the Beats Flex earbuds are slightly angled, so that the back of the earbuds wedge against your ear a little, and to my surprise I've found that they work pretty well for me. Your mileage may vary.
As for sound quality, they are much better than my usual wired Apple earbuds: it feels like all the frequencies are present and accounted for, with nothing being overly emphasized. They have a decent sense of stereo separation and presence, and they don't sound tinny or boomy. All of which is to say, they're at least as good as anything else I've ever tried, and a good deal better than most.
Finally, let's talk value. When they were released last fall the price was $55, and they were only available in two colors: yucky yellow, and "disappear into your backpack" black. I thought that even with those choices the Beats Flex were a good value. As I write this now the big retailer that starts with the letter 'A' is selling the Beats Flex for only $40 (price went back up to $50 after Kurt recorded), and in better colors like blue and grey to boot! So if you like the idea of AirPods, but want longer battery life, or are worried about losing small bits, or concerned about durability, I would say give the Beats Flex earphones a try!