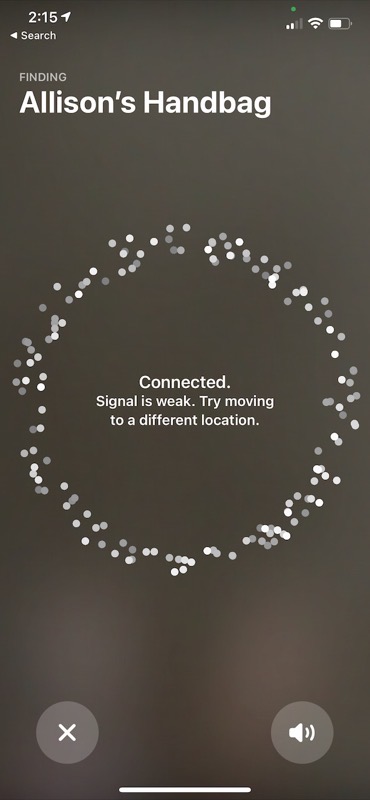 Everyone and their sister has been reviewing AirTags this week with various opinions on whether they're awesome or not. I'm not going to do a full review of AirTags but I do have a funny story to tell.
The review I was originally going to write was going to be entitled something like, "Are AirTags as Disappointing to You?" The reason for the article was because my first experience with AirTags was surprisingly bad.
I took my shiny new AirTag out of the plastic wrap, being careful to pull it out of the battery compartment. It made a delightful little chirp to tell me it was working. A popup arrived on my phone showing a spinning AirTag and by following the onscreen instructions I was able to easily name the AirTag, add an appropriate emoji, and give it my phone number to be contacted if anyone found my AirTag.
I named it handbag and put it in my purse. I walked a few rooms away and in the Find My app I tapped on the new "Items" option and it showed my purse was at my home address on a map. I selected the purse icon from the list, and tapped Find, expecting to be rewarded with an onscreen arrow like everyone on earth has been demoing on the Internets.
But I didn't get a green screen with a happy arrow showing me how far away my device was. Instead, I got a sprinkling of little dots in a big circle, and the message on screen: "Connected. Signal is weak. Try moving to a different location." I was only one large room away from the AirTag, but I moved into the hallway where I was maybe 10 feet from the device. Still no joy. It wasn't until I was actually in the same room with the thing that Find My showed me an arrow and said I was within 6 feet of it. That's not in the least bit helpful!
I started thinking this fancy interface really was only designed for diving inside your couch like in the marketing video during the Spring Loaded event.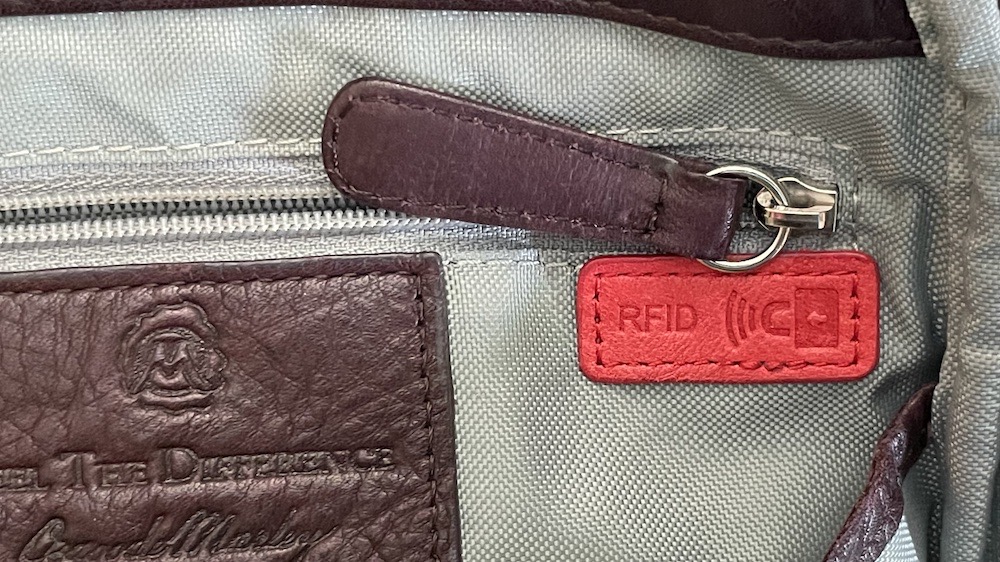 But before writing up how dumb I thought AirTags were, I went over to our Slack (podfeet.com/slack) and wrote to Marty Jencius who had posted earlier in the day that he'd received his AirTags. I asked about his experience and he described it as working quite well. Find My detected his AirTags 26 feet away where he had direct line of sight. His AirTags were showing him direction and distance even when he was on a different floor.
We went back and forth a bit and suddenly I had one of those forehead-slapping moments. I am a creature of habit and have bought this identical purse three separate times, and I suddenly had a vague memory of the pocket in the purse being advertised as having radio frequency blocking material around it. I opened the purse and sure enough, there's a big red leather label on the pocket that very clearly says RFID on it.
I moved the AirTag to a different pocket and suddenly AirTags were as good as everyone else says they are!