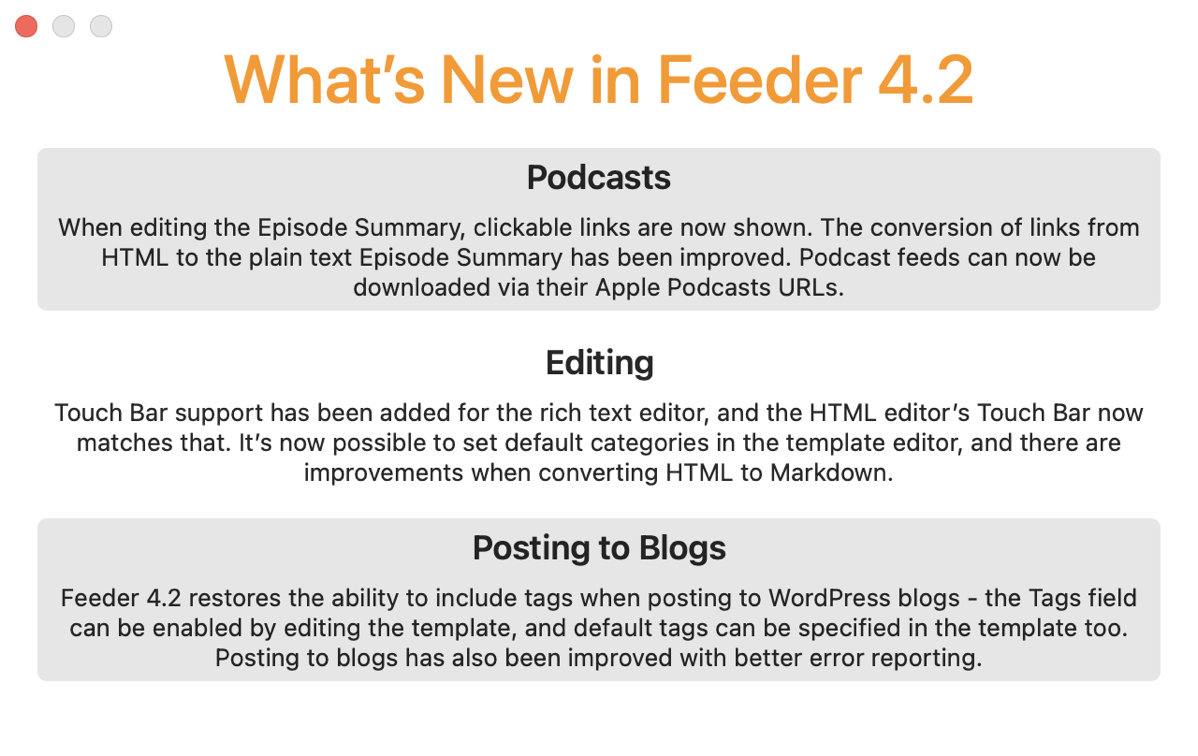 The reason you get my podcasts delivered into your podcatcher each week is because of a magical little text file, often referred to by terms such as RSS file or feed file or podcast feed. RSS stands for Really Simple Syndication. This file contains the information about the name of the episode, the shownotes, and a link to the audio or video file for the latest episode.
In the old days, circa 2005, I hand-coded this file, which was annoying. I'm glad I had to do it by hand because I'm not afraid of the file, and often can spot what mistakes I may have made if an episode doesn't get delivered properly.
Today there are many ways to create this file. There are WordPress plugins that will create it, and the podcast hosting services Libsyn and Blubrry will both create it for you if you like. Instead, I choose to use an application for the Mac called Feeder from Reinvented Software to create my feed. It's a terrific text editor, it automates adding the album artwork, and I've recently begun to trust it to send my audio files to my server. It's been able to do that for ages but I was afraid to try it until recently.
This is all background to tell you about an awesome new feature that the developer Steve Harris recently added to the tool. You may remember that a few weeks ago I explained that Apple has seriously broken the way the Apple Podcasts app works. Remember I told you that episode 91 of Bart's Let's Talk Photography podcast hadn't shown up more than a week after he posted it? Jim wrote to me this week to tell me that show #837 hadn't come into Apple Podcasts for him at the expected time. It did show up eventually, but I pride myself on how close to schedule I keep my shows. The good news is that Apple has actually somewhat acknowledged the problems podcasters have been having.
In a recent email to podcasters, Apple wrote:
Over the last few weeks, some creators have experienced delays in the availability of their content and access to Apple Podcasts Connect. We've addressed these disruptions and encourage creators experiencing any issues to contact us.
That gives me hope that they will fix another huge problem they created, and that was how they broke links in the shownotes. I explained in detail in my previous article how my carefully crafted links are simple text now in the shownotes if you use the Apple Podcasts app as your player, which approximately 40% of listeners use. The main problem is that if you use human-readable link text, Apple just shows the text and it's not a proper link.
I knew I didn't have the energy to write up two different styles of shownotes and so I stuck my head in the sand on the whole issue.
But then Steve Harris set out an update to Feeder that promised to give me an automated way to give Apple Podcast listeners the links they deserve. I made a little video for you to show you how delightful the process is. Even if you don't have a podcast and you don't need to make a podcast feed, I think you'll still enjoy watching his magic in this 1:46 min video.
For those who can't see the video, the process is lovely. Podcasts can have a Description and an Episode Summary. The shownotes normally go in the Description field, and I've never bothered with the Episode Summary. I'll confess I never even noticed it was there! Steve explained that the Episode Summary is what Apple Podcasts will use if it's available.
After I go to the Description field and enter all my lovely, handcrafted links that Apple Podcasts ignores, I swap over to the Episode Summary in Feeder. Then in the menu, I can choose Editor > Episode Summary > Insert Description with Links, and BOOM, the exact same content I put in the Description field is instantly added to the Episode Summary but showing all of the ugly https://blahblahblah so that Apple Podcasts will recognize it. It is a beautiful thing. I tested it about 12 times just because it was so much fun to watch it go.
Until Apple fixes this mess they made, Feeder has become a huge boon to all of you who enjoy your podcasts via the Apple Podcasts app. I'll tell him you all say thank you!