An Audio Problem To Be Solved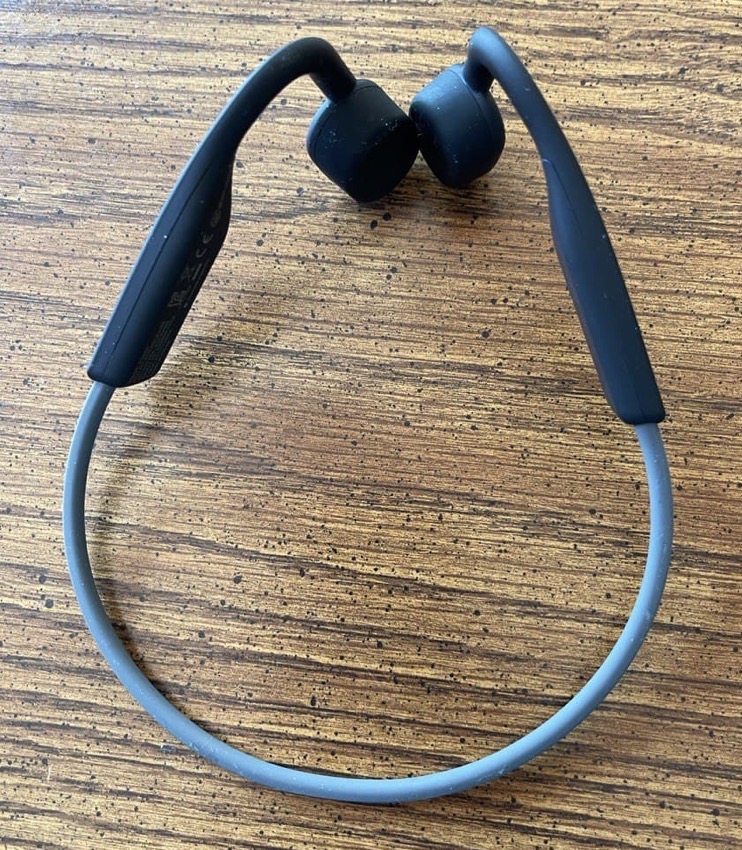 I thought I would share with you a new toy that I think is just great. As some of you may have heard, I have a slight podcast problem. I listen to podcasts all the time. When I'm not listening to podcasts, I start to fidget. It has become that much of an addiction.
But here's my problem. I'd love to camp, but what kind of person walks around their campsite, either listening to something so loud, they can't hear nature or has headphones with noise-canceling, they can't hear anything. I like to listen to the birds and hear when a bear comes up behind me.
I could listen through my amazing Sony WH-1000MX3 headphones that block out every sound possibly made. I could put my AirPods in, which does a fantastic job blocking out all the noise. I could use the AirPods on transparent mode, where I hear some of the noise, but not the noise in its raw, beautiful format, just some sort of processed version of it. None of that really works for nature.
Clear for Audio and the Real World
What I brought camping my last time was called the AfterShokz OpenMove headphones. These are bone-conducting headphones, and they work by transmitting noise to your jawbone. This allows you to have the headset actually on your cheekbones instead of inside your ears. You can hear the whole outside world exactly as it sounds, and that's great.
The outside world is beautiful and full of nature and birds chirping and bears growling. It's a perfect way to listen to podcasts, or music, or books at the same time you're out in nature. The interesting thing about it is it doesn't cloud up either of them.
I can hear whatever is being played on my headset quite clearly. But I can also hear the nature behind me, clearly, and for whatever reason, everything sounds distinct. I can tell what's inside my headphones, and I can tell what's outside in nature. They both work really well together.
I think if Allison were sitting in the same room with me at the same time I was listening to her podcast with the way the sound works, I would totally be able to tell the difference between her voice in the same room and her voice on the podcast, it's that clearly defined. The other cool thing about bone-conduction headphones is that it still works if you have hearing loss. You can even use them if you use a hearing aid, which I think is pretty fantastic.
Does It Work?
The OpenMove that I have is the lowest-priced version of AfterShokz out there, and it runs about $80. The headphones themselves have a band and two vibration pods that rest on your cheekbone. These pods produce vibrations to your cheekbone soo it sounds like noise.
At first, I noticed they were there, but as I went forward, I stopped focusing on the fact they were there. I actually spent most of my time camping and then eventually going for a nice hike without having any battery issues at all. And like I said, I could hear all the nature around me while at the same time listening to my podcast. Have I mentioned I'm 13 days behind?
A Lot of Features
The biggest complaints about them when I was looking at some of the reviews about these headphones is that maybe they're uncomfortable, or the fact that they don't have noise cancellation, obviously because it's not filling your ear. They do come with a pair of earplugs, which is what they call noise cancellation. I thought it was kind of funny.
The OpenMove headphones are equipped with Bluetooth 5.0 and can connect to multiple devices. The pairing was easy and worked right away. There are three EQ settings when it comes to these headphones. One of them is regular listening, one is for voice listening, which would be great for my podcasts, and the other is when you decide to use those earplugs.
The other thing that I liked about the version I got (besides the great price), is that it also charges with USB-C. Many different versions of these headphones have a special proprietary charger that almost looks like a magnet-style charging device. I'm sure that's pretty handy. But I would take having the USB-C charging any day. I heard one lady complained that she broke her charger on a trip and couldn't find it anywhere, so her headphones became useless to her.
What about Music?
Now I listened to podcasts and a few audible books, and I wondered what kind of experience the music would be. I found music was okay and I could enjoy the music. But if you are a music connoisseur who really loves those deep basses and hearing all those instruments in there, you might get frustrated. I'm not sure the sound is quite that good. On the other hand, I found that the microphone was fantastic. It has noise canceling on it, and people were able to hear me quite well.
Can Other People Hear My Audio?
I also had a friend test out how loud the headphones had to get before she could hear what I was listening to. So I turned it up, and I turned it up. It was almost too painful for me to listen to where she could actually hear some mumbling words. For those afraid these open-ear headphones will allow other people to hear what you're listening to, so far, I've not found that to be true. I noticed that as I started turning the volume up higher and higher, the actual headphones started vibrating a little bit, and I've read that goes away with the more expensive versions.
So Many Functions, So Few Buttons
The buttons on the AfterShokz OpenMove headphones are multifunction buttons. There's a whole chart about what they can do, from calling up your voice assistant to making them louder or softer, next track, or answer phone calls. I struggle quite honestly whenever there's a multifunction button going on. I got so used to the simplicity of my air pods. If these were my primary headphones, I'm sure I would learn them quite well and get used to them. But honestly, I find controlling it easier on my phone than actually using the headphone themselves, which I know sometimes is not optimal when you're biking or running with these headphones.
When to Use Them
I have a lot of use cases for the AfterShokz OpenMove headphones. As I said, I like to go hiking or camping, and I listened to podcasts. But I also use these for biking. They fit nicely underneath my bike helmet and work really well for biking. That way, I can hear traffic and listen to people coming up behind. Everyone shouts "on the left," which means they pass me because I'm so slow, and I can clearly hear that. While I listen to things while I'm riding my bike, I don't feel like I'm going to get run over by a car.
Some other bike helmets have this built in too. As a side note, I also have the Coros bike helmet, which also uses bone-conducting technology, which I primarily bike with. It's not so much because it works in any sort of different way, or that one sounds better than the other. They actually both sound very similar.
I use the Coros helmet instead of using the AfterShokz headphones because Coros comes with a remote control. So instead of fiddling around with tiny buttons, trying to get the headset to actually work correctly, I'm able to actually use this remote, which mounts to the very top of my handlebar. I find that much easier and safer to use when I'm biking. The Coros helmet also has turn directions on the back of the helmet, which you can control from that very same remote.
I can imagine where you're walking in an urban area with traditional headphones, and you're worried that you might get hit by a car that's honking at you, or you won't hear something that's coming your way. This would also be a perfect time to use this kind of headphone.
Many Other Models
There are some other models of AfterShokz out there. One of them is the OpenComm, which has a boom mic on it if you do many phone calls. Maybe you want to be a little bit more clear than the microphone that just comes with every model. This one will allow you to flip it down and use the microphone
Then there's the Aeropex, the most expensive one. But the nice thing about this particular one is the battery lasts longer, about twice as long. It also comes in more sizes. I feel the version I have is a little too big for my head and I would probably prefer the mini version of it, but the Aeropex costs almost twice as much at $160. The more expensive model has magnets that can clasp around your neck, so it makes it less likely that they might fall off. I don't really think that was worth my money for the extra bass, the more waterproof, and that smaller frame.
AfterShokz has a few other models out there. But those are the three main models.
Bottom Line
Overall, I give the AfterShokz OpenMove headphones a great review. They come with little stickers on them so that you can make them your own and make them look all fancy with racing stripes.
I think anyone who does want to hear the outside world has some trouble hearing and is not too much in love with exact musical representation would like them too. Heck, I listened to Allison's live show on Sunday night with those headphones while listening to all the raccoons eating all my food at the campsite. It was perfect! I loved it, and I love these headphones too.
They certainly have a use in my life. Of course, you too can come to the live show and wear any earphones you want to, but if you're hoping to listen to nature and the live show, I highly recommend the AfterShokz headphones.