Our Tiny Tip comes to you courtesy of Marty Jencius in our Slack at podfeet.com/slack. It's a useless tip, and adds no real value but it may surprise and delight you. He posted the idea, but I'll do a more elaborate explanation, with full screenshots to follow along in the show notes.
What Marty figured out is that you can change your avatar for your Mac into an animated Memoji.
I'll explain first how to set it up and then tell you where this becomes fun.
Prerequisite – Create Your Memoji
Before you can play along on your mac, you need to create your own Memoji using your iPhone or iPad Pro. I won't walk through the instructions for that because Apple has a support article explaining it at support.apple.com/… If you don't want to, or don't have a device to create your own Memoji, you play along with of the animated ones that Apple provides, like the octopus, alien, or poop.
Setting Your Memoji on macOS
Once you have a Memoji created, it's time to set it up on macOS. Launch System Preferences and click on whatever image or icon you've added to your account that shows at the top of the System Preferences screen.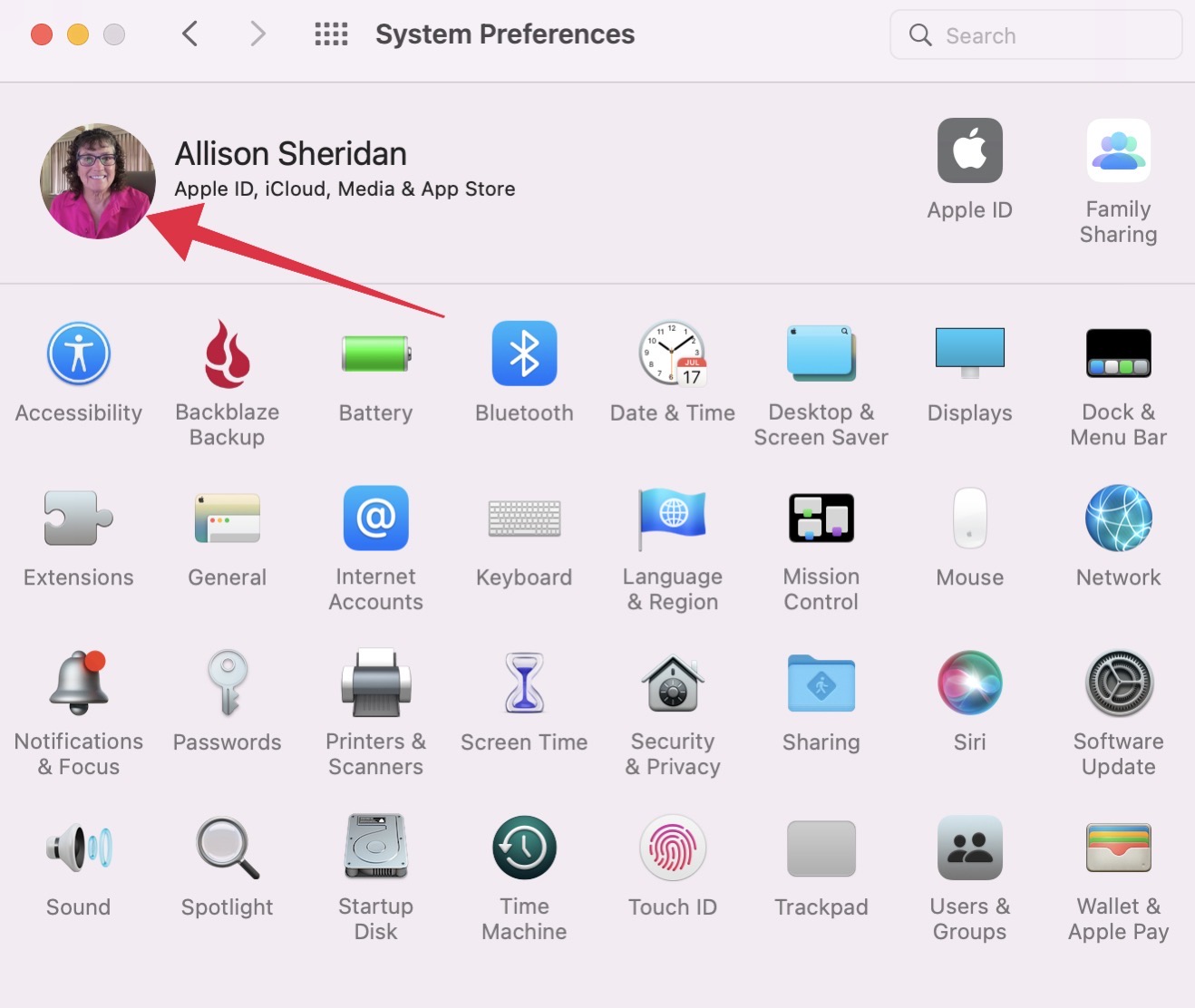 The pane that comes up will have a series of options down the left side, including Camera and Photos, and we want to select Memoji at the top of the list. With Memoji selected, you also want to make sure you're on the Memoji tab at the top of the page. You should see your Memoji along with the animals and other animated options.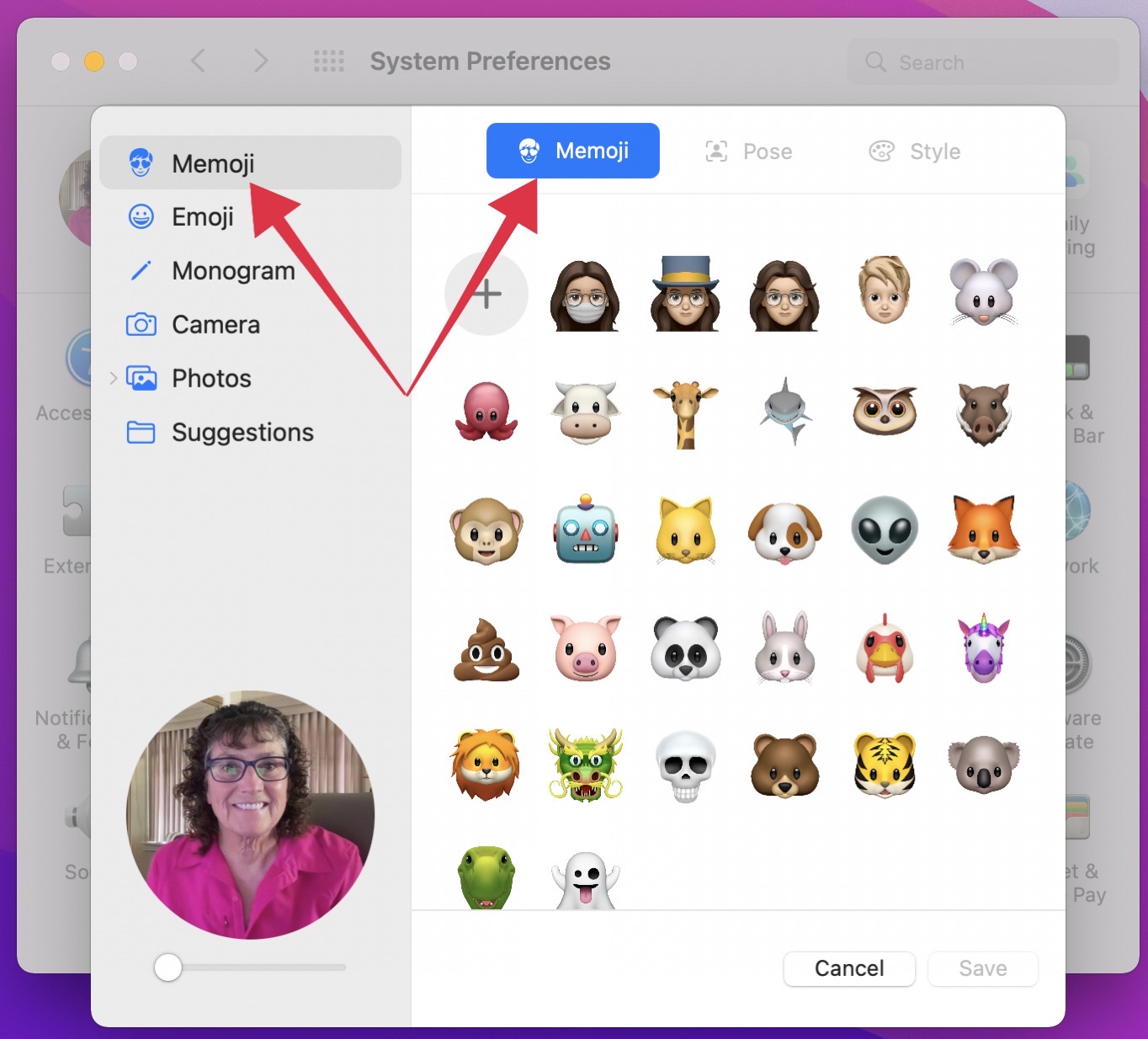 Select the Memoji you want to use from the grid of options.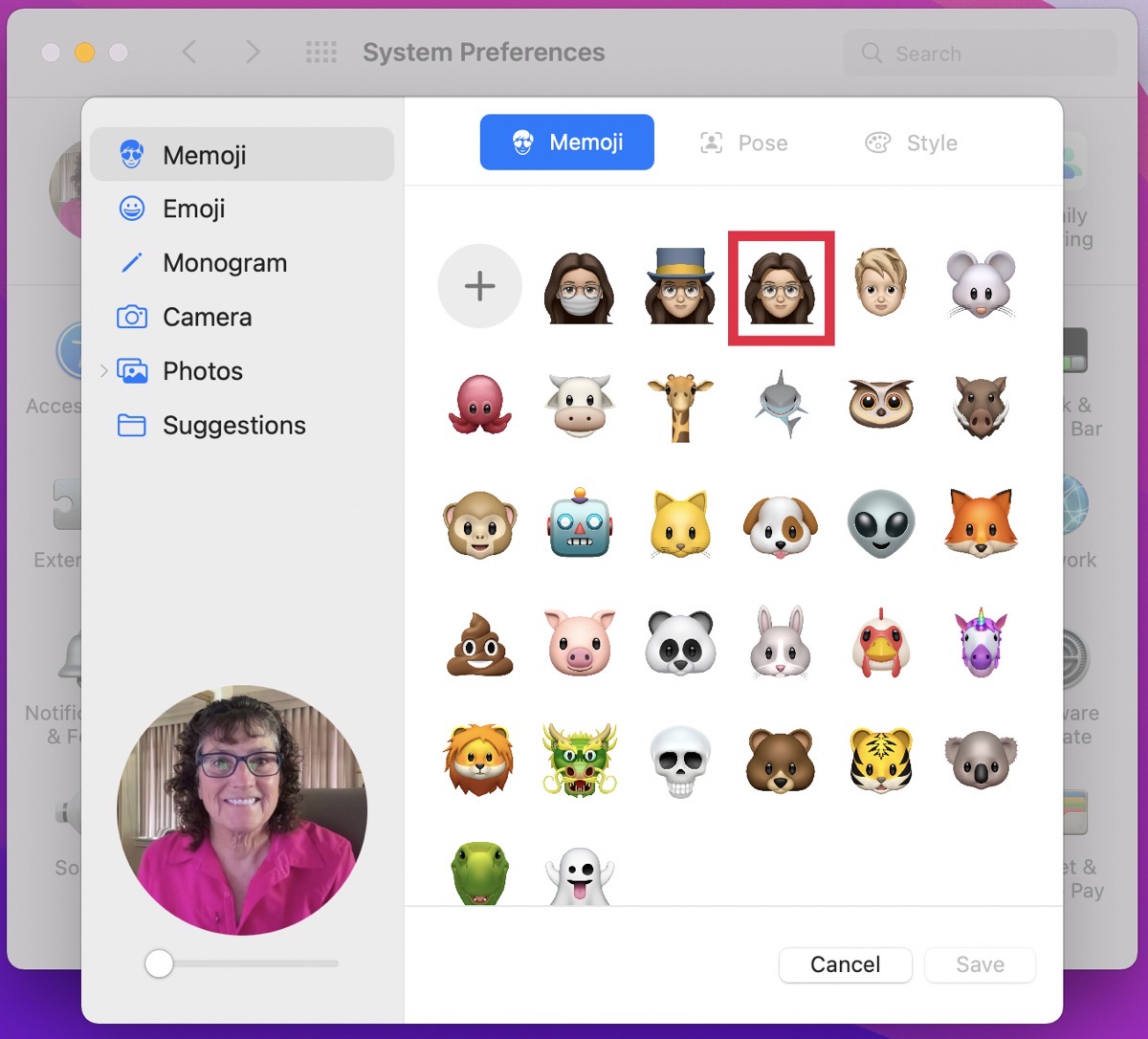 Now select the Pose tab from the top of the pane. This will allow us to choose what your Memoji looks like when it's static and not animated.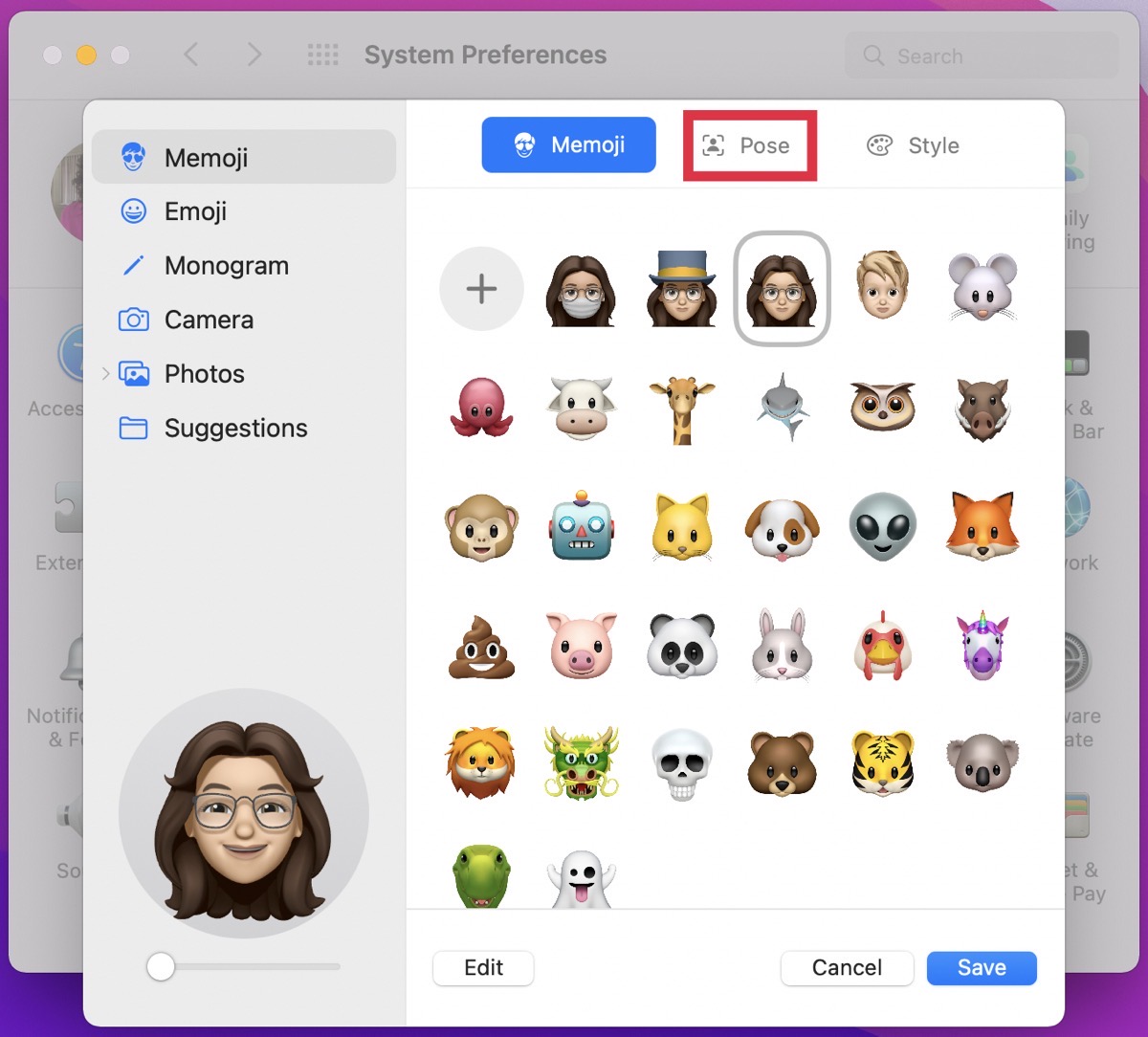 You should see a grid of possible poses, from winking, to skeptical, to happy. I chose the option with my tongue sticking out because that's actually a pose I often use in real life. Once you've chosen the pose, click Save.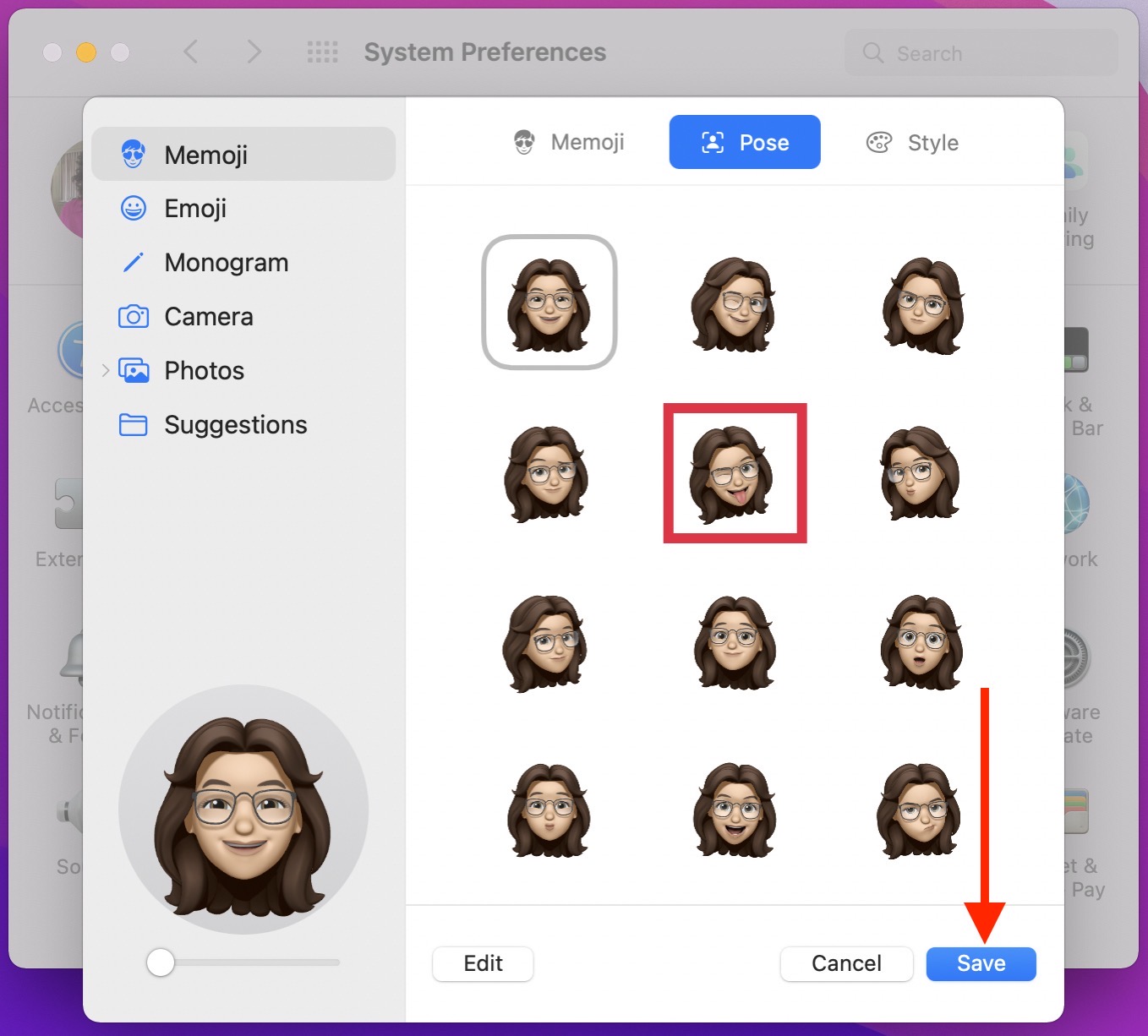 At this point, you'll see the static pose Memoji as your avatar in System Preferences. It also becomes your avatar in Messages as seen by people you chat with.
But the real fun is when you log into your Mac, from locking the screen, logging out, or restarting.
Assuming that you don't have an Apple Watch set to automatically unlock your Mac (which will destroy the effect because it's so quick), you'll see your Memoji looking around on the login screen. As you move your mouse around, I get the feeling that she's sort of following you. I know if you pass right over her face, she sort of focuses straight at you.
Now click in the password field, and she'll tilt her head down and watch you type. For fun, mistype your password. When it fails, she'll make a face that shows she's very disappointed in you. When you successfully type in your password, a split-second before you are shown your desktop, she'll give you a giant grin.
If you want to see what this looks like, I made a short video I embedded into the show notes demonstrating the effect.
As I said at the beginning, this tip has zero nutritional value but it absolutely delights me. Thank you Marty for telling us about it!