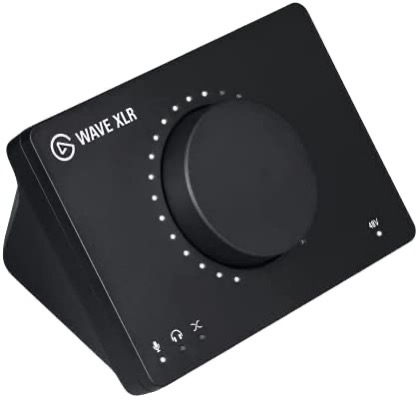 The Elgato Wave XLR is a simplistic easy to use podcast interface. Don't be fooled though, it still packs a punch. It has all the features you want and need without any extra bells and whistles.
The Problem To Be Solved:
I'm blind, so I was looking for a device that was simple to use yet still had all the features you would need for podcasting. Most traditional interfaces have so many buttons and knobs it's almost impossible to figure out what is doing what and remember what they all do and where they are all located. Digital interfaces typically don't have any accessible features in the interface, so that makes it super hard to use. The Elgato Wave XLR checks off most of the boxes.
The Physical Device
The Elgato Wave XLR is square in shape. It sits in a wedge which means the back is taller than the front or the bottom. This way the front is always leaning, facing you at an angle rather than flat on your desk.
It's lightweight while still feeling solid on the desk. The front has one large round knob. This knob controls everything on the device. It controls output gain volume, headphone volume, and phantom power.
On the back of the device, you have USB-C, 1 XLR port, and a headphone jack. The USB-C is a great feature because whatever device you plug it into, laptop or desktop, it powers right up without needing to go find AC power. For example. If you have a laptop with minimal ports, let's say only 2 USB-C ports, then you have one port to keep your laptop charging and the second port takes care of the Elgato Wave XLR. That's it. Fast and easy.
Muting
When you want to mute or unmute you simply slide your fingers across the back of the device. There's no physical button so there is no sound when muting or on muting. This was a really great feature and well designed.
The knob on the front of the device has white LED lights that are always on. When they are white that also means you're not muted. When you are muted the lights turn red giving you a way to see whether you're actually muted or not.
The only bad part about this feature is if you are blind or visually impaired and are unable to see enough to see the LED lights then you have no real way to know whether you're muted or not. The only way I could find to solve this issue is to mute or unmute in your recording software.
That way I have an auditory indicator letting me know whether I'm muted or not. You could also not worry about muting at all and just fix any issues later in post.
Bottom Line
Elgato Wave XLR costs $150-$200 depending when and where you make your purchase. It's available on Elgato's website or on Amazon.
I would recommend the Elgato Wave XLR to anyone looking for a simple easy to use interface with all the features you need without all the extra bells and whistles. It sounds great and has good build quality while still being portable and lightweight.
---
After I received Marty's audio and written reviews of the Elgato Wave XLR, I bought one. The problem I'm trying to solve is two-fold. Steve's well-loved but very old Shure mVi XLR interface may be failing, as we're getting audio clicks on his voice during the live show. He can also see audio dropouts in the mimoLive software on his end.
I'd been crawling the Internets looking for a small, simple, single-XLR input interface and all of the ones I'd found were too complex or had the inputs coming out of the front of the device. Having a thick XLR cable coming straight out to your keyboard is obviously a bad solution. Marty's review of the Wave XLR came at the exact right time.
There's also a reasonable chance that I'll replace my excessively-complicated and fussy Universal Audio Apollo Solo Thunderbolt interface with a Wave XLR of my own. I'll report back on how well the Wave XLR works for both Steve and me, but in initial use, I can say that it's just as lovely as Marty described it. Simple and elegant!