I've been obsessed with diagramming the new Mac models recently and in discussion with Tom Merritt of the Daily Tech News Show we started thinking about how things were at Apple before Steve Jobs's triumphant return to Apple on September 16, 1997. Steve looked at the product lineup and immediately saw that there were far too many choices. I went through the awesome application MacTracker and mapped out every computer Apple was selling at the time, and added each of their time of death dates.
In the diagram below you can see that only two models on this diagram gracefully aged out, the Macintosh Performa 6360 and the PowerBook 2400c.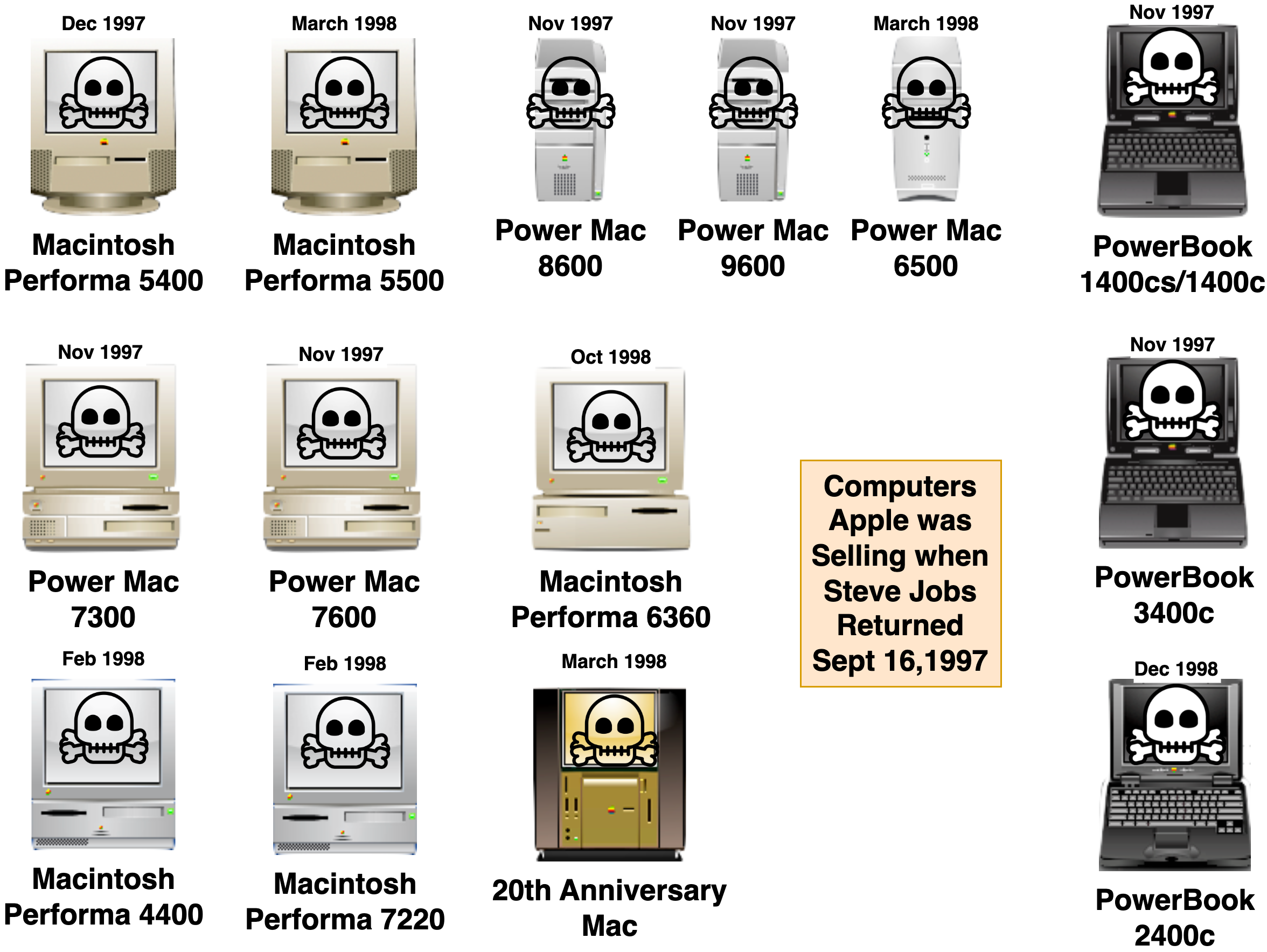 It was after this that Steve presented his now-famous product strategy: a 2×2 matrix showing the two categories (desktop and portable) and the two audiences (consumer and pro) and how there could be just 4 models to satisfy all needs.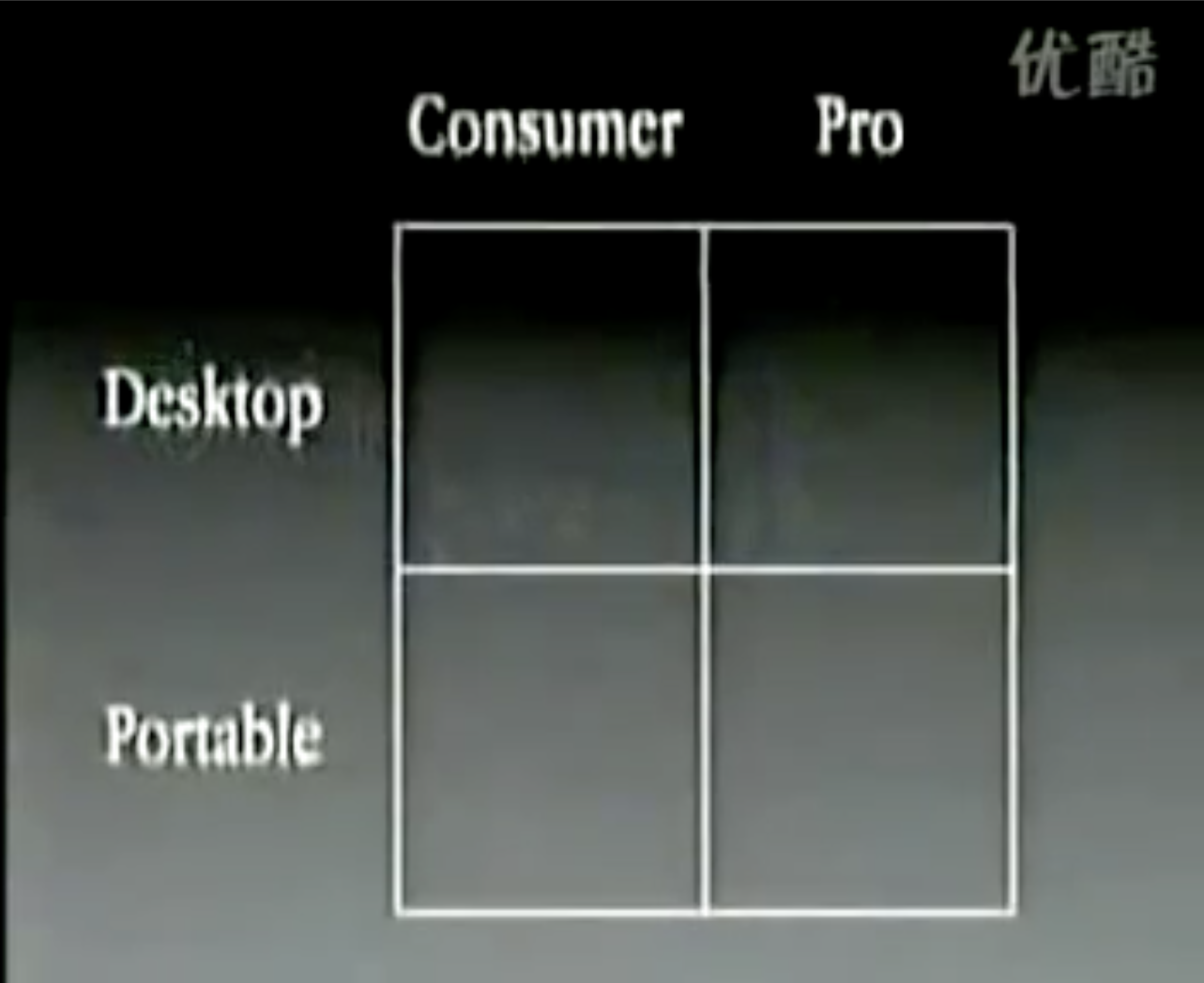 And now, in 2022, we're back to this, before the Mac Pro is even in the picture for Apple Silicon.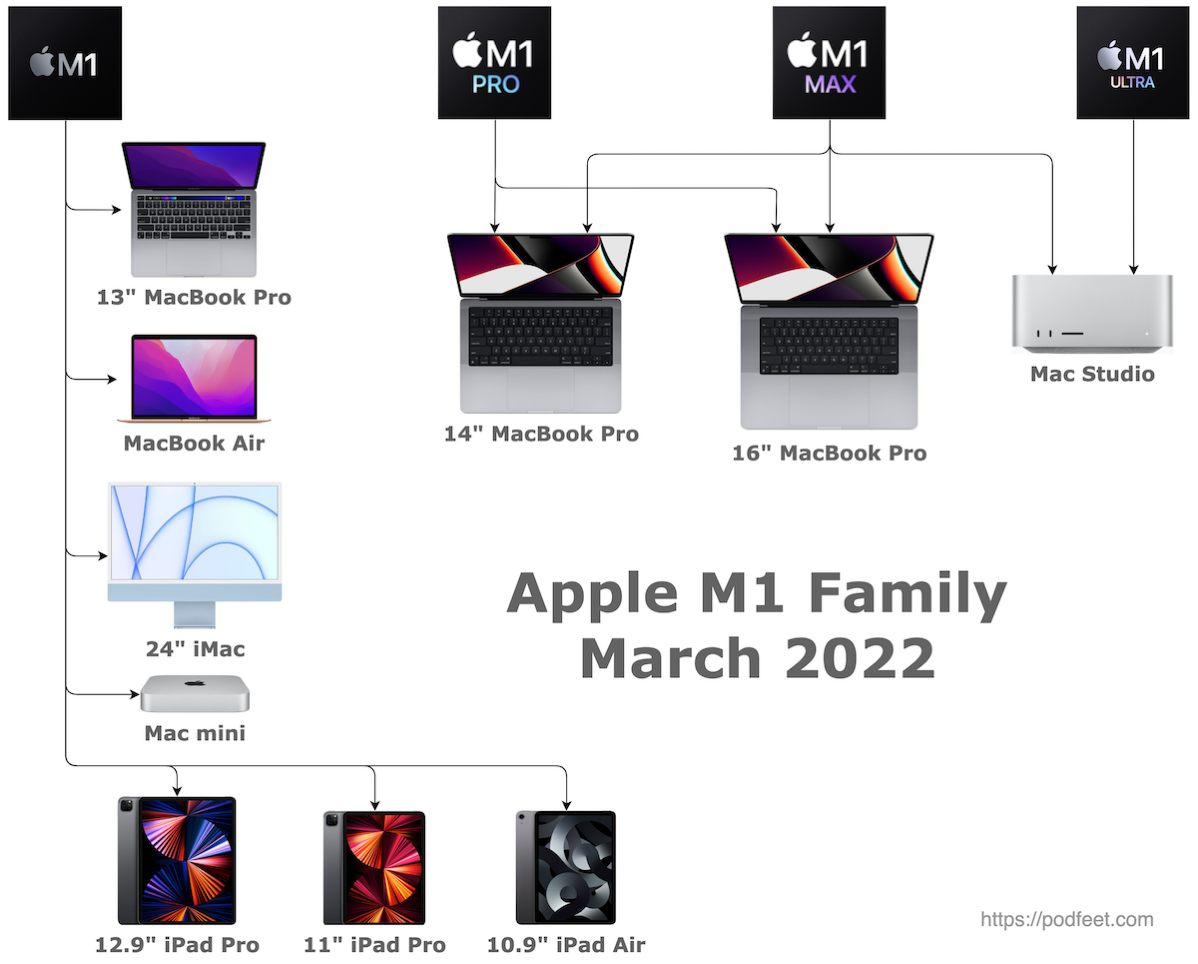 I showed these diagrams during a Daily Tech News Show episode this week and got some interesting feedback from Tom Merritt and a few folks who wrote in. They suggested that it was just as complicated during the Intel days because we did have to choose between i3, i5, i7, and i9 and we had to choose graphics cards. That got me to thinking. And another diagram came out of that thinking. Using the awesome MacTracker application again and draw.io, which is a desktop app for diagrams.net , I created a diagram for the 2019 13″ and 15″ MacBook Pro.
What I discovered was that we did have a lot of options, but they were not interdependent. Within the 15″ MacBook Pro, you could choose from three different Intel processors, from a 2.6GHz 6-core i7 to a 2.4GHz 8-core i9, but that decision didn't affect whether you could have 16 or 32GB of RAM, and all of those CPU decisions allowed you to choose any one of four graphics cards. In the 13″ MacBook Pro, you were only given the option of an i5 or i7 processor, but that decision didn't affect how much RAM you could have (8 or 16GB) and you were stuck with Intel Iris Plus Graphics 645 no matter which processor you chose.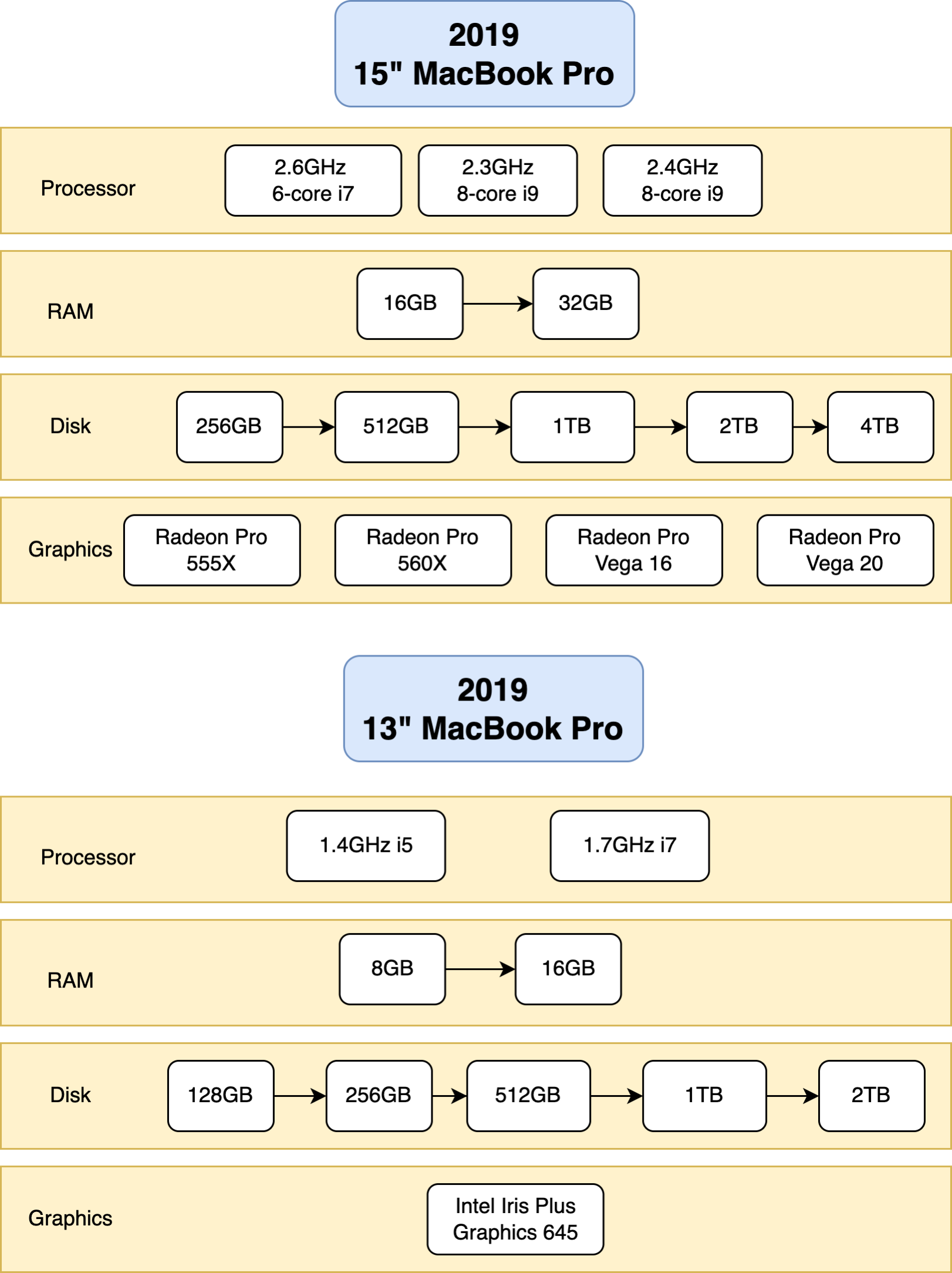 If we compare that to the M1 Pro and M1 Max decision tree I posted back in October, you'll see why our new world is more complicated.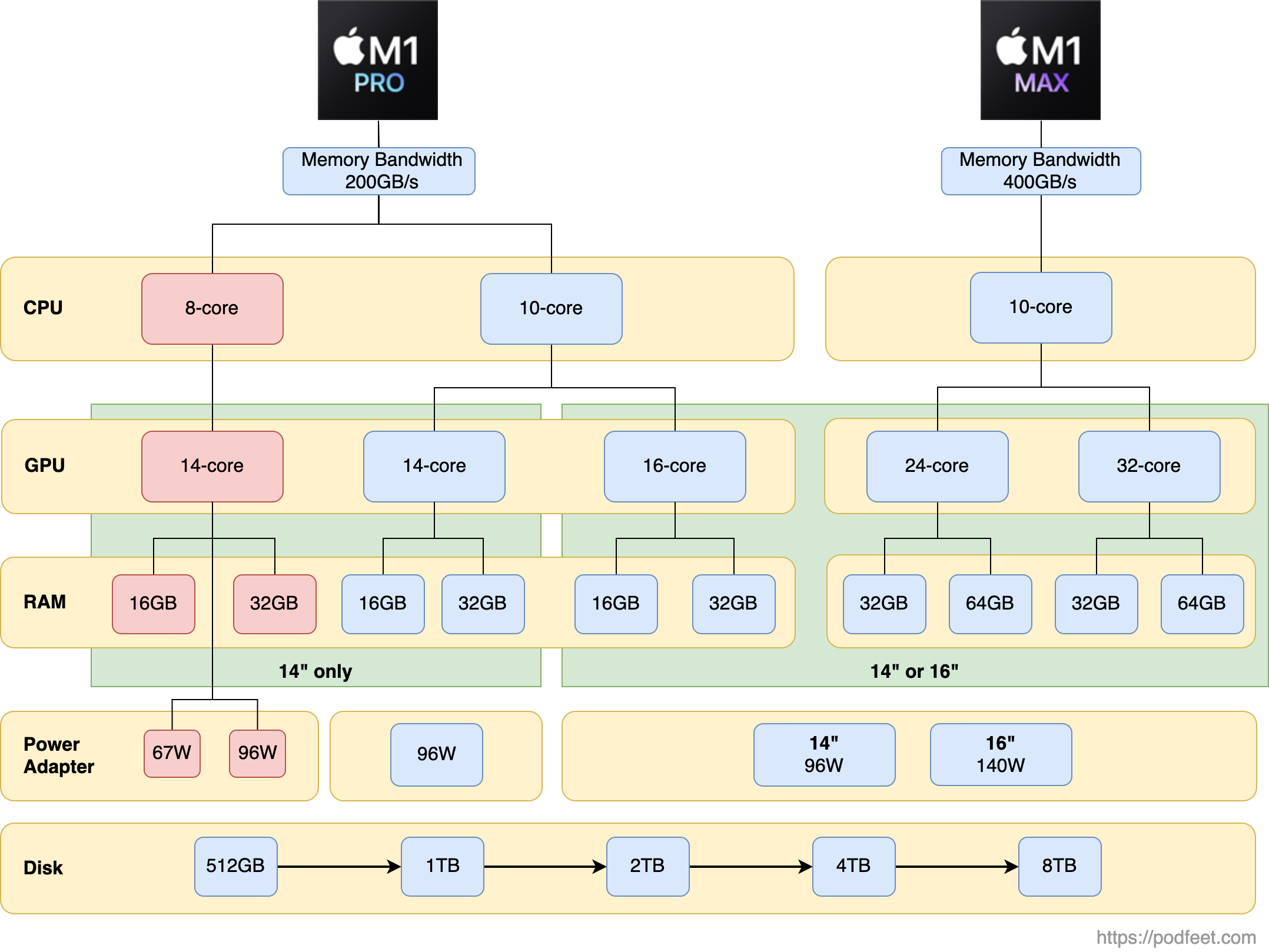 Today if you simply decide that a 14″ MacBook Pro is right for you, you have to start by deciding how many CPU cores you need – 8 or 10? If you choose 8, you will get a 14-core GPU. If you go 10 you can have 14 or 16-cores. But if you choose 10 cores for your CPU you now have four options available for your GPU from 14 to 32 cores!
Let's look at this from another angle. Let's say you want 32GB of RAM. That's awesome, all options of M1 Pro and M1 Max of the 14″ MacBook Pro are availble to you. But if you want 64GB of RAM, you must get an M1 Max. Now you have to decide if you need/want a 24 or 32-core GPU. See what I mean? All of these decisions are interconnected when before the M1s were around, they were independent decisions.
I'm not complaining, far from it. I'm thrilled with the options available to us. I'm just saying that it's hard to even describe what the options are. If you're advising family and friends on which Mac laptop they should buy, I wish you the best of luck. I bet you can sympathize with Steve Jobs when he said back in 1997 that he couldn't figure out what to recommend to his friends and family!