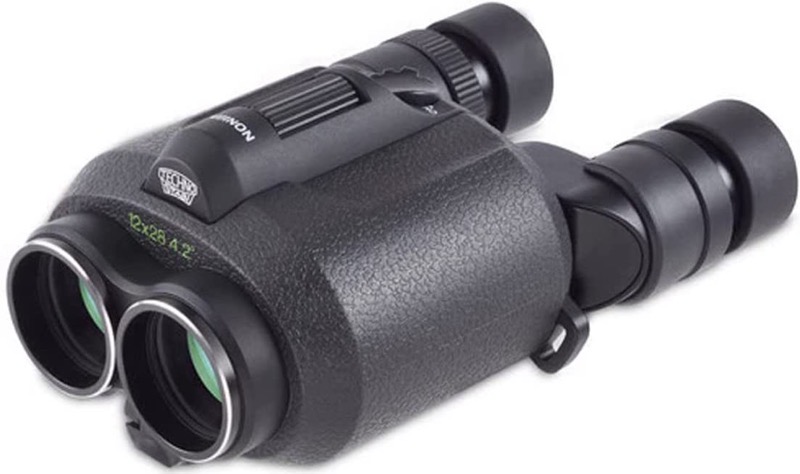 Many years ago, I bought a compact pair of binoculars from Qualide with a 10×25 magnification and a 5.5° field of view. I liked them because they were very light and small, but with small binoculars, you also get a very narrow field of view. They were easy to carry when hiking but I didn't find they met my needs.
Years later, Allison and I went to an observatory in San Diego County where I bought a larger pair from a company called Gordon. The new set had a much better light gathering and the field of view was much improved, but they were very heavy and bulky.
I kept wanting a pair of binoculars that weren't huge and heavy and yet had a reasonable field of view.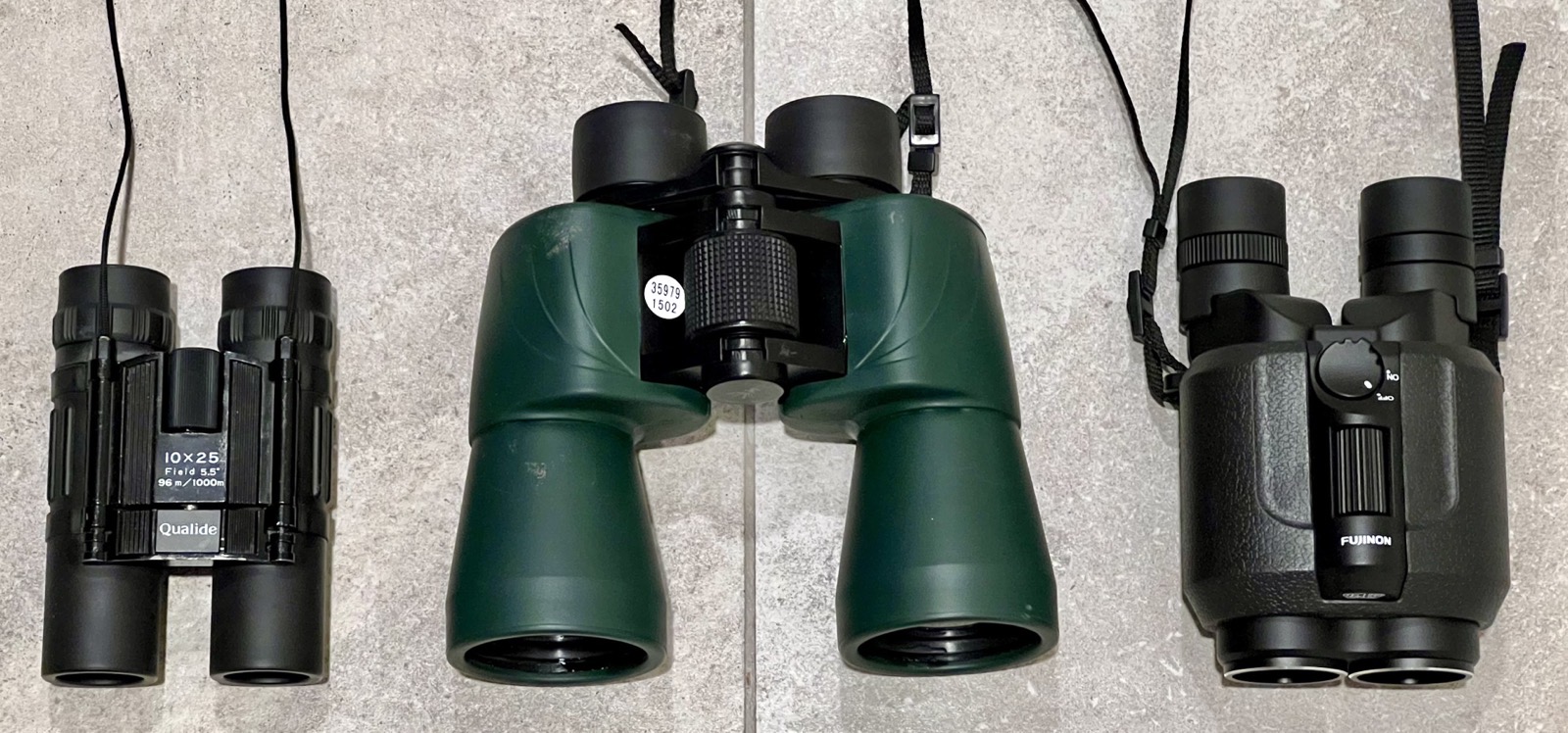 My friend Bill let me peer through his motion-stabilized binoculars and I added that feature to my list of requirements. With our Iceland trip coming up, we knew that there would be a lot to see from the ship and a nice pair of binoculars would sure be great to help us see everything.
My criteria for choosing new binoculars:
- Image stabilized
- Compact, light-weight design
- At least 10x magnification
- Reasonable battery life (a day of continuous use)
- Reasonable cost (~$500)
- Waterproof or resistant

In my searching for a pair that met my criteria, I found that both cost and weight increase when you add image stabilization. It was clear that I was going to have to make trade-offs. Image stabilization was going to be weighted pretty high since we'd be viewing from a moving ship.
Another important thing to realize is that you sacrifice some field of view when you add image stabilization. To create a stabilized image, a smaller viewing area is adaptively shifted around the total available area.
Decision Time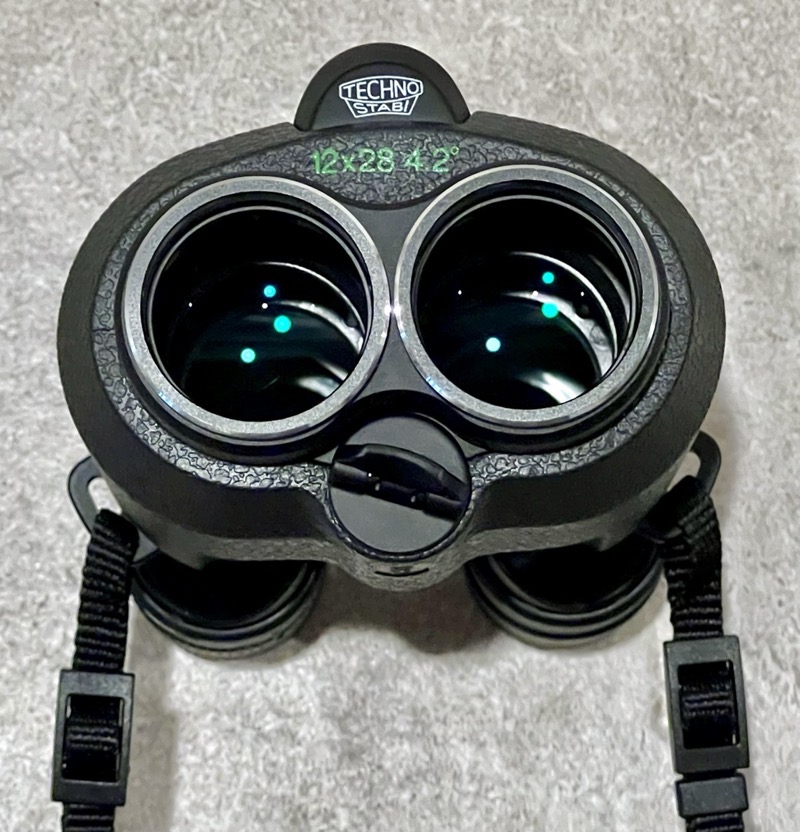 I ended up choosing the Fujinon Techno-Stabi 12×28 image stabilized binoculars for $650 on Amazon.
I chose this model because they were very compact and fairly lightweight, but still gave me good magnification at 12×28 and featured good image stabilization. They aren't mini-binoculars like my original pair, but they fold up nicely and are surprisingly light for their volume.
I find that the focusing mechanism is smooth and precise, which is important when you're watching moving subjects and if you're sharing binoculars with others. I mentioned that the binoculars fold up to become more compact, and that means it's necessary to pivot them for my own use and when handing them back and forth with Allison, whose eyes are a different distance apart. This pivot mechanism is a little too tight so it's not as easy to change as I would have liked.
The field of view is smaller than I'd hoped for at 4.2 degrees, but the image stabilization is more than worth it. I found I didn't need as large of a field of view with stabilization since the object I'm viewing stays well centered. The smaller field of view may become an issue if you're tracking quickly moving objects such as flying birds. If you expect to be in a high dust or water environment, the Fujinon Techno-Stabi binoculars probably aren't for you as they're only rated at IPX-2.
Image stabilization requires battery power through one CR2 battery (the one that looks like a shorter, fatter AA battery) and is supposed to support 12 hours of continuous use. I'm not sure we got that much use out of them before the battery needed to be replaced, so I would definitely recommend carrying a spare in the included nicely-padded carrying case. The image stabilization has an auto-off feature if you haven't used it for 10 minutes which helps to extend the battery life.
When I first got the binoculars, I found that I had to hold them away from my eyes in order to see properly through them. Allison was playing around with them and discovered that each eyepiece threads outward, allowing comfortable resting of the rubber edge around our eyes. This allows the binoculars to be more compact and yet still provide optimal viewing comfort. If you wear glasses, you would be able to keep the eyepieces threaded in.
Use in Iceland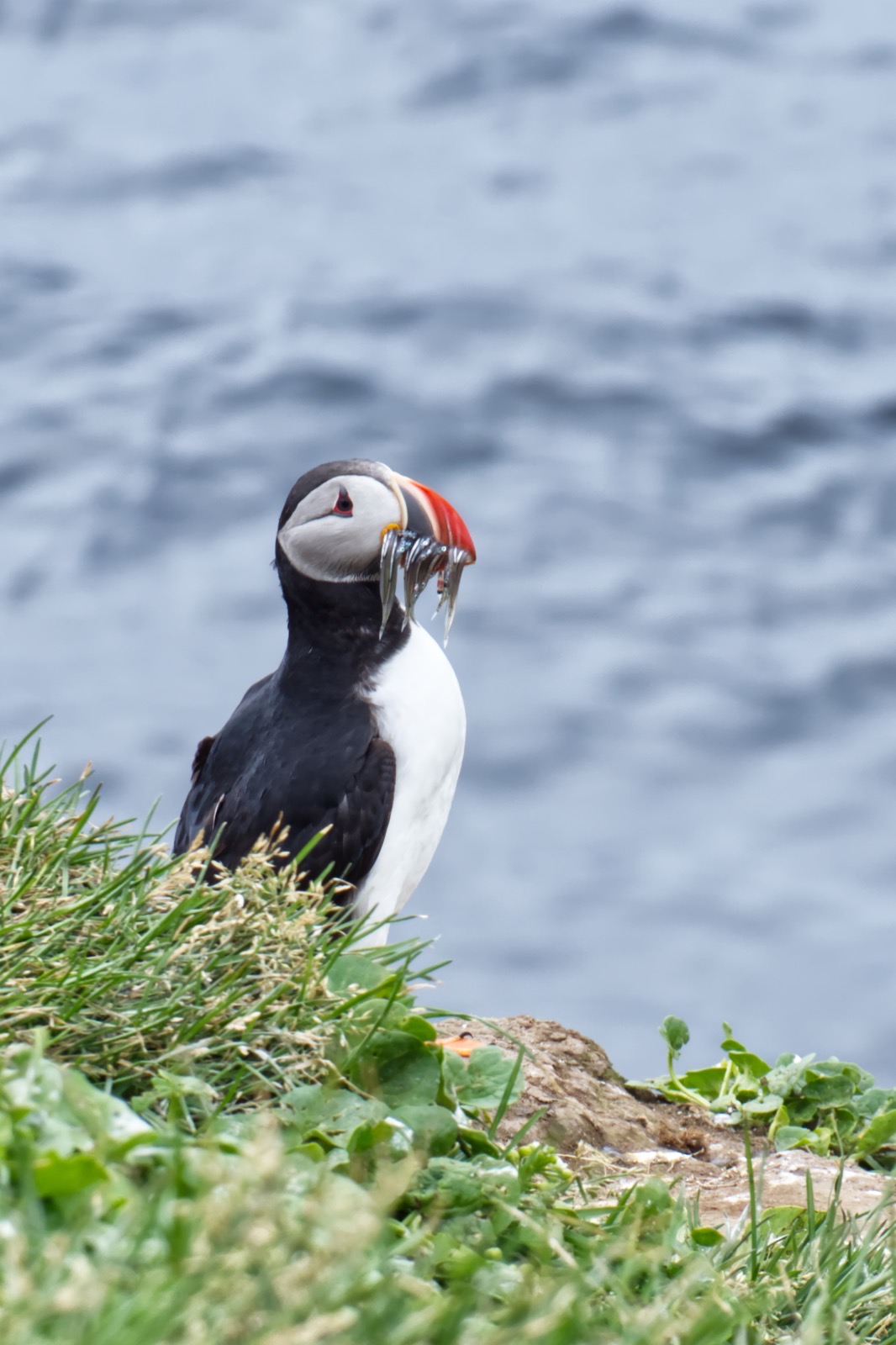 On our trip to Iceland, I was pleased with the crisp and clear optics and the easy focus mechanism. While on steady ground, I appreciated the image stabilization, but even more so when we were on the ship. It was more pleasant and less work to view distant objects for long periods of time. At one point there was a lonely house on top of a lava formation at quite a distance and I was able to view it from our moving ship clearly without effort.
At one point, our ship was joined by a school of Orcas and I was able to get an even better view of them as they swam around our ship. On Grimsey Island where we walked to the edge of the Arctic Circle, there was a cliff covered in adorable Puffin birds. We noticed that some of them had what looked like beards. We assumed that these must be the males. But with my new Fujinon Techno-Stabi binoculars, I was able to determine that it was actually many tiny herrings draped from their beaks!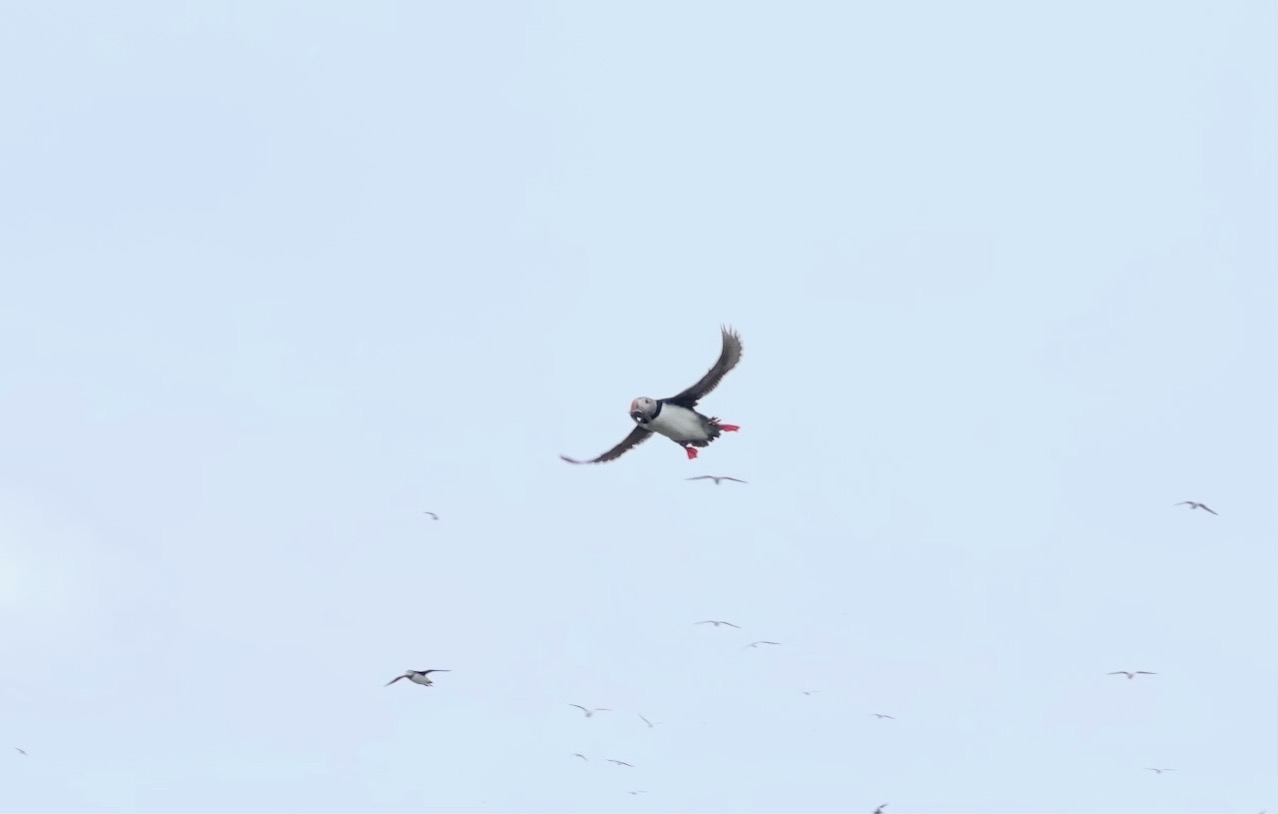 Puffins look like improbable fliers – like a tugboat trying to fly, and even with the small field of view, the image stabilization allowed me to enjoy tracking them in flight.
I found the binoculars compact and light enough to carry with me on all of our hikes. Because we're so used to capturing in photos everything these days, I found I was really wishing I could photograph the amazing things I was able to see. To do that would have required a camera with a 600mm image stabilized lens, which definitely isn't the kind of thing we'd want to carry around.
At one point (when the Orcas were swimming near us), I looked through the binoculars and the view was oscillating back and forth and I thought they were broken. The image stabilization switch was turned on, but I noticed that the power indicator light was not. It was simply that the battery had died. I dropped in my replacement CR2 battery and the image stabilization came right back.
Bottom Line
The bottom line is that while the Fujinon Techno-Stabi binoculars were more than I had hoped to spend at $650, it was well worth the higher cost. Their form factor and weight combined with excellent image stabilization made them a great fit for my needs. If you need a wider field of view or a higher magnification, you'll need to spend a lot more money than I was willing to spend. I gave my grandson Forbes my small binoculars and he's really happy too.
For Reference: Specs of Our Previous and New Binoculars
| Spec | Compact Qualide | Large Gordon | Image Stab Fujinon |
| --- | --- | --- | --- |
| Mag× Obj Lens | 10×25 | 10 x50 | 12×28 |
| Field of View (angle) | 5.5° | 6° | 4.2° |
| Filed of View (cross-range) | 96mm@1000m | 105m@1000m | 73m@1000m |
| Weight | 10.3oz | 1lb 10oz | 1lb 2oz |
| Length | 4.75″ | 6.25″ | 5.75″ |
| Width | 3.5″ | 6.76″ | 3.5″ |
| Depth | 1.75″ | 3.25″ | 3″ |
| Image Stabilized | No | No | Yes |
| Eye Relief | 10mm | 10mm | 17.5mm |
| Stabilized FOV | N/A | N/A | ±3° |
| Cost | ? No longer made | $45 | $650 |