Hello, everyone. This is Jill from the Northwoods. Being from the Midwest and being a simple Midwest girl who loves to camp, I find it difficult to watch people who love to glamp, which is like glamorous camping, or people who like RVs. I'm a tent camper, and I love the simple life. So I thought, wouldn't it be nice to review some of my equipment when I go camping?
Roofnest Rooftop Tent
I decided to step up my game in the past couple of years. I have a fantastic tent. I love this tent. But sometimes, sleeping on the ground in a tent is not always great. So then I started thinking during the whole pandemic, how can I improve my camping? It is my retirement plan and what I plan to do a lot more.
So the first thing I purchased, and I got this during the pandemic, was a rooftop tent that goes on top of the roof of my car. Yep, I have a Honda Element, and then this thing sits on top of a rack on top of the Element. And for the rooftop tent, I bought a Roofnest Rooftop Tent from [roofnest.com] (https://roofnest.com), a great company out of Colorado that I think thinks outside the box and has many excellent ideas for making roof tents. I got a model called the Sparrow Adventure, and it's a rectangle, four by eight, and looks like a box which is funny on top of my Element, which also looks like a box.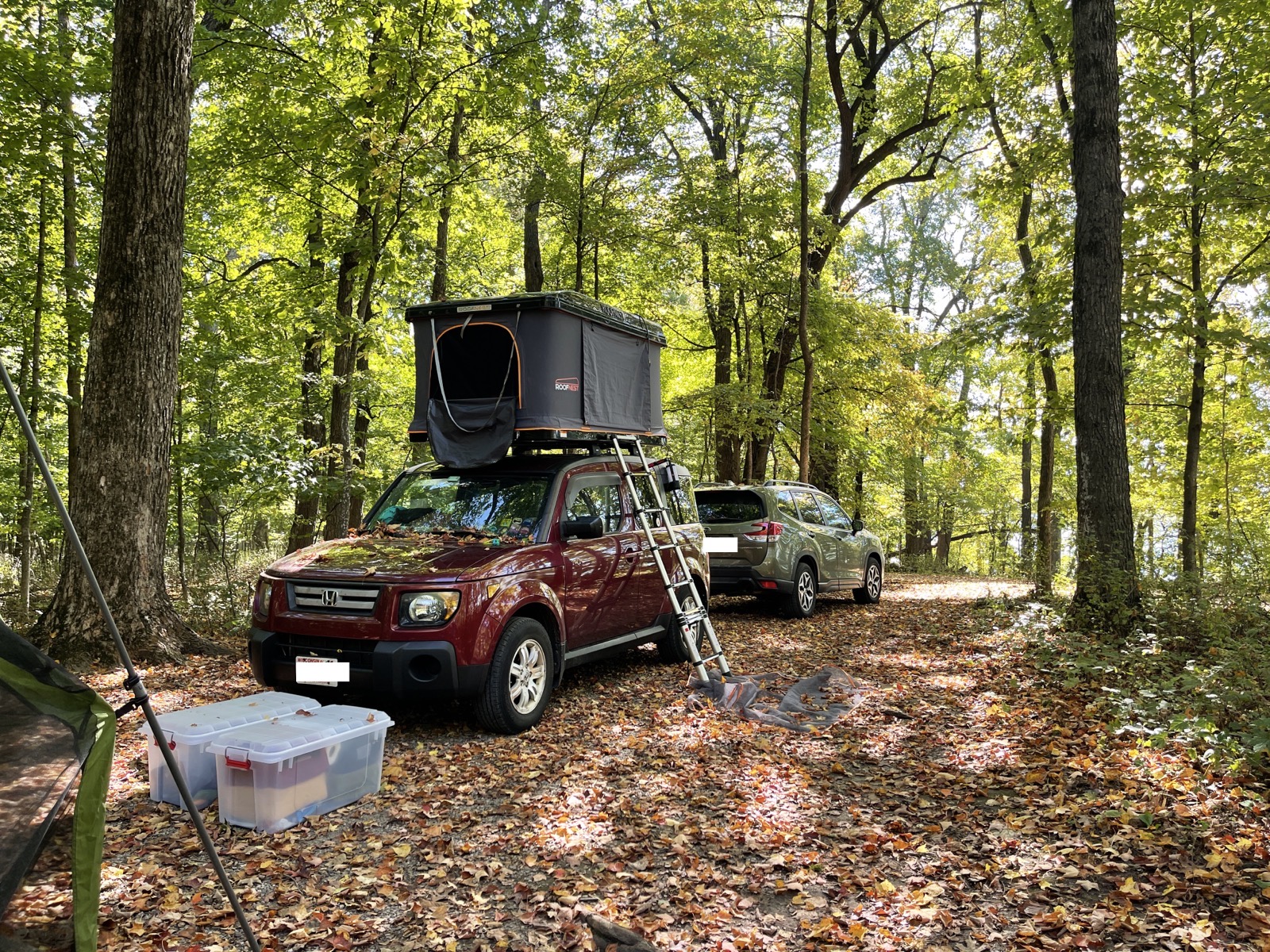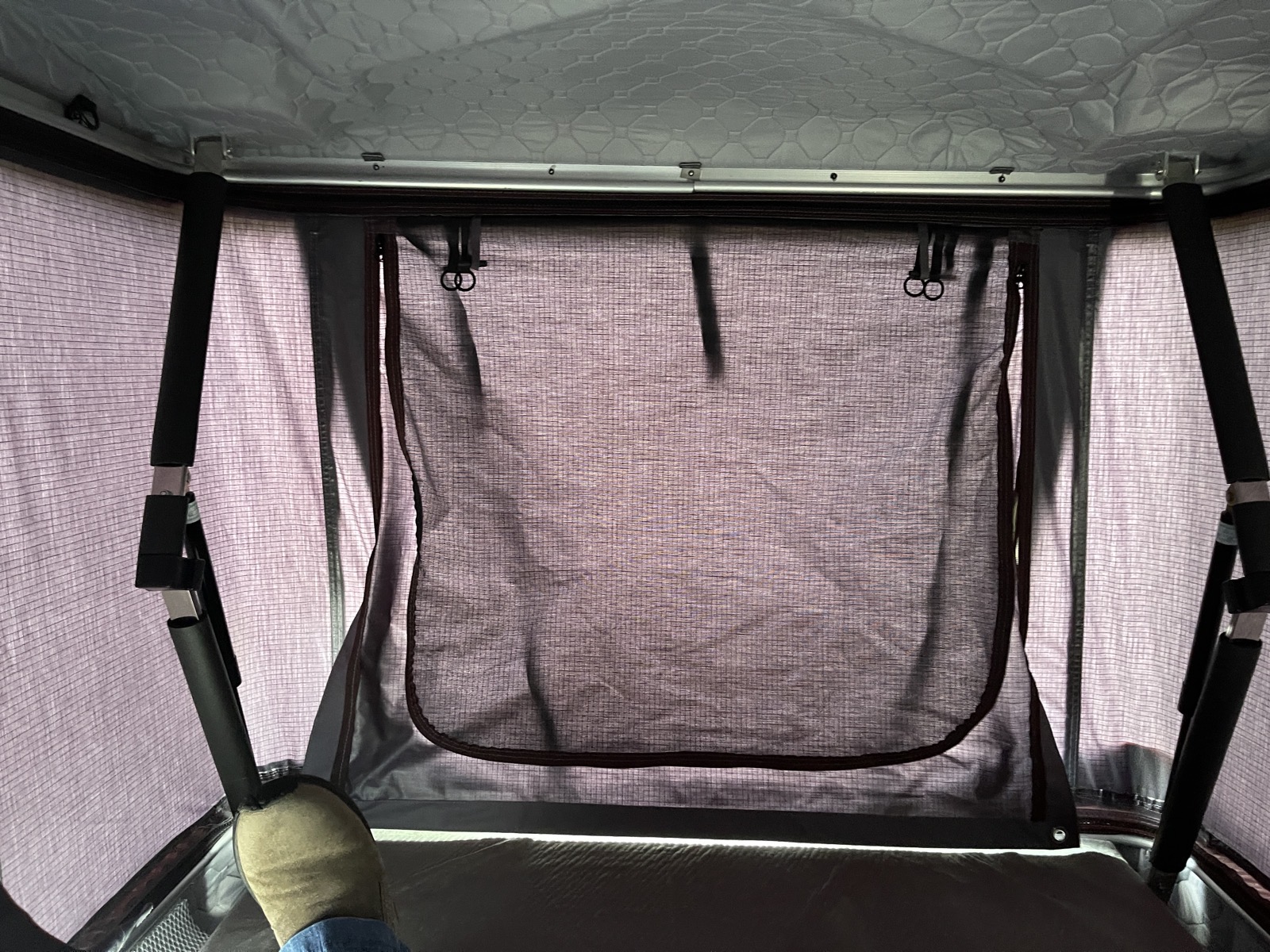 The thing about being in a rooftop tent is that it's a little warm. You get a fantastic breeze if it's summertime and hot because you have four windows. Three of them act as doors, and the cross breeze is amazing. There are even awnings on the sides of the windows that will keep out rain if it's a particularly drizzly day. I had a pretty good rainstorm when I slept in the tent, and it kept all the rain out while having the windows open, and I could look out and just see the beautiful rainy day while I sat inside reading my books.
The other nice thing is it can keep animals, trespassers, spiders, and other things from getting inside the tent. I live in bear country so having a little bit more protection from bears seemed like a good solution. I found a campsite that someday I want to visit with wild horses and buffalo that march through the campground. I think I'd like to be in my rooftop tent while I watch them cross into the campsite.
The tent itself is made of tough material. It has a hard shell top to it and a telescoping ladder. And you might guess that ladder goes up about 10 feet where my tent is, so you have to climb up and down from the tent.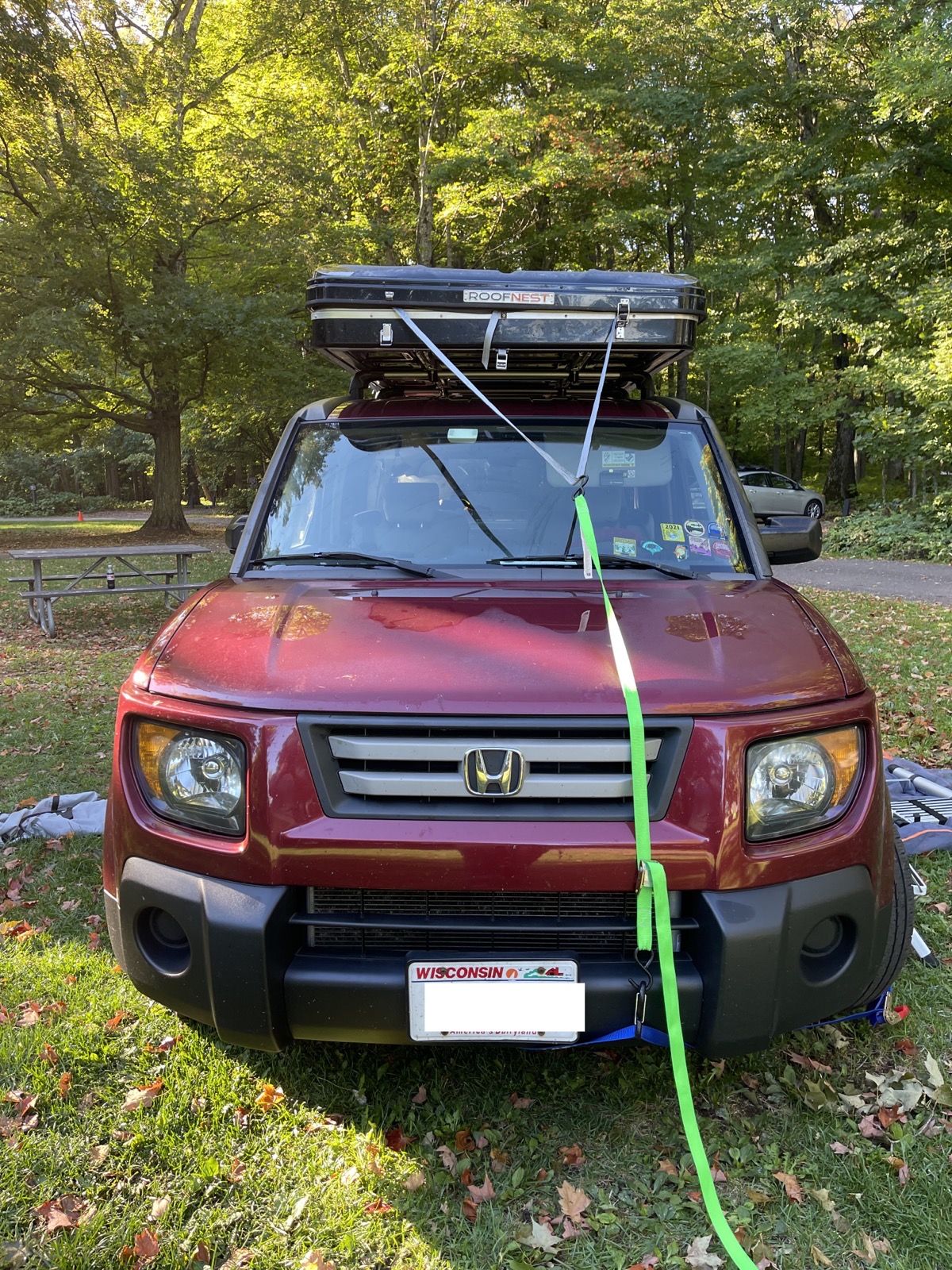 People were fascinated when I started taking it out camping. How do you get up there? And what do you have to do if you go to the bathroom in the middle of the night? And can we watch you while you pull the tent down?
It has four arms that will take 120 pounds of pressure. That means you have to put pressure to bring those arms down to fold the tent back up. It can be a bit disturbing. When I first got the tent, it took me, my neighbors, and their parents to help me get it down. But through some trial and error and straps, I eventually figured out how to do it all by myself. This is good because I'm not going to bring all those people camping with me.
I found my experience of camping in that tent amazing. I really love this thing. It also makes my car easy to pick out in a parking lot.
Tent Accessories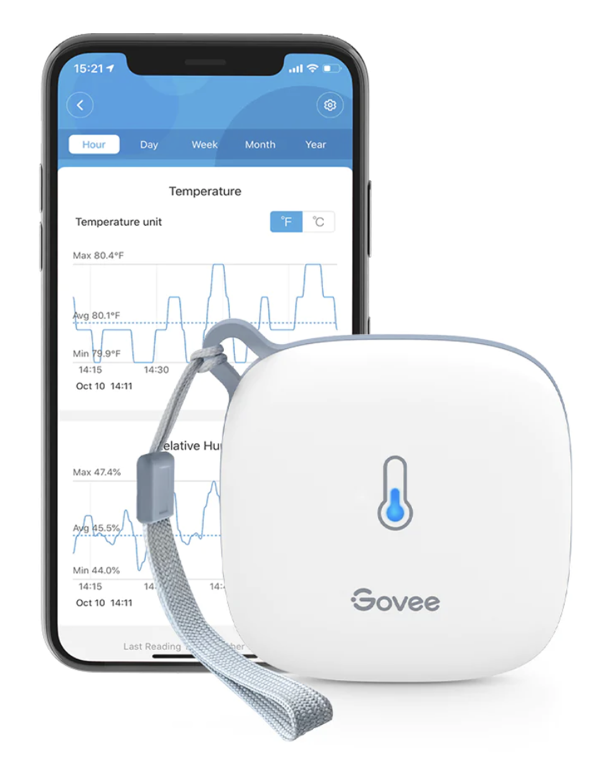 But because the air can get a bit warm up there, I have a couple of Coleman fans that I can hang from the inside of the tent that will pull air in and push air out. That ensures everything stays at a reasonable temperature and humidity inside the tent.
But to ensure I know the situation, I have the [Govee Bluetooth Thermo-Hydrometer sensors] (https://us.govee.com/collections/home-improvement/products/wi-fi-temperature-humidity-sensor) inside the car and the tent, and I can see the current temperature in both and if it's getting too humid. I have seen that rooftop tent get to 147 degrees. It has a black, plastic top so it will get hot up there. That's why it's essential to make sure I keep it cool.
Then I thought about what I could do while inside the tent for power. At the time, I had the 2013 MacBook Pro, which needed a regular AC wall outlet. So, I looked into the [Omni 20+ Power Bank] (https://www.omnicharge.co/products/omni-20/), a very large battery with an AC wall adapter, so I can plug pretty much anything into it and get nice power.
It has so much backup power that I can charge everything in my tent, phone, and lights. The tent itself has some interior lights in it. I can plug those lights into this device and keep the lights going and working on my MacBook. I am comforted that I have a very small device with a ton of power in it to ensure I can have all the fun in the tent I'm looking to have.
I also have a small table that acts as a laptop desk with room for an iPad and other devices. But when I'm ready to pack up for the night, I can make it flat like a table. And that's where I put my glasses, my drink, all the things I'm not looking to have directly next to me when I'm sleeping, but it's nice to be on a little table. [Laptop Bed Tray] (https://www.amazon.com/gp/product/B082D74N22/)
I also have a seat bag to carry all this material up and down the tent. I don't want to leave anything expensive or valuable in the tent when I'm there or when I'm away. This bag hangs at the top of the tent, and all my fun gear goes into it. When I'm ready to come down in the morning, I can sling it on my back and walk down the ladder. It's also nice if I decide to spend a night in a hotel. It acts as a tech bag that I can just bring my gear with me.
Because I like cold weather camping, I have the [Coleman Dunnock] (https://www.coleman.com/sleeping-bags-beds/sleeping-bags-by-temp/dunnock-cold-weather-sleeping-bag/SAP_2000037315.html) cold weather sleeping bag, which works to 20 degrees Fahrenheit. But it's also very fluffy, which means that it gives a little bit more padding on the mattresses. It's nice and squishy comfortable.
Cooking
Now, because I like to camp in the cold weather, I have a little propane heater called the Chubby 2 in 1 Portable Propane Heater & Stove. What's nice about this device is it can act as a cooking device in case I don't have a fire for the night, or maybe I just want some hot water in the morning for some coffee and oatmeal. It can do that very quickly.
But the Chubby 2 also has another setting which turns it into a small heater. People say you can use this heater inside a tent and you won't have anything bad happen. But I'm not ready to try that at all. First, this model doesn't shut off automatically on tipping as some other models do. But just the idea of having a propane heater inside a tent makes me a little nervous. But for a little bit of heat and a little bit of cooking makes it perfect for me.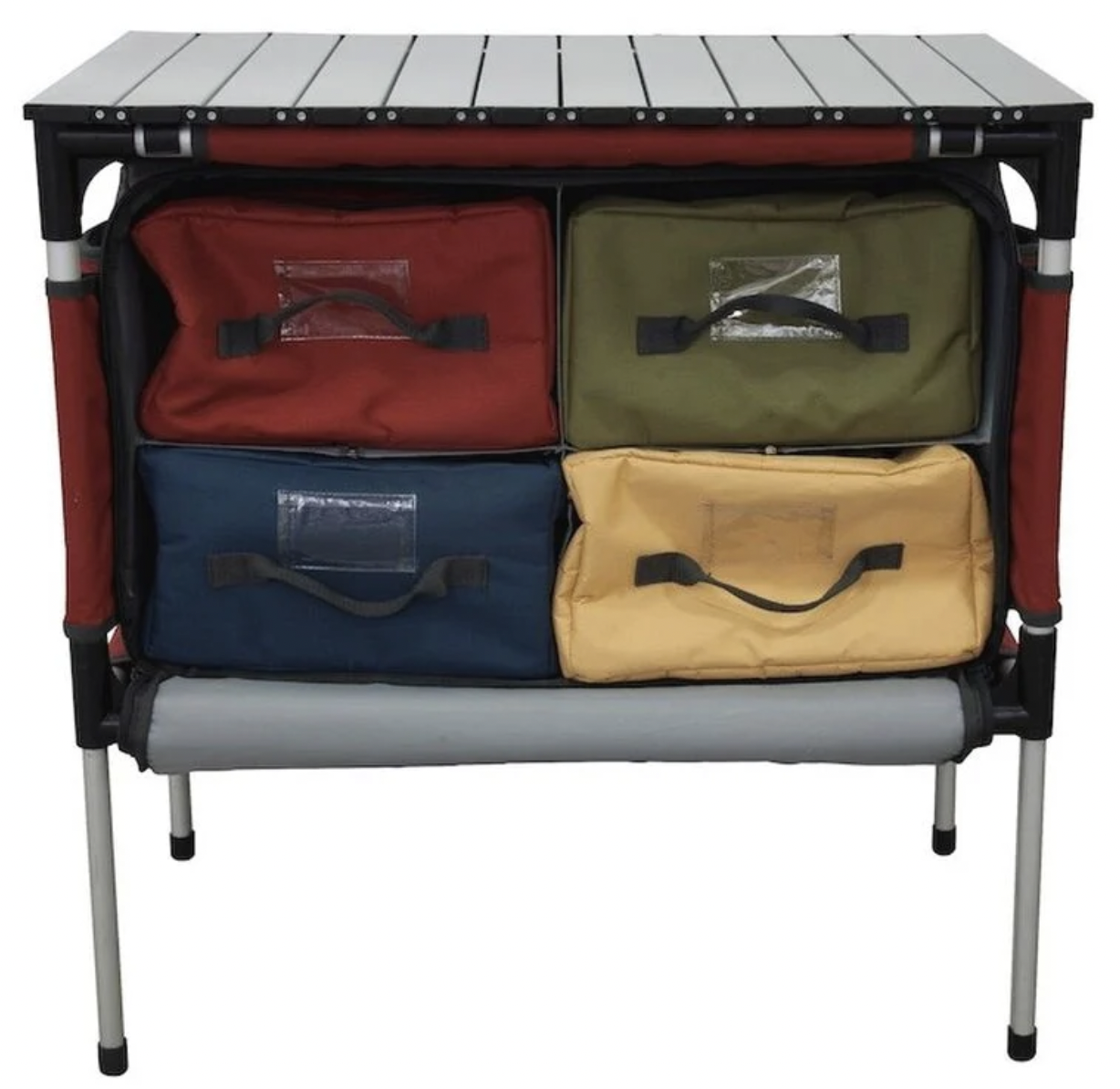 I have the Camp Chef Sherpa Table. It is a smaller fabric container with a hard-shell top. It has legs to make it taller. On the inside, it has four very nice packs where you can put all your cooking gear, pots, pans, plates, and anything else you may need.
So then, when I'm ready to camp, the whole thing comes out. I can cook with it. I can eat on it. It acts as a little table. Then I fold it back up, take off the legs, and it all goes back into the car without much drama. I found this organizer to be invaluable. And I like it so much. I just keep it in my car all the time to store all sorts of things.
For most of my cooking, I use a Coleman tripod with an adjustable grill, which goes over the top of any type of campfire. It has an adjustable height grill so I can get close to the fire or bring it up a little more. It's so handy and versatile. Because I have that and other cooking methods, I have the Stanley stainless steel pots, pans, and plate kit. It has everything you could need to cook and eat with different size pots and pans, plates and forks and all the things you need. [Stanley Full Kitchen Base Camp Cookset] (https://www.stanley1913.com/products/adventure-full-kitchen-base-camp-cook-set)
With it, I bought another taller pot, which is great for cooking noodles or boiling that first cup of water in the morning for coffee. It also comes with small cups. The whole kit from Stanley Adventure does it all. It's durable, and it's something that I'll have forever. I love how good this complete kit is for every need. [Stanley Adeventure Nesting Two Cup Cookset] (https://www.stanley1913.com/products/adventure-the-nesting-two-cup-cook-set)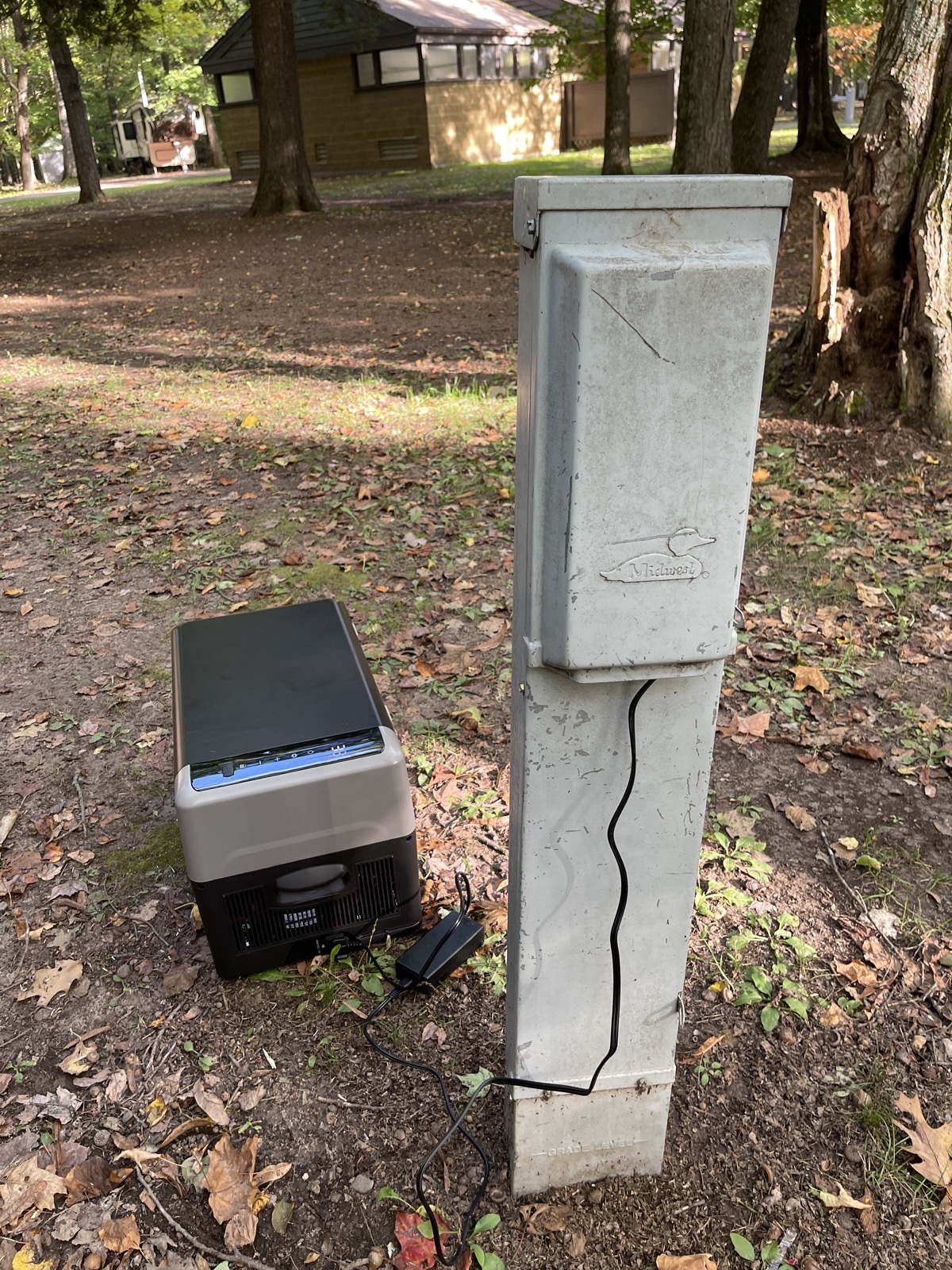 But then, when it came down to eating or cooking, I always had one of the coolers that required ice. To be honest, I was never all that impressed. The ice eventually melts, even if you have a nice Yeti cooler, and you have to keep looking for ice everywhere you go.
So I decided I wanted to go in the direction of having an electric cooler that I could set and not worry about.
I bought a 22-liter car cooler after doing some research. It is from AstroAI and comes with all the power cables. It has a 12 volt adaptor so I can plug it into the car. It goes from -4 degrees to 68 degrees Fahrenheit. It's very nice how this whole thing works.
It keeps the food cold or frozen. When I'm ready to get out, I can plug it into a battery and keep it cold that way. So now my food is not getting soggy and I know that it's staying at a reasonable temperature. AstroAI Car Refrigerator
##Power at the Campsite ##
But you might be asking yourself, what kind of structure do you have to have in place to have an electric cooler with you when you go camping? So I tried to think of ways of going about it. First, I have the smallest Jackery battery, which I bought on a deal once, and it's great. It can charge up my phone and do some other things. But it has a very low wattage and small power storage. [Jackery Power Stations] (https://www.jackery.com/pages/portable-power-stations)
While I can use it on that cooler, it drains pretty fast. So I needed something much bigger. Then, of course, you can buy a much larger Jackery with a huge wattage output and large power storage, but they get expensive fast. The Jackery batteries are well-made. All the components are inside the battery, so you don't need anything else and that makes it handy.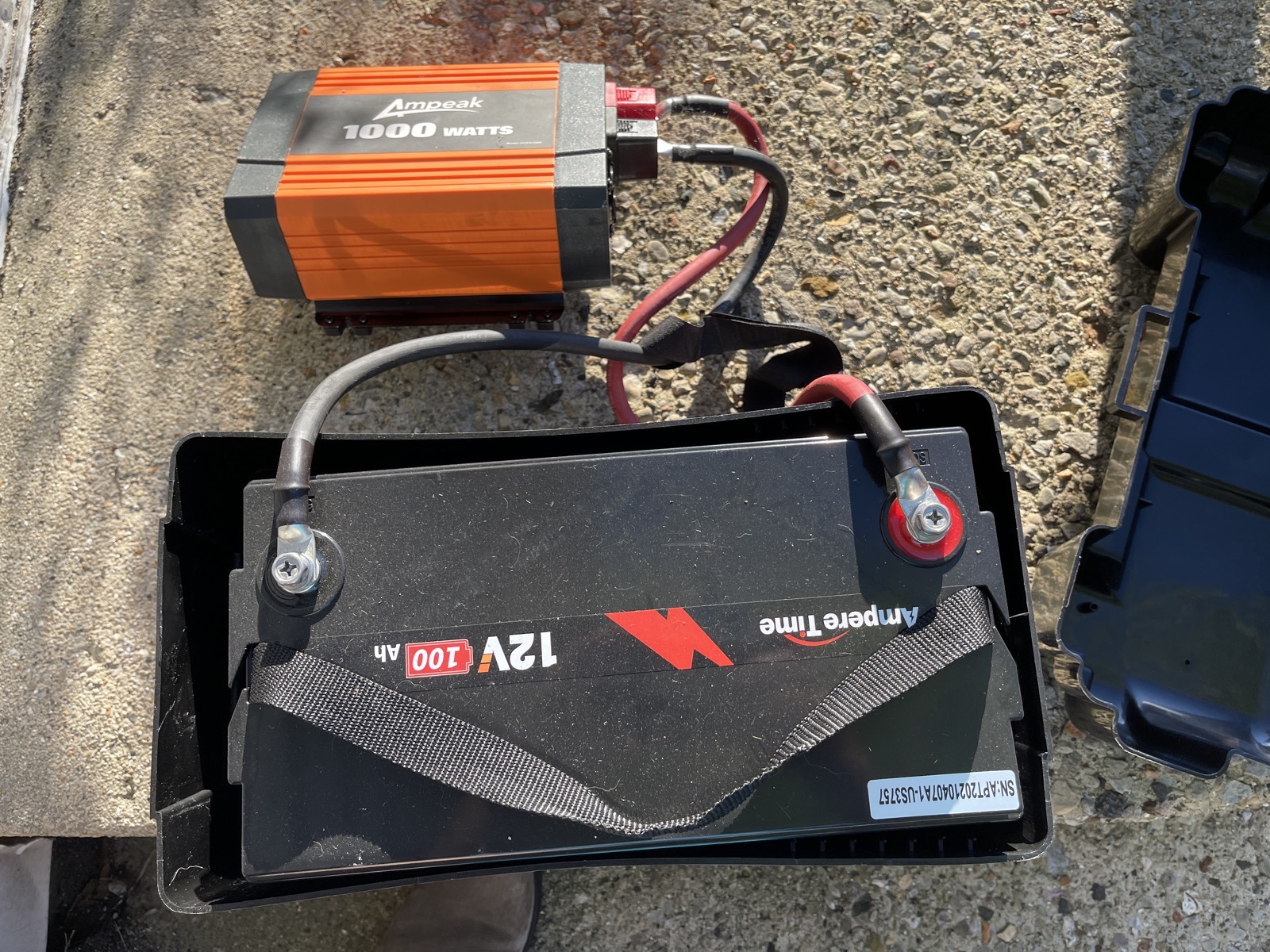 But according to YouTube videos, you could build your own. When I decided to build my own, it would not be as adorable as a Jackery battery, but it will be much less expensive. So I did some research on buying a lithium battery. I see people try to use a car battery for this, but you must be careful about acid batteries. They can catch on fire and do other very bad things. Lithium is a lot safer but also a lot more expensive.
For about $490, I got a rather large lithium battery. There were some bigger ones, but I thought this one would suit my needs. So I bought one from Ampere Time Life P04 for a 12-volt lithium battery.
To go with the battery, I also must have an inverter, which I used an Ampeak 1000-watt inverter. The wattage gives you the limit of what kind of thing you can plug into it. A hair blower might be 700 or 900 watts. They would work with a 1000-watt inverter. In case you decide you want to cook inside, some of the electrical pans also go that high. It has two outlets on it. I hook that up to the battery and then plug the cooler into that. It's what gives me the AC outlet.
Then I also have an Expert Power 12-volt Lithium Charger that goes with the lithium battery. So when I'm near an outlet, I can plug it in and charge up that battery. But then I thought I didn't want to get an electric current campsite all the time necessarily.
Solar at the Campsite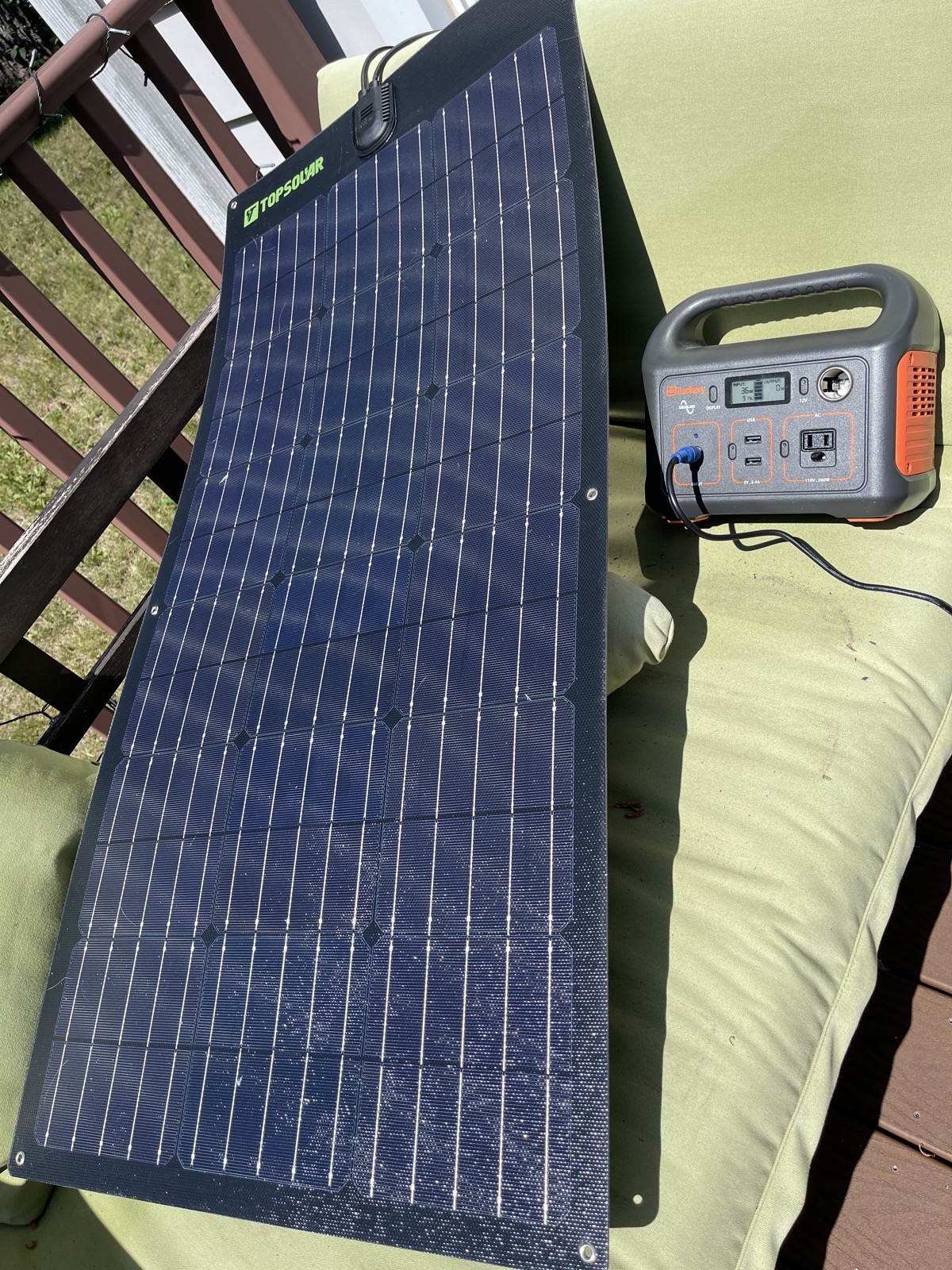 I decided to go with some solar panels from a company is called Top Solar, which I don't know very well, but they seem to get decent reviews. I bought two 100-watt solar panels for this project. This means I also had to get a solar controller from Renege that ensures the energy doesn't back up into the solar panels and destroy them. It also keeps tabs on the battery's temperature and the charge level. [Renogy Wanderer Solar Charge Controller] (https://www.renogy.com/wanderer-li-30a-pwm-charge-controller/)
I tested those two 100-Watt solar panels on the longest day of the year, in full sun, without obstruction, and it took about 12 hours to charge up that small Jackery battery. This is too slow. It's something in my neck of the woods that isn't going to do an outstanding job of charging up a battery while I'm at a campsite. You can imagine it's going to be up north. There will be trees in the way, and again, in the Midwest, our sun is just not that strong.
So while I think it could top off the battery, it will certainly not be able to be used as a sole power device. When I tried the battery and the cooler combination, I found I could get it to go for four solid days. So it just means that every five days, I must get a campsite with electrical power. Then I got another solar panel from TopSolar which is about 140 watts. That folds up, it's easier to carry, and I can use it to charge up the Jackery and the Omni battery pack anytime I need. So with that setup, I have some good options for solar if the situation is right.
[TopSolar Flexible Panels] (https://topsolarus.com/collections/topsolar-flexible-solar-panel-100w)
[AllPower Portable Solar Panel Charger] (https://www.amazon.com/gp/product/B08R1M7NFT/ )
I also have a portable Solo stove called Titan, and it's minimal. You can put some sticks in, and it works to heat or cook. It's engineered to let air in to get a very hot temperature. So if I didn't have propane, or if I didn't have a full fire, maybe it's raining outside, I could cook something on this little tiny fire pit. [Solo Titan Camp Stove] (https://www.solostove.com/en-us/p/titan)
I own the large version of the Solo Bonfire fire pit in my backyard, and I absolutely love it. It keeps the smoke down and it makes things very hot. I can invite people over, and we can roast marshmallows and brats. And it's just one of my favorite thing.
This little portable solo is nice too because it also has an alcohol burner kit if I can't find any sticks because I am in the middle of the desert or the middle of winter, and it's all snowy. I can also use alcohol for cooking dinner and some other accessories. I also have fireproof gloves and some retractable marshmallow sticks, which are great for hot dogs and marshmallows.
Fun While Camping
So you might be wondering, what is it that you do when you go camping? Isn't camping boring? First, I have a nice screen tent in case the weather's not great or in case the mosquitoes are as large as airplanes. I use the Off lanterns to keep the mosquitoes away, which does a pretty good job. But sometimes, you just have to be inside the screen tent.
I use the [Govee Camping Lanterns] (https://www.amazon.com/Govee-Camping-Customization-Changing-Emergency/dp/B094VY84NZ) to ensure I have enough proper light. Govee is a tech brand. They're like Hue where they make all these different light bulbs and smart devices. They also made the temperature sensors that I use to monitor my tent.
The lanterns are waterproof, and I can hang them in my tent. I can control them either by the switch or by using an app on my phone to change the brightness and color, turn them on, and check the battery levels.
Now the reason I bought this particular lamp is that it connects over Bluetooth, which means I don't need Wi-Fi. Imagine that in the middle of the night, you must go to the bathroom. I'm up 10 feet and have to climb down a ladder. So I'm looking to turn on a light before I head down the ladder, maybe even a wet ladder. I do love these because they're just such a fantastic device.
And there are some other things that I wish to do. I like to birdwatch, and I have the Vortex 8 x 28 binoculars. The reason I picked those is, first it's a fantastic internationally known brand of binoculars. They are so small that I can stuff them in a coat pocket and carry them with me when I go hiking. I love these binoculars; they're great for bird watching and other nature watching.
I have the Hollywood Sport Rider 2, and I can put my bike on it. I love going biking when I go camping. So many campsites in my neck of the woods have fantastic trails near the campground. So I enjoy bringing my Salsa Vaya bike, which is wonderful for trails and handy for riding everywhere. This bike rack also has a carrier rack, so I can put my equipment behind the bikes for stuff I don't want in the car. [Hollywood Sport Rider 2 Bike Rack] (https://www.etrailer.com/Hitch-Bike-Racks/Hollywood-Racks/HLY84FR.html)
I also love to read inside my tent with my Kindle. That's one of my favorite things. And I have a Koi watercolor kit if I feel inspired to paint. I'm pretty terrible at it, but I enjoy doing it when I go camping. [Koi Water Color Field Kit] (https://www.sakuraofamerica.com/product/koi-water-color-field-sketch-kit/)
But here's what I'm planning on doing when I go camping. I'm about to do a citizen science (observable) podcast with a good friend, where we'll talk about birds, nature, and all sorts of outdoor things.
I picked up two microphones. The first microphone is the Shure MV88+, which is very portable and gives fantastic sound. I can hook it up to either my phone or my laptop to do some recording.
But to go with it, I bought another microphone called the Pixel Professional Lavalier Omnidirectional Condenser Microphone. Now, you might wonder why I have a second microphone. It's because when I read the reviews of this microphone, people said it doesn't focus on your voice. It picks up everything around you! It gets all the other noise you don't want to make on a recording.
And I thought, AHA! That's precisely what I'm looking for because I want to be able to go hiking or go through the woods and have a microphone that I can record nature sounds. If it isn't filtering out for voice, then it's perfect for all the other noises that I'm trying to capture. I have used the Pixel microphone for recording nature, and it's wonderful. But I haven't used the Shure MV 88+ microphone yet, but I'm looking forward to my next camping trip.
[Shure MV88+] (https://www.shure.com/en-US/products/microphones/mv88plus)
[Pixel Lavalier Microphone] (https://store.pixelhk.com/products/pixel-finch-lavalier-microphone?variant=39838995513404)
I sometimes need to do laundry because I run out of clothes. I have the [Scrubba Portable Wash Bag] (https://thescrubba.com). It's just basically a very thick bag where you stuff your clothing. You put your laundry detergent in and mush it around until your clothes are clean. Then you pour some fresh water in there, and you rinse it.
For safety. I always have a weather radio, a first aid kit, bear spray because I live in bear country, and a spare set of glasses. The last time I went camping, I crushed my glasses and I cannot drive home a pair. The other thing is I also took Wilderness First Aid from NOLS and my friend is a respiratory therapist. So between the two of us, we're in pretty good hands regarding any injuries or problems we may have.
Bottom Line
So there you have it, a simple Midwest girl just trying to camp in a tent, unlike those glampers and those fancy people in the RV. Just me and my nature. I hope that all this camping gear will help me get to my goal of going on two to three-week camping driving trips across America. I want to see the world and camp everywhere. I hope you enjoyed the camping overview of what I bring. If you have any questions, as always, you can look me up on Allison's Slack channel or in the blog post to leave a message. Again, this is Jill from the Northwoods, and you can find me at [email protected] if you want to email me directly.