I bought my first USB-C Mac in 2015 when the MacBook Adorable first came out. That was seven years ago and I've been a huge advocate of USB-C ever since. I've gotten into flame wars on the topic as recently as this week from people clinging to the old and undeniably irritating USB-A connector.
These people don't love USB-A either, but they make the valid point that a lot of devices are still USB-A so there's a need for those ports on our devices.
My approach has been to only buy devices with USB-C whenever possible. If that option isn't available, I keep a pile of chicklet-sized USB-A to USB-C adapters in my desk drawer and in my travel bag. They're inexpensive and easy to carry so I can easily dedicate them to each device who's manufacturer insisted on living in the past.
At my desk, I have a CalDigit TS3+ dock that provides a plethora of ports for my computing needs. The back connectors are pretty much fully-populated, and on the front, I keep the single USB-C and USB-A ports open for the occasional need to transfer data or charge a device.
That sounds ideal, but it's not. My 14" MacBook Pro wants a 97W power supply but the TS3+ only provides 87W of Power Delivery. The front USB ports on the dock, under certain conditions, complain like Scotty saying, "I'm giving her all she's got, Captain!"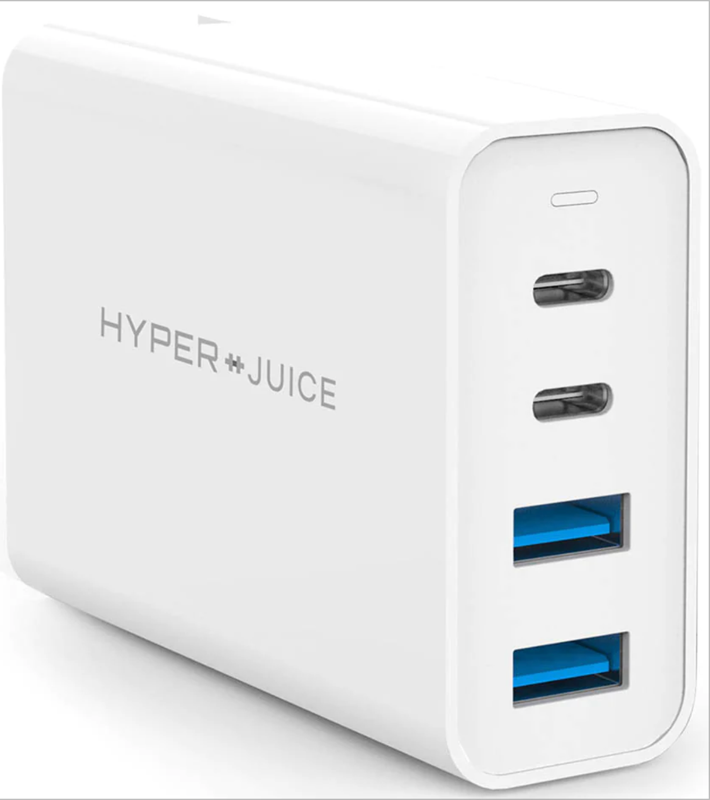 A few years ago I purchased the Hyper Juice 100W USB-C GaN Chargerfor $99. It isn't all USB-C though. It has two USB-A and two USB-C ports on the front, and a flip-out US wall power plug.
I plugged it into a power strip next to my desk and with a bit of a reach, I am able to plug in two USB-C devices and the occasional USB-A device. It's great for travel because I could charge my laptop with it and still have 3 ports open. The 3 ports are open, but I can't really charge much there because my laptop eats up most of the juice.
Instead, for travel, I continued to carry my much tinier, dedicated 65W GaN charger from Eggtronic. I know it's counter-intuitive that I use a 65W charger when I just finished saying 100W was barely enough. If there's only 65W available, my laptop will still charge but it just charges more slowly. Even with my 16" Intel MacBook Pro, it easily charged overnight which is all I need.
Even at home, the Hyperjuice GaN Charger wasn't ideal. Because of the flip-out power design, it took up three spots on my power strip, and more importantly it had those old-fashioned USB-A adapters. I found I had to buy chicklet-sized USB-C to USB-A adapters to be able to charge my modern devices with it. Also, reaching way over to the table next to my desk to get to the messy power strip was accidentally giving me a stretch of my obliques and no one wants accidental core strengthening.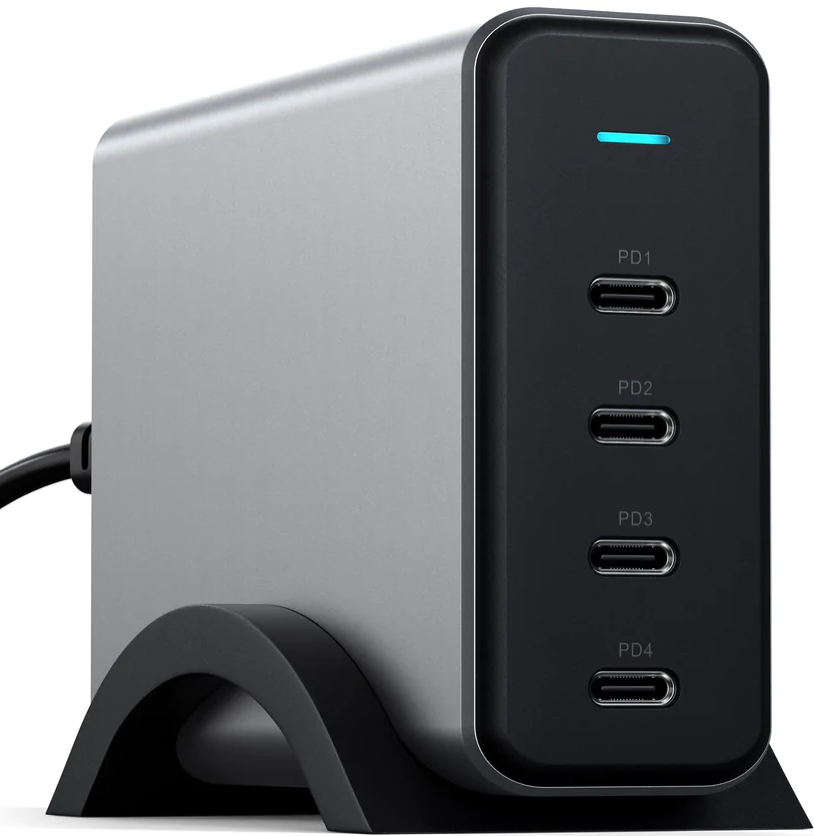 My new solution is much more elegant and meets my needs perfectly. It's the Satechi 165W USB-C 4-port PD GaN Charger, recommended to me by friend and NosillaCastaway Norbert Frassa. This charger cost $120 and is available for the US, EU, AU, and UK.
The Satechi charger provides a massive amount of power at 165W guaranteeing that I can charge my laptop and three other less-power hungry devices. I'll come back to some detail on how that works.
The main reason I bought it is that all four of the ports are USB-C. Instead of a flip-out power port, it has a normal power cord out the back. That's a trade-off you may not want to make but with my setup, it freed up two power ports on my power strip.
The Satechi charger comes with a little stand so it can sit vertically on my desk and stay firmly in position as I plug and unplug devices. No more oblique exercises are required to add and remove cables!
One of the delights of the Satechi charger is that you can mix and match the ports to different power requirements and you don't have to read tiny labels to see which one provides how much power. Instead, the power you can consume through it simply depends on how many devices you connect.
1 x USB-C PD connected – up to 100W
2 × USB-C PD connected – up to 100W/60W
3 × USB-C PD connected – 60W/60W/45W or 100W/30W/30W
4 × USB-C PD connected – 60W/45W/30W/30W up to 165W total
With my 97W power-hungry laptop, I won't be able to do 4 ports the way it describes, but I can still get 60W out of the other ports.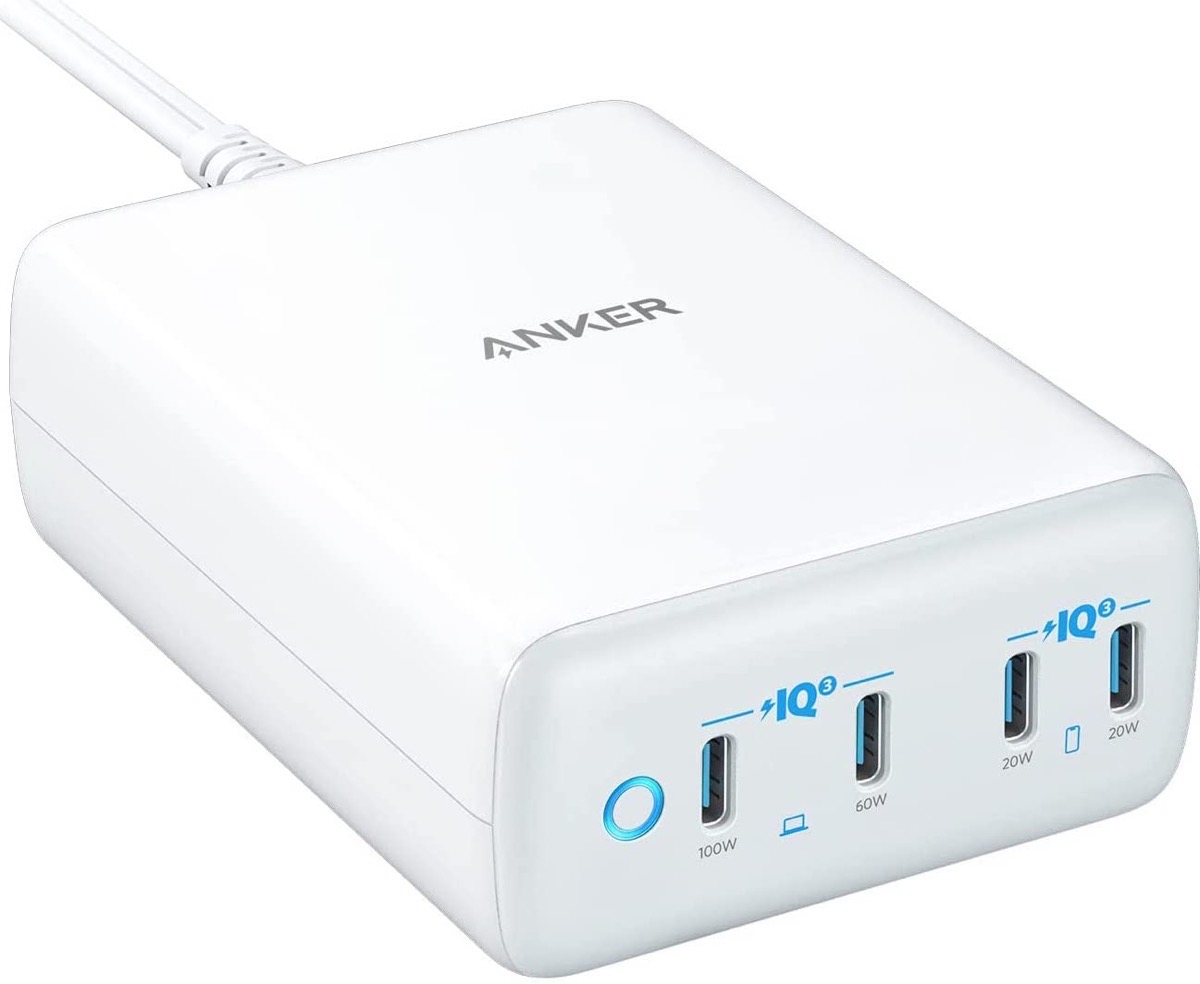 I bring up the fact that you can mix and match devices in different ports because you may be wondering why I didn't save myself $10 and buy the Anker 120W GaN 4-Port USB-C Charger at $110.
The Anker charger looks very similar to the Satechi in that it's a narrow square block with four USB-C ports, but it's more limited in how you can use it. The maximum power is 120W vs. 165W for the Satechi.
The main downside to the Anker charger is that you have to pay attention to which port you're using to charge. The Amazon page has a picture to explain all of the different port combinations.
The first port supports 100W, the second 60W, while the third and fourth support only 20W. You need to be able to read the micro text on those ports if you're not sure which was considered up on this device.
The next part of the graphic explains how much power you can draw if you use two ports at the same time. If you use the first two ports, they can each draw 60W, but if you use the first and third or first and fourth ports, you can draw 90W and 20W respectively. The graphic has three more combinations explained just for charging two devices at a time. The graphic goes on to show the combinations for three devices and finally ends with four port charging where you get 50W/30W/20W/20W.
I don't know about you, but my head is spinning. I would never be able to remember those combinations to know which is the right way to plug in my devices. Maybe you could print out the little diagram and fold it up and tape it to the charger…
With the Satechi charger for only $10 more, I can plug in devices with utter abandon and not worry my pretty little head about it, and I get 45W more total power.
The Satechi charger is pretty in a subtle dark grey, sits in its little stand on my desk like a tiny server, and does its job flawlessly. You can buy it directly from Satechi or on Amazon for $120.