Hi, this is Jill from the Northwoods. When I switched to Mac, I lost many of my Windows games. So that was the last piece I couldn't figure out how to get on my MacBook. Some of the games do play on Mac, like Minecraft or even Civilization, which are two of my favorites. But then there were other games I wanted to play.
Mostly I buy from Steam by Valve, which rarely translates to Mac. So there I was, a bunch of purchased games I enjoy playing, and I had no way of playing them on my MacBook.
Now, one of the things about gaming is that it is the one thing I do for pure relaxation. I can knit and play podcasts, and it's fun and exciting for me to do. But if I need to relax and I'm stressed out, I just sit there and play a couple of hours of video games, and suddenly my stress is gone. But with Mac, what am I supposed to do?
Other Options
Now the good news is one of my favorite games, No Man's Sky is coming to MacBook in Ventura. What about the rest of the games? What other options did I have?
I could try [Microsoft's Xbox Game Pass] (https://www.xbox.com/en-US/xbox-game-pass), which works through a browser. Almost all browsers work, and the games you buy through Microsoft or are provided through that Microsoft Game Pass are available for you to play.
The problem is I don't have that many games purchased on Microsoft. And streaming the game through a browser may not be as responsive as you hope it would be. The last thing is a $15 per month subscription, which will only go up over the years.
The previous problem is that I have an Xbox Series X controller that works with Mac. I've played other games with it, and it works fantastically. However, it doesn't seem to work on Microsoft Game Pass with a Mac. That happened six months ago, and I haven't tested it since then to see if it is fixed.
Since most of my games are over at [Steam] (https://store.steampowered.com), owned by Valve, that also was a significant setback.
Then Steam announced they would come up with something called the [Steam Deck] (https://store.steampowered.com/steamdeck). Not to be confused with the Elgato Stream Deck. This is just a gaming device. It's a lot like the Nintendo Switch, a small, portable, handheld item, maybe about the size of a loaf of bread if you slice it the long way, which also means it's very portable. So because the Steam Deck was coming out, it was an obvious choice for me.
A Steam Deck is the solution
To talk a little bit about what the Steam Deck is, again it's a handheld gaming item. It has Linux on the system itself and is easy to grip. It has controllers and a very bright screen. It has a USB C port to hook up a monitor, power, or other devices. You can use Xbox controllers, Bluetooth mice, and keyboards.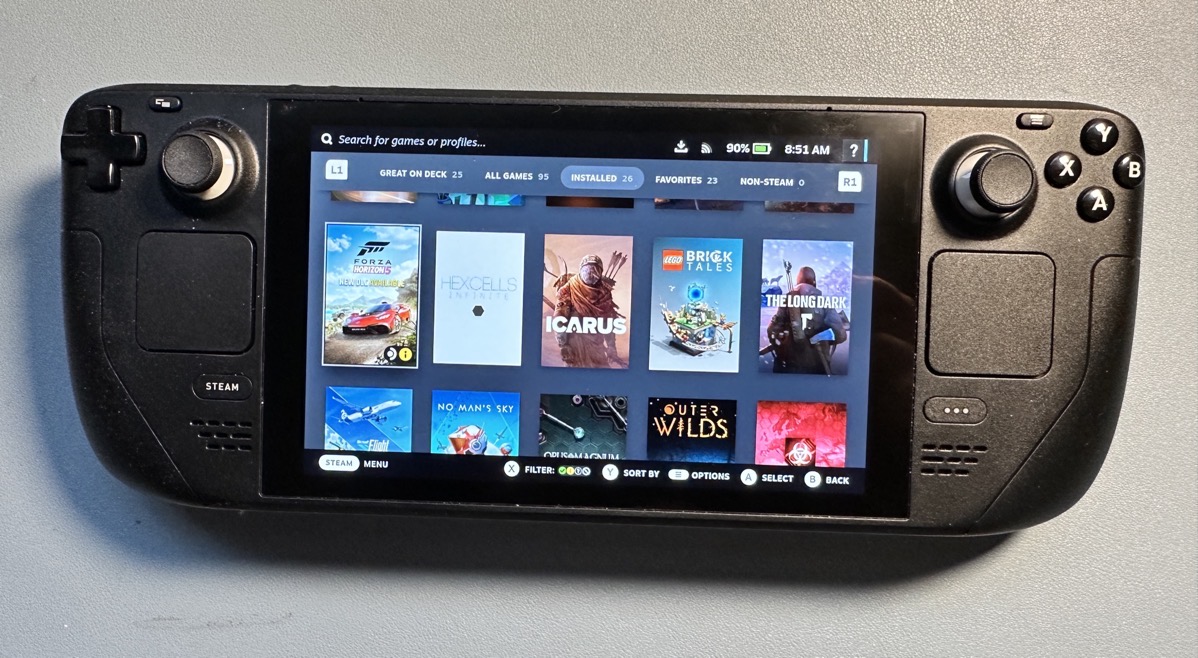 If you're into computer gaming and are used to all the commands you play to play some of your games, it's easy to do. Many of the games that are on Steam are available to play on the Steam Deck. There are a few of them that aren't available, but most of them do work even if they're not verified. Very few have errors in any way where it's unplayable. For example, I noticed when I played Microsoft Flight Simulator, which is not verified on the Steam Deck, all I had to do was switch one of the loading settings I found on the internet, and it suddenly started playing. Fantastic!
The bonus is that I can take it with me whenever I travel from work. I brought it camping but didn't use it that much because I tried to do outside things. There was some bad weather at the end of my trip, so what else was there to do besides sit in my tent and play with my Steam Deck?
I also tried playing with it on my way back from California on the airplane, which was a good distraction. However, I was racecar driving in Forza 5, which caused me to be slightly unstable when our driver was on curves. I always went right off the road every time we hit a bump on the plane, and that's pretty funny. So the Steam Deck, for me, was the perfect solution.
The Specifications
The systems are almost the same except for how much storage they have on them. I have a lot of games, so I went with the 512-gigabyte system that went for $649. That one also comes with a special carrying case. It has a better anti-glare screen, along with bigger storage.
For $529, you can get the 256-gigabyte version of it. Again, you get a carrying case but not an exclusive one. Finally, for $399 you can get the 64-gigabyte machine.
The Steam Deck has a micro SD slot, so you can increase the hard drive space size using the SD card. I put a 256-gigabyte SD card in to have a little more room. Some of my games are pretty large. Forza 5, Forza 4, and Microsoft Flight Simulator are all huge games. Most of the other games take up a much smaller space.
##The Dock ##
You can also buy a dock for it. The dock is $89 and gives you a resting point with a USB connector. And then outside the back of the dock, it has a 4K 1440 HDMI display port. It has USB 3.0 drives and a network port, and you can also charge the device.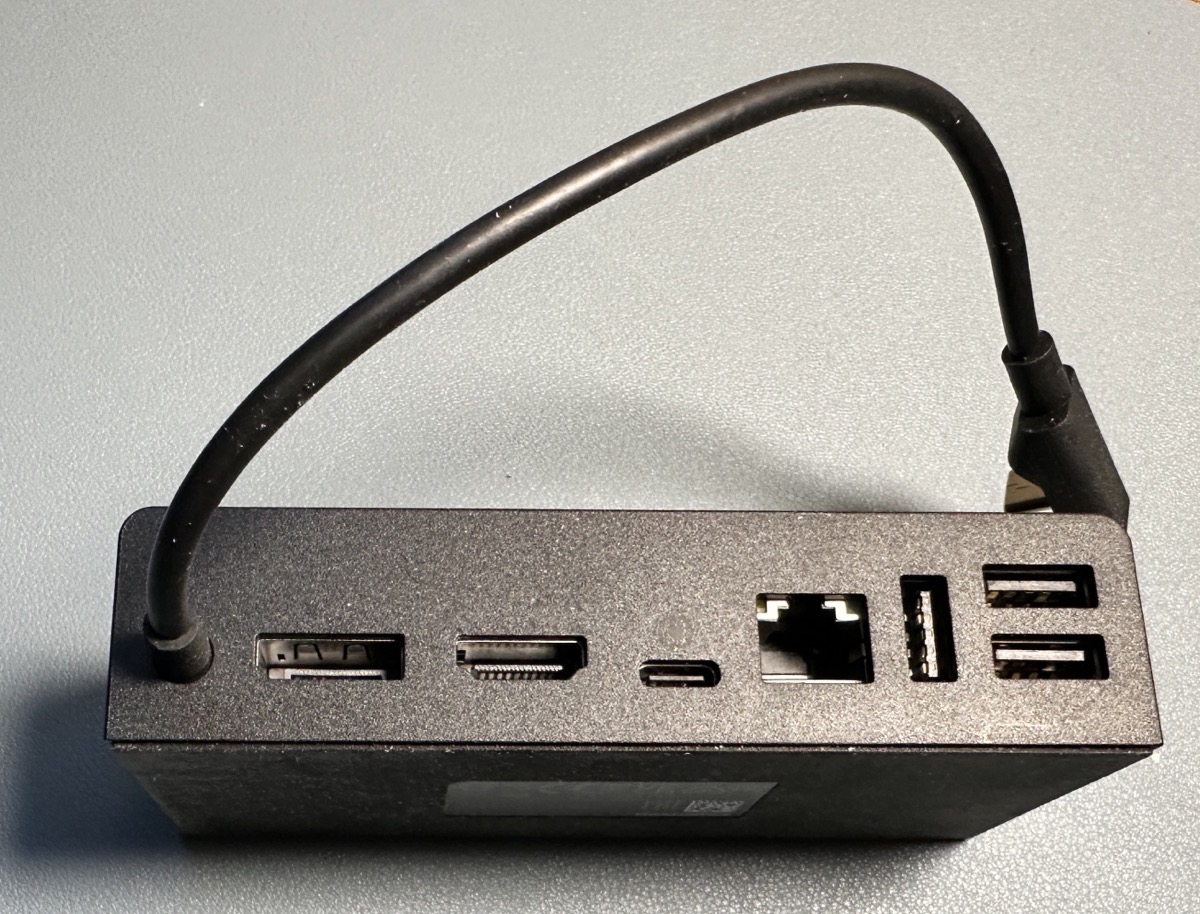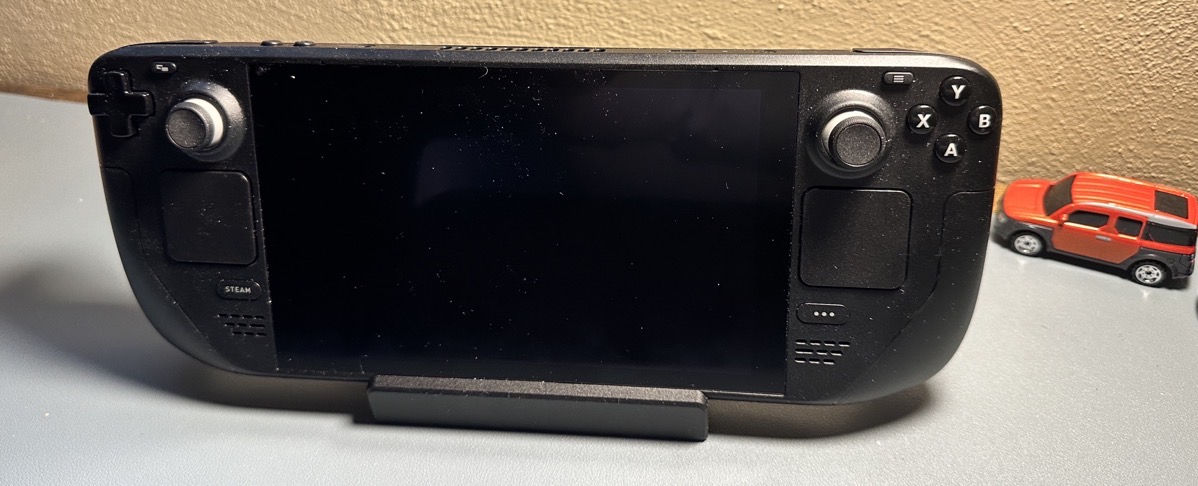 It is pretty handy. And often, when I play at home, I put it through my computer monitors using the Xbox controller. Their website even shows more things you can do with Bluetooth.
They say this is an AMD chip called an APU chip optimized for handheld gaming. It's a Zen 2 Plus RDNA 2 powerhouse, which is enough power that they say has enough power to deliver some of the biggest games out there.
Forza can be rather intense, along with Microsoft Flight Simulator with resources; both worked flawlessly on the system. So it handles high-powered games that even my Windows machine struggled to play.
They say that the CPU can do 448 gigaflops, and the GPU can do 1.6 teraflops. I'm not much of a flops person, but if that means something to you, there it is. It's pretty darn fast. It has 16 gigabytes of RAM on board and more video memory available to it as well.
The Many Controllers
The game controller itself is nice. Some people talk about it being too big or too small for their hands. I have tiny hands, and it fits my hands very well.
It has the standard ABXY buttons that you'll find on many regular controllers. That D-pad is just the north-south east-west controller. There are left and right triggers and bumpers. It has two touchpads on it. There are four assignable buttons. Steam buttons that will also take you directly to the Steam Store and your list of games, and two analog sticks that you'll find on many game controllers.
It has a haptic vibration, which means it can give feedback when you're doing certain things. I haven't played around with this much, but in the Forza game, it vibrated every time I ran over the grass or a building or something, which annoyed me. I mean, the whole purpose of driving games is to run over stuff.
The Display
The display's resolution itself is 1280 x 800. I think the screen is very bright. I mentioned before that I have terrible eyesight and was worried that this tiny screen would be a problem for me. However, the screen is so bright, it's IPS LCD, and I can see great on it. I can take off my glasses and still play. And it's because of how far a monitor is from you compared to how far a handheld is from you.
It has 400 nits for brightness. The display is about seven inches diagonal with a 60-hertz refresh rate. The screen is also a touchscreen, which gives you one more way of controlling things. I sometimes find, in Forza, some menus are there require navigation. It's much easier for me to click on it than it is to use the controller.
It supports Bluetooth 5 and has Wi-Fi for 2.4 and 5 gigahertz. The sound is stereo speakers, but you can also hook it up to headphones if you want better sound. It even includes a microphone for playing multiplayer games, and you need to talk to someone. It has a headphone jack directly on the device itself, making it easy to hook up to other audio devices. And it weighs about one pound eight ounces or 669 grams if you're in the metric system. So it's very portable, easy to pack, use, and take out on the airplane with no fuss. It's just a great device overall.
Common Complaints
Sometimes the fan noise on it can get a little bit loud, and people have complained about it. They came up with better ways of dissipating the heat. I don't know anything about this, but the fan now is much quieter. You can tell they did something to make it better.
The biggest complaint people have when they play it, and it's not such a big complaint for me, is that the play is for about two and a half hours on battery power alone. People feel that's a little light. However, I think it's pretty good. I often play it when it's sitting on the dock. Or you can hook up a battery pack to it if you want to do that. I don't want to sit there and play video games all day long as I used to a couple of decades ago. When the battery runs out, that's a good signal for me to get back and do something else for a while.
I read many reviews, and people felt they wanted a better screen the next time. I think the screen is fantastic. I'm not particularly picky, so it wasn't a problem for me.
And then other people complained that they wanted a bigger drive, maybe a terabyte drive on the device. But you can also hook up a hard drive to it with the dock and keep it there. So when you're playing on the dock, you have all your games, while maybe you take it with you, you can have some of your favorites.
Install Other Operating Systems
The other fun thing is that you can nuke the OS if you want to. This is a real computer. I'm planning on actually installing Windows on an SD card. I feel that when some games come out, and they're going to be Windows-exclusive games, not through Steam, I will be sad. So if I have a working Windows device on a micro SD card, I can play Windows games anytime.
And installing Windows on the Steam deck takes one micro SD card with at least 32 gigabytes of space or maybe even a thumb drive that you hook up to the dock. You also need a Windows PC to create the ISO file. After that, you need a keyboard and a mouse that hooks up through Bluetooth, and you're good to go. And it runs the full-blown Windows, not just the limited ARM version.
I'm looking forward to this project. I think it's going to be fun to run Windows there. But I've seen people put other operating systems and emulations on their Steam Decks so they can play Nintendo games to make it almost like a Nintendo Switch.
The build, you can tell, is a very quality machine. I haven't seen one flaw in the build at all. This is a solid device.
The Massive Steam Library
And if you've never been to Steam, that game library is absolutely huge. They frequently go on sale, like Black Friday, Christmas, and other times of the year when they have amazing deals, and you can get these games for only a percentage of the actual price.
The other nice thing about it is that the Steam button allowed me to quit games and go into another game quickly. Or, like when I was on the airplane, I promptly shut the whole thing down and put it back in the case. And then pick it up when I pick up the game system later.
It saves your game quickly, and if you're on the internet, it syncs it up to Steam's cloud so that your Saved Games are available everywhere. When I stopped playing Windows games, my game files were gone. When I put them on the Steam Deck, all my games are exactly where I left them. I was just thrilled by that. I wondered if I would lose anything at all, and I didn't.
The other thing about Steam is that Valve is excellent with customers. They're very attentive. They listen to what people are complaining about and respond to it. So even the company itself is just fantastic regarding customer service.
And one other fun you can have if you have a Steam Deck is you can call it a "stream deck" or "steam desk" or "stream desk." I mean, it's all getting confusing because everything just sounds the same all the time. But it is much more fun to play than to say rightly or wrongly. And at home, I never confused my Stream Deck with my Steam Deck. So they are two different things, even though they're sitting right next to each other.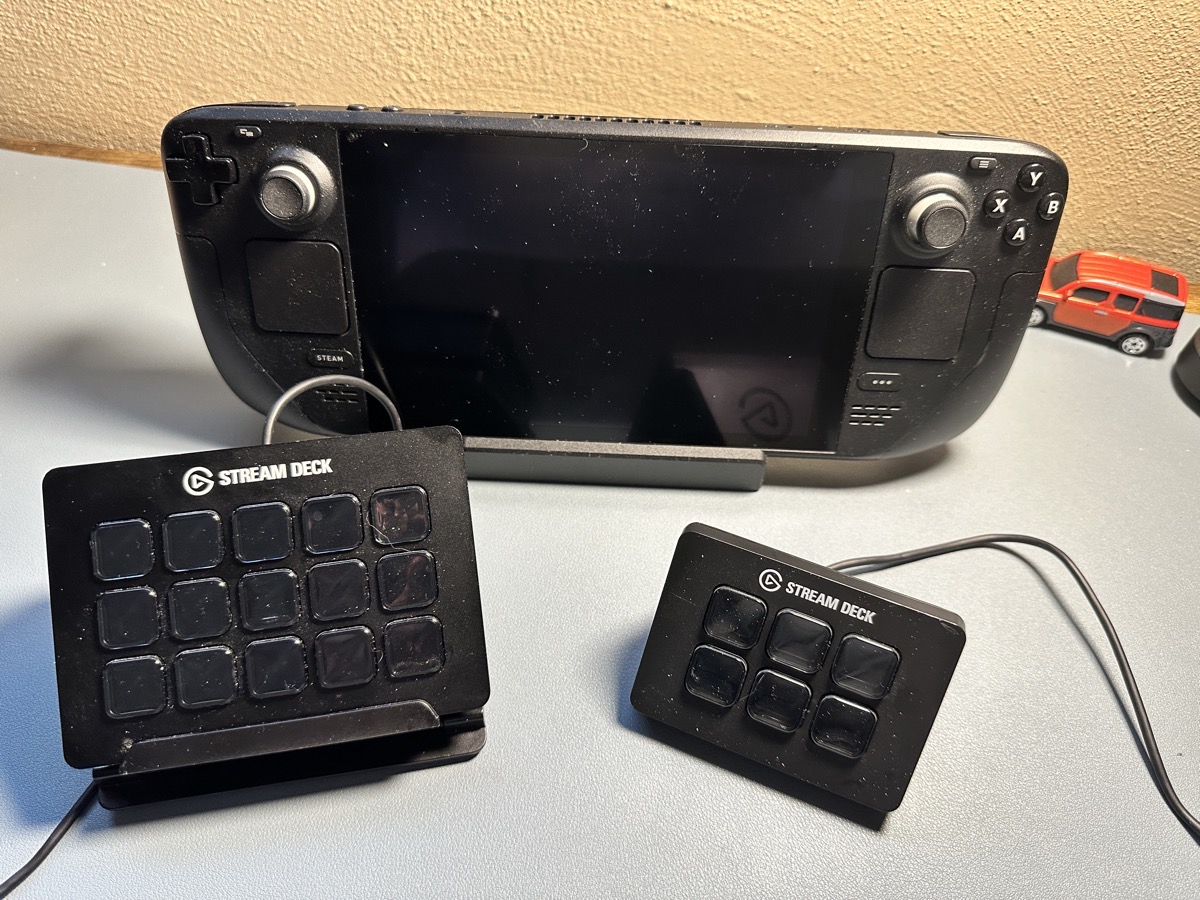 This is Jill from the Northwoods. You can find me sleeping in a tent and playing with my Steam Deck. But if you have any questions, please look me up on Allison's Slack channel. I'm around a lot of the time and if you have games or things you'd like to play on the Steam Deck, let me know.