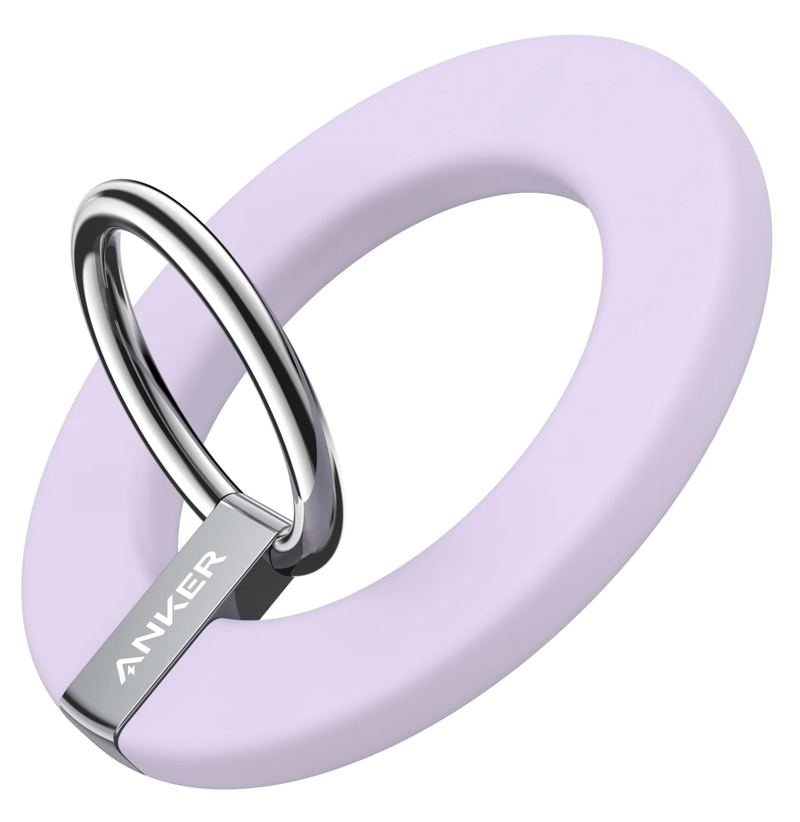 This is Sandy Foster with a short review. We all like to take photos with our iPhones, but I have on occasion been a bit nervous about leaning out somewhere to take a photo — maybe on a ship or somewhere like that. The most readily available method of holding onto the phone is a Popsocket. I've never been a fan of popsockets, though, since they are more or less permanent or — if removed — not reusable. Even worse, they mess up Qi or Magsafe charging!
I know that since I last looked they do have magnetic options for Popsocket, but I've found a solution I like even better and couldn't be more pleased. It's called the Anker Magnetic Phone Grip, and it comes in several colors (I chose a very pretty lilac). The cool thing about it is that it's — as its name says — magnetic, gripping the Magsafe ring quite firmly while still being easy to remove for charging or when it simply isn't needed.
The ring through which your finger goes also works as a handy prop, when needed for a video or similar. The description on the Anker site says that the Magnetic Phone Grip is for iPhone models 12 and 13, but I can't see why it wouldn't also work on the 14. The price is very reasonable, too, at around $16, though there is currently a 15% discount code available directly on the product page.