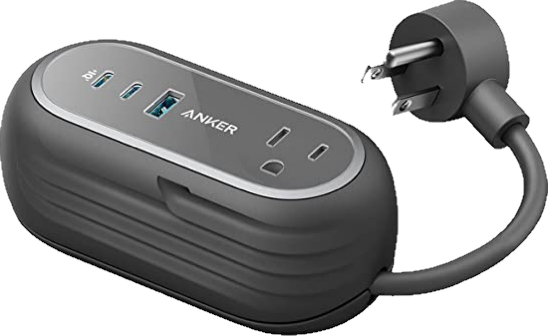 Just to prove to myself that I can write a review that isn't 2000 words long, I'm going to explain why you might need yet another charger for your devices.
It's table stakes these days that any charger you buy is made with GaN (Gallium Nitride). Compared to the older Silicon chargers, GaN chargers are lighter, can deliver faster charging, and can handle higher power without getting hot.
If you're traveling, lower weight is the key ingredient in that list.
When Barry Fulk came to visit us a few months ago, he was packing the Anker GaNPrime 65W Charging Station. This charger sports one USB-A port and two USB-C ports, but it also has two AC outlets on it. Since it has to be plugged into an AC outlet, that's really only a gain of one. But it's still an advantage because both of the outlets on the Anker Charging Station have room around them so you can plug in two big power supplies.
The Anker Charging Station provides 65W of power so enough for charging smaller laptops quickly or even power-hungry laptops like the 14 and 16" MacBook Pros if you have a little more time.
As with all recent Anker power devices, it also has PowerIQ which they say "Intelligently identifies your device to deliver the fastest possible charge." For this charger, Anker claim that you can charge a 14" MacBook Pro to 50% in just 37 minutes, so maybe you don't need that much time.
The form factor of the Anker charging station is unique. It's an elongated oval with one of the AC outlets on one side, and the rest of the ports on the opposite side. The charger has a built-in 3-foot power cable, and it wraps around the charger for storage and travel. There's a flexible rubber skirt that goes around the oval to cover most of the wrapped cable. With it neatly wrapped away, you still have about 5 inches of cable with the plug on the end.
The charger comes in a dark grey or white an costs $70US at Anker.com or on Amazon.
As soon as we saw Barry's, Steve and I each bought an Anker GaNPrime 65W Charging Station for our travel bags. Boom! 379 words and I spent your money … again.