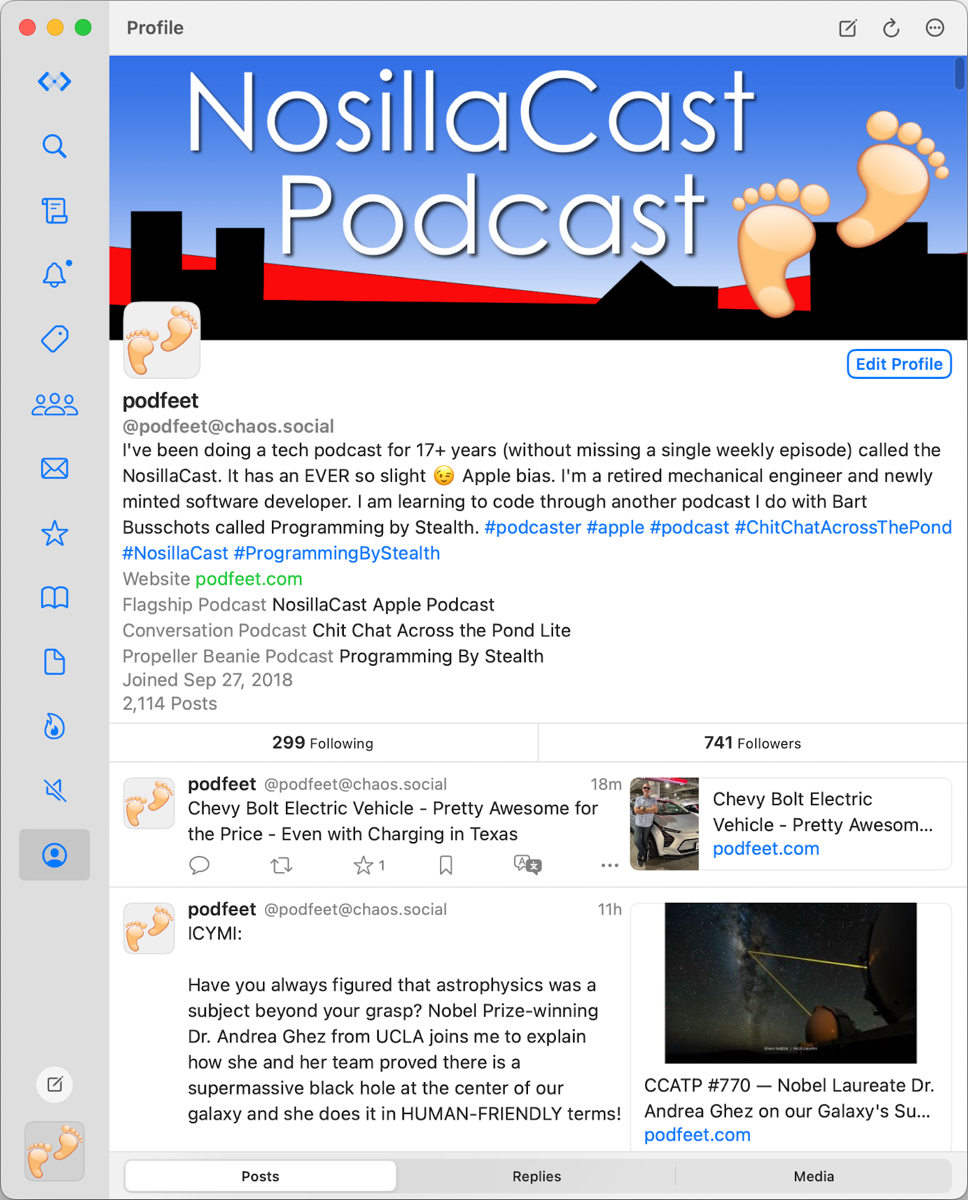 Hello fellow castaways, this is Tom from New Hampshire – as seen on TV. Previously Allison mentioned Mastodon, how she enjoys people there, and how she likes the interactions. I enjoyed it myself. I think I enjoy it much more than I ever did Facebook or Twitter.
I've gone through about half a dozen different apps on my iPhone and I found one I'm going to keep. The name is Mona. It took a little while to come out, but they got it right and they're adding more stuff all the time.
You can download it for your iPhone your Mac or your iPad.
You can, for free, stalk people like what your mother might do on Facebook to you or the grandchildren, and never say a word. My mother has been on Facebook for years and she never posted anything. She just stalks the kids in pictures and stuff.
If you have one device like I do, you can pay for the Pro version which is I believe is $9.99. It's one time. It's not once a month. It's a one-time purchase.
For that price, you get one phone and you have one message on one account. That gets you being able to read, make posts, boost, and make lists.
You can take certain people that you want to follow and pin them to your sidebar. That comes in handy. I work all day long, and if I come home and I know Allison has posted a great article that I want to come back and read, I can go to the bottom of my screen and I can find the tab for Podfeet, instead of trying to go back eight hours in my timeline to find things she did.
You can also set up a Siri Shortcut for people if you want to say, "Allison Sheridan" and that would open up her page. I could send her a message for her directly that way too.
You can send audio and video messages. In fact, in the share sheet, you will get a direct message, a direct link to your page, and open up compose with your name filled in and all you have to do is type what you want to do and hit post.
If it's an article you can do it that way. If it's an audio you can just share it. It's great. It's perfect. I like it a lot.
Now, for the Pro Max version, you can get it for $15.99. You can have more than one instance. So let's say you have one for yourself, and one for an organization you're with or work. You can have it on multiple devices – you get it on your phone, your Mac, and your iPad, if you want to check on multiple places.
And they announced today, this being the 8th of June, that they will be coming out with customized sounds. You can change the sounds for different things soon. It will be an update rolling out.
It's fantastic.
You can customize your tab at the bottom. So it starts out with 14 tabs. I've added a bunch and you can rearrange these tabs any way you want.
So I have people from Twitter I follow, followed by blindness ones. Before the twit ones, I have Allison, and I have Bart.
Bart likes to post really cool pictures. That way I can save them to my TV. In the actions, you can select and copy text. Very easy. So if someone does a picture, and then they do alt text for the picture, you can press on the picture, and you can easily get the text. From the picture, copy it, save the picture, and then paste text into the caption field of the picture.
If you don't want all the actions you can hide all the actions or anything that you don't want to see. You can take things off the bar so if you don't ever want to see messages. If you don't want to see what's trending you can take that off.
So I'm in TWiT social so I can tap into that. Now recently they added you can now also see the main Mastodon.social. That's huge. I don't know if I'd ever be going in there, but it's nice to know it's there if I wanted to see it.
Flicking up and down, you can get to your major actions. You can get notifications for anybody.
This thing is amazing. I would highly encourage everybody once to check out the really cool app, Mona, for Mastodon. Check it out. You won't be disappointed. It's not a waste of money. Go ahead and get it.
So remember folks, help support this great podcast, send her some money on Patreon or PayPal,
And remember … stay subscribed.
---
Allison here with a few more thoughts about Mona. I bought both Ivory and Mona because I wanted to support both teams. Over time, I've been using Mona more but I can't exactly explain why. It just seems to think more like I think.
On the pricing Tom mentioned, it's $9.99 for the single-device model, and for the Pro Max version, it's $15.99 (one time). In addition to giving you the app on all three platforms, the Pro Max version also supports Family Sharing. If you have fellow Mastodonians in your Family you can spread the joy around.
After hearing Tom's review, I realized I'm not exercising Mona to its full potential – I didn't know you could pin people to the tab bar. I didn't know you can edit the tab bar either! You can remove and rearrange all of the little icons.
One of the reasons I don't know everything about Mona is because it's so customizable. For example, Tom referred to the tabs across the bottom, but mine are down the left sidebar.
By default, Mona slides a new column to the right when you select a conversation or a specific person's profile. I know people love that multi-column view, but I'm not super fond of it. The main thing I don't like is that when you move out of that conversation, it leaves a blank white column to the right that you have to manually drag shut. I mentioned my dislike on Mastodon, and I was quickly informed that you can turn off the multi-column view in Settings.
I changed the behavior to remove the columns and now I love Mona.
Tom didn't explicitly mention it, but he's a VoiceOver user. Mona is beloved in the blind community because it was designed from the ground up with accessibility in mind. It's actually from the accessibility community that I first heard about Mona, but as a sightling I can also give it two thumbs up. A couple of times I've had questions about the Mona interface, and the Mona Mastodon handle responded to my questions.