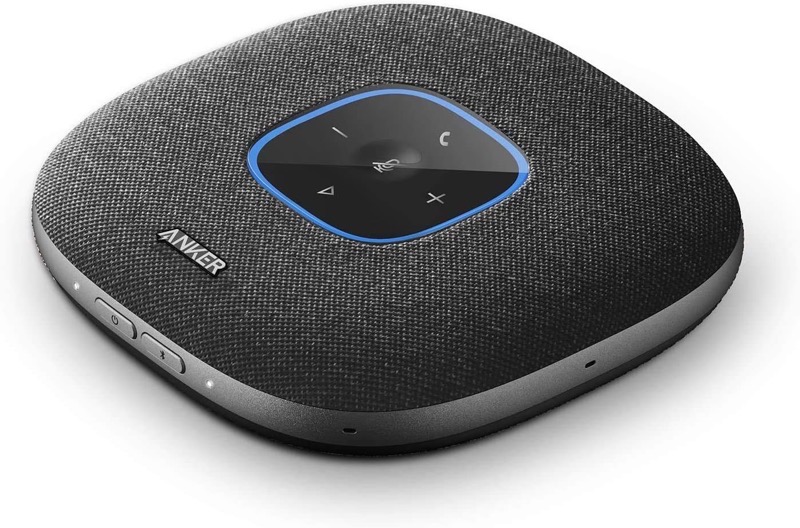 Hi, this is Jill from the Northwoods.
As I mentioned before, I just got a new job and I decided to get myself a present. I got the Anker PowerConf S3 speakerphone.
The reason I did this is that during the pandemic, I've been on Zoom calls all day long. It's part of my job to be on so many meetings. But now I'm going to be doing this for the rest of my working career.
I decided it was time to get away from those headphones that were just tethering me down. Sometimes I like to stand, maybe pace a little bit while I'm in these long meetings. I'm sitting way too much.
So my present for this job is that I got the speakerphone and it's amazing.
I sound good on it. I asked various people to test things with me and they were able to hear me very well. Not only that, I'm able to hear the calls very well.
No longer tethered to any headphones, no longer having anything on my head is wonderful. Again, this is going to be the rest of my working career, so I wanted something else.
This particular speaking phone has six microphones. I noticed that when I'm talking, I think it's meant for a conference room, it'll point to the direction it hears.
Sometimes my bird sets it off a little, but nobody says that they hear my bird. So it enhances the voice and gets rid of the bird. And I noticed I can even be a little farther away and people still hear me very well. The voice tracking it does is really good.
It also has Bluetooth capability or you can plug it in directly into your computer. In general, I find that Bluetooth items don't work as well as plugging directly into your computer when it comes to latency and other types of issues like that. But I even tried Bluetooth and this did pretty well too. There's no reason why I shouldn't plug it in, so I do.
But I can also use it in the future for things like my iPhone if I'm having any kind of call on it to just sound even better.
It works with every type of call software that you use, Skype, FaceTime, Zoom, WebEx, and GoTo Meeting, and it works like a charm.
In my job, I work with a couple of different pieces of software and when I log into an app it automatically recognizes I'm in an app and gives me controls right on the face of the speakerphone itself.
There is an app you can get for it too, which gives you some more controls like volume, firmware updates, and other types of settings, but I haven't found so far that I need it.
Plus it has a handy travel case. This last week when I traveled out to California I brought it with me. Sometimes I take calls in my hotel room and it was small enough, easy enough for me to use that I could just use it everywhere.
It also has a built-in battery, so if I'm in my hotel room and it's inconvenient to plug it in, it says it can work for up to 24 hours on a fully charged battery and has the ability to act as a battery pack for one other device. I haven't found that to be necessary because I don't need another battery, but I guess it's good to know I have something else there.
Of course, like most types of headphones and other types of speaker phones, it has a mute button, which also synchronizes with the mute on Teams and other applications. So I can either click on the button in Teams or use the mute button right on the device itself, make things louder, quieter, and it has a quick response.
During the pandemic, I bought a terrible speaker phone, but that was because everyone was going crazy with the Zoom meeting stuff, it was the only one I was able to find and get right away. It was pretty terrible, people couldn't hear me, and I didn't think I heard other people very well at all.
But this one is top-notch.
And for everything I was looking for, it just did a great job.
I noticed there are a couple of different models out there. The S3 model ran me $99 on Amazon but now it's down to $79. They also have other models with different features and different costs.
But for me, this one's just been great. It had great reviews and when I got it – it worked exactly as expected. I'm certain that these other models out there are primarily about how big is your conference room. Again, I'm just using it for myself or when I'm in a hotel, so I didn't need anything for a large room. They sell bigger models for sure. This one for just me and maybe a couple of other people is perfect.
So I got this as a gift for myself and I love it already. It's going to make the rest of my working life so much better. And I recommended it to people I work with who struggled to find good ways of getting people to hear them while they're on calls especially if they're using their laptop microphone. This is so much better than that, and people can hear you.
When you work remotely, the entire impression people get from you is how you sound. Whether or not you forget to unmute your phone, or whether you forget to mute your phone and you're crunching on your chips while your boss is talking, this is the perfect device to help you sound amazing and be that employee you hope to be while working remotely.
If you have any questions, you are always welcome to ask me either on the blog article itself or on Allison's Slack channel.
So I hope you enjoy the Anker PowerConf S3 speakerphone as much as I do!
---
Allison hear with a few extra comments. I talked to Jill about the Anker PowerConf 3 and asked if the internal battery charges when it's tethered to the computer and she confirmed that it does.
The other question I had was whether it is a full duplex device. You care about full duplex because that's the technology that allows you to talk and hear from the device at the same time, rather than getting cut off. Single duplex uses the same channel for send and receive so you can talk or listen but not do both. Finding the answer to this took a wee bit more digging, as the Amazon listing for the Anker PowerConf 3 didn't say. I was able to find a support article on support.ankerwork.com/… where they confirm that it is definitely a full duplex device.