My adult children think I'm an anachronism. I write paper checks to pay my utility bills. I have an iPhone, but it is an old-ish iPhone XR (ten-R?) and I don't even use half of my 3GB data allotment. I don't do social media, other than to sign into Discord on Sunday nights to check in with the friendly and enthusiastic NosillaCastAways. And I still use a Real Desktop Computer, not even a cool Apple Silicon laptop: as detailed in an earlier submission, "I'm Still Using a 2010 Mac Pro" as a daily driver, for reasons that will soon be revealed.
I have a lot of 33 1/3 LP records, nearly all of them from the folk music genre. I haven't counted them lately, but there are about 35 linear feet of LPs stacked tightly in four bookcases. I have an on-going project of transferring content from those spinning vinyl disks to digital formats so that I can play them on the radio program that I host biweekly at the local radio station, KBOO-FM Portland. This is why I need a Real Desktop Computer, with a CD/DVD burner drive.
I could easily rip the LPs to digital files, and call that sufficient, but I'm kind of old-school and anachronistic: I like to make CDs that include not only the audio files but also the liner notes and the artwork. This is possible with programs like Toast, which you can use to create what are called "Enhanced Audio" CDs that have separate sub-volumes for the musical tracks and digital data.
It also turns out that when you create a CD that closely replicates the order and timing of the original LP it will often be recognized by Apple Music (neé iTunes) as a commercially produced CD, and Music will automatically download the metadata like the performer, song title, and album from Gracenote, saving a lot of manual data entry.
My workflow for the project goes something like this: play an LP while recording it through a Scarlett 24 bit stereo A/D converter. The stereo digital stream is captured by Amadeus Pro, a sound editing program also available from the Mac App Store.
Send the resulting AIFF file through a (now obsolete) program called ClickRepair to clean up the clicks and pops of the vinyl record, restoring it to near-CD audio quality. Adjust the levels of the tracks, and split the tracks out to individual files in 16-bit AIFF format back in Amadeus Pro again.
Photograph the album cover, front and back, along with any enclosed liner notes. Then burn the whole data set to a CD using a CD burner program. I am careful to use the highest quality discs that I can lay my hands on, and run the burning program at minimum speed (usually 4X); with good quality Taiyo Yuden or JVC discs (now superseded by CMC.) I have had good luck with CDs still being readable after 15 years.
Once the CD has been burned, I mount it so that Music sees it and tries to match it up to a commercial CD product; often it will find an appropriate match, and then I just direct Music to rip the CD to MP3 format within Music. (If it doesn't find a match with Gracenote I have to manually enter the metadata in Music before ripping the CD to an MP3). Now when I sync with my iPhone the MP3 gets transferred to the phone, where I can listen to it on the go, or in the car, or at work. I archive the AIFF files and photo documentation on a NAS for safekeeping.
You might be listening to this, thinking "Optical media is dead, Apple got rid of it ten years ago, why should I care?" One reason that I can think of is that I still think that it is good to have a layered defense against data loss.
There is a technology out there called the M-Disc, which is supposedly archival quality; the manufacturer has put their discs through rigorous testing, and they make the claim that data stored on an M-Disc should last a 1000 years. Even if you discount that specific claim, it seems likely that an M-Disc will hold your data through the next generation or two. So maybe it makes sense to put together a couple of M-Disc DVD's containing your most irreplaceable family photos, videos, and oral histories. You can get a USB interface M-Disc compatible portable CD/DVD burner from Other World Computing for only $35, and the M-Discs themselves are available from Amazon.
So what is the problem to be solved then? In one word: Toast. I started using Toast 5 back in 2003 when it ran on a Titanium PowerBook G4. Corel (formerly Roxio) has continued to issue new versions of Toast that correspond roughly to major operating system changes; they're now up to version 20, and although they have added features to the suite of software that they ship with Toast, the underlying main program hasn't changed much.
In fact, I would say that the main program has actually regressed: I used to re-purchase the whole shooting match under duress every three or four years when Apple's operating system changes made the old Toast unusable, and was often disappointed to note that old reliable features that were critical to my workflow were either hidden or bug-ridden. If Toast 5 were able to run on my current hardware, that's what I would be using.
I forget what exactly it was that was the final straw for me. It might have been the more stringent licensing check that was unable to handle allowing more than one user on a given machine to be able to run the program without performing a directory copy in Terminal (which I was perfectly capable of doing, but it was annoying). I decided to go looking for a replacement for Toast.
I want to mention here a useful resource that perhaps our listeners might not be aware of, or perhaps were aware of at one time but have forgotten. That resource is the website alternativeto.net. You can go to the website, type in the name of a program, and it will show you crowd-sourced alternatives that perform a similar function.
When I did that for Toast, it showed me a bunch of Windows programs that burn CDs, but not much for the Mac operating system. The main standout that pops up for the Mac operating system is a free software package called Burn, from Maarten Foukhar, hosted on SourceForge.
It turns out that Burn is a straightforward, perfectly capable solution for burning audio CDs. It even supports burning Enhanced Audio format CDs. Burn has a simple interface: you drag audio cuts into a window in the order you desire for them to play, and then you are given an opportunity to set the burn parameters (such as burn speed, which I always set at minimum) when you press the Burn button.
Putting together an Enhanced CD requires two steps; you burn the audio files first, but check a box that says to leave the session open (not finalized). Then you burn the data files in a second burn step, and this time uncheck the box so that the catalog is finalized.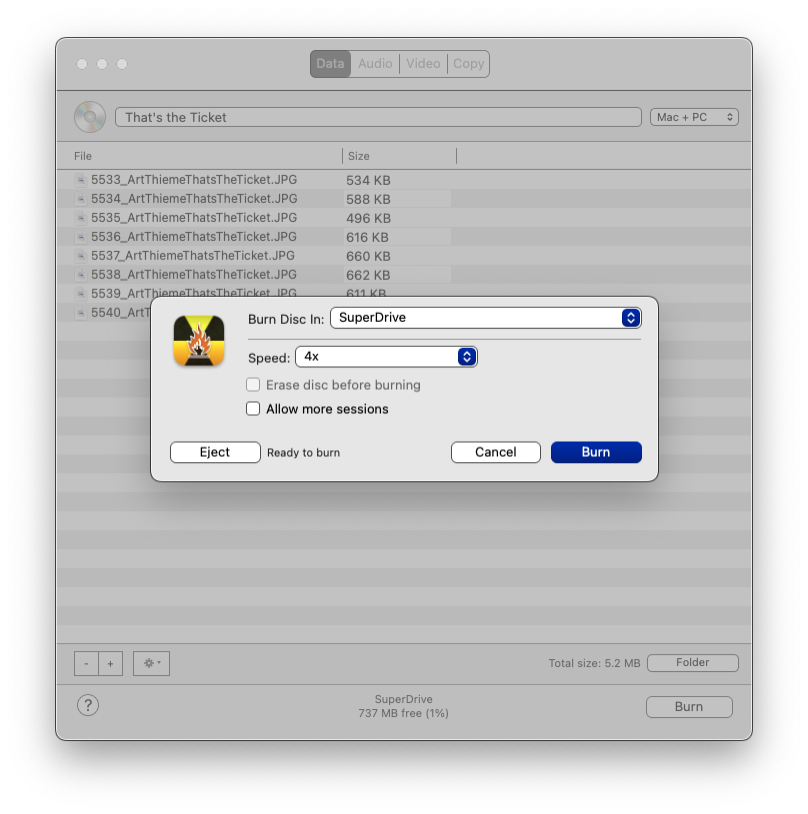 Burn has never given me a problem as far as working with various disc manufacturers or even various CD burner hardware.
Burn also has the capability to burn DVD discs. My needs are almost exclusively on the audio-only side, so I've only made a couple of DVD data discs and one DVD player disc. Burning a data DVD is essentially the same as burning a data CD: simple and straightforward (or as one reviewer on alternativeto.net put it: "non-fussy").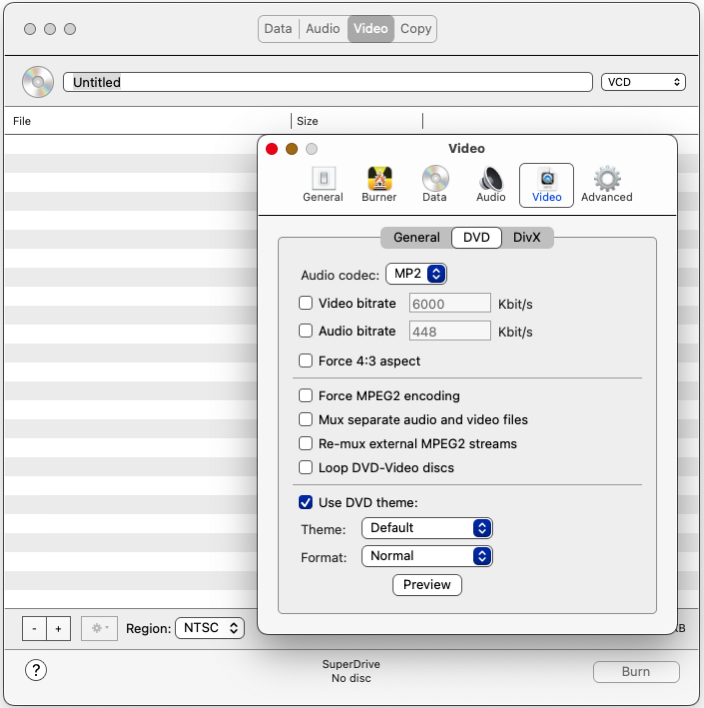 Burning a DVD for playback on a DVD player is one area where Burn comes up decidedly short compared to Toast: Toast gives you a choice of multiple themes for a playback DVD, along with various menu style options. With Burn, there really is a single theme, and it is best if you only have a single video feature.
If you drop a video file on Burn that isn't quite what a DVD should have, Burn will invoke its own copy of the open source FFmpeg program in the background to reprocess the file into a compatible format (with possible loss of quality, it should be noted). It all works, but it's not going to win any Academy Awards.
I found a glitch in Burn when I first started using it several years ago – it was leaving an audible click in each CD audio file very close to the end of the playback period. I wrote to Maarten about it, and he quickly issued a fix within about a week. He continues to update the program periodically in response to Apple's ever-changing API interface. There is a user forum on his SourceForge page where you can ask questions and report bugs.
You may find this funny, but the worst thing about Burn is the name. Try typing 'Burn', or even 'Burn for Mac', into a search engine and be prepared to scroll through pages of non-helpful search results before finding Maarten's program!
If you're like me, and work with audio CD media almost exclusively, then switching to Burn is a no-brainer. If you're a person who only occasionally has the need to put together a playback DVD with home movies for your parents or non-techie friends, then Burn will get the job done at zero cost.
You won't have to get dragged along on Toast's relentless upgrade cycles, with the attendant cost and risk. And of course, if you want to put together many different video projects then you're better off with Toast. I can say that I've been happier since I switched to Burn and left Toast behind; there's the money saved, of course, but the greater issue was putting up with the seemingly pointless user interface changes for the sake of "modernizing" the app. Adios, Toast, hello Burn!