Next week's live show will be on SATURDAY night, not Sunday night! Video Conversion "Made Easy" for iOS video up from my Mac Mania 15 classes, a plug for the ScreenCastsOnline Monthly Mag with articles by moi. Donald Burr of Otaku No Podcast brings us a review of the XPrint Server from Lantronix. Use promo code HOLIDAY2012 to save 20%. I give a quick review of the incredibly inexpensive iPhone 5 bumper cases from monoprice.com. Nick Brennan joins us again with a review of the 15″ MacBook Pro with Retina – let's see if he convinces us we need one! Check out the ScreenSteps Live Sneak Peak. In Chit Chat Across the Pond Bart tells about a lot of important security news, some of which is pretty scary and some of which he tells us so we don't panic. Then he tells us about the new Flickr iOS app that was just released (and doesn't suck), and then he teaches us about the Curves tool in many imaging applications. Finally he winds up with a quick review of an iOS app called LightTrack that lets you see in what direction the sun and Moon rise and set, and at what direction and height they will be in the sky at any time in-between.

mp3 download

Hi this is Allison Sheridan of the NosillaCast Mac Podcast, hosted at Podfeet.com, a technology geek podcast with an EVER so slight Macintosh bias. Today is Sunday December 16, 2012 and this is show number 397. Did I get that right this time? Before I forget – the show will be on SATURDAY the 22nd, not Sunday the 23rd next week, because I'll be galavanting around for the holidays. So mark your calendars! Or better yet subscribe to the NosillaCast calendar so you always know when the show will be:
If you want to be SURE you catch the show, COPY the link below – DON'T CLICK ON IT or it won't work. Open your calendar application, and choose subscribe. Paste in the URL, and you'll be kept up to date on any changes to the time!
http://www.google.com/calendar/ical/p4eqmsjrta23puioq768nuko0k%40group.calendar.google.com/public/basic.ics
Video Conversion "Made Easy" for iOS
Steve has been furiously working away on encoding the videos he took of the talks I did on MacMania, and I've been delinquent in showing them to you! I've noticed that if I dump a bunch of content all at once, nobody looks at it, but if I spoon feed it a bit at a time people seem more interested. For example, if I posted one photo from Australia on Facebook, I'd get maybe 10-20 comments. When I got back I posted a 63 page album (which was a LOT of Barting from a 2 week trip) and I got ZERO comments! Anyway I'm going to dish out the talks one a week to you so you'll enjoy them more. The first one is called Video Conversion Made Easy for iOS, and it's all about how to take your legally-owned DVDs and transcode them to put on your iiPad or laptop. The words "made easy" are a bit of a misnomer – if you follow our instructions you'll get there but it's sort of convoluted.
I should add one more thing, in the talk, which Steve helped write by the way, I say to not even try to transcode Blu-ray because it's a bag of hurt. During the talk, a fellow named Dale said he had an app that helped him do it but couldn't remember the name of it, but luckily when he got home he looked it up and his wife Diane wrote to me with the info: it's called MakeMKV. Steve gave it a try when he got home and I'm happy to report back that it works really well and he's happily ripping away on our Blu-rays now. You can find MakeMKV, free for Mac or Windows at makemkv.com/download. Be sure to go to the /download link, for some reason they only show the Windows download on the main page. So thanks to Diane and Dale for that hot tip!
The Video Conversion Made Easy video is embedded in the shownotes, and of course there's a link directly to YouTube for those using screen readers!

Using a Screen Reader? click here
ScreenCastsOnline Monthly Mag
I just realized that I've been neglecting to keep you up to date with another venture – I'm writing regularly now for Don McAllister's ScreenCastsOnline Monthly Magazine that I told you about back in August. It's for iOS as part of Newsstand (finally a reason to use Newsstand!) In the last 3 issues I've been teaching how to turbocharge your Mac productivity with little tips and tricks to make you super efficient. Other featured articles are The Last Bad Password by Katie Floyd, Labelist to create labels by Frank Petrie, Take Your Best Shots by Wally Cherwinski, The iPad Mini Dividing Line by David Sparks. As if that weren't enough great content, it also includes TEN video tutorials by the great Don McAllister himself! Seriously – this much goodness for only $5 a month! By the way if you become a premium subscriber to Don's ScreenCasts Online podcast, you get the magazine for free. I'm thrilled to be writing for Don and honored to be considered amongst the other authors here.
Donald Burr
Donald Burr of Otaku no Podcast from otakunopodcast.com reviews the XPrint Server from Lantronix. Use promo code HOLIDAY2012 to save 20%.
Problem: When Apple introduced the iPad, they also introduced a technology for printing from iOS devices, called AirPrint.  Unfortunately AirPrint requires support from the printer vendors — they have to "bake it in" to the printer's firmware.  As a result, only a few printers from the major manufacturers support it.  And not everyone wants to buy a new printer.  (Certainly not me; I've got a nice color laser printer that's only a year or two old and still works beautifully.)
Now before you say "Wait a minute, why would you want to print from an iPad?", this actually comes up more often than you might think, believe it or not.  At least for me it does.  Maybe you have to print a boarding pass or hotel confirmation.  Maybe you whipped up something in iWork (a flyer, a letter, etc.) and don't want to have to fire up your Mac just to print it.  And what about those people for whom the iPad is their one and only computing device?  What if they want to print up a flyer they did in iWork, or the latest photos of the grandkids?
Anyway, I thought it was silly to have to buy a whole new printer just to be able to print to it from our iDevices.  Now there is a Mac app called Printopia that will let your Mac serve as an AirPrint server, but that requires you to leave your Mac on 24/7.  Fortunately Lantronix has another hardware-based solution that is reasonably priced and works very well – the XPrint Server.
It is a smallish white rectangular box, about the size of a iPhone 5, and about as thick as two iPhone 5's stacked on top of each other.  Its design is very clean; there are no garish logos or stickers or anything.  It would fit perfectly next to your iMac or other Apple gear.  It has two lights, one that shows network activity, and another that shows the overall status of the device.
You will need to plug the device into a wired Ethernet network connection — it doesn't support WiFi.  It comes with an Ethernet cable, which is nice.  However it does NOT come with a USB cable (but if you've already got a USB printer, you've already got a USB cable.)  Unfortunately the unit does not have built-in WiFi, but it will talk to any WiFi printers you might have, so long as everything is plugged into the same network.
The box needs Internet access to get going, because as part of its setup procedure it auto-detects any printers on your network as well as hooked to it via USB, and automatically downloads drivers for them.  When I first plugged it in I thought it wasn't working: the orange status light kept blinking at me and never went into the "pulsing" mode that indicated normal functioning.  It turned out that my connection was super lagged at the time (I was doing a lot of downloading).  When I paused my downloads and unplugged and replugged the XPrint, it worked perfectly.  Since it goes on your network it needs to get an IP address using DHCP, so if your router is flaky or has crashed, you will need to restart it.
You can use it with USB printers, network printers, or a combination of both.  In our case we have two network laser printers, and a USB inkjet photo printer.
Auto discovery worked perfectly; it correctly discovered our two network laser printers, as well as the Canon photo printer I hooked up directly via USB.  By default it gives them generic names, but you can change them in the web GUI.  Also, if for some reason your printer wasn't properly auto discovered, you can set it up manually in the web GUI.  The web GUI is pretty slick, and lets you configure the unit.  It advertises itself over Bonjour, so in Safari, a bookmark entry for it will magically appear in your Bookmarks menu.
An added bonus is that it will also serve as a network print server for your desktop computers as well (supports both Mac and Windows); so you can in effect convert a USB printer into a network printer that you can print to from your Macs, Windows machines and iOS devices.
The one odd issue I had was with the device's firmware.  It came with version 2.1.0-8 on it.  I immediately clicked the "check for firmware updates" button like I always do with new devices, and it came back and said that an update to version 2.0.0-43 was available, which seemed odd since that is a lower version number  I tried installing it anyway but it appeared to do nothing; when the unit rebooted it was still running 2.1.0-8.  I'm guessing this is a software glitch and will probably be fixed in its next (real) software update.
The device is available in two different editions.  The Home edition supports up to 8 USB printers and 2 network printers.  For most people this is more than enough.  However if you intend to use this more in an office or school setting, you will want the Office edition, which adds support for an unlimited number of network printers, and includes features suitable for business/enterprise users such as remote administration, multiuser access controls, etc.  The Home Edition normally sells for $100 and the Business Edition normally sells for $200, but until the end of the month you can use the coupon code HOLIDAY2012 to save 20%, bringing the price of the Home Edition down to $80 and the Office Edition to $160.
Check it out and order it at the links that I'm sure Allison will put in the show notes: XPrint Server from Lantronix. Use promo code HOLIDAY2012 to save 20%.
=======================
Thanks, Donald. Every time I hear people singing the virtues of Printopia I'm confused, why would you want to keep a Mac on all day long on the off chance you just might want to print. I print about 6 times a year, so that would be a lot of waste! The Lantronix sounds like a much better idea, especially for small businesses. I have a printer that works with the iPad but I'm still tempted to buy one of these just because it's so cool! To everyone else – pay attention – that $20 off coupon is only until the end of December!
Monoprice bumper case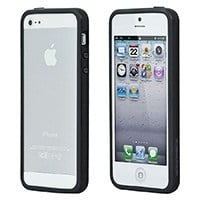 If you haven't started shopping at Monoprice yet, put it in your bookmarks right now. They're a great company who has the kind of accessories we all need for incredibly low prices. When the iPhone 5 came out I didn't want a case, I wanted a bumper that showed off how thin and light the device was, but no one had them on day 1. I went to Monoprice, and they had one for $1.52! I bought it and when it came, it was clear they didn't know where the buttons and headphone jack were going to be (no one KNEW, but many suspected…) Anyway it did the trick for a while and was functional. After a while I went back to Monoprice, and used their live chat service. I asked the guy who answered whether their bumpers now had the holes in the right place. He was REALLY REALLY apologetic about the problem I'd had and explained that the new one was perfect now, and could he issue me a refund for the previous one. I laughed and pointed out that the work to give me back $1.52 was not worth it and that I was still a happy customer. The new bumper cases were MUCH nicer, the first one was just basically a rubber band around the phone with holes in it, while the new ones were pretty much just like the Apple bumpers – complete with buttons to depress the volume rockers, etc. They do cost more than double though – I bought a white and black one for $3.48 each. Seriously. I put a link in the shownotes to the bumpers I bought at monoprice.com so you can see what they're like. I really can't encourage you enough to buy HDMI cables ($4), TV wall mounts, tons of great quality stuff for ridiculously low prices through Monoprice.com.
MacBook Pro 15″ Retina review from Nick Brennan
Nick Brennan is back with a review:
I think everyone would like a new Retina MBP but here is how and why I got one and a little review of what I think of the machine. I hope this helps anyone considering a purchase of either the 15″ or even the 13″ retina as I think most of the screen and speed comments will apply.
My old MBP 15 was a 2.2 Core 2 Duo machine purchased over 5 years ago and it had a new 320GB drive and and an extra 1GB of RAM up to 3 and served me well being used for work most days. But I knew the time was coming where I would have to replace it and looking at the new Retina 15 it was enough of a step forward that I wouldn't be disappointed in a few years time.
My mum actually wanted a new windows PC which I was trying to gently persuade her to get a refurbished Mac laptop but she wasn't overly keen in spending a few hundred dollars more. Transferring her to a Windows 8 machine wasn't sounding like a fun day. But she said I will take your old one then everyone wins.
So I went to look at the new MBP in a local retailer and they had 10% off which is as big of a discount I have seen anywhere also I will claim the sales tax through my business so this is quite a substantial saving.
The first thing is the size and weigh or lack thereof. It feels lighter than the standard unibody 13″ MBP model and even thin compared to the standard model which was already less than an inch.
While Allison has been going on and on and oooon about her SSD being soooo fast some of us never had the pleasure of using one daily. Well now I do and the quality of the one in the new MBP is incredible with speeds of 400MB read and write not to mention the random small read and write speeds. I have about 13 second boot times and any app loads instantly.
But you know all this right?? What you want to know is what do I think about the screen. Good question and one Allison also asked.
First a quick recap on how the new pixels work. You can have the screen set on 3 resolutions I have it set like my old laptop 1440 X 900. But now 4 pixels a drawn instead of 1 just like when the iPhone or iPad went retina. Everything is drawn the same size just with more pixels. How big of a difference does it make? The clarity on this size screen is amazing my Dad said "It looks almost 3D". I went through some photos and its like I had never seen them before as you can see blades of grass and definition and clarity of people and objects.
Text is crisp and looks like it does on a new iPad again at the same physical size on the screen but with more pixels to work with. Which makes most of the web look amazing without anybody doing anything but a lot of images now become slightly blurry.
Battery is also pretty incredible I can get all day on and off use plus it seems to charge very quickly which I haven't seen pointed out elsewhere but it does seem faster than my old laptop that is for sure.
Also a couple of other things to note is how silent it is to use there is no fan noise and yes the fans sound quieter but hard to describe. Also everything is cool to touch and the hottest temperature in iStat is 36 degrees right now which is the Airport card. The enclosure base doesn't get above 30 or 86 Fahrenheit for you imperial types.
The CPU is well the CPU 4 core 8 threads blazing fast also and doesn't spike up much it might max out 1 core or if you want to export some video it will use all 8. I wonder how fast it could export the show I might have to get Allison to send me the Garageband file and find out.
So if you are thinking about a new MBP Retina but not sure well all I can say you will be blown away it is the best laptop on the market as far as I am concerned.
ScreenSteps Live Sneak Peak
The boys over at BlueMangoLearning.com did a seminar to give you a sneak peak of the new ScreenSteps Live: bluemangolearning.com/webinars/archives/sneak-peek-new-screenstepslive. They've got some BIG things planned but I don't think I can tell you yet, but maybe this sneak peak will whet your appetite!
Chit Chat Across the Pond
Security Light
Important Updates:
Important Security News:
Interesting Security News:
Some important privacy news for FaceBook users:
Main Topic – Photography Pot-Puri
New office Flickr iOS App Released:
Flickr release new iOS app that doesn't suck! – blog.flickr.net/en/2012/12/12/our-latest-flickr-iphone-app/
I've been playing with it this week and so far I like what I see. Definitely a stupendously huge improvement over the absolute turd of an app they had before. The old official App was so bad that I paid for a third party alternative! (Flickr Studio €4.49 – itunes.apple.com/ie/app/flickr-studio/id387907682?mt=8). I think Flickr Studio is still a better app, but then it is a paid app so it should be! The official app is now usable though, and should suffice for most people.
Getting to know the Curves Tool:
The curves tool is actually very simple, but despite that simplicity is is very powerful, and very perplexing to most people. It is in effect a much more flexible and easier to use levels too.
The exact presentation will vary from app to app, but it always looks something like this (from Aperture):
What the curves tool allows you to do is manipulate the mapping between the values from black to white in the input image and the range of values between black and white in edited image. If you just map everything directly through without altering anything, then you get a diagonal line at 45 degrees – in other words, you have no curves adjustment at all.
If you are working on a JPEG image your input and output are 8bit images, so your editor will have to do a lot of interpolation, and you won't be able to make dramatic curves edits without the quality of your image degrading. If you are working in RAW on the other hand, you have 12 or 13bits on the input, and 8bits on the output, so have much more information to play with, and you'll get better results.
Before you start your curve already has two -pre-made control points at the extreme ends of the diagonal line – these determine where to set the black and white points of your output image. If you adjust them you will still get a straight line curve, but it will not be at 45 degrees, so it will have an effect on your image. I generally don't use the curves brick to control the black and white points, I use the exposure brick for that, adjusting exposure, black point, and recovering until my whites are JUST not blown out (highlighted in red in aperture if you have Highlight Hot and Cold Areas enabled), and my darks JUST not drowned out (highlighted in blue if …).
The real power come when you add your own control points – just click on the line to create one, then drag the control point up or down to alter that relevant tones of the image. The bottom left of the diagonal line represents the dark parts of your image. the top right the bright parts, and the centre of the line the mid-tones. As you add control points the line representing your output will become a gentle curve that passes through all your control points without ever taking a sharp corner. The parts of the tonal scale where your line is below the 45 degree line will be darkened, and the parts above will be brightened.
On many implementations of curves a histogram of the output image will be displayed behind the curves adjustment 2-d plane. This will help you see whether or not your are cutting off highlights or shadows if you don't have a feature similar to Apertures highlight hot and cold areas (or of you keep that turned off).
The simplest use of the curves tool is to brighten or darken the mid-tones while leaving the black and white points in-changed. You do this by adding a single control point in the centre of the line and dragging it up to brighten the image and down to darken it.
Probably the most common use for curves is to add contrast in a controlled way. You do this with a so-called s-curve, you create two control points, one near the bottom left, and one near the top right. You drag the bottom left one down a little to darken the shadows, and the top right one up a little to brighten the highlights.
See example here: bartb.ie/CCATPResources/121216-CurvesExample/
If you have an image where you need to darken the shadows without affecting the mid tones or highlights would would start by adding a control point in the lower left part of the line and dragging it down to darken the shadows, then you would add another control point near the middle and drag it back up to the 45 degree line, hence preserving the mid-tones and highlights.
Ultimately, practice makes perfect. Once you understand what the line means, you can achieve the desired effects by adding as many or as few control points as you need. Like with just about everything in photo editing – don't get carried away – usually small edits will give you the best results.
LightTrac – an iOS app to help you take better pictures:
It's Santa Special time again, so I've been out and about shooting pictures of the lovely santa trains. A new tool that I've really put through it's paces this season is the iOS app LightTrac (€4.49 – in iTunes).
This app lets you see in what direction the sun and Moon rise and set, and at what direction and height they will be in the sky at any time in-between. The relevant angles are over-layed on a satellite view of your location (or the location you search for). I used this extensively to plan which locations to use at which time of day to get the trains in the best light possible.
So far I'm not done editing all my shots, but if you're interested, here are the two videos I have posted so far:

Using a Screen Reader? click here

Using a Screen Reader? click here
That's going to wind this up for this week, many thanks to our sponsor for helping to pay the bills, Blue Mango Learning at bluemangolearning.com makers of ScreenSteps and Clarify. Don't forget to send in your Dumb Questions, comments and suggestions by emailing me at allison@podfeet.com, follow me on twitter at @podfeet. I contribute a fair amount over on Google Plus nowadays so just search for me by name if you want to circle me up. If you want to join in the fun of the live show, head on over to podfeet.com/live on Sunday nights at 5pm Pacific Time and join the friendly and enthusiastic NosillaCastaways. Thanks for listening, and stay subscribed.