This week we'll start off with a sweet story about the Podmom, and then Knightwise responds to my question of why iOS is swamping web traffic even though Android is swamping sales. Next I'll switch gears to go on a rant about how hard it is to watch TV these days. After that I've got a review of Carry Technology's Apotop Wireless Reader, and then we'll have three more interviews from Macworld. First we've got Davista's VoiceOver Calendar app for iOS, then we'll hear from Get Cloak about their personal VPN software, and finally we'll hear from a company called Beamr and their magic photo compression software called JPEG Mini. And the we have the treat of hearing the wit and wisdom of Mr. Ken Ray from Macosken.com and the Mission Log Podcast.

mp3 download

Hi this is Allison Sheridan of the NosillaCast Mac Podcast, hosted at Podfeet.com, a technology geek podcast with an EVER so slight Macintosh bias. Today is Sunday February 17, 2013 and this is show number 406. I have bad news and I have good news. Last week I promised that I'd have Victor Cajiao in to be on the show to answer Professor Albert's question about fusion drives vs. SSDs vs. HDDs, but unfortunately the timing didn't work out for us. That's the bad news. The good news is that our guest on Chit Chat Across the Pond is the fabulous Ken Ray, aka Mac OS Ken! I invited him on to rant about the silliness of the financial analysts and to talk a little bit out Tim Cook's discussion at the Goldman Sachs technology conference. It was great fun and I know you'll enjoy it.
This week we'll start off with a sweet story about the Podmom (get your kleenex's out kids). Knightwise responds to my question of why iOS is swamping web traffic even though Android is swamping sales. Next I'll switch gears to go on a rant about how hard it is to watch TV these days. After that I've got a review of Carry Technology's Apotop Wireless Reader, and then we'll have three more interviews from Macworld. First we've got Davista's VoiceOver Calendar app for iOS, then we'll hear from Get Cloak about their personal VPN software, and finally we'll hear from a company called Beamr and their magic photo compression software called JPEG Mini. And the we have the treat of hearing the wit and wisdom of Mr. Ken Ray.
The Podmom
My daughter works for a small pharmaceutical company in San Diego. This week one of her co-workers, named Flora, got the idea to take Valentines cards to a local convalescent home where she volunteers. All of the employees in her small company created hand-made Valentines. and Flora and another woman named Rachele took them over to the convalescent home. Flora wrote this letter when she got back.
Rachele and I went there after work yesterday, and passed out cards to every single resident that we came across. Many of the ladies told us, with a huge smile, that it's the first Valentine's Day card they've received in years, and how they'll cherish it forever! One lady exclaimed, "Oh My!", when we handed her a card, to her nurse's surprise, because she almost never ever speaks. Another lady stood up from her wheelchair with her cane, just so she could give us hugs to show how much she appreciated the love. We made sure to tell every single resident that everyone at Pharmatek handmade all the cards because we want them to know that they are LOVE LOVE LOVED, on this occasion of love. Some of the residents aren't able to speak, but they gripped onto the cards and stared at them for a long time. You can see how much it means to them even though they didn't say a word. Many of the ladies that we walked past again in the hallway would give us a great big smile and wish us a happy Valentine's Day. All in all, a sense of magic and love was spread throughout the home.

Thank you all again for being so kind, it made a world of difference to the lonely old ladies and old gentlemen, for it filled their hearts with love and warmth in this cold winter season.
All of that would be pretty sweet, but it was her P.S. that brought tears to my eyes.
P.S. here is a picture with all the cards, and the second picture is Rachele reading a love poem from a card that she made to a blind lady. She had a huge smile when we left!
And it was a picture of my own mother, the venerable Podmom.

I'm kind of a tough girl, but I have to say this put me in a bucket. The kindness of strangers, given to my own mom. Humbled and happy.
Knightwise on Android vs. iOS
Last week on the show I speculated on possible reasons for Androids large market share in sales, but low percentage of web traffic compared to iOS. The venerable Knightwise calls in with a possible explanation:
===insert KW===
Well far be it from me to suggest that the Knightwise family unit is in any way representative of a normal population, but he does make an interesting point. If phones are seen as a method to tether iPads, that could account for some of the traffic. I'm not sure how to verify his statement that Android phones can tether without extra charge while iPhones have the extra fee – I always assumed that was carrier nonsense, not OS nonsense. If you have an Android phone on AT&T do you have full freedom to tether that you don't if you have an iPhone on AT&T?
Watching TV in 2013
we record Modern Family on TiVo
Wednesday's show didn't record for some reason
Change the input on the TiVo to get the Mac Mini. Um, what's it called? DVD? no, Satellite!
Get the keyboard/trackpad.
Trackpad battery is dead
find a penny to open the battery chamber
put in new batteries
put old ones in bin for toxic refuse
Open Safari
Navigate to Modern Family on ABC.com
Flash update. shoot, Bart says we have to do this one
Quit Safari
Run the update
Relaunch Safari
Paste in the url (that I was at least smart enough to copy before quitting Safari)
and THEN we watched Modern Family
break for commercials, not too bad, tell you how long they'll be
Some quiet, some TOO LOUD. and really small window
That's ok watch the show
on the last commercial break we didn't pay attention – could NOT back up!
sigh.
Carry Technology Apotop Wireless Reader
At Macworld I had the opportunity to spend some time with the folks from Carry Technology's Apotop hardware. Carry Technology makes small peripheral devices with a lot of style under the brand name apotop. Steve and I didn't do an interview but we spent time learning about several of the devices and they gave me a couple to review. I'd like to tell you today about the Apotop Wireless Reader. This is a very small, white, plastic box (maybe 2x2x1inches) with dual purpose. Gosh, what am I thinking, I haven't described a problem to be solved!
Ok, so let's say you're on a photowalk with Victor Cajiao and Robert Lachman at Crystal Cove park in Laguna and you're taking digital SLR photos of the beautiful scenery and the wonderful people you're enjoying. Steve is using his iPhone and getting fabulous pictures, and he's able to tweet them out immediately. You sadly look at your fancy pants camera and realize that it will be hours or days most likely before you have time to download the photos from your camera to your Mac, Bart them, and find a couple of good ones to tweet. And of course the moment is lost.
You could have thought ahead to spend the extra money to buy an Eye-Fi card (16GB will run you $92 today on Amazon) which gives you a card that has wifi built in to transfer images to your iDevice. But what if you have a big investment in SD cards already, and never got around to figuring out how the Eye-Fi worked?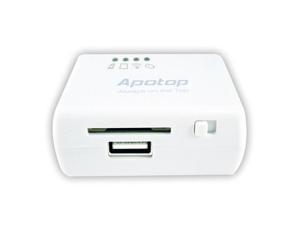 Enter the Apotop Wireless Reader from Carry Technology. It has an SD card slot in the side, and an on/off switch which turns on the built-in wi-fi hotspot capability of the device. On your iDevice, you download and install the free Wi-Reader software. Connect your iOS device to the Wireless Reader hotspot, and then launch the Wireless Reader software.
I did some preliminary testing with the Wireless Reader during Macworld and at first I was disappointed because I realized that it didn't work with the RAW photos I was taking with my Nikon DSLR. Then I messed around with the settings and realized I could still take the RAW photo but take a lower res JPEG-Basic just for the tweeting purposes.
I installed the free Wi-Reader software on my iPad and iPhone, and at first I wasn't impressed. I'm not going to lie to you – the interface took me a while to figure out, and if I'm perfectly honest, it was Steve who figured it out. When you launch the software you'll see options to look at photos, videos, documents. Turns out you can use the Wi-Reader software to actually upload things to your SD card. Anyway, navigate into photos and there's your jpgs. You can tap on individual photos and then see them larger on screen, but the main purpose here is to actually move them to the iPad or iPhone. Steve figured out that when you're looking at the long list of photos (with teensy tinesy thumbnails), you have to hit the Edit button first, then tap on the photos you want to move, and only then are you rewarded with the option to copy them to the camera roll or download them.
When I ran a few tests with just one image, I found that it was REALLY slow. it took over 2 minutes to download a single photo. I have the folks at Apotop looking into that for me because they said it was unusual. Fast forward now to the photowalk. As we drove from the beach to the restaurant for dinner, I pulled the memory card out of my camera, popped it into the Wi-Reader and turned on the hotspot. I opened the Wi-Reader software on my iPhone and selected about 20 photos to move to my library. We drove to dinner, probably another 15 minutes, and when we arrived all of the photos were on my phone. During dinner I selected the rest of the photos and just let her rip while we enjoyed a fabulous Italian meal with good friends.
I mentioned earlier that the Apotop Wireless Reader is dual purpose. The second problem to be solved is that you're at a hotel with your iDevices, and discover that there's no wi-fi in the room, only a wired Ethernet cable. no worries – the Apotop Wi-Reader has an Ethernet port, pop that bad boy in, turn on the switch and you're surfing wifi. Might be a good idea to protect yourself even if the hotel DID have wifi, you can create a protected network with the Wi-Reader just for you. I should mention that the device charges over USB.
The Apotop Wi-Reader is pretty easy to use, saves you a bundle so you don't have to buy individual cards that are wi-fi capable, it's light and it gets the job done. Downsides – it's a bit slower than I would like – the instant gratification wasn't quite there for me.
The Apotop Wireless Reader from Carry Technology will run you $80 and to my knowledge is only available in the US at New Egg. That's not cheap but it's less than the cost of one 16GB Mifi card and you can use it with all of your existing SD memory cards. I also want to add that as I was testing this device, the Carry Technology folks were very responsive, answering my questions even on the weekends, and that gave me a really good feeling about the customer support from this company.
Devista VO Calendar

Using a Screen Reader? click here
You can buy Devista's VO Calendar on iTunes for $9 at this link
Here's a funny story – about an after I interviewed Jos about VO Calendar I was sitting on a couch near his booth getting a quick rest, when I noticed a woman across from me navigating her iPad with it very close to her face. I thought to myself, "I wonder if she realizes that there's a voiceover calendar app RIGHT next to her??? Being a busybody, I trotted over to her to tell her, and when she took down the iPad to respond, I realized it was Shelly Brisbane, already a friend of the show! It was nice to catch up with Shelly after a few years, and I was glad she came to the NosillaCastaways party too. Oh, and she hadn't realized that she was sitting right next to Davista's booth so it was all good!
GetCloak

Using a Screen Reader? click here
Check out Get Cloak at getcloak.com
I've always wanted a private VPN, but I've not needed it constantly, so if GetCloak comes out with a plan where you can just buy a cup of VPN at a time I think I'd be interested. If you're on public Internets on a frequent basis, I would definitely enroll in GetCloak for only $8/month to protect yourself.
Beamr's JPEGMini

Using a Screen Reader? click here
If you want to give JPEGMini a try for yourself, you can download JPEGMini Lite from the Mac App Store for free and use it on 20 photos a day, or you can buy the full JPEGMini for $20 in the Mac App Store at the link in the shownotes. I gave it a try on 20 photos that took up 19MB when I started and only 7MB when I was done and Steve and I could not tell the difference between the photos comparing them at full resolution. If disk space is at a premium, say on a solid state drive, then I think BEAMR's JPEGMini might really help you out. I'd still run a backup first though!
ScreenSteps
The Kickstarter project for LiveCode by RunRev is going really well since last we talked. They've passed the 30% funding level, which is a magic tipping point. Evidently 90% of projects that make 30% make it all the way. They've held some webinars and found that people were a bit confused about the project because they thought it was just funding to go open source, which didn't make a lot of sense. They retitled the project "Next Generation LiveCode (Open Source)" and added some explanations on why they're doing this and what they need to do to be successful. I put a link in the shownotes to the Kickstarter page for LiveCode so you can go check it out. Remember success here means cool things for ScreenSteps and Clarify.
With all the excitement around LiveCode I haven't gotten a chance to give you more stories of how listeners to the podcast actually use ScreenSteps and Clarify in real life. I love these stories because it opens up my own mind on what it can do for me. Niraj told me that he uses ScreenSteps when he's taking a class. He was watching a video class the other day, and when he'd get to something important in the demo, he'd pause the video and use ScreenSteps to drop a screenshot into his document for later perusal. He wasn't necessarily going to use it for something official, it was just for his own use, but then he got into ScreenSteps and he made a huge manual for other users. He found he was able to split apart these giant lessons he'd made and break them into smaller lessons that were easier to tackle when learning. Of course he did this together with the person who made the video, but now people have a companion document for reference later so they don't have to rewatch a video to remember the bit they wanted.
If you haven't bought Screensteps or Clarify yet from BlueMango Learning, head on over to BlueMangoLearning.com and check out the free trial, and when you're ready to buy, be sure to tell them Allison sent you!
Chit Chat Across the Pond
In this episode of Chit Chat Across the Pond I interview Ken Ray, aka Mac OSKen of macosken.squarespace.com and the Mission Log Podcast at missionlogpodcast.com. I ask him to rant about the conflicting advice and perspective of the analysts: Apple should make a bigger iPhone, they should make a cheaper iPhone for emerging markets, their margins are slipping. Then we talk about the Goldman Sachs interview at their technology conference. Oh, and we talk about meteors for a while too.
That's going to wind this up for this week, many thanks to our sponsor for helping to pay the bills, Blue Mango Learning at bluemangolearning.com makers of ScreenSteps and Clarify. Don't forget to send in your Dumb Questions, comments and suggestions by emailing me at [email protected], follow me on twitter at @podfeet. Check out the NosillaCast Google Plus Community too – lots of fun over there! If you want to join in the fun of the live show, head on over to podfeet.com/live on Sunday nights at 5pm Pacific Time and join the friendly and enthusiastic NosillaCastaways. Thanks for listening, and stay subscribed.