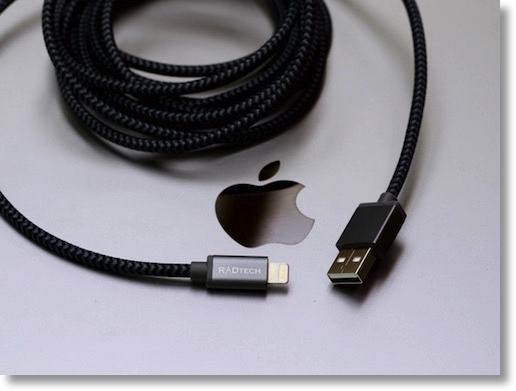 I've heard a lot of people talk about how they're always destroying their Lighting cables by running over them with their chairs, or getting them caught on something, or bending them so that the wires fray at the connector joint.
The only solution seemed to be to buy cheaper cables but buy them in bulk because they were so easy to destroy. Cheap cables can get really expensive after a while though, and you hate to be caught out with one that has failed when you really need it.
If you're this rough on cables, you might want to take a look at the RadTech ProCable UHD. RadTech sent me two of these cables and they really are industrial strength. The cables themselves have a really nice looking black and grey woven jacketing over them that makes them stiff but still flexible enough to bend. RadTech says that they're double-shielded to protect against interference from RF noise. The strain relief at the connector joint is super stiff plastic and I couldn't get a tight bend to form to even test whether it would wear.The connectors are made of aluminum instead of plastic and RadTech says that they're crush-proof (within a given definition I assume). I didn't test running them over with a car or hitting them with a sledge hammer, but I did run one of them over repeatedly with the castors of my ruling chair on tile, even making sure to run over the connectors a few times, and I couldn't even find a mark on them afterwards! And, it charged and synced my iPhone to my Mac right after my testing.
Here's the real kicker, the ProCable UHD is warranted for LIFE. Seriously, who does that?
The ProCable UHD comes in a diminutive 45cm (18in) length, or you can get a normal 1.8m (6ft) cable, or an almost comedically long 3m (10ft) cable. You won't need a 10ft lightning cable every day, but think about a passenger in the back seat of an SUV needing to charge their phone. Or you could plug it in behind your couch and never have to worry about it getting torn in half by the recliner mechanism. Not that I've ever done that personally of course.
The RadTech ProCable UHD isn't cheap – they range from $13 for the 18in to $25 for the 10ft one, but that's actually less expensive than the easily breakable Apple Lightning cables. And you only buy these ONCE. Check out the RadTech ProCable UHD at radtech.com/….