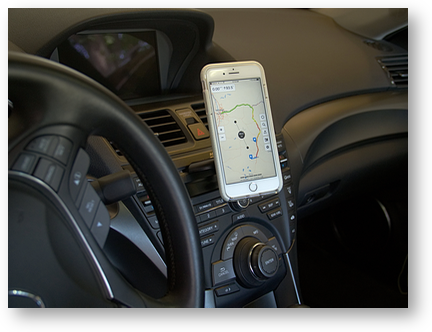 Ever since smart phones started giving us navigation, we've been on the hunt for the best way to mount our phones so we can see them while driving.
There were the window suction cups which totally obscured your view out the windshield and which were against Department of Motor Vehicle regulations. There were the things you had to glue to your dashboard, forever marring the surface. Remember the sticky things to put on the back of your phone so that in theory it wouldn't slide off the dash?
There was the bayonet-mount that allowed you to clock your phone 90° to lock into place, but you had to use a special case. There was the vent mounts that worked well, except the driver didn't get any air flow and every time you got a bigger phone you had to buy a new model. Even with the right size, the clamp that held the phone in place took two hands to remove.
Every single solution had problems of either marring the phone, modifying the car, requiring a special case, or was clumsy to use.  Continue reading "New Favorite Phone Car Mount – TechMatte MagGrip"