Wireless charging has been around for a long time in the Android world, but it just came to iPhone with the newly-released glass-backed iPhone 8 and X. Perhaps you're looking at your iPhone 6 or 6s or 7 and wishing you could have wireless charging too. A company called Bezalel from bezalel.co might have a solution for you. If you already have one of the 2017 iPhones, stay with me because there might be something for you here too.
Before we dig in, let's walk through some terms. There are those who object to the term "wireless charging" because there are always wires involved but let's not get hung up on that, Micah. When we say wireless, we just mean that the device being charged doesn't have to be plugged in and unplugged all the time. The charger still has a wire.
There are competing standards for wireless charging, but the one that seems to be getting the most traction is called Qi charging. Qi is spelled q-i but is pronounced "chi". It would have been so like Apple to come up with their own standard, but in a moment of rarity, they chose the Qi standard for charging. This is great news for us because it means that we can use chargers from third parties without them having to pay royalties to Apple or get certified by Apple because of some proprietary technology.Bezalel sent me three products to test and review that are all very interesting. They sent me a charging case for the iPhone 7+, a charging pad, and a car charger. I'm going to bounce around between the three a bit, but I want to make one overarching statement first.
The industrial design on all of the Bezalel products is fantastic. They are sleek, they're understated, the logo glows just right, and they're lovely to hold in the hand. Sometimes too much attention is given to form and function is sacrificed as a result, but with Bezalel, the functionality of their devices is as wonderful as their form. On Bezalel's About page they say, "Bezalel is a term that represents the pursuit of artistry, workmanship, and intelligence." I think these products live up to that vision.
Spoiler, I love these devices. Now for the details.
Latitude iPhone Charging Case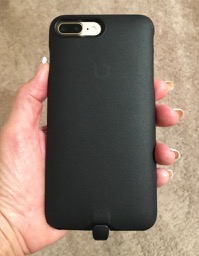 Bezalel calls their iPhone Wireless Charging Case the Latitude. It looks like a pretty standard iPhone case, but down at the bottom, there's a very short cable that turns around and goes into the Lightning port. We will call this the "nubbin". At first, I thought it looked really weird and I thought it would really bug me, but after a week of using my iPhone 7+ in the Latitude case, I don't even notice it anymore. It definitely doesn't get in my way.
The Latitude is a hard, black plastic with a lovely grippy finish so it's nice in the hand. I really dislike bulky cases. I was glad to see that the Latitude is a relatively slim case, which is surprising since it has to have coils and other electronics inside of it to give you the charging capability.
The front edge doesn't come up very high so I was a little concerned about how well this case would protect a phone in case of a fall. I love you guys and all, but I was unwilling to do an intentional drop test with my own phone just to see if the case would provide adequate protection. So instead I did an UNintentional drop test. My phone fell out of my purse from about 3 or 4 feet onto concrete. The phone fell flat face down, not on a corner. And there was no damage from the fall. Whew!
Another thing I really dislike about putting a case on my phone is how the buttons on the phone feel. They're often rubber, and you have to press really hard to activate them. It almost feels like you're using a remote control instead of direct interaction. Bezalel, instead of adding a covering over the buttons, recessed the case around the buttons so that you have direct access to them. Again the attention to how it feels is fantastic. The case gently slopes down to accommodate the buttons.
The only thing I don't like about the Latitude case is that the bottom edge is a bit sharp. When I'm propping it up with my pinky fingers while typing, it sort of digs into them. Not a big deal, but I have to say something critical or you won't believe the rest of the review! I have to admit that when I'm propping it up in this way, the nubbin actually helps balance it in my hand and keeps it from tipping out of my fingers!
The Latitude Charging case is $40 for the iPhone 7 on Amazon while the 7 Plus Latitude is available from Bezalel directly for $60. The Latitude for the iPhones 6 and 6s are less expensive at only $40 from Amazon. Oddly the least expensive Latitude charging case is the one for the 6 Plus and 6s Plus at only $30. That' a lot of numbers but of course there are Amazon Affiliate Links in the shownotes for all of the products.
So the Latitude case is great, but it's not really interesting unless you have a charging pad.
Futura X – Wireless Charging Pad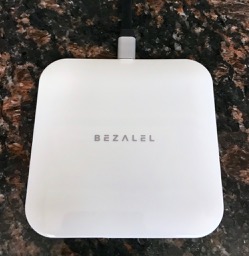 Bezalel calls their wireless charging pad the Futura X (which is pronounced "ex" not "ten"). The Futura is 7 mm thick with sloping edges and 9 cm square (around 3.75″ square). It comes in black or white and has a slick shiny surface.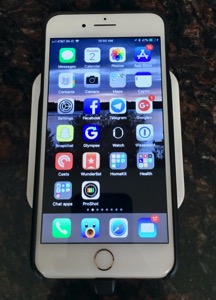 The best thing about combining the Latitude case with the Futura charging pad is that they're magnetic. You may have heard early reviews of people finding that their iPhone 8s hadn't charged because either they hadn't placed the phone on the charger carefully enough, or the phone had vibrated off of the charging pad when notifications came in. With the Bezalel devices, the magnets hold the two devices firmly aligned. In fact, you have to sort of tilt the iPhone when you pick it up off of the Futura charging pad or it will lift the whole thing up!
Getting a secure alignment of the charging coil without extra effort on your part is critical. What's not critical is how pretty even the Micro-USB charging cable is for the Futura. The connector is a brushed aluminum color and the cable is a flat ribbon. Bezalel pays attention to industrial design yet again.
The Futura charging pad will of course work with the iPhones 8 and X since it's standard Qi charging. The magnetic alignment won't work with the newer phones, so you'll have to be a bit more careful to be sure you get a good charge.
The Futura X is $50 on Amazon right now and remember, if you've got an iPhone 8, X or an Android phone that supports Qi charging, this would be great for you too.
One thing I always look for when dealing with iPhones and anything that touches the Lightning port is that they're MFI certified. This is the Apple certification process, called Made for iPhone (or iPad). I looked for the designation on the packaging for the Latitude charging case and didn't see it. I wrote to the rep from Bezalel and he sent me this quote:
The Latitude case for iPhone 6 and 6s are MFI certified. However, the Latitude for iPhone 7 is still under the process of application.
I wish the 7/7 plus was certified but the fact that the 6 and 6s are gives me some measure of confidence that these folks are doing the design right.
Omnia – Wireless Car Charger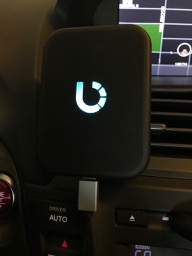 Having wireless charging on your desk or kitchen counter with the Futura is great, but what about car charging? Bezalel's solution to this is an air-vent mount called Omnia. It's a little bit tricky to squeeze the jaws open on the back of Omnia to grip your vent, but once you get it on, you've got a rectangular flat plate on which to plop your phone. I say plop because the Omni is also magnetic so alignment again isn't a problem.
The Omnia mount rotates but since it doesn't stick out very far (which is good), that limits the pivot angles you can achieve. You can also rotate the whole thing 90 degrees so your phone can be in portrait or landscape mode and still align with the charging magnets correctly.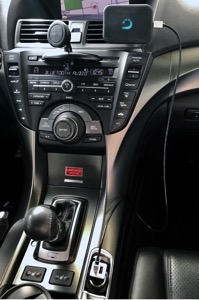 The downside of car charging is always the cable management, and Bezalel didn't come up with some magic way to bypass this. The Omnia car charger comes with a very pretty cigarette lighter adapter with two USB ports. What is the politically correct term for that port these days? If I'd said 12V receptacle, would you know what I meant? Anyway, using the USB ports means dragging a cable across your console. I like a clean interface so I'm not fond of that solution.
Here's the thing though, if most of the time you don't need to charge, you can put the cable away till you need it, and in the meantime simply use the Omnia as a magnetic car mount. Then when on a long trip or running low on power, plug the cable into the Omni and power and you're golden. Seems like a best of both worlds option.
The Omnia wireless car charger will run you $60 on Amazon right now.
I should mention that I've actually recently moved away from vent mounts because I'm more comfortable with a little air blowing on my face. You may remember that I'm using the TechMatt MagGrip CD Mount now. But guess what? The Bezalel Latitude case sticks to the TechMatt because they both use magnets. Another best of both worlds scenario.
Third-Party Qi Chargers
In advance of getting our iPhone X's at Podfeet Productions, Steve and I bought the Seneo easel wireless Qi charger that Megan Morrone recommended when she was on Chit Chat Across the Pond to talk about the iPhone 8. The Seneo has been patiently waiting on my desk for something to charge, so I thought it would be fun to try it with the iPhone in the Latitude charging case.
This is the only time the nubbin on the Latitude got in my way. If I tried to balance the Latitude on the nubbin while in the easel from Seneo, it wouldn't charge. So I simply flipped the phone upside down and instantly the green charging light turned on on the Seneo and I heard the happy chime of my iPhone starting to charge.
Certainly not ideal, since one advantage of the easel charger is being able to look at and interact with your phone while charging. I have to say though, I had no trouble lining the phone up to get it to charge, and since it was sitting up at an angle like that, it never vibrated off.
But How Fast Do They Charge?
Bezalel's website says that the Futura X charges at the same speed as wired charging. I tried to run scientifically valid tests to confirm this but I don't have the time or equipment to do this really well. I tried waiting till my phone was nearly dead and then charge it through the different methods, and measure data points along the way. However, it wasn't controlled enough to give me confidence that it was valid. I did end up learning some swell stuff I can now do in Excel using scatter graphs and data of different intervals, so it wasn't a complete waste of time.
I did learn that whether you're using wireless or wired charging, the iPhone charges pretty linearly from about 15 or 20% up to 90%, but after that, it takes forever to get that last 10% charge. All of the graphs I made reflected this same profile.
The wireless charging (from the Bezalel Futura X and the Seneo) did take a bit longer in my tests but I think it was within the margin of error of my testing techniques. I need to step up my game and build that test lab…
Bottom Line
Whenever you read or hear a review by someone who got the device for free, you should take that into account. It's harder to be objective when you get free stuff. I will tell you that I recently got three devices from a company that has done good products in the past, and I didn't review any of them because they just weren't any good.
So here's how to tell that I really do like the Bezalel products. I had essentially finished my testing after the first day or two, but I have kept the Latitude case on my iPhone for more than a week and since then have only been using wireless charging. In fact, I liked the Bezalel system enough that I actually bought a second Futura X for my house.
Check out all of these products at Bezalel.co, They even have a 7000 man battery pack called the Prelude that has Qi charging built in so you can carry it on the go and just drop your phone on top of it. I might ask for one of those for Christmas!