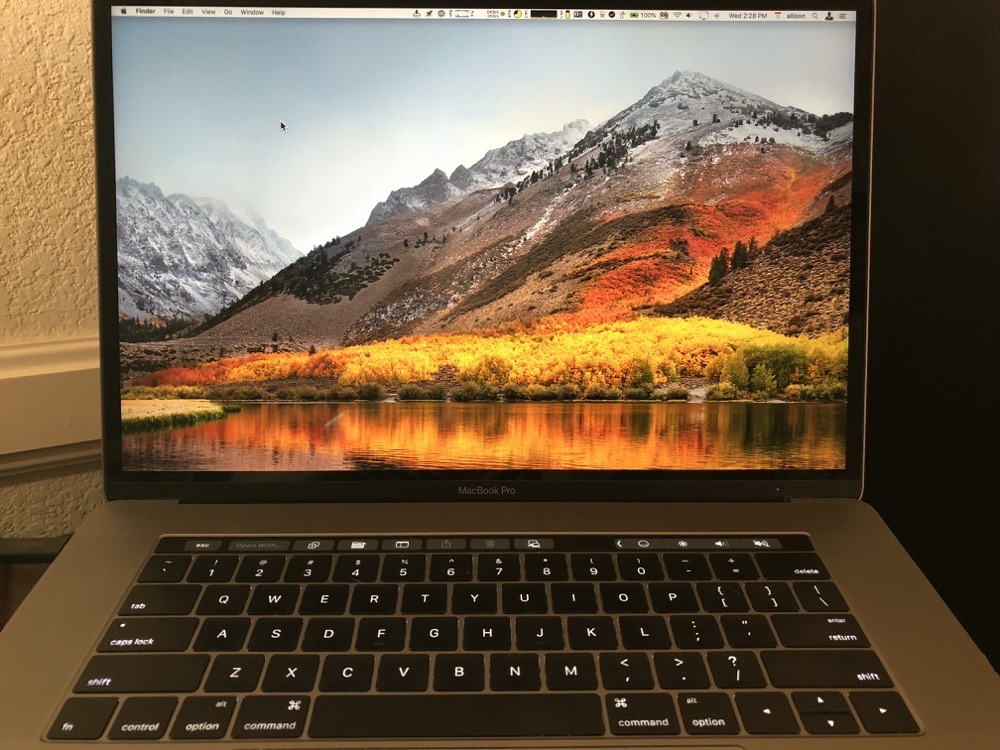 I've been listening to people on podcasts complain about the butterfly keyboard on the MacBook for the last year and silently grumbling under my breath at them, but my silence ends now.
I've used Apple laptops since the first Titanium PowerBook came out in 2001, so I've got a fair bit of experience with Apple's keyboards on laptops. Let me explain why the commentary on the butterfly keyboard bothers me so much.
Please don't declare a keyboard bad (or good)
The people that irritate me are those who simply declare it as bad. "This is a bad keyboard." Keyboards are one of the most personal interactions we have with our devices, which means our feelings about them are opinions, not facts. I get that someone may not like a given keyboard, but declaring it bad just steams me.
I bought the original 2015 12″ MacBook that had the first butterfly keys and I will admit that it was a bit hard to accurately type with it for me. But my 2013″ MacBook Pro was so darn heavy and thick that I would choose the 12″ while lounging on the couch every time.
One of the podcasters (who shall remain unnamed) said, "No one ever wanted the MacBook Pro to be thinner or lighter." Well that's simply not true.
When the 2016 MacBook Pro came out with the next generation butterfly keys, I jumped at it. I was delighted to have a laptop that was 15% thinner (.61 in vs .71 in) and 10% lighter (4.02 lbs vs. 4.46 lbs). Instead of using a MacBook Pro and a MacBook, I gave the MacBook to my son Kyle and switched to only using the MacBook Pro.
The keyboard on the 2016 MacBook Pro allows me to type significantly more accurately than the 12″ MacBook's keyboard. Does that mean it will for you? Maybe, maybe not. I do have one complaint about this keyboard and no one else talks about it. It's a very angry keyboard. Steve has the 13″ MacBook Pro and he can be writing a letter to his mother about how kind her birthday card was and it sounds like he's writing his manifesto before he burns down the building. It's not clackety, it sounds angry … to me.
I'm also highly irritated by people who have declared the keyboard unusable, after typing on it for 5 minutes in an Apple Store. It takes a while to get used to any keyboard, and even a day is often not enough.
I think the irritant to me is people who say, "pros think", or "pros need". What the heck is the definition of a pro? I write around 5000 words a week on my blog. Does that make me a Pro? I create a 45-minute video screencast every 6 weeks, does that make me a pro? I create a live video podcast show every single week, does that make me a pro? I think you could squint and say yes, couldn't you?
But that's not the point. The point is that all of this is opinion. I occasionally use my 2013 MacBook Pro, and I have to say that I HATE that keyboard now. I used to love it. Does that mean it's a bad keyboard? Nope. I looooove the chicklet-style keyboard on the Apple Magic Keyboard. I would say it's my favorite keyboard that Apple has ever made. Does that make it a good keyboard? Nope, because good is in the fingers of the beholder.  One of the whiners about the MacBook Pro keyboard also hates chicklet keys. Ok, fine, that's your opinion. That does not make them bad.
Let's talk about dust
Now I know many of you are yelling at your devices right now, "but what about when the keyboard fails because of dust???"
It is a fact that if the keyboard of the current model of MacBook Pro fails, the top case has to be replaced. This is an expensive repair. It has been reported to be on the order of $700. But here's a fun fact to know and tell. Did you know that the entire top case has to be replaced in order to fix broken keyboards on older MacBooks too? (Just search iFixit for how to repair a keyboard on any MacBook Pro.)
I have some insight on this dust problem. On three or four occasions, my MacBook Pro has had an intermittent non-responsive key. Because I hate going to the Table of Sadness™️ I don't rush to the Apple Store for a repair.
My solution has been to bang really hard on the key. In some cases this has dislodged whatever was stopping the key from moving immediately, but in other cases it has taken a day or two to get back into shape. In those cases, I tried the technique of putting the laptop on its side and blowing compressed air into it, but the banging method was more successful. In one case, I had the opposite problem, the key was repeating – every s I typed came through twice. Again, banging on it for a day or so fixed the problem.
Even I have to admit that this is not good. I would prefer my keyboard work all of the time.
Let's do the math
We can look at this beyond anecdotal evidence of failures. We don't have a lot of data to work with but better than, "Allison said it happened to her." Apple Insider published an article with the flame-bait title, "2016 MacBook Pro butterfly keyboards failing twice as frequently as older models". But that title is highly misleading. The article itself is actually well written and gives us some real data.

Apple Insider compared data they collected from Apple Genius Bars in the US, with whom they have worked for years. This doesn't smell like Apple corporate sponsored this data, but it's a lot better than anecdote. Apple Insider took out data about warranty-voiding accidents like impact and water damage before analyzing the data.
Acknowledging that the dataset we have is small, let's parse it out a bit, spreadsheet-form, shall we? Their data shows that around 1400 2016 MacBook Pros came in for repair, and around 2100 2015 MacBook Pros. That means that the 2016s with the new butterfly keyboard had an overall failure rate that was 26% less than the 2015s. Somehow that little data point didn't make it into the headline, did it? If you compare 2016 vs 2014, the 2016s failed 34% less often.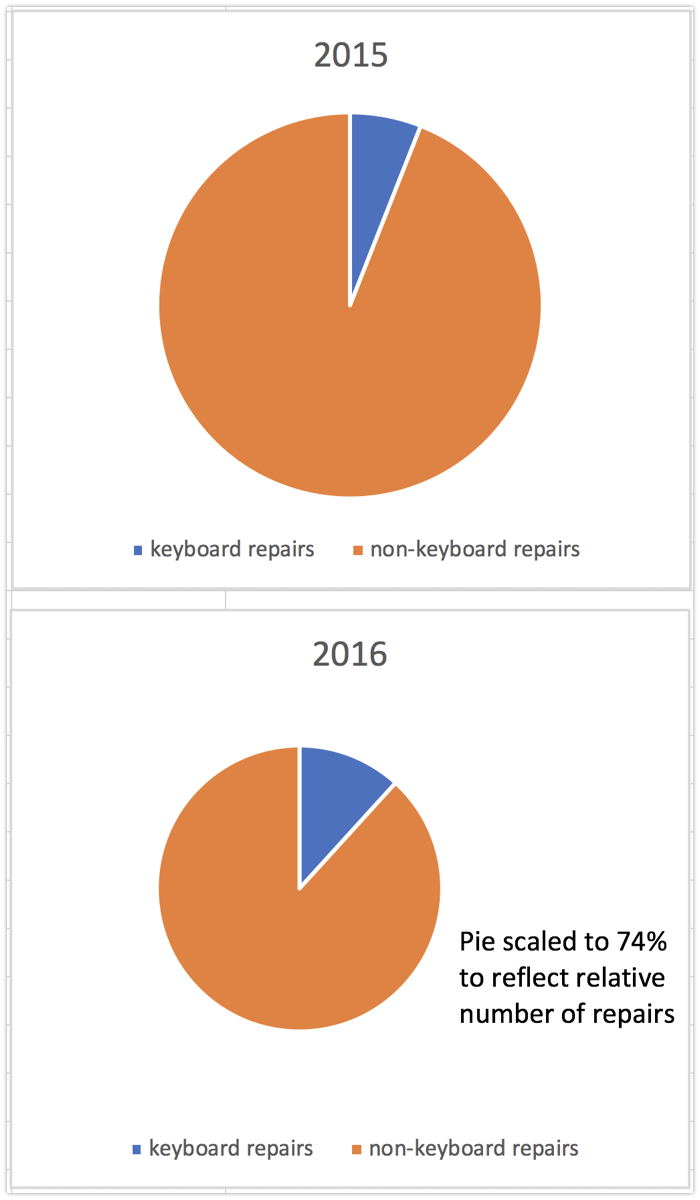 Ok, if this small sample set is indicative of the entire delivered base, we should be talking about how significantly more reliable the 2016 MacBook Pros are than the previous two year's models. But that doesn't grab headlines.
When you look at the data for how many of those repairs observed were because of the keyboards themselves, it is a different story. The keyboards were the cause of the repair need 40% more for the 2016s than the 2014s and 45% more for the 2015s.
Adding these two pieces of information together, you could write a headline that said, "While 2016 MacBook Pros are significantly more reliable, the repair for which you bring it in is significantly more likely to be for the keyboard.
But that's not what the headline said either. Instead, they took the percentage of repairs due to the keyboard at 6% for 2014 and 2015 and compared it to 12% of repairs being from the keyboard in 2015, and called that "failing twice as often". That's mathematically incorrect. It's the same as saying failing 100% more often. We've just finished doing the math that says it's 45% more often.
Personally, I buy AppleCare on every device I purchase, so I'm not as concerned about any of this as those who self-insure.
You may say my EVER so slight Apple bias is showing quite a bit on this subject, but I put my money where my mouth is on this topic, using the 2016 MacBook Pro every single day.