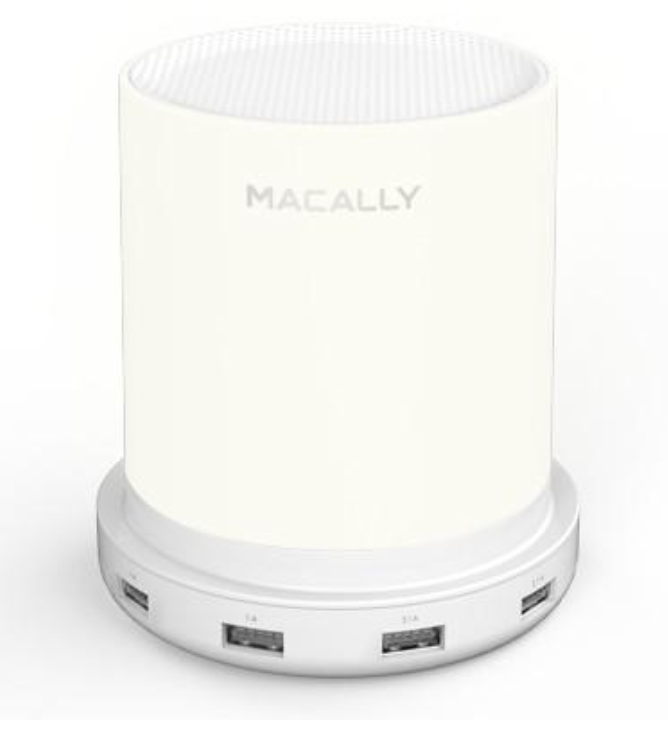 One of the many enjoyable events at Macstock Expo is the MyMac Game Show put on by Guy Serle and Tim Robertson. It's a trivia game and you win real prizes if you successfully answer questions. Because MyMac is a fun, silly community, the rules of this game are quite adaptable. This year someone answered a question that correctly matched what they were looking for, but the answer was actually incorrect. I forget what it was but I hollered out the correct answer, and for that, Guy awarded me with a prize.
It was the MacAlly Lampcharge, a dimmable table lamp with 4 USB charging ports. The Lampcharge isn't going to solve world peace, but it does provide a solution to a common problem. Whether at your desk, in the kitchen or beside your bed, you probably have the need to charge your devices and you need light.
The MacAlly Lampcharge is a small cylinder 4 inches in diameter and 4.5 inches tall. Around the base are four USB ports with two at 2.1A suitable for normal-sized tablets and two at 1A suitable for phones. All four USB ports have what they call Smart IC, but I can't find an explanation on their website of what exactly that is. I presume it means that the port senses the power required, like Power IQ from Anker. But I don't know that for certain.
The light itself is a white cylinder that glows from the perimeter as well as the top with a nice soft white light. To control the brightness you simply tap the top of the cylinder to go from low, medium, high, and back to off. You can also turn the light off by simply setting your finger on top and holding for about a half second.
I would think of this as a very bright nightlight but not a light on which you would depend to light up a room. It's not tall so that also limits the light reach. But the soft glow coming from the translucent white case is very pleasing.
The MacAlly Lampcharge is $30 on Amazon. I'm thinking this will be great in a guest room providing an evening light as well as a way for my nerdy guests to charge their devices, or I might keep it for myself for my desk.