Terry Vogelaar ran into a very puzzling problem with his Gmail and enlisted Steve's help in diagnosing the problem. It's a unique problem but I think his explanation will be something to tuck away for a rainy day when someone else has a similar problem.
---
Hi, this is Terry Vogelaar from Holland.
Recently I ran into a weird problem. Whenever I sent mail from Mail.app on my iMac using Gmail, people received it as if it was sent from my wife's Gmail address, so they replied to her. Her Gmail account is listed among the accounts to synchronize her calendar to my Calendar.app, but for the rest, it is not an active mail account on my system.
I double-checked that it shows my address as the "From" address. And even when I view those messages in my 'Sent' folder, I see my own address. Yet, the receivers saw her address and replied to it. Totally baffling.
Steve generously offered to help me. He found out that there was no trace of my address in the header data of the e-mail I sent to him.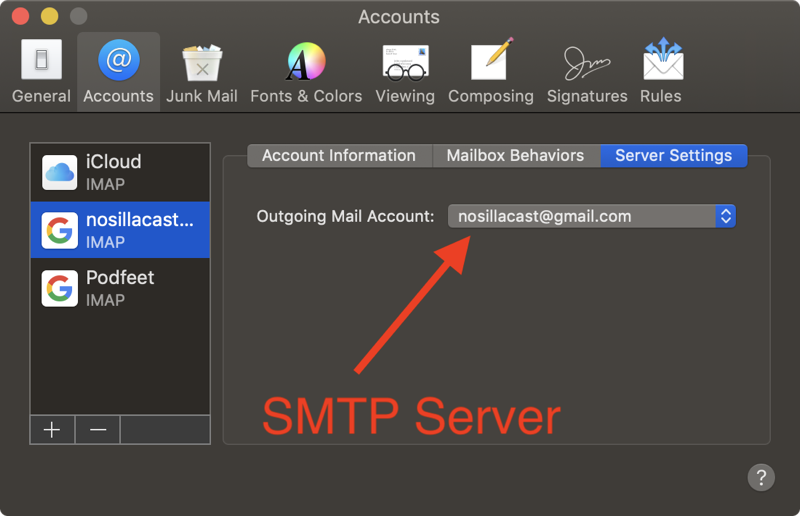 Then it finally dawned on me. I remembered that sending email uses a different protocol than receiving email. Receiving is usually IMAP; sending is SMTP. So although the IMAP account of my wife's account was inactive, I apparently was using the SMTP settings of her account.
Usually, SMTP-servers are just as easily fooled as the normal postal service. If I would claim that I am Leonardo DaVinci, people would receive mail from Leonardo, and the postal service or the SMTP-provider wouldn't care. People can impersonate whomever they want when they send mail.
This, of course, is abused quite often by spammers. And apparently, Gmail corrects the message when the "From" address doesn't match the settings for the SMTP-server. So it is probably a feature, not a bug. But man, what a weird problem to solve.
---
Now some of you might be asking (as I did) how to find the SMTP settings to which Terry refers. Open Mail Preferences, and select the Accounts tab. Then select the Gmail account in question. The third tab over on this page will be Server Settings. It will show you your Outgoing Mail Account (SMTP), which in Terry's case was set incorrectly to his wife's account.
If yours is mismatched like Terry's you can use the pulldown to choose the correct account and even manually enter the correct server information.