Now that we in the Apple community have gotten a taste for wireless charging, we want it on all the things. We're not content to have our Apple Watch and iPhones charge wirelessly, we want our AirPods to charge wirelessly too. Great news though, in September of 2017 Apple promised us AirPower! It will bring us a charging mat where we can throw down any of these three devices and they will magically charge.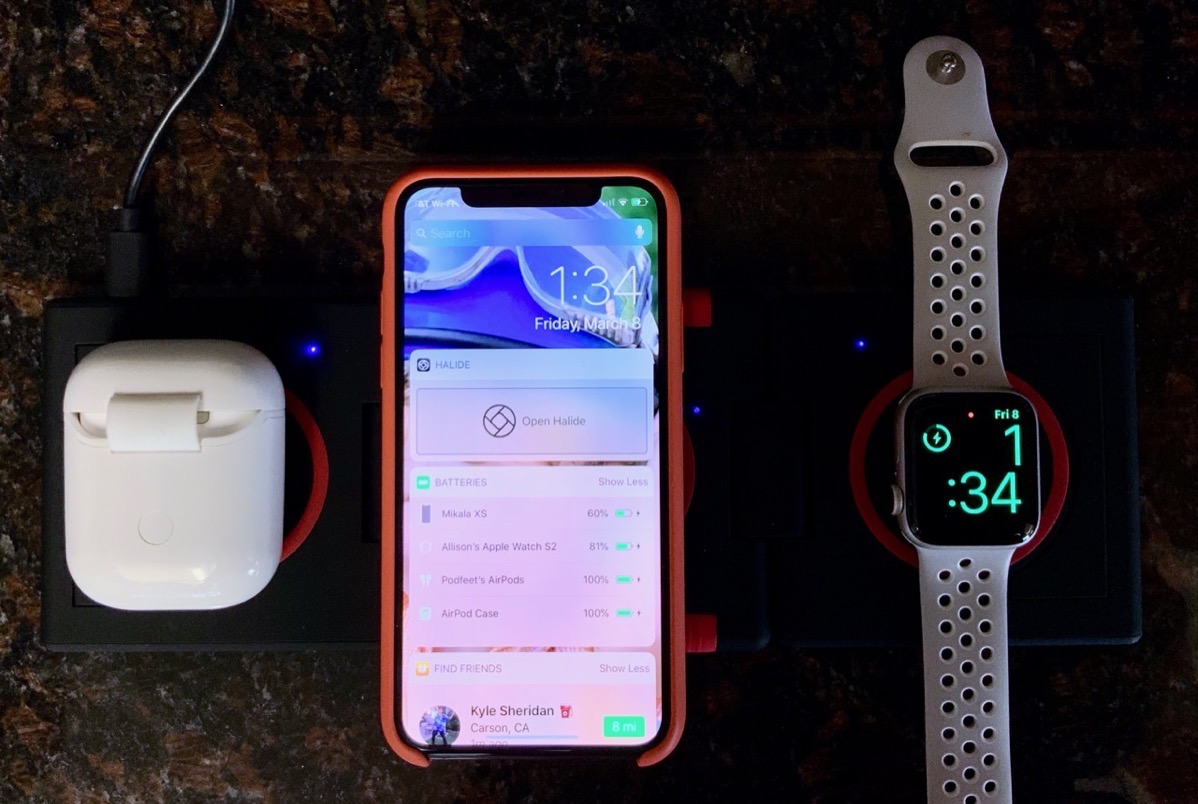 But then 2018 came and went, and no AirPower. The spring is nearly gone in 2019 and still we grumble at how we have to plug in our AirPods like animals.
The long, interminable wait is over, but it didn't come from Apple. And it doesn't cost $150. And it doesn't require us to buy new AirPods to wirelessly charge. I'm talking about the Ampere Unravel. You may remember Steve and me interviewing Ampere co-founder Chase Larson at CES and his description of Unravel sounded magical. After talking to Chase, I knew I needed to buy Unravel for myself.

Unravel is Crowd Funded
Ampere chose to go with the crowd-funding model for Unravel, and under normal circumstances I wouldn't suggest buying that way. But when Chase told us at CES that they were actually shipping, I decided to check it out. They're selling both through Indiegogo and Kickstarter at the same time which seems kind of weird. Both campaigns are WAY more than funded. Their Indiegogo campaign has raised $640K and Kickstarter has raised another $385K, for a combined backing of over a million dollars!
If you're visually impaired, definitely go to the Indiegogo page, because all of the information on the different products on the Kickstarter page are in one, giant, long graphic which makes it 100% inaccessible. (I wrote to Chase suggesting that was super dumb.)
Unravel Explained

I now have Unravel in my hot little hands so we can talk in detail about the product. Unravel is 3 separate sections, each about 3.5″ square with three 10W charging pads. The 3 sections are hinged together. You can fold it so all 3 sections are stacked, or you can unravel it to fold out flat You can also fold it into a triangle so you've got an easel for holding and charging 2 devices at a time. Unravel is black and comes in several different accent colors. I chose baby blue accents for Steve and red for me. Each section of Unravel has a ring of this accent color, designating where the Qi charging coils are.
Before I go further into the explanation, let me explain how to use Unravel. Plug it into power, drop any Qi-charging-capable device onto one of the circles and you'll see a little blue light turn on showing you your device is charging.
One of the problems Apple is struggling with (as explained by René Ritchie) is that AirPower is supposed to let you drop your devices anywhere on the charging pad, which means they have to make the coils work everywhere no matter whether it's a phone or a watch.
In contrast, on Unravel, one of the three sections comes with a little white sticker showing a watch symbol in the center. That section has the magnetic watch puck built into it. The good news is that this section can also charge a phone, solving the problem that reportedly has been plaguing Apple. If you don't like the sticker for the watch you can take it off, revealing a hemispherical indent so you can still tell its the one for the watch, especially by feel.
The Charger Block
Ampere has tried to make buying Unravel as flexible as possible. For example, you can buy Unravel without its charger block. That sounds crazy but it makes sense. You see, Unravel charges over USB-C, and the charger they sell is a 60W Power Delivery (PD) charger, which is the same as the charger that comes with a 13″ MacBook Pro. So if you already have a charger, why should they make you buy another one?
I couldn't resist the temptation to experiment charging Unravel with some USB-C cables and chargers I had lying around. I knew it would be no contest to test the 87W beast of a charger for my 15″ MacBook Pro, but what about the dainty 29 W charger that came with my 12″ MacBook? I put 2 iPhone 10Ss on Unravel with the 29W charger along with my Apple Watch and all three triggered the little blue lights to come on and the devices reported they were charging.
Next up I tried the even more diminutive 17W USB-C iPad Pro charger? Yep, still charged the two iPhones and the watch. If it weren't for all the whining about all the math I've been doing on the podcast lately, I'd walk through calculating how much I was actually drawing with those devices, but let's leave it for the student. You will have different chargers than me and maybe an Android phone you want to charge, so I think you can do some experiments on your own.
Speaking of charging, realize that if you do buy the charger block for Unravel, you now have a spare charger for your 13″ MacBook Pro, MacBook and iPads and of course non-Apple USB-C PD devices you own. Pretty cool. When you check out you get to choose what country plugs you want – they have the US, UK, EU, AU, Hong Kong or Singapore.
Cost
I've been teasing you by not telling you about the cost. I'm going to quote the Indiegogo pricing because the Kickstarter page is hard to read, inaccessible and they don't have as many product options available. Get this, under the Indiegogo campaign, one Unravel is only $69! If you want that MacBook Pro-capable charger, it's only $20 more at $89. Think about it – a charger for your phones and watch for $89 and you've got a spare MacBook Pro charger. Crazy inexpensive. They imply by their marketing on Indiegogo that this will be $139 later, but I contend even that would be a killer price.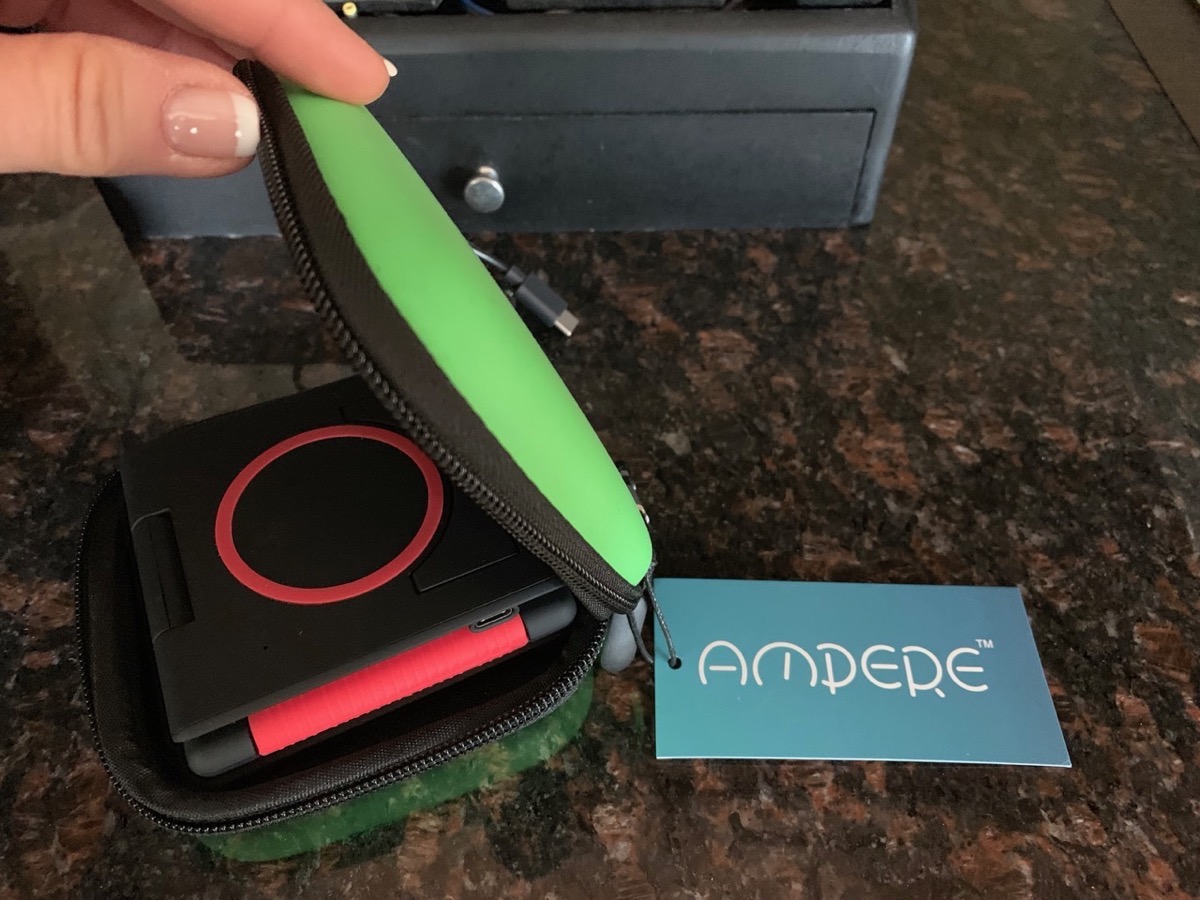 The reason I bought Steve and me our own Unravels when probably one would have been enough is because they're selling two Unravels with two chargers and a travel cases for Unravel or the charger, all for a total of $139 right now which is only $70 apiece with the charger. Seriously.
By the way, I thought the travel case would carry both Unravel and its charger, but it actually says "or" which was a disappointment to me. I wanted a case for both and the cable. I don't think Unravel by itself needs a case at all because it feels pretty indestructible. I think I'll probably use the case as a way to package the charger and its USB-C cable to reduce clutter in my travel bag.
There's a bunch of other combos you can buy on the Indiegogo site, like a three-pack, and they also sell a USB-C power bank so you can make this a truly mobile setup for charging.
But You Said AirPods Too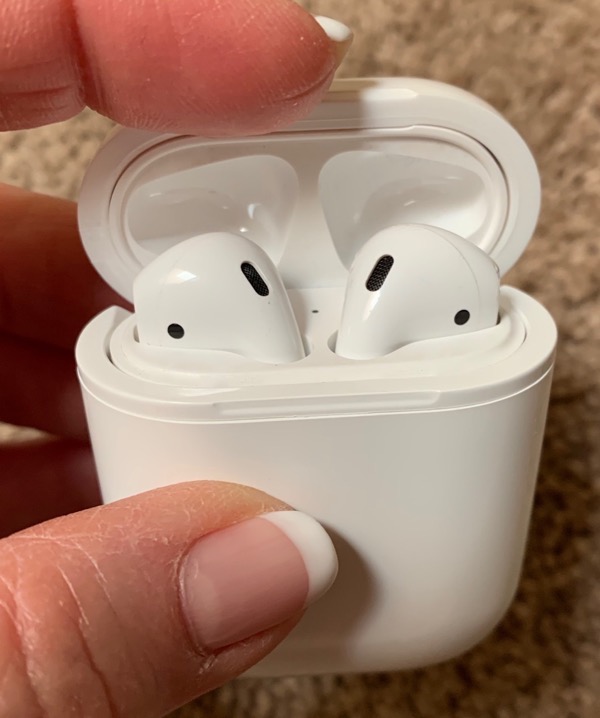 The alert amongst you will remember that I was comparing Unravel to AirPower, which in theory, if the unicorn ever ships, will also charge a yet unannounced generation 2 set of AirPods with Qi charging built into the new case. So how does Unravel charge the current version of AirPods?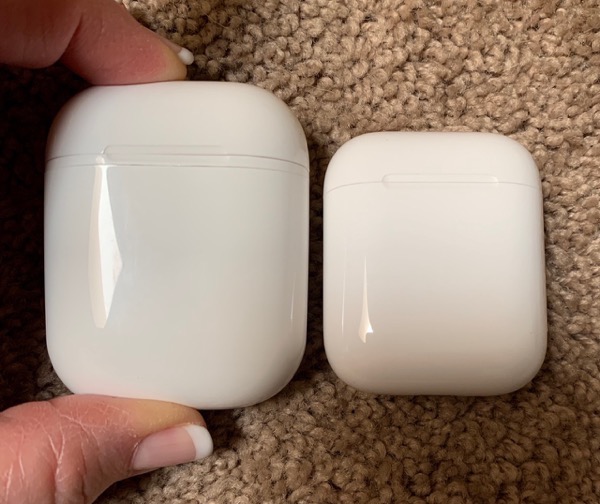 If you go through the process of buying Unravel, after you choose your color and plugs and case color, they'll offer to sell you a Qi charging case for your AirPods that they call "Pods Wireless Charging Case". Imagine an AirPods case that was 16-18% thicker and taller and wider, and inside that case you can see a Lightning connector sticking up. You slide the original AirPods case into the Ampere Pods case, and they mate on that connector. The Pods case has a Qi coil in the back allowing you to charge the AirPods wirelessly!
Since it's the industry-standard Qi charging in the Pods case, you can charge your AirPods on any Qi charger, not just Unravel. I tested it on a cheap easel charger for my iPhone, and the Bezalel charging pad I reviewed a couple of years ago and of course on Unravel and it works perfectly. Like any wireless charging, this will be slower than using the cable.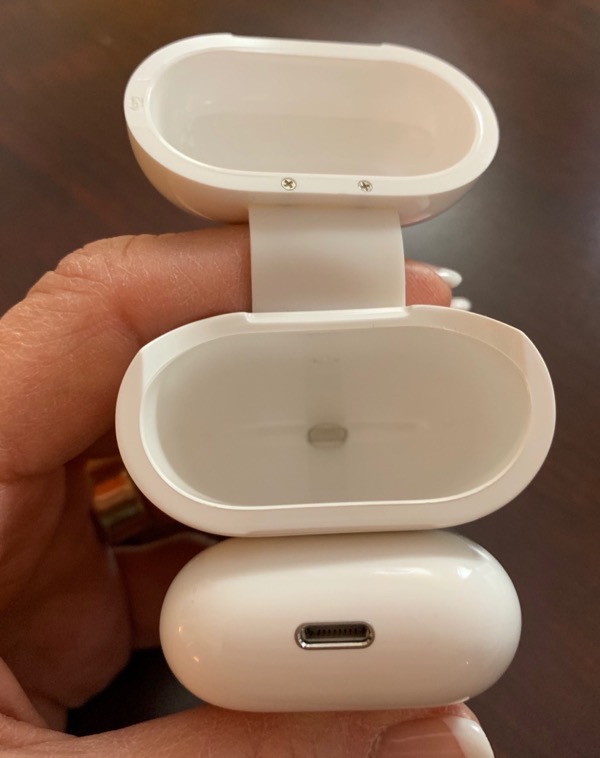 Speaking of the cable, once you put your AirPods case inside the Pods Qi case, you no longer have access to the Lightning connector so you can't charge with a cable. It is possible to get the original AirPods case out of the new one but you have to know the trick.
The lid of the Ampere Pods case has a little rubber hinge because its top has to slip over the real AirPods case. If you open the lid on the Pods case, and you sort of jiggle it around on that rubber hinge, the AirPods lid will pop out. Now you can grip the AirPods case to pull it out.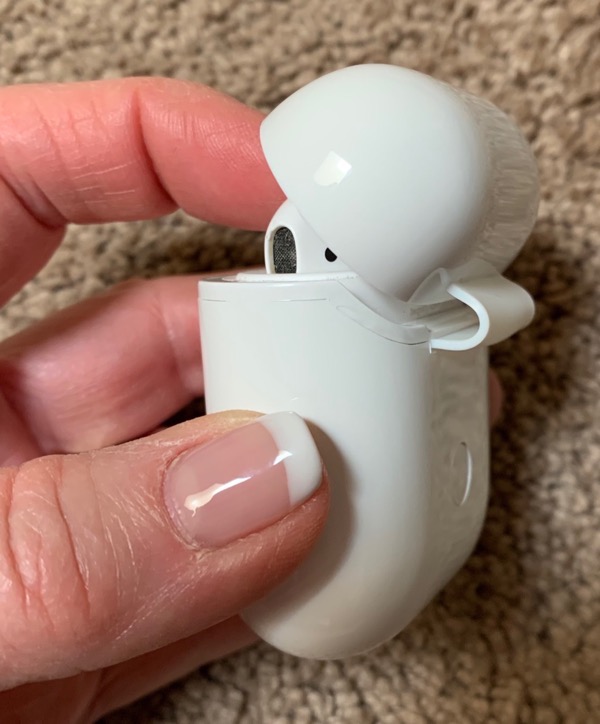 The pairing button is also replicated on the back of the Ampere Pods case so you can still pair to non-Apple devices with the new AirPods case. Not needed all that often but nice that it's there.
One other thing – I didn't see anywhere on the packaging that the Lightning cable in the Ampere Pods Wireless Charging Case was Apple MFI certified so decide how you feel about that. I'd also love to tell you how much the Pods case from Ampere costs, but I forgot to note it when I bought it and it looks like they didn't charge me for it at all. I have my invoice and I just paid the $139 for two Unravels, two cases and two chargers, plus $5 shipping and no tax!
Easel Mode
I mentioned in the very beginning that you can lay Unravel flat on a table, but you can also fold it up into a triangle. When you do this, the side with the watch charger and one other side have a little flip out thingy that lets you stand up your phone. If you have it in portrait mode Unravel doesn't come up far enough on the iPhone XS to engage the Qi charging. It might on another type of phone though.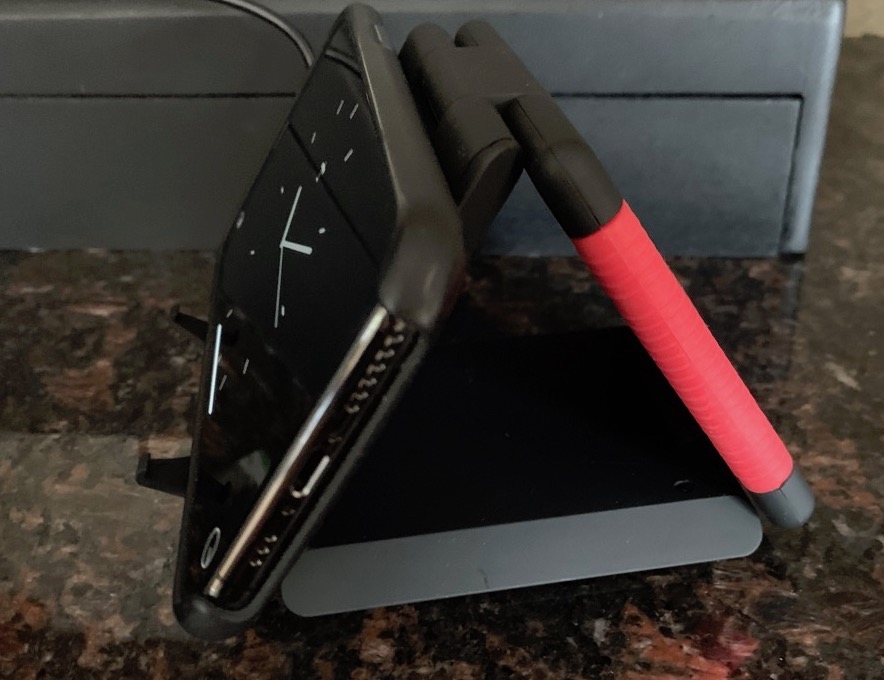 You can put it in landscape mode on the little easel and the charging will engage. I recommend buying Allister Jenk's awesome Night Clock iOS App and using Unravel as your stand so you have a clock that dims at night. It's Steve's favorite travel clock. You can also stick your Apple Watch to the magnetic puck side with Unravel in its triangle shape and it will actually hang there in nightstand mode.
Bottom Line
I'm not sure I'd buy the Unravel case given the chance to do this over again. In fact, they forgot to include Steve's case, and I've asked for my money back on it rather than have them send me another one. I haven't got a response out of them yet, and I escalated to the COO and he hasn't responded either which gives me pause about their customer service. I did get an email in January explaining that the travel cases were on back order, and it would delay shipment of my entire order. I just found out I missed an email from Ampere apologizing for the missing case! They are on back order right now and will be sending me one.
The bottom line though is that Ampere Unravel itself is a fantastic device that's flexible to your needs, really inexpensive and for an extra $20 you can get a MacBook Pro-level charger. Having Qi charging on for my AirPods using Ampere's Pods case is awesome I definitely recommend both of these products.