Back in 2006 I purchased a CompactDrive PD70-X — a battery powered portable hard drive (mine was 40GB) that sported a number of memory card slots in one end. While away from home, I could whip a memory card out of my camera (replacing it with another), place the filled card into the slot on the PD70-X, and push a single button to start transferring the contents of the card onto the hard drive.
Once done, the card was available for re-use later. When I got home, I'd have the contents of the dumped memory cards on the hard drive, which I could attach via USB to my computer for ingesting to my usual storage and workflows. The PD70-X was a very cost-effective way to expand my storage and when not out taking photos, I could use it as a regular USB drive for other purposes.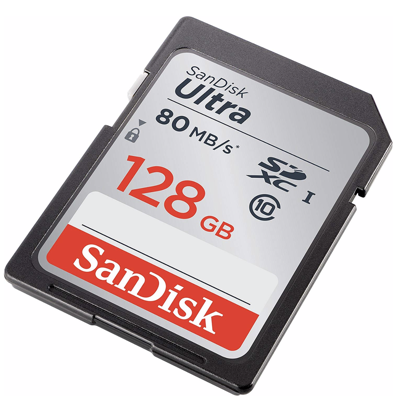 Fast forward to 2019 and the PD70-X is obsolete. Its SD card slot reads only original SD cards, not SDHC, nor SDXC that I now use. Also, in 2006 I was taking photos that were 6 megapixel JPEGs and now I have 24 megapixel RAW files. With a two week holiday coming up later in the year, I purchased a 128GB SD card (I use and recommend the SanDisk Ultra range) which will probably last me the trip, space-wise. But I'm not happy with the idea of the only copy of those photos being on that solitary card for so long. It would be nice to be able to make a copy somewhere while I'm still on holiday.
My first thought was to use my iPad. I have the camera connection kit so I know I can copy the photos onto the iPad, but it's only a 32GB iPad. I could send the photos up to a cloud service, but those are somewhat limited in size, too, and I couldn't be sure that good enough wifi would be available. And just how long would it take to send all the photos? What I really need, I thought, is the modern equivalent of the PD70-X. So I set about some searching.
What I found, and bought, was the Western Digital My Passport Wireless Pro (also available at Allison's Amazon Affiliate Link. I bought the 2TB model, but it also comes in 1TB, 3TB, and 4TB sizes. There's an SSD range, too, that comes in sizes from 250GB to 2TB. While tempted by the SSD model, I wasn't prepared to pay over four times the price for 2TB. The 2TB hard drive model as a RRP of USD$180.
The unit is 126mm square and 22mm deep including four small rubber feet. A hard drive and a rechargeable battery don't come light, so it's reasonably heavy at 400 grams — something to bear in mind when traveling. On the outside are four blue LEDs which indicate power and activity, a power button, an "action" button, the SDXC card slot, a USB 3.0 socket for connecting other USB storage devices — including cameras — and one of those slim USB 2.0 ports which is used for charging the unit or in reverse to use the battery in the unit to charge other devices.
For my purposes the key function is that I can insert an SD card in the slot, turn the unit on, and it will automatically copy the contents of the card onto the internal drive. But the My Passport Wireless Pro can do quite a bit more. In addition to grabbing content from other storage devices, it can also act as a power bank, and there are extra features available via the built-in wifi, made possible by the fact that the My Passport Wireless Pro runs Linux.
The wifi can be used two ways. Either the unit can act as a wireless access point and you can connect your devices directly to it, or you can have the unit connect to a regular wifi network, allowing it to see the internet (required for over the air software updates) and for any devices already on that network to see the My Passport Wireless Pro.
In either mode, you can connect any device to the administrator console to make settings changes, update the software, and access the contents of the hard drive. You can do this via a web interface, or a companion iOS app. Most usefully for travellers, you can use the standalone wifi mode to stream content directly from the My Passport Wireless Pro to your devices with no need for a local wifi network. I found the operation of the device a little bit fiddly — not up to Apple-like simplicity standards — but ultimately got almost everything to work how I wanted it to. The one thing I thought would be ideal is its ability to run a Plex server on-device, however I found this terribly confusing to operate and will probably resort to basic streaming using the iOS app.
For my purposes, I will get the peace of mind of being able to copy my photos onto the drive each day (it can automatically copy only files it has not previously copied) and leave it in the hotel safe so in the worst case if I lose my camera bag over the side of a boat, I'll at least have previous days' photos still. Additionally, I will have an easy option to browse those photos directly from the hard drive and export them to photo apps on my iPad or iPhone for sharing.
The bonus for me is the streaming. After discussing Plex as too complex, I turned the default "Twonky Media Server" back on, which turns the My Passport Wireless Pro into a standard DLNA server. While you can use the WD MyCloud iOS app to stream content, you'll be stuck with the standard supported media codecs. I downloaded the iOS version of VLC which saw the drive as an available server and I was quickly able to stream anything VLC could handle. I tried it with a Blu-ray rip of a Harry Potter movie and it was crisp and smooth.
Overall, I found the My Passport Wireless Pro to be a little bit fiddly, but with a little practice, a very usable and useful addition to my travel kit.