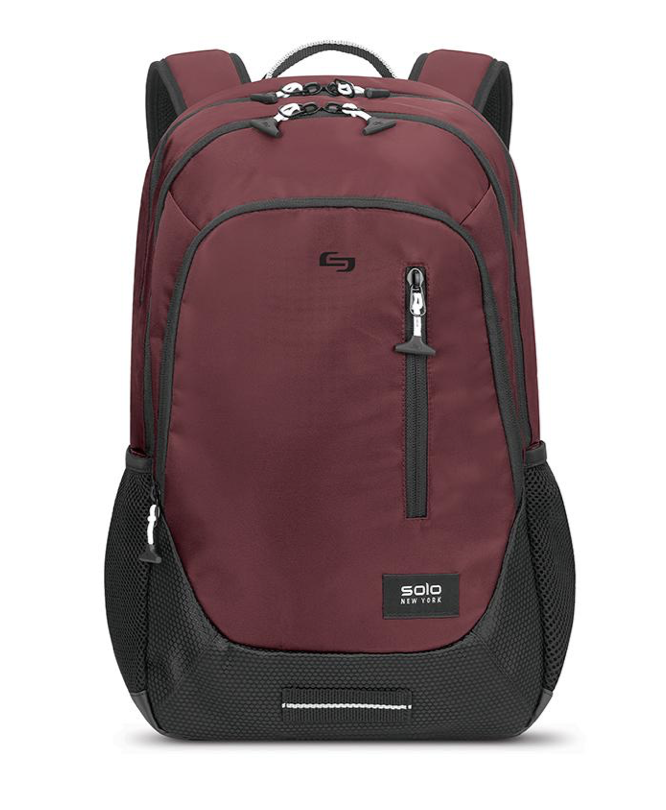 When Steve and I were at CES, we did an interview with a company called Solo New York. As the VP of marketing, Serkan Ozturkcan, explained, Solo New York is a "lifestyle brand" for bags. They make backpacks, tablet cases, briefcases, messenger bags, sleeves, totes, duffles, and work bags. In the interview we played around with one of the bags, called the Region backpack from their Varsity Collection.
Solo NY was nice enough to send me the Region backpack to try out as my daily driver. I've been carrying my computer gear around in it for a few weeks, and I have to say, I'm in love with this backpack.

Bag Requirements
Let's back up and talk about the requirements for an ideal backpack. These are my requirements; of course, yours might be different. One of the primary things I look for is a lightweight bag. I'm going to be carrying a 15″ laptop, a nearly 13″ tablet, a couple of charger banks, possibly my giant RAVPower powerbank to power my MacBook Pro, usually a bottle of water and a few pounds of cables. The last thing I need is for the bag itself to be heavy too. Maybe it's like ordering a Diet Coke with your Big Mac and large French fries, but you get my point.
My next set of requirements is about pockets. There's a delicate balance between enough compartments but not too many. Steve has a Swiss Army backpack that's awesome, but I think there are 127 separate compartments in which to hide things. The constant search of those secret pockets is a game we often play.
My backpack needs a computer sleeve compartment, a big compartment for my chargers, battery packs and cables and it needs a quick access pocket for things like my phone and business cards. It's also preferred if it has a side pocket for a water bottle. I want padding against my back, preferably with that netting that lets it breathe, and I need a small handle on the top for easy pickup without using the straps.
My CES Bag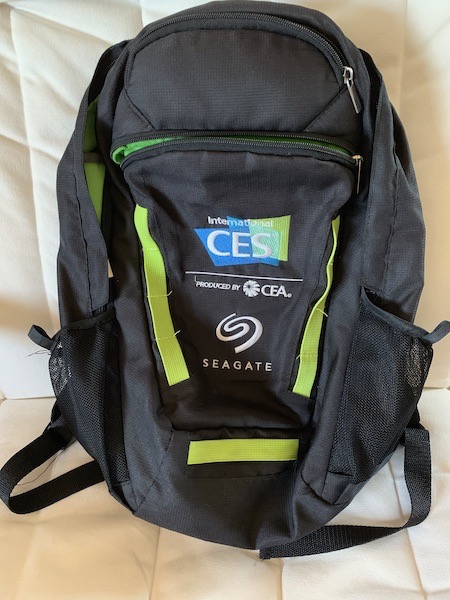 For years I've been using a backpack that I got as a press gift from CES. It was black with a flaming turquoise and green CES logo along with a Seagate logo, who was evidently a sponsor that year. You might think I chose it to show off how I was press at CES, but it was actually a great backpack that met most of my needs. Dave Hamilton used his for years too because it was a great bag. We were backpack buddies.
This bag met my requirements pretty well, and I really had no excuse to get a new one. It had enough pockets and not too many, but it didn't have an easily accessible but small-ish pocket for my phone. It had a perfect pocket for business cards or my headphones, but when the pocket was unzipped it would flip open and drop the cards out. The bag was really, really light, and could hold both my 15″ laptop and my 12.9″ tablet and a giant pile of cables.
Often I would even cram my big-girl Olympus micro-four thirds camera in there too. It had pockets for a short water bottle, but the longer ones would often fall out when I laid the bag down under an airline seat or under the seat in front of me at a conference. This bag has been to India, Nepal, Peru, Ecuador, France, and Belgium plus an awful lot of US locations. With all this travel, this darn bag has no signs of wear and tear! I wish I could tell you the manufacturer, but it came from a company that does branded merchandise called Blue Chip Promo. I will never understand companies that don't put their name somewhere on the things they produce!
Solo New York Region Backpack
The bag Solo New York sent me was from what they swankily call their "Varsity Collection". I sound like I'm in college, don't I? The specific bag I recieeved is called the Region Backpack. Let's see how it matches up to my requirements.
The Region isn't quite as light as my CES backpack but it's still in the ultralight category. It's mostly constructed out of a lightweight, but sturdy-feeling nylon. I might worry about a nylon bag, but the stitching around every pocket appears to be really good. It has very thick padding on the back with the nylon mesh for breathability.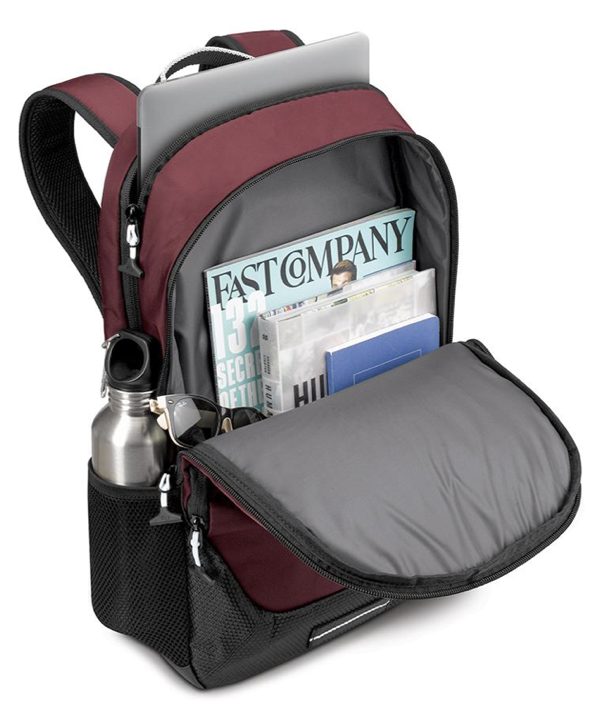 I didn't put this next thing in my requirements list, but I should have. The Region backpack has a stitched-in strap around the back about halfway up that allows you to slide it over the handle of your luggage. This allows you to roll your luggage and keep the backpack stable on top. I cannot tell you how many times my computer-laden backpack has flipped around the handles when I was dashing through an airport.
The straps on the Region backpack are fully padded and it has a small, sturdy handle on top for a quick pick up. The Region may have one major pocket more than I need, but it might be something I can be trained on. There's a big pocket with a slightly-padded laptop sleeve area and in front of that sleeve, I can stack my giant big-girl iPad. This pocket is big enough that I'm tempted to drop in other items, and that's where I ran into memory issues of, "Now which pocket is that in?"
Outside of the laptop area, there's another much bigger pocket. This is obviously where all my chargers and cables should go. I like segregated pockets for organization as much as the next girl, but a giant cavern for one compartment is very necessary, I've even been known to throw in a lightweight jacket, so a malleable space is great.
The Region has a third relatively big compartment, but rather than being a cavern, it's got some dedicated little pockets. It has a slot that can hold a smaller iPad or a Kindle, it's got some pen slots, and two little pockets which would be perfect for business cards and for my headphones.
On the front, it's got a single vertical zipper that has a sleeve that would be perfect for a phone and maybe something else small. Big enough but not so big I'd be tempted to fill it up with glop. It does look like an obvious zipper for a pickpocket though so it might not be the best idea. The more convenient for us, the more convenient for the bad guys I guess.
The netted pockets on either side are much deeper than those on my CES bag and hold my water bottle very snugly so that it definitely won't fall out. If you pack the backpack properly, the bag even stands up on its own with a tough vinyl surface on the bottom to protect your belongings.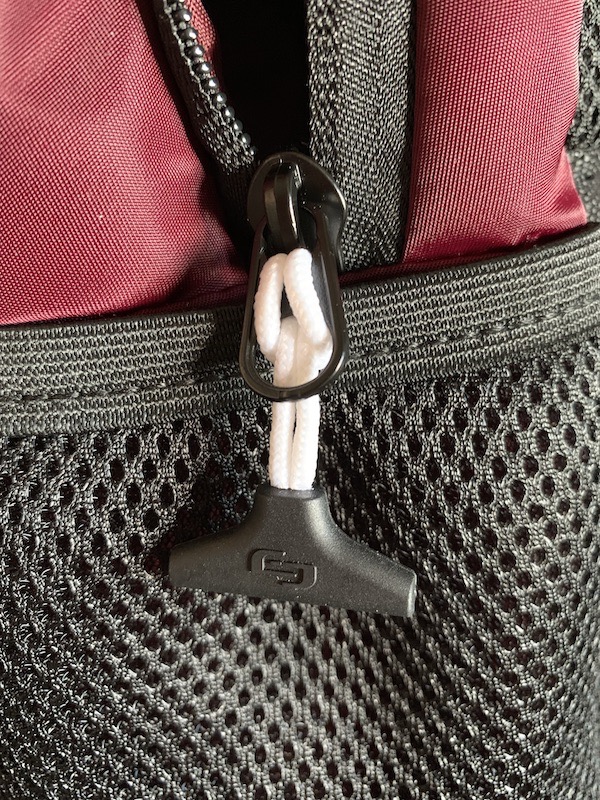 But let me tell you why I truly, deeply love this backpack. If you saw the video or heard the interview from CES, you'll know it's the zippers. Plain and simple. Close your eyes and imagine you're holding a backpack with one hand, and you need to open a zipper from one side to the other. What happens? You get to the first corner, and the zipper pauses. You jiggle it a little bit and get it going, until it gets to the next corner. This corner is a bit more stubborn, so you have to jam the backpack under your armpit and hold the edge of the corner with your other hand while you finish unzipping. You know exactly what I mean, don't you?
The zippers on the Solo New York bag are like nothing I've ever felt before. You can, one-handedly, unzip any of the compartments from beginning to end without any slowdown on the corners! The zippers have two handles so you can align them together on the left, right or at a jaunty angle in-between. The zippers even have little t-shaped handles for easier grabbing. I find myself zipping and unzipping them just for the joy of it.
Last week when I was at CSUN, I suggested to Aleeha Dudley that she play with my zippers. She couldn't see the bag but just kept zipping and unzipping them and saying, "ooooh!" Ok, maybe I'm exaggerating her enthusiasm but she started asking more questions immediately about the bag after feeling the zippers.
I bet there are those of you thinking I'm a weirdo for spending 1500 words on a review of a backpack, but I bet there are way more of you thinking, "I need another computer backpack!" I really wish I could give you an Amazon Affiliate Link to this product, but it's only for sale directly through solo-ny.com/…. The Region Backpack in the Varsity Collection is only $64.99US. At that price, even if you don't buy this backpack, they've got tons of other models and types of bags that might just delight you. Plus, the zippers!