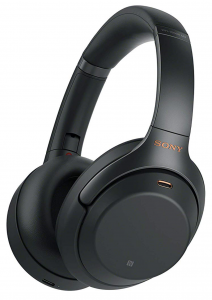 It's not often I buy something "high end" on impulse, but circumstances conspired against me. A colleague at work was raving about the headphones he had been given for Christmas. Worse, he brought them over and told me to put them on.
Now, I have no trouble mentally tuning out the industrial noises of our building. There are un-shrouded air and water pipes running over our heads, and being on the top floor we can hear the air conditioning plant on the roof faintly behind the noise of moving air from the vents. However, when I put on the Sony WH-1000XM3 headphones, I did a double take. All of the noise stopped. Completely stopped. My colleague started saying something and I could still hear him as if he was talking quietly — befitting the quiet room I was apparently in. When I took them off again, the roar of the building shocked me briefly. (Allison's Affiliate Link for the Sony WH-1000XM3 Headphones on Amazon)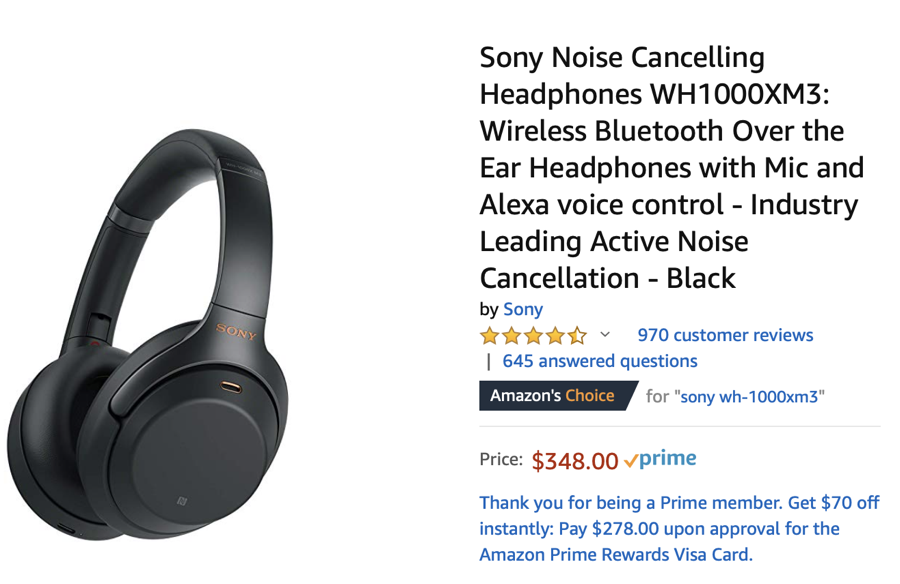 I asked my colleague how much he paid for the headphones. "Not a cent, they were a gift." Yes, he's a smart-ass. He said he thought they were around five hundred (New Zealand) dollars. Ouch. But over the next few weeks, several thoughts and plans prompted me to seriously consider them. I began looking around for deals. An online retailer had them for $399 but I wasn't sure if I could trust them. All the usual outlets had them at $579. One of those retailers has a special deal with my employer — we email their office and ask for a price on the item and they respond with a quote and a voucher. Worth a crack, I thought. $369!! A couple of hours later I had them on my desk.
So, what do you get for this still considerable price? Up to 30 hours of use on a single three hour charge — or 3 hours use on a 10 minute charge — is a pretty good start. The headphones are VERY comfortable. I've not worn them for more than about 90 minutes, but my colleague said he's gone many hours with them on and not had any complaints. The right ear cup has a large touch surface which you can use to stop and start your music, skip forward and back, or answer a call… did I mention it has multiple beam-forming microphones and you can take calls? You can also hold your whole hand over the touch surface to temporarily drop the sound level very low and turn off noise cancellation so you can converse with someone. Using a button on the left side you can invoke either Google Assistant or Alexa, or you can invoke Siri via a touch-and-hold on the right cup touch surface (via your phone, like you would with a corded remote).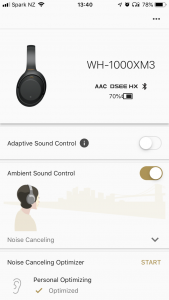 Then you can open the iOS or Android app and configure the sound to your liking. There is a sliding scale of noise reduction that goes from near total to allowing most ambient sound through. You can have the noise reduction let more voice frequencies through. You can choose from equaliser presets, and set an artificial "location" for the sound. I find it weird, but you can make the sound come from "in front of you" with this setting. You can also set a sound stage, such as a concert hall or arena.
There is adaptive noise reduction, too. With this mode selected, the headphones try to detect what you're doing and adjust accordingly. If you're sitting down, maximum noise reduction occurs, but if you get up and walk somewhere, some ambient noise is allowed through, so you don't get run over by a bus you never heard. One of the most interesting functions is the personalisation function. You place the headphones on your head and either push a button or invoke from the app and a sequence of steps determines the noise profile based on multiple factors including the shape of your head, whether you are wearing glasses, and the atmospheric pressure. It is recommended to re-run this when any of these things change, such as when travelling on an aeroplane.
So the WH-1000XM3 headphones are full of features. How do they sound? Quite simply, superb. I've listened to quite a bit of music of varying genres and am often surprised by how rich the sound can be. I would at first have said there was too much base, then later that there wasn't enough, until I realised it really depends on the source. The huge variety of mastering standards for music has never been more evident to me. Then again, there's always the equaliser if you're not happy with how things sound. Over Bluetooth, the standard frequency response of 20Hz-20kHz is produced, but if you use the included 3.5mm audio cord, that expands to 4Hz to 40kHz.
The noise reduction is superb. I tried them out on the train on the way home. I was just listening to a podcast, which is what I normally do with my BeatsX earbuds. The BeatsX make it easy to hear voices (or music) but I can also hear the sounds of the train. With the Sonys I can have a relaxing ride no matter how quiet the podcast voices are.
To me, the real value of these headphones lies in a double effect of the noise reduction. In addition to blocking out the noise of your environment, which is relaxing, you also do not need to turn up quiet content to hear it.
I'm still not sure I would have paid the $579 retail for these headphones, but at the discounted price I feel I have really got something of great value. I'm looking forward to trying them out on a long flight I have coming up.