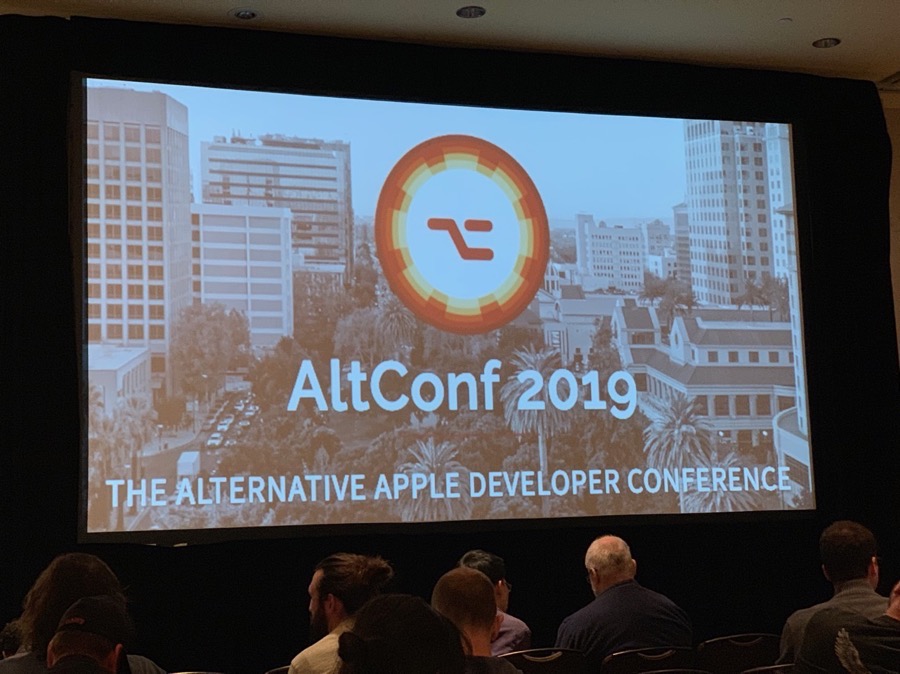 Getting into Apple's World Wide Developer Conference is really hard. First of all, there's a lottery system to even be allowed to get a ticket. If you get lucky, you've earned the joy of paying $1600 to attend the event. Of course, if you're a developer, this is a unique opportunity to attend hands-on labs where you can talk directly to the engineers at Apple about those things that give you fits with their particular products.
But what if you're unlucky, or can't justify $1600, or aren't actually a developer, but you want to hang out with really interesting developers anyway? The answer is AltConf. AltConf is what Jean MacDonald dubbed, "WWDC Adjacent". AltConf is in the Marriott Hotel in San Jose that is literally connected to the San Jose Convention Center where WWDC is held.

There are also AltConfs in Berlin, Paris, Madrid, and London! They were only one day but hey, that's still really cool.
By now you're asking, how do you get into AltConf and how much does it cost? Get this, it's free and open to everyone who wants to attend! I do not understand how this works. I do know that everyone working on AltConf is a volunteer, with the exception of one single employee. They do get a lot of sponsors to help out which is a great way to fund things.
They also allow you to pay for a ticket if you want to. I know that sounds kind of bananas but it actually works. You can pay $50 (or a price of your choosing) and be in the category of "I Love AltConf", or you can be a Hero-level sponsor for $350 and you get a guaranteed seat for the keynote and a t-shirt. Turns out there's plenty of seating for the keynote so the guaranteed seat isn't really a big deal. I chose for Steve and me to be Heroes because we can afford it and it seemed like supporting something this cool was a good thing to do. Plus we got badges that said "Hero" on them. And AltConf Socks!
Now you're also probably thinking that a free conference must be pretty bare bones. But it wasn't. The first morning the sponsors had breakfast burritos for everyone before the keynote and doughnuts after the keynote. In the afternoons they had a happy hour sponsored by the different vendors as well.
But enough about snacks. They also had talks and labs scheduled throughout the week. I didn't attend any of the labs, and most of the talks were on subjects far above my development skill level, but if you're a developer then you'd be in heaven.
Panel on App Pricing
Steve and I did attend a panel discussion that was simply fascinating. It was a healthy discussion of the pros and cons of subscription pricing from the developer point of view. The panel was really impressive. They had:
Marc Edwards, CEO of Bjango who make iStat Menus
Harrison Rose, co-founder and Chief Customer Officer of Paddle, which is a company that helps developers create a pricing strategy and implement it through the Paddle service
Max Seelemen, co-founder of Ulysses, a great writing app
Oleksandr Kosovan, CEO of MacPaw who created Setapp, which is a mini-app store where you pay $10/month to have access to all of Setapp's applications
Denys Zhadanov from Readdle, makers of Spark Mail and other apps
The discussion was fascinating because their points of view were all over the map. No two of them had the same perspective. Marc Edwards of Bjango says they will never do a subscription service, because, and I'm quoting here, "We want our users to like us!" That spawned a whole discussion about how users feel about subscriptions.
Marc did say that if you have significant recurring costs to maintain a service, you pretty much have to have a subscription. For example, in iStat Menus, they have a module where you can have weather in their menubar app, but if you choose to use it, Bjango has to pay the weather service for that access. So inside iStat Menus which is not subscription-based, you can opt into weather as a subscription if you so choose.
Ulysses' Max Steelemen had a completely different perspective. He said that their decision to go subscription pricing was excellent for them and he'd never go back. He said they immediately lost all of their casual users, and that was just fine. Ulysses is a professional writing app, and the professionals actually responded by thanking them. They said that they didn't want to hang their careers on a tool that wouldn't be around for the long haul. As a result, the company's revenues have been growing 30-40% year over year where before subscription pricing, they had very sporadic growth.
Everyone on the panel agreed about one thing: if you change your pricing model, people will hate it!
I think the most interesting thing I realized listening to these people discuss pricing was that developers have a lot of flexibility. For example, Bjango sells iStat Menus on its own website. But they also sell it through the Mac App Store. And they also sell it through Setapp. So in a way, iStat Menus is available on a subscription basis.
I did an entirely separate interview with the CEO of Setapp because I'm fascinated by everything they're doing, and Oleksandr himself is a fascinating guy.
The People of AltConf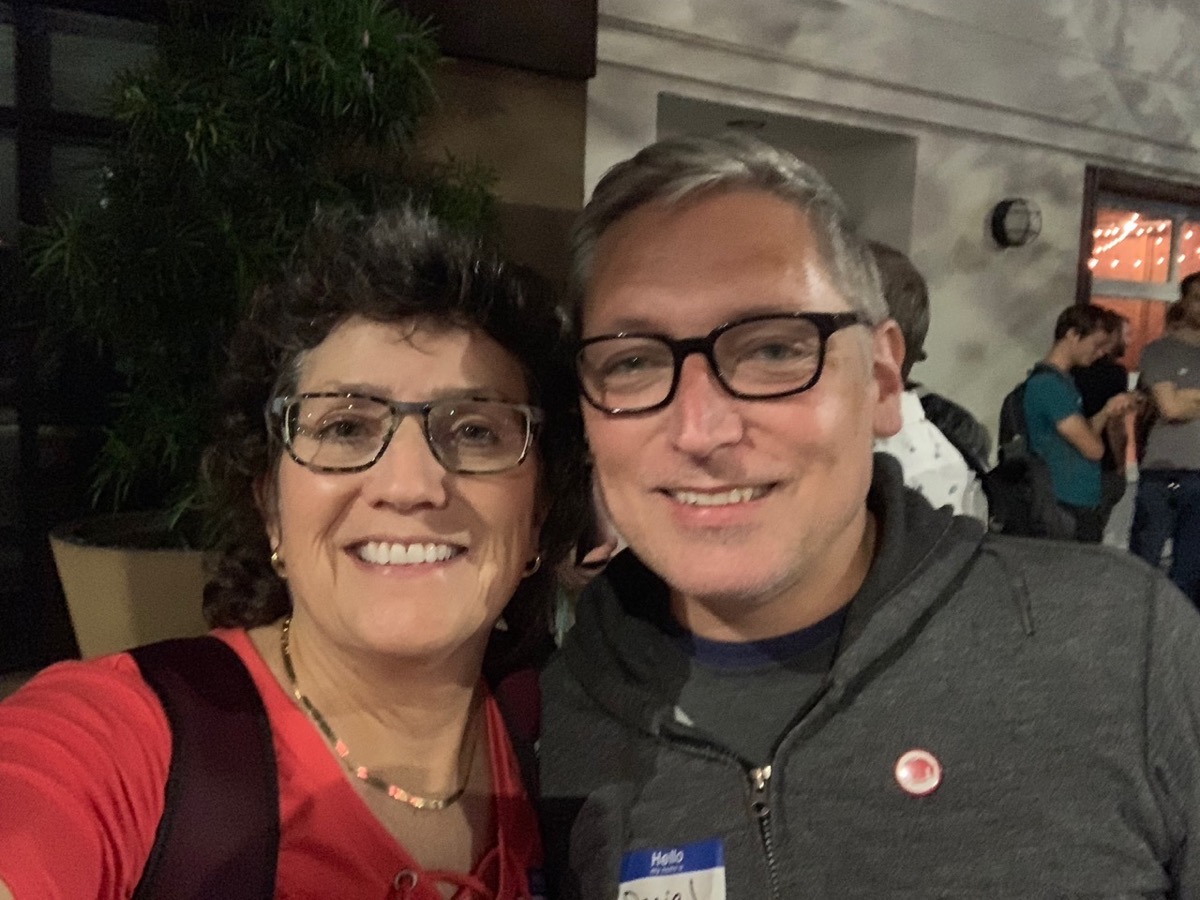 One of my favorite things about conferences is the new people I meet, and the old friends I get to meet again. We went to a party called sjMacIndie and met a ton of interesting people. Oddly, almost all of them were German. We talked for a long time to two competitors; one guy from Mercedes and one from BMW, both working on CarPlay and dancing around what they could say to each other.
Before we got to AltConf I tweeted out to Daniel Jalkut, author of my favorite blogging software MarsEdit asking if he would be at the show. He didn't write back but instead just found me at the sjMacIndie party! It was fun to meet one of my heroes and hang out with him.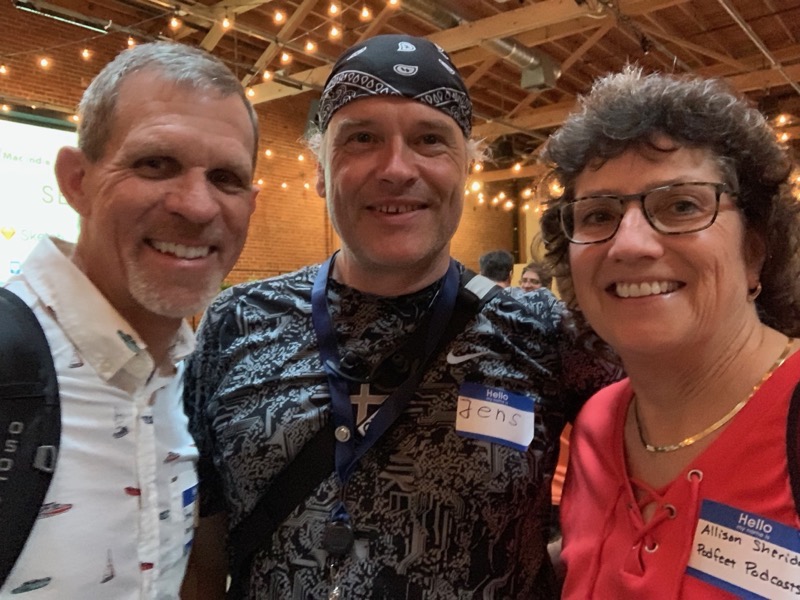 At parties like this, I enjoy walking up to people who look fun but who aren't talking to anyone. I saw this guy looking at his phone and walked up and said hi, and he turned to me and immediately said, "With an EVER so slight Macintosh bias!" It turned out to be Jens Jung, who goes by the name BitsDream on social media, and he's actually in our Podfeet Slack! How's that for a total coincidence?
At the same party we hooked up with our good friend Jean MacDonald, formerly of Smile and now with Micro.blog. We've known Jean for ages and hung out with her a lot over the few days we were in San Jose. We closed up the MacIndie party with Jean, and Daniel suggested we go meet up at a new place, so a big group of us just toodled along down the streets of San Jose.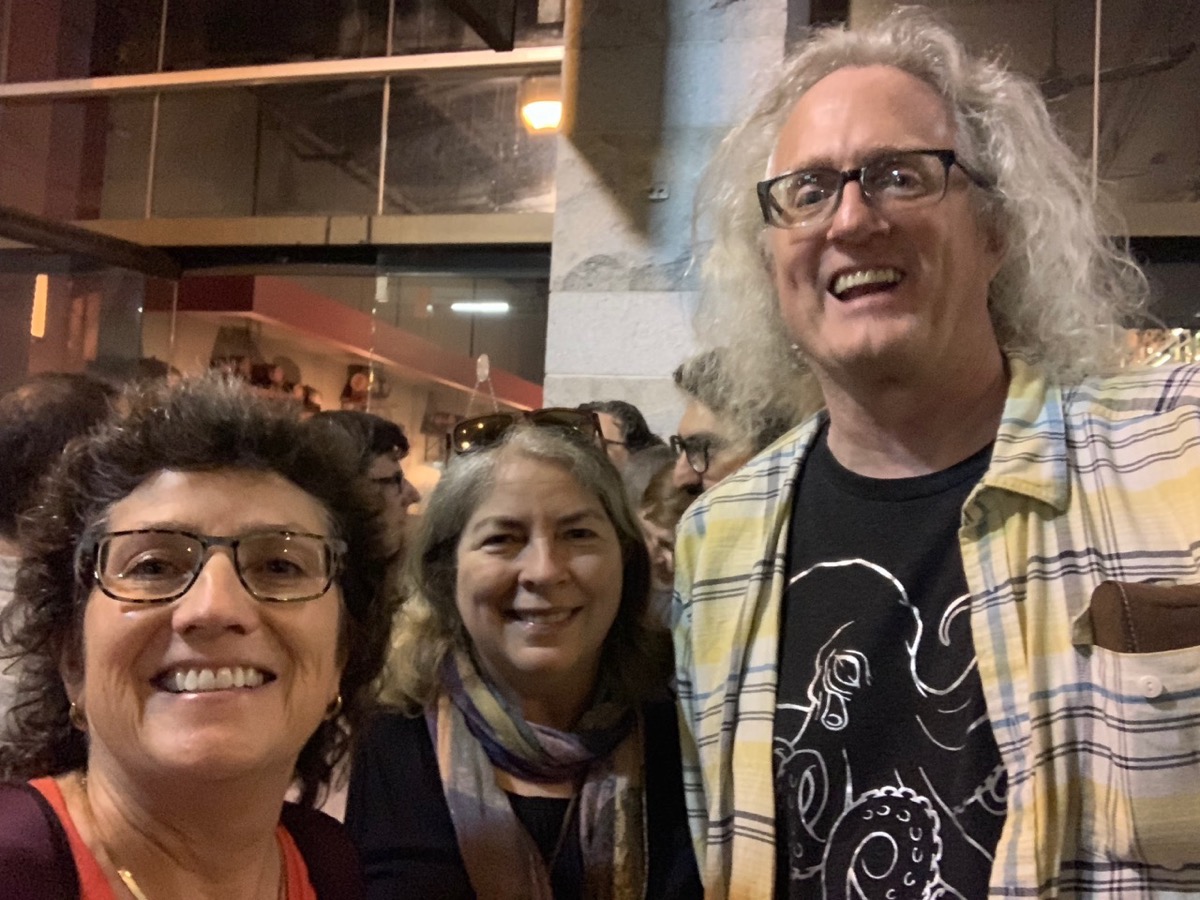 While the toodling didn't result in finding a place to hang out, we did run into a friend of Jean's, Craig Hockenberry. You may know that name; he's The Iconfactory guy. He was absolutely lovely.
After failing to find any fun place downtown, Jean, Steve and I wandered back to the Marriott and inexplicably ended up in a place called the Tanq Bar (spelled with a Q). This turned out to be fortuitous because we got to meet yet another friend of Jean's (she knows everybody). Ken Case, CEO of the Omni Group wandered up and joined us. Ken is such a sweet, unassuming man. While we were chatting, another guy came up (forget his name but of course Jean knew him too), and he let us know that Ken went to college when he was only 14 years old!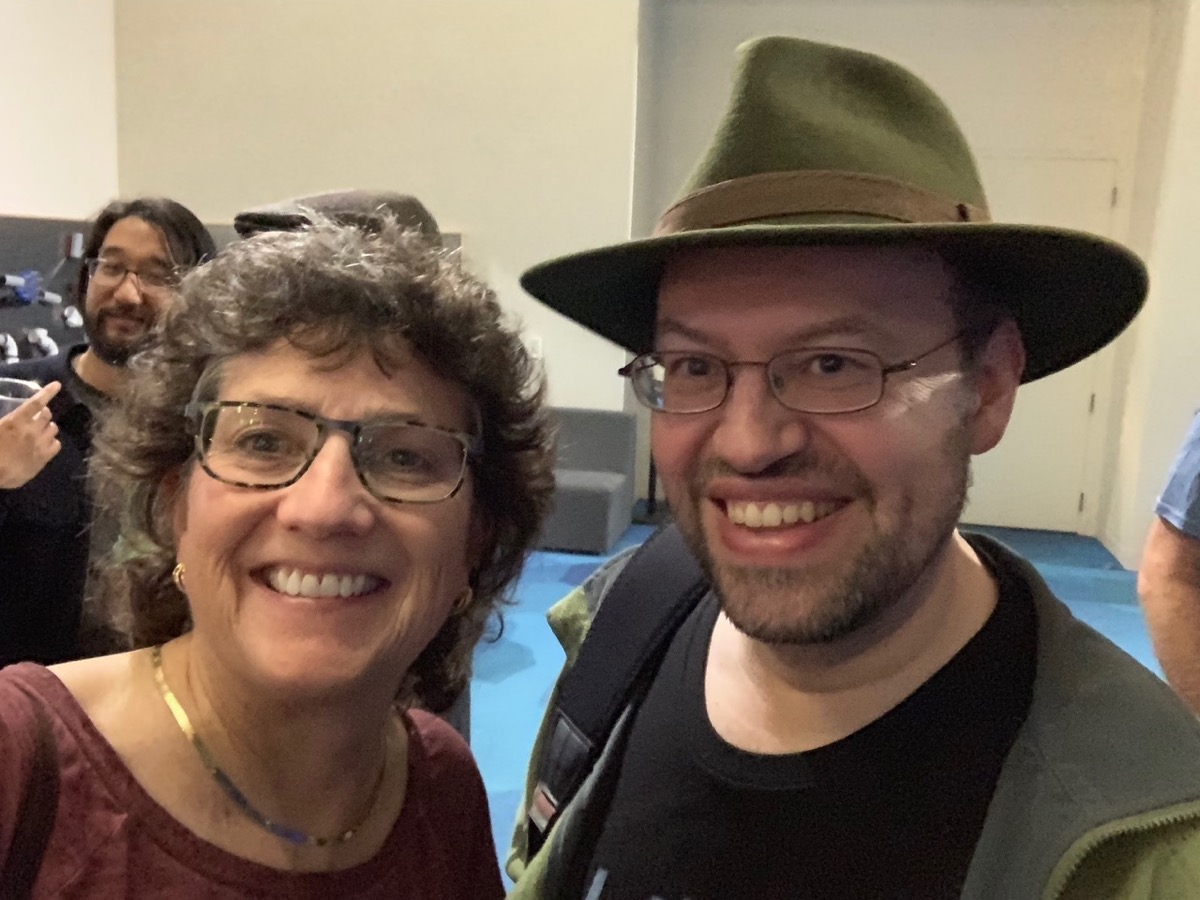 A few days later we ran into Ken again and I asked him about going to college so young, and he told us the whole amazing story. After he was done I asked him if he'd come on Chit Chat Across the Pond to tell it again and he said yes! He's kinda shy so I hope he really meant it.
At MacStock a few years ago we met up with Marina Epleman, who is a professor from the University of Michigan. We hit it off right away. She's funny and brilliant and sarcastic, just my kind of people. Turns out she was working as a volunteer at AltConf so we got to see her again. Good thing, since she's got a conflict with MacStock this year! We also got to meet up with Kelly Guimont whom you might know from her work at Smile and Mac Observer. Oh yeah, speaking of Mac Observer, we got to see Dave Hamilton too. Oh and that guy Chuck Joiner from Mac Voices was hanging around a lot.
We had a lovely Greek dinner with Greg Scown, CEO of Smile along with Maia Olson from Marketing and Customer Experience at Smile. (Jean introduced me to them years ago.) I will put it right out there, the very first thing I said to both Greg and Maia was, "How awesome was my TextExpander video?" Luckily they both said, "So awesome." I'm sure they didn't feel at all pressured to say that!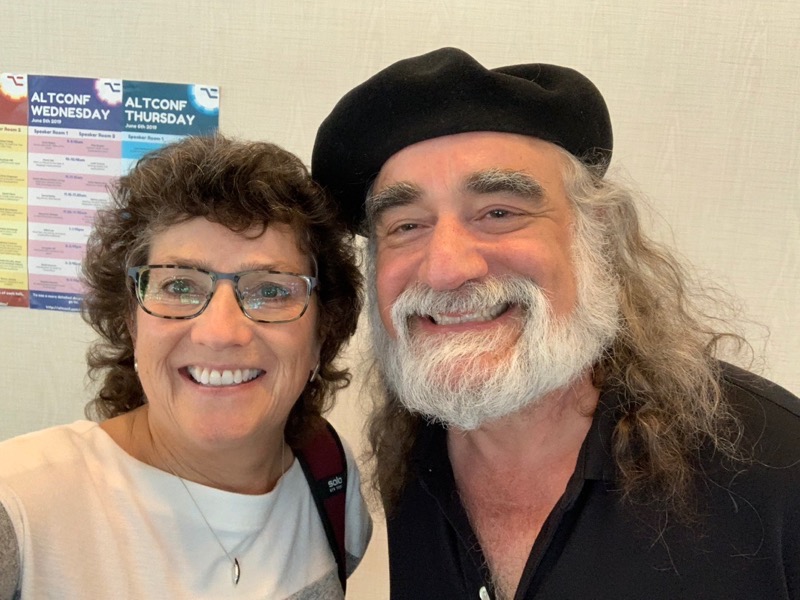 I ran into Sal Saghoian again, and he was as sweet and unassuming as ever. I told him I've continued on my automation journey ever since his Command-D conference. We chatted a bit about JavaScript and he said something that really made me happy. He said, "I don't really understand a lot of this stuff and I don't get the jargon, but I know how to use it." That delighted me. We talked about how we find it annoying when people use one-character names for variables too. He said, "I will name an array something like arrayOfEverythingOnMyDesktop". I love Sal.
Sometimes you meet someone and you can tell that you're going to be friends forever. I felt that way when we met Darius Dunlap. Again, I just started talking to this random stranger, and guess what? Yeah, he and Jean have been friends for more than 20 years!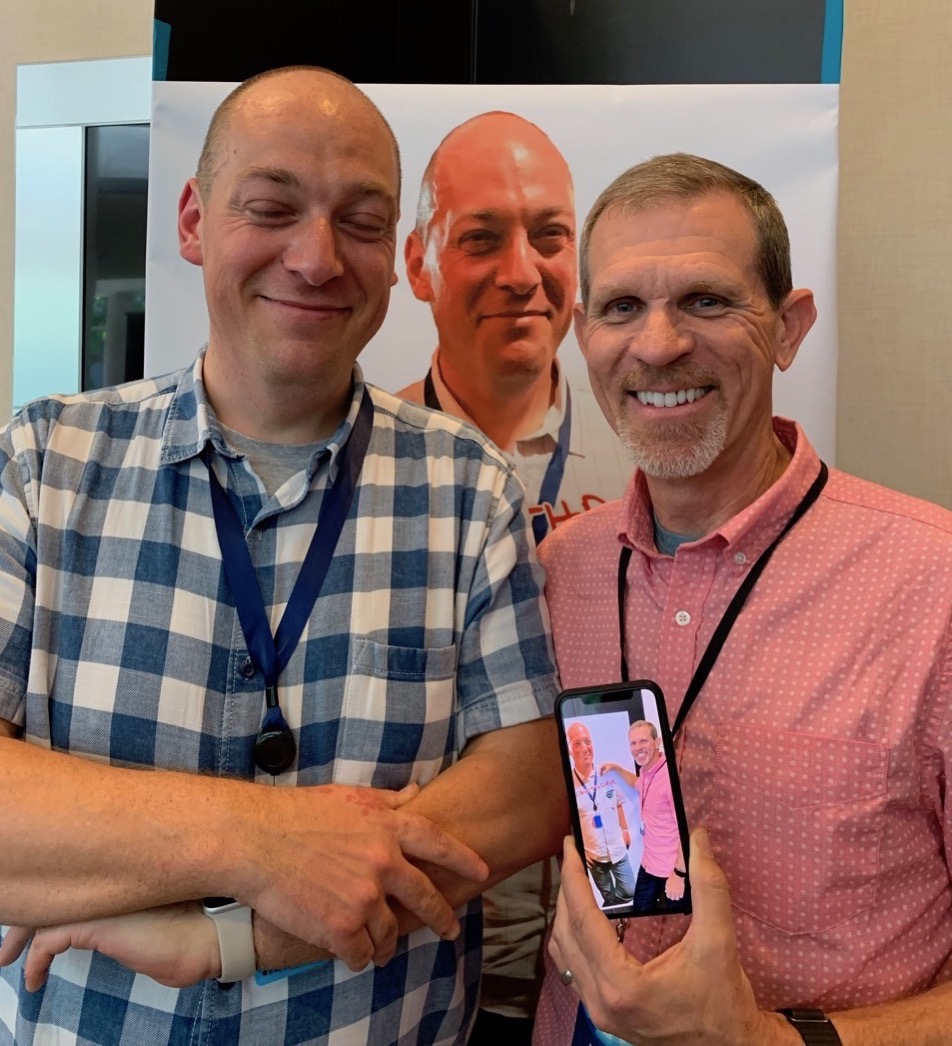 Anyway, Darius is a NosillaCastaway, but he just didn't know it yet. While we're talking he says, "Look at my cool new toy!" And pulls out a Røde WirelessGo, which is two small boxes, one of which is a replacement for a lavalier mic and the other is a receiver. As he explained why it was so cool, I explained to him that he'll be doing a review for the podcast. He agreed! See what I mean? He's already a NosillaCastaway in his bones.
Another chance encounter, who oddly did not know Jean (but maybe I just didn't ask him) was Paul Goracke. I don't know what we'll do together but he's a crazy Apple geek so we'll do something fun at some point I'm sure.
Ok, here's a really good reason to go to AltConf. You can get your picture taken with Dave. I don't know who Dave is, but the thing to do is get your picture taken with him and then you use the hashtag #picswithDave. They had a full-sized cardboard Dave you could pose with so Steve did it and posted it with the hashtag. But wait, it gets even more exciting than taking a picture with a cardboard person. The real Dave showed up at AltConf! So Steve posed, with the real Dave, in front of the cardboard Dave, while holding up his iPhone showing the picture of him with cardboard Dave. It was epic. Nobody at WWDC could have done that.
ATP
Another fun thing you can do at AltConf (not as cool as getting your pic with Dave of course) is attend some big-named podcasts' live shows. John Gruber does the Talk Show live (which we didn't attend). We did attend the Accidental Tech Podcast show though and it was awesome. If you haven't subscribed to it, I can highly recommend it. Steven Goetz turned me onto them, so I went to the show so Steven could live vicariously. Marco Arment, Casey Liss, and John Siracusa were hilarious.
I really wanted to see ATP in person because I had no idea what they looked like, and I didn't know which voice was Casey's and which one was Marco. John's voice is unconfusable, and now I know the other two as well. I think my favorite part was the end of the show when they played the theme song and the sold-out 900-person theater sang along. It was a beautiful thing. In fact, I'm going to play it for you because it makes me so happy.
Bottom Line
The last night we were there, we had Jean over to our hotel room for what we have always called a "slumber party" near the end of an event. Jean comes over and in our PJs, we drink wine and talk about how much fun we've had. As we were goofing around, I mentioned that I was super excited that I had found a Slovenian tech podcaster to interview. And Jean says, "Oh, you mean Anže? I'm going to see him in Slovenia this summer!" Seriously.
Bottom line is that if you can get yourself to San Jose next year, do it. Then figure out how to connect up with Jean MacDonald and you'll meet everyone. Or, do what I do and just walk up to a stranger and say, "Hi, what do you do?" Oh yeah, and there's cool sessions too.