As we prepare for moving to macOS Catalina, we all need to look through our applications to make sure that no mission-critical app is 32-bit only since Catalina will only run 64-bit apps. In our slack someone suggested that Apple should have "announced" that more clearly but I think giving us a warning every single time we open a 32-bit app for a full year is warning enough.

System Information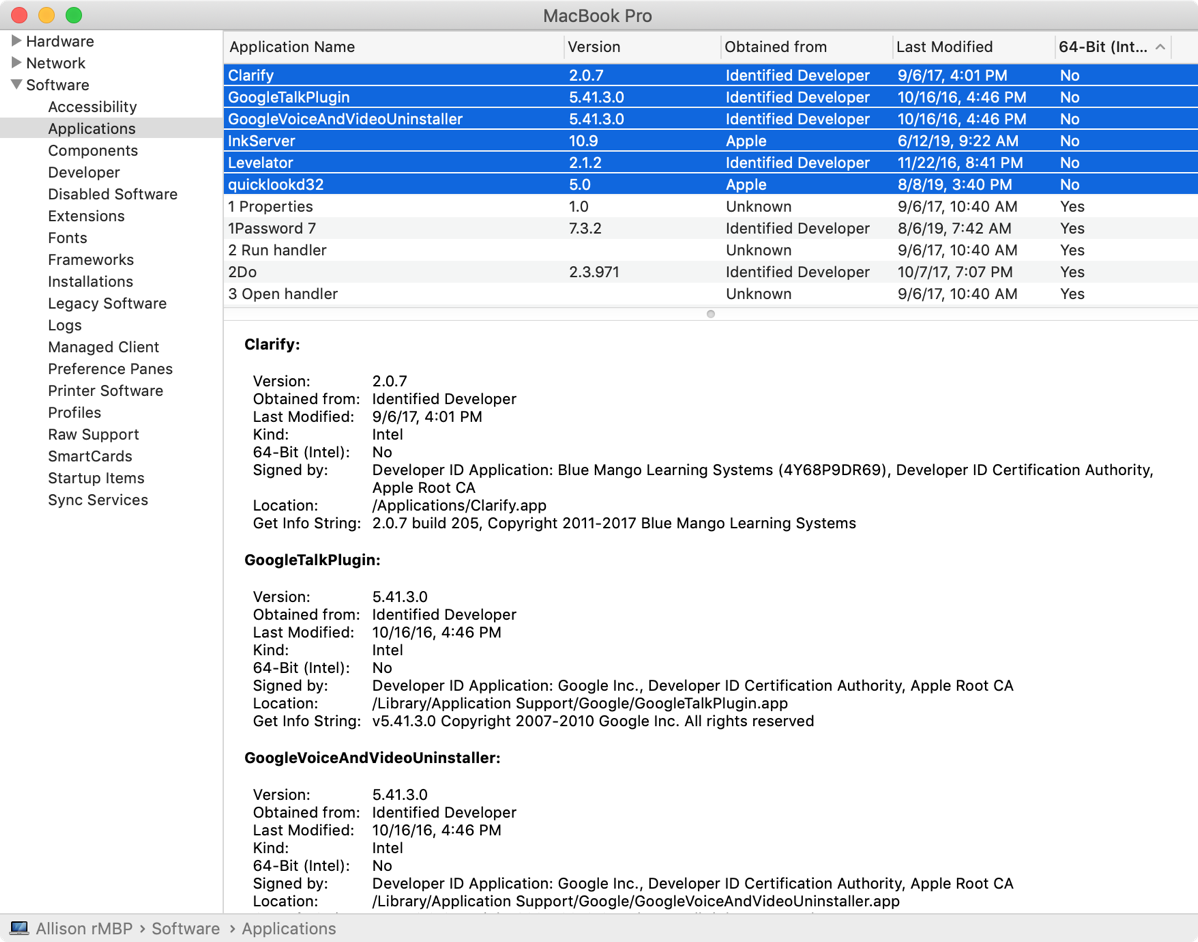 If you want to see what apps you're running are 32-bit, your Mac will tell you that right out of the box. The quickest way to get to it is to hold down the option ⌥ key and click on the Apple Logo in the upper left. Instead of About this Mac, the option key will reveal System Information.
In the left sidebar, you'll see Hardware, Network and then Software, all with little chevrons that pop down more information. Under Software, still in the left sidebar, select Applications. You'll probably want to resize your window a bit, and drag the bottom half panel down so you can see the list of apps more clearly. The far right column is entitled "64-bit (Intel).
If you click on it, it will sort by 64-bit and click again until it shows "No" at the top. Now you'll see each application, the version, when it was last modified and whether it was from an identified developer, an unknown developer or from Apple.
If you select an application which says "identified developer" in the list, down in the second half of the window it will tell you who signed the app. You also get some detail on the certificate authority (which isn't all that helpful) and the location of the file in the Finder.
Go64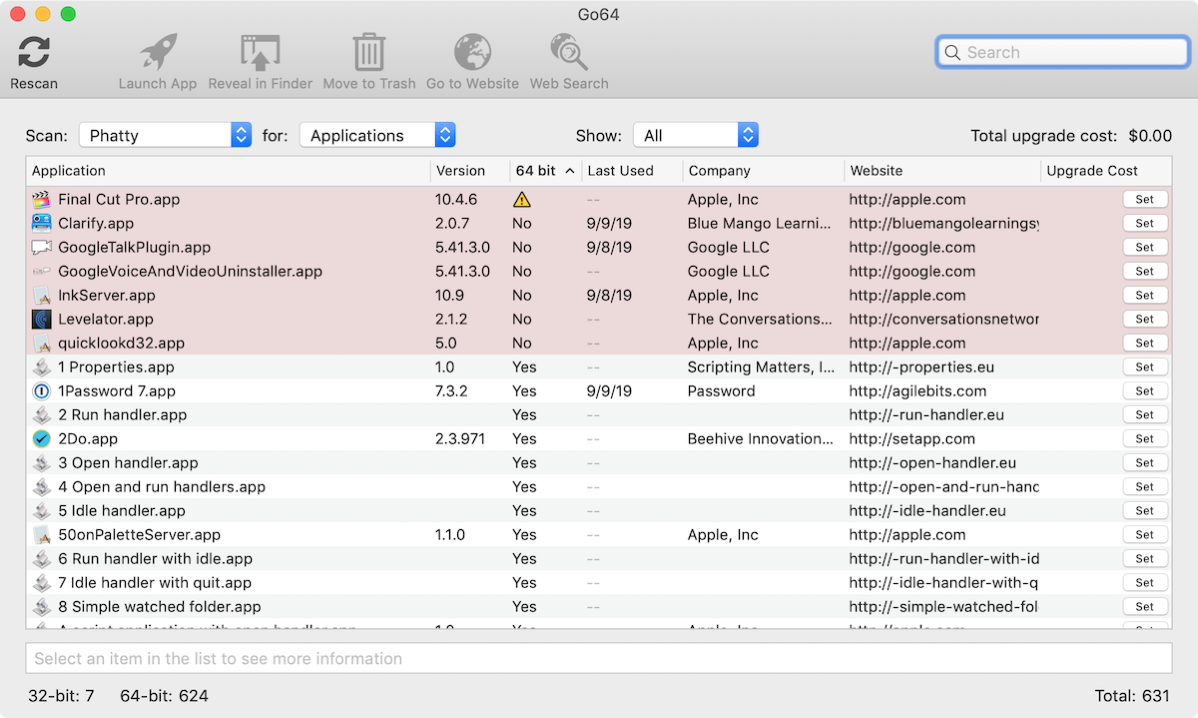 That's pretty good info, but there's a free app called Go64 from St. Clair Software gives you the same information but it gives you even more information.
By default, Go64 scans your Mac for regular applications and presents it a bit nicer than System Information. You get the application logo which actually helps to identify apps as you scroll through the list. Also instead of having to select an app and dig through the signature to find out who made it, the company name is one of the columns in the list.
You also get the website for that company right in the main table. You can even see the last time you actually used an app. If you haven't run it in a couple of years, then maybe you don't care so much about whether it goes by the wayside with macOS Catalina.
Now let's say you have a bunch of applications you've been clinging to over the years, like Adobe CS6 and Quicken 2007, you can click the Upgrade Cost button in Go64 next to each one and enter what they'll charge you to upgrade to the new version. At the top of the window Go64 will keep a running total for you so you can freak out and decide never to upgrade to macOS Catalina.
Now here's an interesting twist to using Go64 to check your apps. It found a little app called Final Cut Pro and while it didn't put "no" under the 64-bit column, it did put a little yellow warning triangle there. When I clicked on it, at the bottom of the window it said 'App is 64-bit except for "QTImportHelperTool'. I would infer from this message that if we need to import from QuickTime into Final Cut, we might need an update from Apple.
While both System Information and Go64 show you the path to the apps when you click on them, Go64 gives you a couple of buttons at the top that are helpful. There's also a Reveal in Finder button and a Move to Trash button, both of which are understandably useful. I've been using AppDelete to fully remove old applications. Clean My Mac (in Setapp by the way) is another good alternative to cleaning up old apps.
There's also a Launch App button which could be handy to look for a "check for updates" menu option. You can even click a button to go directly to the website for the app or do a generic web search about the app. For normal apps, your best bet is to go right to the developer. But sometimes what Go64 finds is something curious that needs further investigation.
For example, on my system it found something called InkServer.app and it's from Apple, Inc. If I click Go to Website, it just takes me to apple.com where I can buy a new Apple Watch Series 5, but that's not important right now. But if I use the Web Search button, we can learn some useful information.

In Google, you can search a specific website for a specific term. The trick is to put in the search term and also put in "site:" followed by the website you want to search. Go64 uses this trick with their Web Search button. If I click that button with InkServer.app selected, my default browser opens up to Google with a search executed to:
site:http://apple.com mac InkServer.app
In this case, the first hit on that search term is macOS Mojave release notes at developer.apple.com. It explains that 32-bit system services including ink server were included in Mojave for compatibility purposes but will be deprecated in future versions of macOS. That means I don't have to worry my pretty little head about it because it will be gone in macOS Catalina. And I saved myself another question. The last of my 32-bit apps is called quicklookd32.app and it's listed right beside inkserver on this page. That was worth the price of admission (free) for Go64 right there!
All Executables
If you want to make yourself really crazy, use the pulldown in Go64 to change the system scan from the default of looking for all applications, to looking for all executables.
You'll be shocked how many more Apple executables and even Terminal documents you'll find in there. I'm not sure what to do about these so I'm going to put my head in the sand and run away from this one.
Bottom Line
St. Clair Software has made this freely available but they do provide two options for you to show your gratitude. They'll offer you a donate button so you can throw them a few bucks, or you can take a look at their other apps and considering buying one of them.
They make Default Folder X which a lot of people love. I use their Jettison menubar app all the time to eject external drives before pulling my Macbook off the dock. Since I got value out of Go64, I pulled the trigger and bought App Tamer which I'd been noodling for a while.
I think you'll find Go64 a user-friendly method of helping you understand your exposure to the 32-bit problem in going forward to macOS Catalina.