I forgot to tell you I got to be on the SMR Podcast last week and this week I got to be a guest on Daily Tech News Show. But things weren't all rosy on DTNS as my computer woes continued. I'll walk you through what went wrong this week, how Steve and I diagnosed the problems and how we're over 60% sure we found the root cause. Then I'll tell you about my new joy – the clipboard manager Copy'em Paste. Bart Busschots is back with a marathon and awesome segment of Security Bits.
Hi, this is Allison Sheridan of the NosillaCast Apple Podcast, hosted at Podfeet.com, a technology geek podcast with an EVER so slight Apple bias. Today is Sunday, September 8, 2019, and this is show number 748.
Before we dig in I want to make sure to tell you that Steve and I will be hanging out in the Podfeet live chat room during the Apple announcement at 10am Pacific time on Tuesday the 10th of September. If you'd like to join us, just go to podfeet.com/chat. Hope to see you there!
Chit Chat Across the Pond
In this week's episode of Chit Chat Across the Pond Bart Busschots joins us to talk about how he arranges his podcast listening, how he categorizes them and then what kinds of shows he likes. Bart listens to around 6 hours of podcasts per day so this is quite a long list. He purposely didn't include the usual suspects that he's talked about often before. That means that you are bound to learn about some shows you've never heard of and might enjoy. There are TONS of links to every show in the show notes.
You can listen to this episode in the Chit Chat Across the Pond Lite feed, the full Chit Chat Across the Pond feed, or as always you can listen over at podfeet.com.
SMR Podcast
Last week I forgot to tell you that I was on the SMR Podcast with Robb Dunewood (Chris and Rod were out). It was super fun hanging out with Robb. He's been a Windows guy most of his life and his contemplating getting his first Mac, and wanted my advice. His point in looking at Macs was that he could never justified the high cost of a Mac compared to an equivalent PC. But since he's looking at high-end computers, the PCs he's considering are only a smidge less expensive than the equivalent Mac. We talk about a bunch of other stuff too. Check it out: SMRpodcast #424: Kicking It With Allison Sheridan at smrpodcast.com
Daily Tech News Show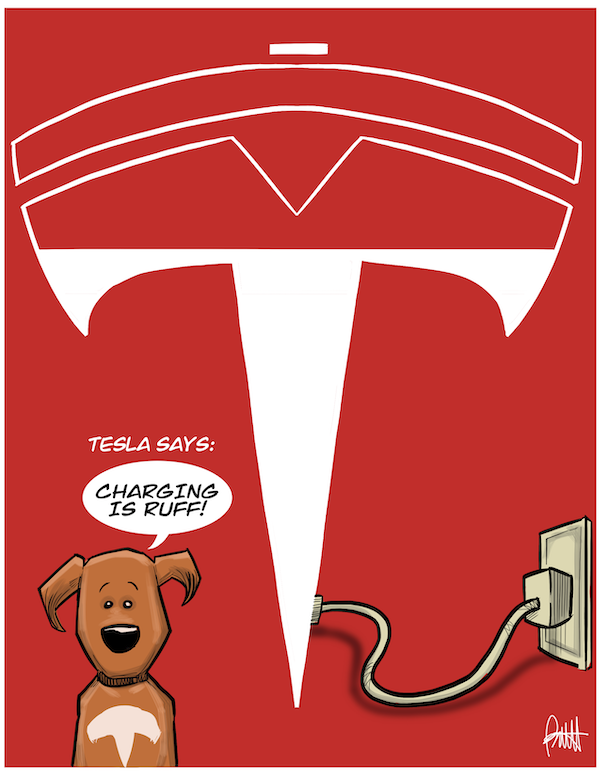 This week I got to be on Daily Tech News Show with Tom Merritt and Sarah Lane. I was excited to be on again because I'd had to decline a bunch of times in a row because of all our pesky vacations. I know, whine whine whine.
The main subject was near and dear to my heart, Tom wanted me to talk about how long it takes to charge an electric vehicle. You'll remember I wrote an article explaining in detail all fo the variables that have to be considered in answering that question: Tesla Tech – How Long Does it Take to Charge?.
On Fridays, a gentleman named Len Peralta comes on and while we talk he draws the main topic. I know that sounds crazy but it's really kind of a cool angle. The drawing he made was near and dear to my heart. It's a Tesla logo partially filled with color that's plugged into a wall outlet. Get it? But the really fun part was he added our dog Tesla to the drawing! You can buy Len's artwork at <a href="https://lenperaltastore.com">lenperaltastore.com.
You can check out the DTNS at Is the Tank Half Empty or Half Full – DTNS 3611 at dailytechnewsshow.com.
I can't talk about DTNS without talking about the continuing problems of slowdown on my Mac while streaming video.
Blog Posts
Support the Show
Let's take a quick pledge break here. If you get value out of the content we create here at the Podfeet Podcasts, it would be swell if you gave some value back by contributing a recurring pledge through Patreon at podfeet.com/patreon, or through a one-time Paypal pledge over at podfeet.com/paypal. We thank you for your support, and now return you to your regularly-scheduled programming!
That's going to wind this up for this week. Hope to chat with you during the Apple event on Tuesday! Don't forget to send in your Dumb Questions, comments and suggestions by emailing me at [email protected], follow me on twitter @podfeet.  Remember, everything good starts with podfeet.com/. podfeet.com/patreon, podfeet.com/facebook, podfeet.com/slack!  And if you want to join in the fun of the live show, head on over to podfeet.com/live on Sunday nights at 5pm Pacific Time and join the friendly and enthusiastic NosillaCastaways.   Thanks for listening, and stay subscribed.