The Theft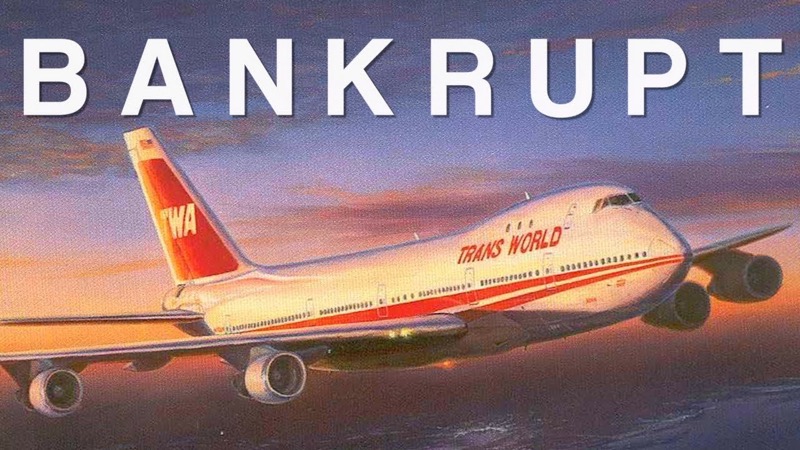 Many years ago, Steve and I traveled to Florida with the kids on an airline that no longer exists called Trans World Airlines, also known as TWA. I made the critical error of carrying my jewelry in my checked luggage. I'm sure you've guessed the second part of that story.
When TWA gave me back my luggage, someone had taken off the cheap luggage lock we had used, unzipped the bag, taken out my jewelry case, dumped out the jewelry and put the case back in and zipped the bag closed. That someone worked for TWA as there was no one in the chain of custody other than them.

In my jewelry case, there was a channel set diamond ring, two Seiko LaSalle watches, a solid gold serpentine necklace and a few gold minor necklaces and earrings. I immediately went to TWA security who basically told me they would cover nothing. I wrote to the president of TWA and they sent me a voucher for a grand total of 250 airline miles. So I'm super sad that they went out of business.
I promise there will be a tech angle to this story eventually. The good news part of this story is that State Farm Insurance actually covered all of our losses. I was as shocked as anyone that our homeowner's policy covered us. I felt like someone from Lifestyles of the Rich and Famous when they sent a jeweler to our house to redesign my ring and to let me pick out the diamonds. The jeweler gave me a couple of gold, serpentine necklaces to try on and I was glad that I liked the lighter-weight one that was more like I had before.
But here's where the tie into the tech angle comes into play. I told State Farm when I called that I had all of the receipts for the jewelry and they told me that was not of much importance. They said that it was helpful but the really important thing was if I could show them photos of me wearing the jewelry. They said anyone can fake a receipt, so the photos are critical to backing up your claim. Luckily we were able to dig through photos and find enough to convince them that we really did own these items.
Old-School Solution
After that happened, Steve went around with a video camera through our house while I played Vanna White pointing at things like our stereo and various bits of jewelry. Steve put the videotape in our safe deposit box, and this would be our way of proving we owned these things if we ever got burgled or if our house burned down.
Except the next month we bought something. Do you think we got out the videotape and added to it and went back to the bank to put the tape back? Nope. Years would go by when it wasn't updated.
Then we tried the photo idea, but back then it meant waiting till the SLR's film was complete and going to the store and printing them out, and again going back to the bank and putting in the new photos. We hardly ever kept it up to date.
Home Inventory Solves All the Problems
I wish I could remember when I found the best solution to the problem, a fabulous piece of software called Home Inventory from Binary Formations, available in the Mac App Store. I have been using this app for years and years, and someone just recently (I wish I could remember who!) asked me if I'd ever reviewed it. The odd thing is that I did do a video tutorial for ScreenCastsOnline all about Home Inventory, but I for some odd reason, I forgot to ever tell you about it.
The good news is that Home Inventory has advanced a great deal since the app was launched in 2005. It doesn't just solve the problem of proving you own the software, it does ever so much more.
Home Inventory – Adding Items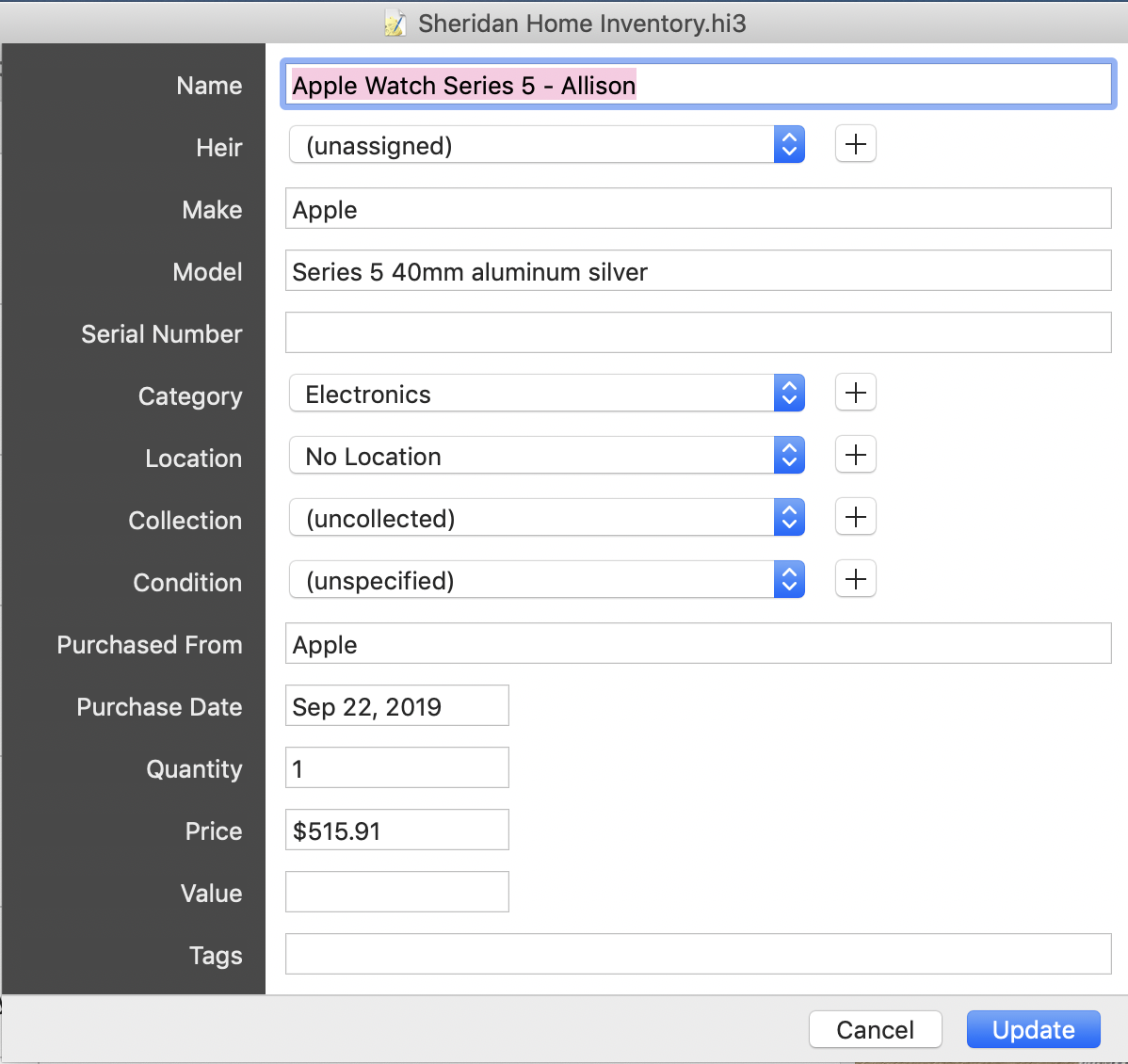 Home Inventory at its core is a database for tracking your belongings and we'll get into the newer enhancements after we talk to the basics. Let's start by explaining how to add items to Home Inventory.
A simple plus button at the bottom of the center Items column starts by asking a few questions. You name the item, add an heir (if it's that kind of item), and then provide the make, model and serial number as appropriate. Home Inventory supports both tags and categories so go wild if you like even more organization. You can put your items in a location if you like but most of the things I care about move around a bit so I don't tend to use that field very much.
You can assign a Collection as well. I fooled around a bit with this, making a collection for my Star Trek DVDs but I haven't actually used that very much either. You can identify the condition of the item as well. I tend to put stuff in Home Inventory when brand new so I haven't used that much either.
You tell it from whom you purchased the item, the purchase date, the price and the value (if that's different). So far this is all pretty boring and dry, but if you think about your Apple Watch, most of those questions are pretty good to have written down somewhere.
Once you've entered the text-based details it gets more interesting. Across the top you'll see a series of tabs, and the second one says Photos. This is where we take a photo of us with the new item, so I'll never have to go digging again if an insurance need should arise. Simply drag and drop photos onto this tab and you're good to go. You don't have to make them "cute", just recognizable, right?
The next tab is for Receipts. When I receive a receipt for an item, I simply print to PDF and drag it onto this tab. I make sure to print out my AppleCare receipts too of course. Speaking of AppleCare, there's a button at the bottom of the main Info window to enter Warranty information. If you buy an extended warranty or have info on the regular warranty of an item, this is a great place to enter the information.
Sometimes you might just want to add a note about an item, so there's a tab for that as well. You can also attach files that aren't photos or receipts in yet another tab.
If all you did with Home Inventory was what I've described so far, I think Home Inventory is worth the $40 from the Mac App Store or from their website at binaryformations.com. But it's also available with your Setapp subscription. That's bananas in my opinion.
Import Using Remote Entry App on iOS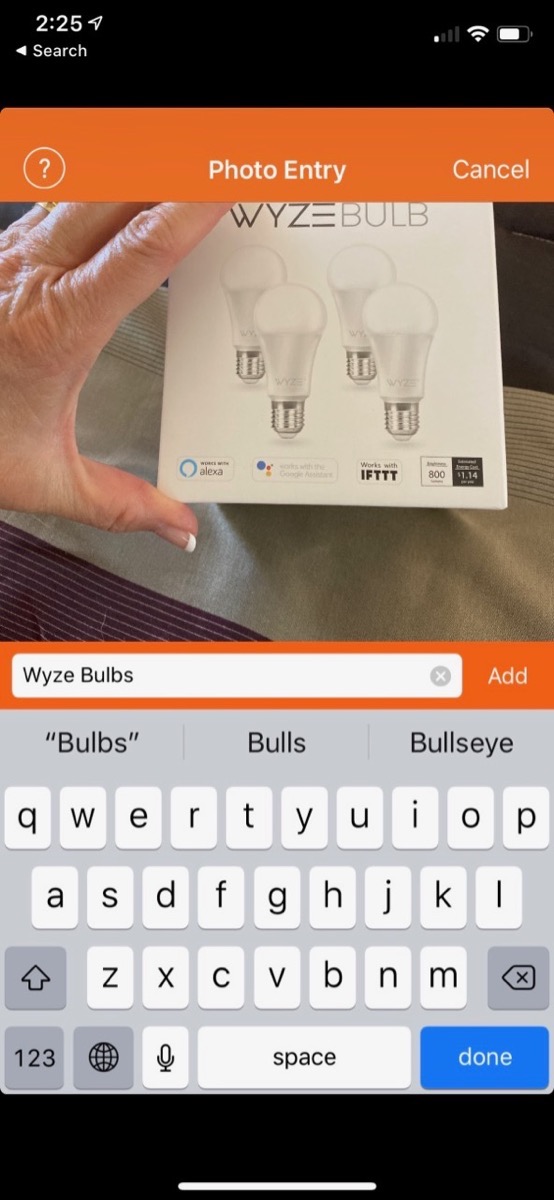 For a one-off addition to an existing inventory, like "I bought a new watch", the path I described to enter new items is pretty much what I do. But what if you're starting from scratch? That would be a tedious process.
Home Inventory includes many ways to enter photos and scan receipts. For a very long time they've had an iOS app called Remote Entry. It's kind of interesting how it works. On your Mac, you open up the Inventory menu and select Remote Entry. With your iOS device on the same network, open Remote Entry and trot around the house snapping photos of your precious items.
When you take a photo, you'll be prompted to name the item. They could ask you a plethora of questions but instead, they leave that to do when you get back to the Mac. You can start adding items by taking pictures and starting in a specific location, category, collection or tag. That will save you a step if you're into a higher level of organization.
One option in taking photos is to scan a barcode. They highly recommend against using this feature, for the same reasons my insurance company said the receipts weren't as important as pictures of us with our items. A barcode could be scanned from a store, so it's really not going to help you for insurance purposes.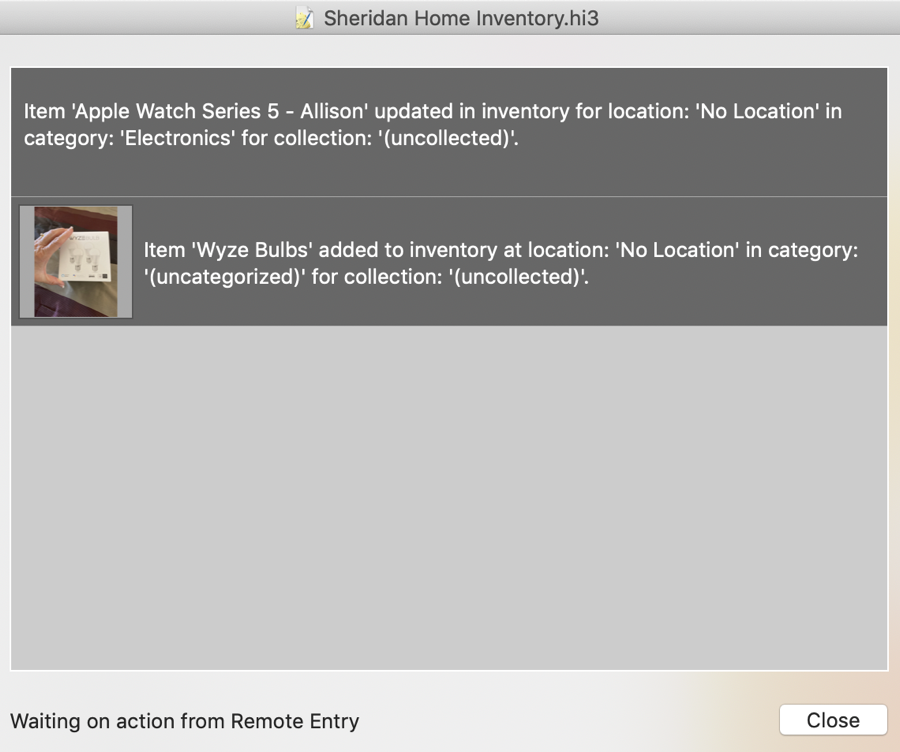 The Remote Entry app is free by the way but they have a tip jar there, with the MOST you can give them set at $2.99. I paid $40 for Home Inventory about a hundred years ago, and haven't paid them a dime since so I went full Thurston Howell III and shelled out the 3 bucks.
If you don't want to use a separate app, you can use Apple's Continuity Camera function. In theory, if macOS and iOS don't have their panties in a bunch, you can select in Home Inventory to add a new photo and one of the options will be to take a photo with your iOS device. My devices seem to come and go on my ability to use Continuity Camera.
As I was working on this review, Continuity Camera wasn't working in any app, including those by Apple like Notes. Yes I'm on Mojave on the Mac, yes, I'm on iOS 13 on the iPhone, yes they're on the same WiFi network and yes I have Bluetooth on for both devices. But if the Apple utility works for you, Home Inventory supports it which is great.
Policies
I said upfront that Home Inventory did more than just keep an inventory of your stuff. Recently (in the last five years, so recent for me) they added a section to add insurance policies. We've uploaded all four of our insurance policies (we're way over insured) and we uploaded the deed to our house for safekeeping. It's as easy as dragging a PDF to the window and naming it.
If you want more value out of Home Inventory when it comes to the reporting I'll tell you about in a minute, you can add specific Coverages. For example, you can add details about personal property coverage and structure coverage where you entered how much coverage you have and the cost of your deductible.
Steve and I, of course, have physical copies of all of these policies, but it was only because I was talking to Dorothy about this that she pointed out if it's a real emergency, we may not be able to get to the physical copies. A fire would destroy them and an earthquake might too. The physical copies are really far less useful than having them stored in a backed-up database.
Reports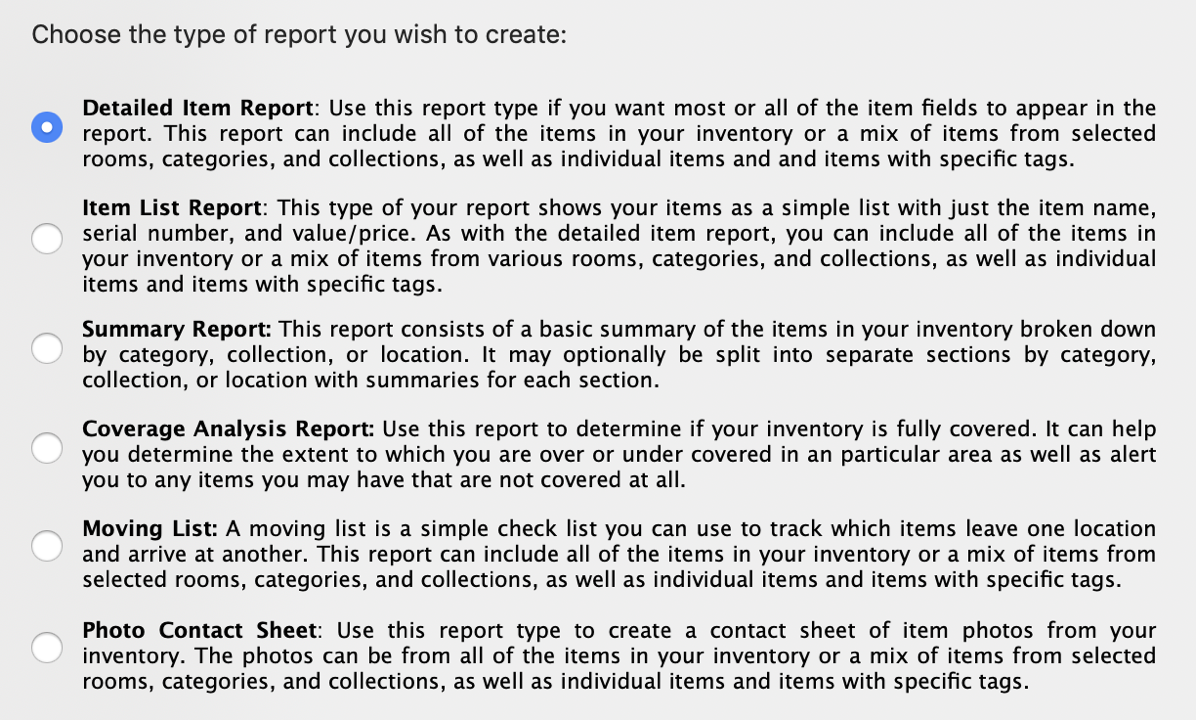 If you've been good about using categories and tags and locations on your item entry (unlike me), then you're going to love the reports section.
You can run six different types of reports:
Detailed Item Report will show you absolutely every little detail you enjoyed entering
Item List report just gives you the item name, serial number and value or price
Summary report gives you a summary broken down by category, collection or location. So it will show you that you've got 5 items in electronics in the Master bedroom with a total value of $37.46. Seriously, that's what mine says because I've been so lazy!
Coverage Analysis Report – This is the one I mentioned that you get as much out of as you put into it. If you put the line items from your policies in detail into Home Inventory, then the Coverage Analysis Report will sum it up nicely for you. But if you just dump a PDF of your policy in there, this report won't tell you anything.
Moving List – If I ever move before I'm dead, I'll definitely use this report to make sure everything valuable ends up on the other end! I think I'll need to triage stuff out of Home Inventory though. It's got everything I've ever owned in it right now!
Photo Contact Sheet – I'm not sure what this report is for, but if you want to see all the photos of all the items in a nice format together, you go, girl.
Inbox
Once I decided I was going to keep my Apple Watch Series 5 after all, I had Steve take a photo of me wearing the watch and holding the box. Then I had to dig through my email to find the receipts from Apple. I printed them to PDF, dragged the PDFs into Home Inventory, and then deleted the PDFs.
But then I discovered another new feature of Home Inventory that's probably been there for years. There's a tab at the top called simply Inbox. There's a link in the Inbox tab explaining that if you install their print plugin, under the PDF option in any standard Print dialog box, you'll see the option Send to Home Inventory.
I was worried about a plugin with all of Apple's security measures around plugins to Safari that this wouldn't work. But I downloaded the plugin anyway and, to my delight, it's simply an Automator workflow with a bash script inside you can read for yourself. How fun is that? Anyway, I ran the plugin and now I can Send to Home Inventory directly from Mail (or any other app).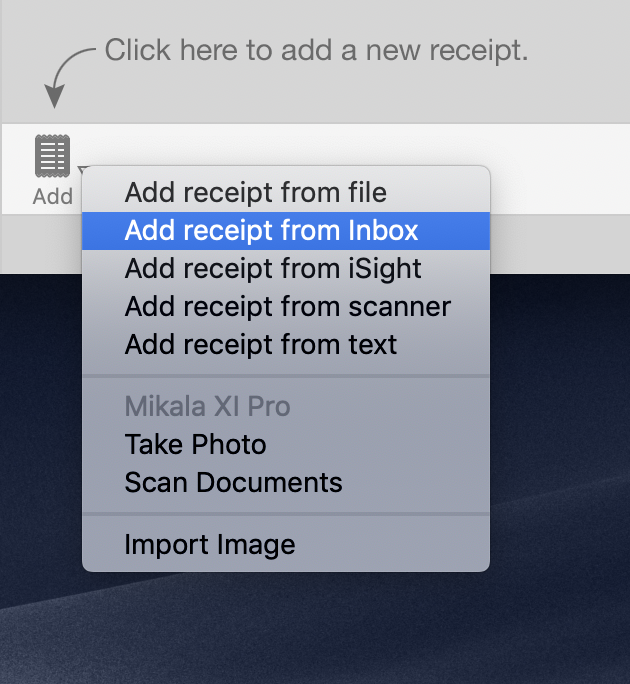 I sent an email to Home Inventory using the plugin, and now the Inbox tab has a giant glaring red 1 on it so I can't possibly forget I have an action item waiting. When selecting the email in the Inbox, I am invited to add a name, heir, make, model, etc., just as though I was adding any other new item.
In general, I like to start with a photo and then add the receipt. There's a way to do that, but it's not from within Inbox. Instead, create your item first, add photos and info about it, and then in the bottom left there's an Add button and one of the options is to add receipt from Inbox. I was super happy when I discovered that option.
Ok, here's something funny. That's where the Take Photo option is for Continuity Camera, and now it's working for me. Again, I do NOT blame Home Inventory for it disappearing as an option and reappearing, it's Apple's OSs that get confused on communication with each other. Don't even get me started on Airdrop by the way.
Password Protect Your Inventory
As you create your inventory, you may think that some of this data is pretty sensitive. Your inventory can be protected by a password and, in settings you can enable Touch ID to unlock your inventory.
Your Home
Another enhancement they've made to Home Inventory is the ability to add information about your home itself. It's not necessarily in a discoverable place in the app and yet once you know where it is, it makes perfect sense. In the upper left of the app, there's an icon of a little house, and it's actually a whole interface element, not just a home button like — well, you know — a home button!
You can add a photo of your home and add some stats about it. You can put in the address, square footage, lot size, year built, what you paid for it and when. It's not like you couldn't put that information somewhere else, but why not in Home Inventory?
How good are you at remembering to flush your water heater? I mocked Steve mercilessly with a Facebook post where I announced that coming Friday was shown on my calendar as "annual flush the water heater day", but I'm actually really happy he does things like this.
Home Inventory is a very logical place to put a reminder of exciting tasks like flushing the water heater, changing the air filters and more. On the Home tab, you can add a maintenance task, give it a date and then you can choose whether to show it on your calendar or in your reminders list and add a repeat to it so you never forget.
With the fun tools out there like Zillow, you can obsessively watch your home's value go up and down. In Home Inventory you can record this kind of obsessive tracking by adding assessments for land and structure value. It's probably actually intended for the assessed value by the state or county for your property taxes, but I like the Zillow stuff too.
The Home tab also has some nifty charts. You can see a pie chart of the value of your items by category. That really makes me want to start categorizing things! You can also see a pie chart of what's under warranty, not under warranty and what has coverage expired or expiring soon. Sadly, you can't select the soon-to-be-expiring items from this window, though. I'm curious what those two items are.
My favorite chart on this page is the value of items by Month. I have charts going back to May 2011, and for some inexplicable reason, I have a spike in spring and fall every year…
Backups of Home Inventory
If you're going to spend the time putting in all this data into Home Inventory, you'd better have a backup. They've got you covered in a couple of ways. In Settings, you can choose to back up to a local folder on your Mac's drive, or you can back up to Dropbox.
The cool thing about a Dropbox backup is you can get another free iOS app from Binary Formations called Mobile Backup and it reads the data from Dropbox and can import it automatically. That way you always have with you a backup all of the data from your Home Inventory.
Bottom Line
If you're not the kind of person who likes to organize their lives and keep track of things and have data available at their fingertips you may not have found my description of Home Inventory compelling. But I bet even if you're not naturally good at it, you've heard something that helps you realize that Home Inventory can help you become better at tracking expensive items and protecting yourself in case of a catastrophe like a fire or flood or earthquake.
Home Inventory takes an uninteresting task and makes it more enjoyable and easier to keep good records, which is a good thing. Check it out at binaryformations.com, or the Mac App Store or in SetApp.