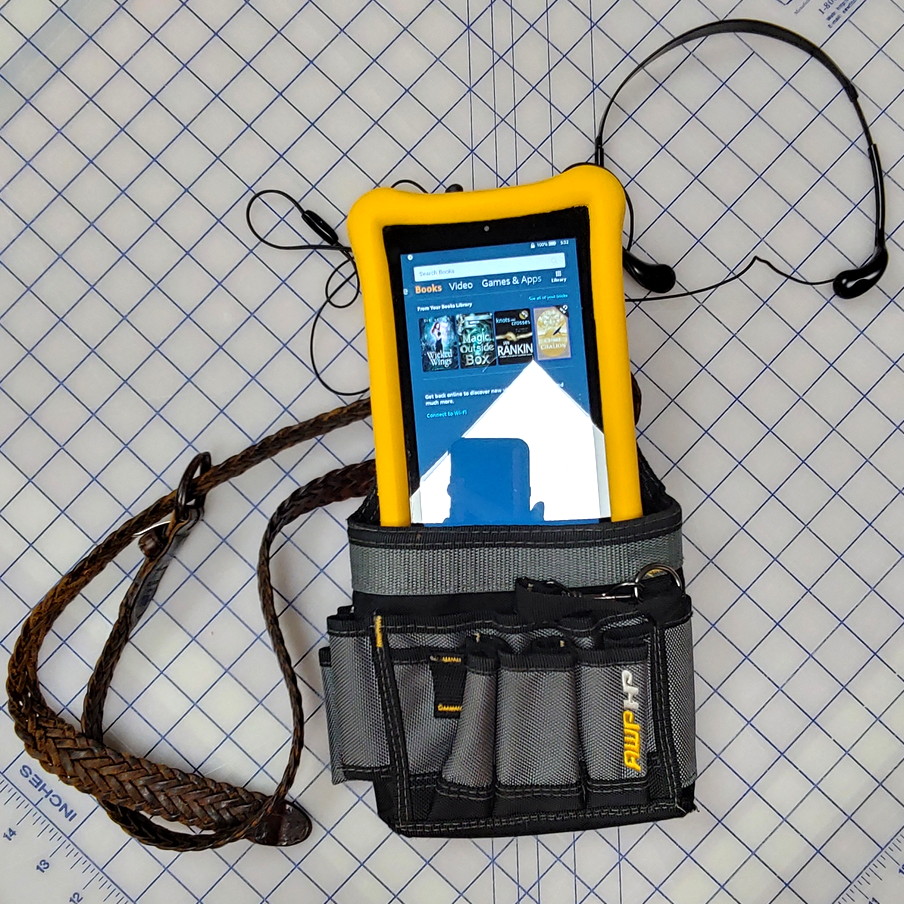 Hi, George from Tulsa here with ten reasons to use the Amazon Gift Card Santa's going to drop in your stocking to buy an Amazon Fire tablet. But however you spend that card, do remember to first log into Amazon through Allison's affiliate link and support all that great content the Sheridans and Bart create.

#1. You're addicted to listening to audiobooks, music, and podcasts and would rather wear out the battery of a cheap Fire tablet than your expensive smartphone.
#2. You're guilty about ignoring your bucket list of real literature and intrigued by the demo of Fire's easy high quality text to speech linked in the show notes.
#3. You're cheap and want to take advantage of the nearly unlimited variety of free digital content public libraries make available through services like Overdrive, Hoopla, and RBDigital –
#4. You miss the headphone jack and prefer comfortable wired headsets that don't fall out of your ears, don't have batteries to wear down, and deliver better audio quality than the best Bluetooth. Plus your old car has only an AUX jack.
#5. You subscribe to Amazon Prime and can use the Fire to access Prime Videos, Music, eBooks, and Photo Storage.
#6. You use Amazon's Mata Hari digital assistant and think she will be more useful if available on a portable, battery powered, touchscreen.
#7. You have hundreds of gigabytes of personal content, music, video, books, photos, you can carry and play anywhere since the Fire accepts MicroSD cards up to 512GB.
#8. You like the idea of privacy-protecting open source software and want to install the F-Droid store and add open source apps like Firefox to a gadget not locked down by Apple or phoning home to Google.
#9. You love Google's apps and want to hack the Play Store onto an inexpensive tablet.
#10. Forget all that, you just want to play Angry Birds.
I bought bought my 2017 16GB Fire 7 two and a half years ago. I use it most every day, often hours at a time. Battery life remains excellent. The cellphone battery I worried I was wearing listening to audiobooks and podcasts gave up the ghost long ago.
The Fire 7's not much larger than phablet phones and fits, caseless, into some of my pockets. It slipped out of one and just kept playing as it bounced down the driveway, no apparent damage. I left it behind on a road trip and the hotel paid UPS about the same to ship it back as a new one costs direct from Amazon with free Prime Delivery.
After the driveway episode, I keep it in one of those Kid-Proof cases Amazon offers, and holster it in a carpenter's pouch so I can listen while cleaning the house, working in the yard, and walking the dog.
At $50 list and often on sale for less, buyers need to have have reasonable expectations. The Fire 7's 1GB of OS RAM is marginal. That's probably why I sometimes have to reboot it when audiobook playback jams. Response to touch input can lag. Again, the Fire's probably having to move some things out of RAM to move others in.
What's been very good: WiFi range and speed. Bluetooth pairing and range. Battery life. Audio quality. General durability. Display quality of the OS interface, Kindle eBooks, and the apps I've tried.
Less than excellent: The built-in speaker is weak but at least is distortion free. The screen's fine at maximum brightness. Turning brightness down reveals pixels and a less than ideal color gamut. It's possible the tablet's screen suffers when playing Amazon video because of quality settings upstream. I played some Vimeo content in Firefox that looked better.
If you buy a Fire, you'll want more than 16GB of storage. The upgrade to internal 32GB adds $20 while $10 will add 64 GB of MicroSD. The internal upgrade should provide faster asscess than the MicroSD.
Consider the Kid-Proof line which comes with very protective bulky foam cases, two year breakage replacement, and a lot of kid-oriented content. Fires are sold with 7, 8, and 10 inch screens. The larger ones have better specs, but I suspect most of what's better is required to drive their larger and somewhat higher resolution screens. The latest 10" model does have a USB-C power port likely to be trouble free for longer than the 7 and 8's MicroUSB.
I provided some Fire tablet related links Allison's putting in the blog post about this review you'll find at Podfeet.com.