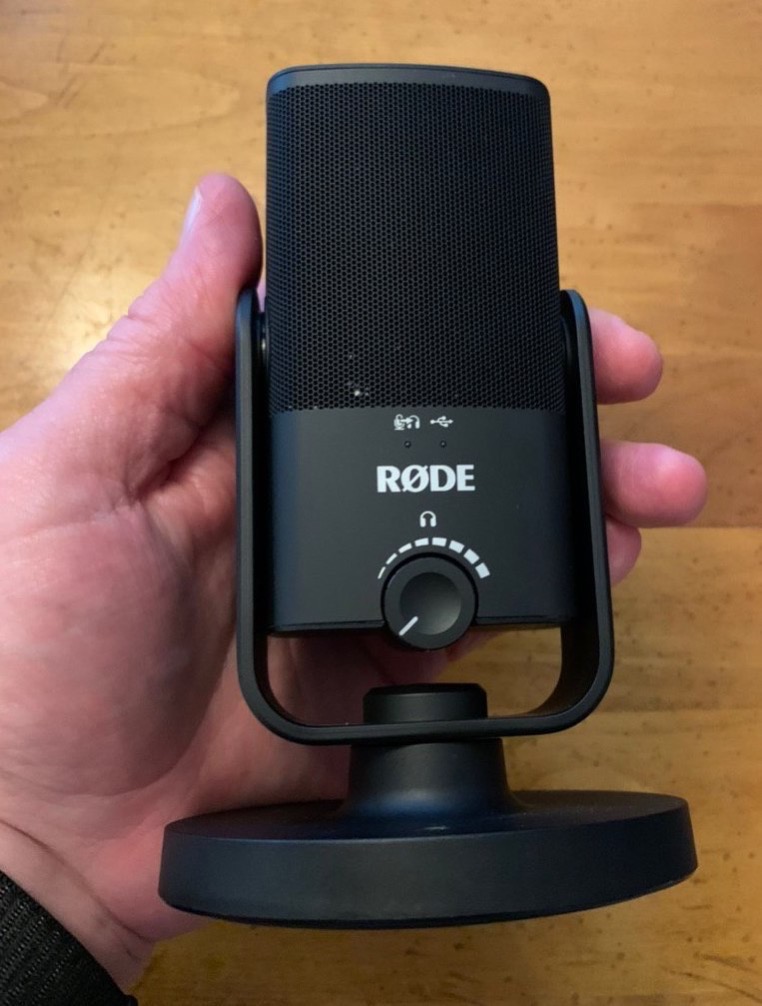 Hello there Castaways!
Professor Terry Austin here with another problem to be solved that ends in a product review.
I was at a meeting over Spring Break – HEY, I still get to have those at my age BECAUSE I'm a professor! Anyway, at this meeting, everyone there sat in front of my Mac and recorded a minute or two for a video for a project we were working on. The details of that video aren't really important, but the act of recording very much was important.
I wanted something nicer for audio than the internal microphone of my 2017 15" MacBook Pro. I had a very cute little travel microphone recommend by a friend. The thing was adorable, about the size of a book of matches, it folded and everything! It was even made by a pretty reliable microphone company.
By this point in the story, you've figured out my problem to be solved, right? The audio on that video was not great. Maybe better than I could have gotten from the internal, but nowhere near what I had hoped for.
So, I spent the first few weeks of the pandemic lockdown ordering several microphones from Amazon, knowing full well I would run tests and then end up shipping most of them back. I'm NOT going to tell you about the microphones I did not keep, but I made Allison listen to several of them in some very clever videos (now destroyed).
I know you're all in suspense and you want me to tell you about the WINNER! But not so fast….
My standards are relatively high. I work every day with my trusty Rode Podcaster that's been with me for several years. It swings in from a boom arm mounted behind me and always delivers rock-solid audio. It does great for virtual meetings, and for my lecture & lab videos for my online students. So, I wanted something as close to my Rode Podcaster as possible in this lovely little experiment.
Enter the little guy I lovingly call my RODENT. The actual name is the Rode NT USB Mini (a little less cute than rodent, wouldn't you say). There IS a big brother called a Rode NT, so don't get these confused.
I did a Google search to find out when the Rode NT USB Mini was released and the best I was able to discover was a "first appeared on Amazon" date of February 11, 2020. Having some of the newest, shiniest tech is always fun!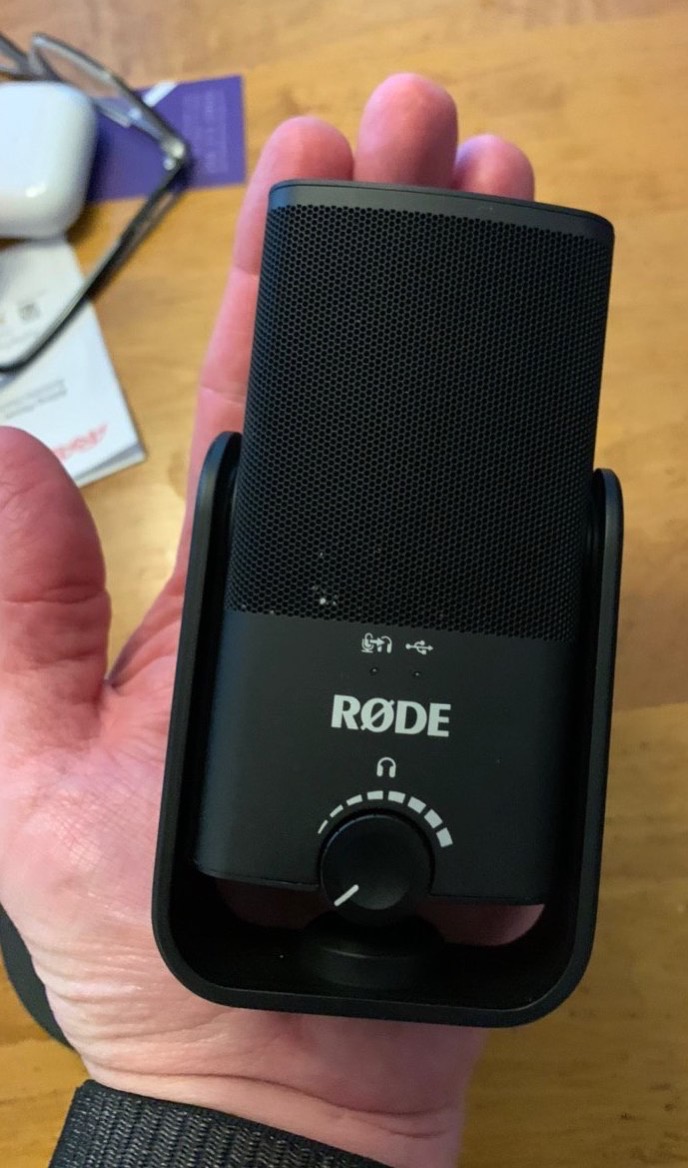 It's totally adorable at a bit over 5 1/2 inches tall by 2.14inches wide (141.9mm x 89mm). It weighs about a pound and a quarter (585 grams). To be blunt about it, the thing nestles just fine in your fist and feels like you could bash someone in the head!
It sits on a magnetically attached disk of a desktop stand which is 3.5" wide and pivots 360 degrees on an integral bracket. So, it's a piece of cake to have sitting to the side of your Mac or iPad as you record. The base pops off (or on) very easily but also feels VERY sturdy when attached. If you pop that base off you can attach the microphone to a boom arm or some other, taller stand if you like.
There's also a very clever little dot on the base indicating which direction to lower the microphone to get it to snap into place. The magnetic socket is D shaped rather than circular and this helps you find, very easily how to set the mic on the base. Should you wonder about magnetic stuff, what is and isn't… it's the base that's the magnet, not the microphone bracket itself. So, if you're packing this for a trip, or tossing in a travel bag you could easily leave the base at home if you like. The microphone sits on the bracket in a fairly stable fashion. With the base though, it's rock solid.
The rear of the mic has a USB C connector as well as a 3.5mm headphone for zero-latency monitoring.
Back around the front, you have two lights and a dial. The right light tells you the mic is connected and powered up. The right light indicates that the mic is live. The dial serves two purposes. First, it's a volume for the zero-latency monitoring through connected headphones. Second, the dial is also a push-button toggle to mute the microphone.
As for the workings of this little powerhouse. The active electronics are an electret condenser, it's got a cardioid polar pattern, 48kHZ sample rates, 24bit depth, and of course USB C connection. One thing I really love is that this mic actually has an internal pop filter, unlike it's bigger brother the Rode NT which needs an external pop filter.
Those of you who listen closely might possibly have caught me saying that this little microphone sits nicely next to a Mac OR an iPad. As a matter of fact, as I say these words this microphone is plugged in by a USB C to USB C cable on my 12" iPad Pro (last year's model) and is being powered beautifully by that iPad!
So, if you're looking for a real workhorse of a microphone that will travel very easily in a suitcase or even a backpack. Take a look at the Rode NT USB Mini: www.bhphotovideo.com/…