Recently Dorothy, aka @maclurker, posted some really amazing macro shots she took of some flowers in her backyard. She used her big-girl camera and a new macro lens she got for Christmas. She inspired me to drag out my big-girl camera, slap on the macro lens and take it for my walk. I love taking macro shots, especially of flowers and if you can get a bug on a flower, it's the best thing ever. I had a lot of fun on that one walk, and Barted my 40 photos down to two that I liked.
As much fun as that was, the problem is that I have to think ahead to bring my camera. It's a micro-four-thirds (Olympus EM-5) but it's still something to hang around my neck and I don't do it often. But I always have my phone with me so I can listen to podcasts and unlock my door when I get home and call Pat Dengler to entertain me while I walk.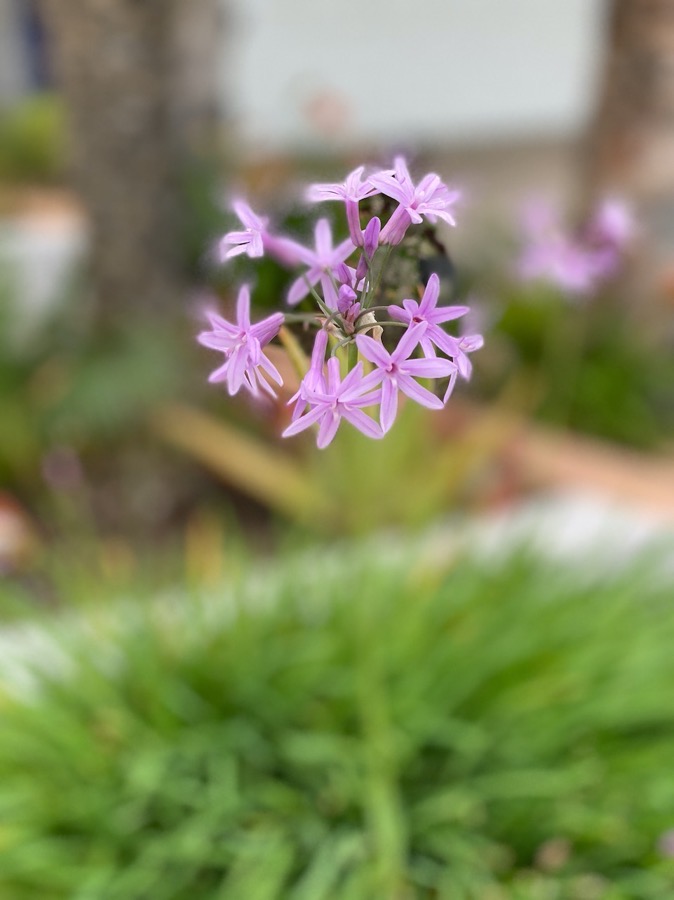 I still see these "great shots" in my head when I see unusual flowers, so I try to take them with the iPhone. I usually try to use Portrait mode and it almost always falls over in a heap. Portrait mode in more cases than not can't get the flower and its stem in focus so the stem gets erased in the fake bokeh background. Often petals get weird looking around the edges and such too. It works just often enough that I keep trying but I'm almost always disappointed.
The other day Steve and I were working on a home project where I was wondering whether adding a wide-angle lens to one of our webcams would solve a problem. It was unlikely to be the right solution so I started hunting for the cheapest-possible wide-angle lens.
In my searching I found a lens combo kit with both a macro lens and a wide-angle lens from a company called Criacr that clips onto your phone. These types of lens clips have been around forever, most notably by the company Olloclip. But these are super expensive, in the hundred dollar category. What surprised me about the Criacr lens kit was that it was $16. So this has to be absolute junk right?
Wrong! For $16 I figured it was worth a try and I'm astonished at the quality of this lens kit. I should mention that the company as listed on Amazon is Criacr but when you get the lens it says AMIR on it. The first thing I noticed about the AMIR lenses is that they're heavy, which indicates a lot of glass. That's a good thing. The macro lens only weighs 1 oz (28g) but the wide-angle weighs a whopping 3 oz (86g).
The two lenses screw together and then they in turn screw into a little clip that holds it on your phone. They come with a lens cap for the wide-angle and a back cap for the macro, protecting both lenses, and it comes with a soft carrying case and a little cleaning cloth. Remember, this is a $16 kit. I've paid $9 for just a lens cap!
The Lenses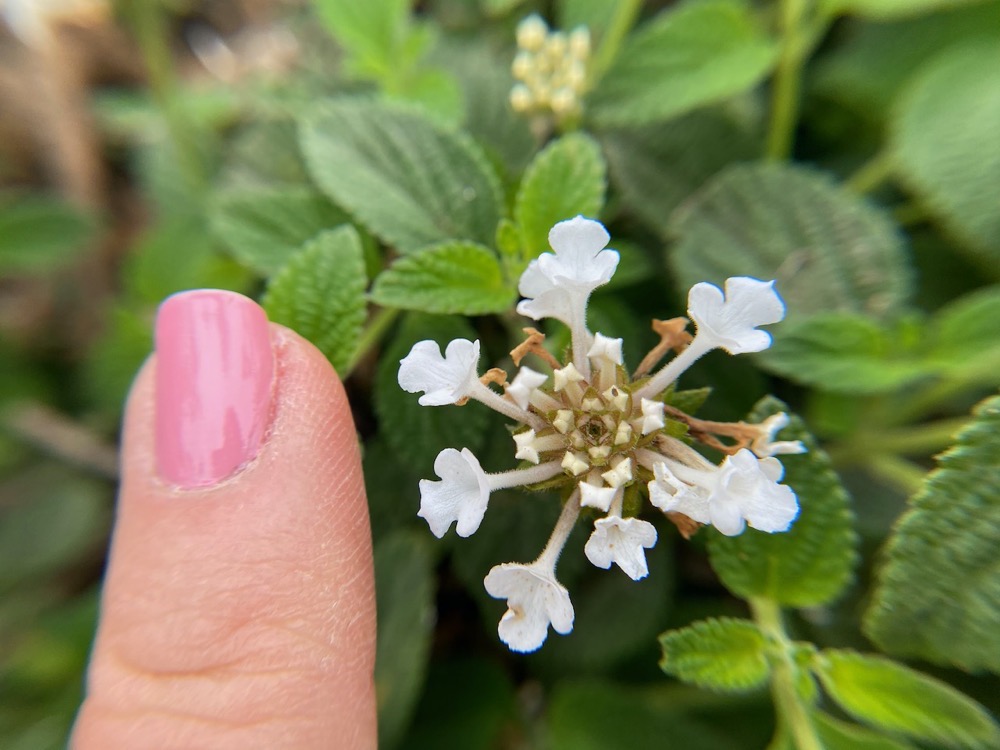 One of the complaints Dorothy and I have about our macro lenses for our big-girl cameras is that they don't focus up very close. I think we can only focus as close as a 7 inches away from our subject. The macro lens made by AMIR is a 15X and can focus as close as 1.18 inches from the subject. That is crazy close up! While this can get super close, you're restricted to being that close because the max distance is only 1.57 inches.
The wide-angle lens is interesting because it only works if it's screwed into the macro lens. If you screw it into the clip without the macro and put it on your phone, it won't be able to focus. The wide-angle is 0.6X so about equivalent to the ultra-wide lens built into the iPhones 11. So let's say you have an iPhone XS or a new iPhone SE and you were sad you didn't have the ultra-wide lens. Maybe you could take the same photos by adding this lens for only $16 – a lot cheaper than an iPhone 11!
You might be wondering if the two lenses would multiply if you put the wide-angle on the iPhone and use the ultra-wide lens – do they multiply? Well that doesn't work. The AMIR lens clip system seems to only work when in conjunction with the normal lens of the iPhone.
The clip that holds the lenses is designed to be universal so you don't have to have a particular phone to make it work. It has a rubbery clip side that goes on the screen of your phone and on the back it has a slotted hole that allows the back camera to look through the lens. When you have a lens on the clip, you simply look through the lens to see if you have it lined up properly.
Macro Shots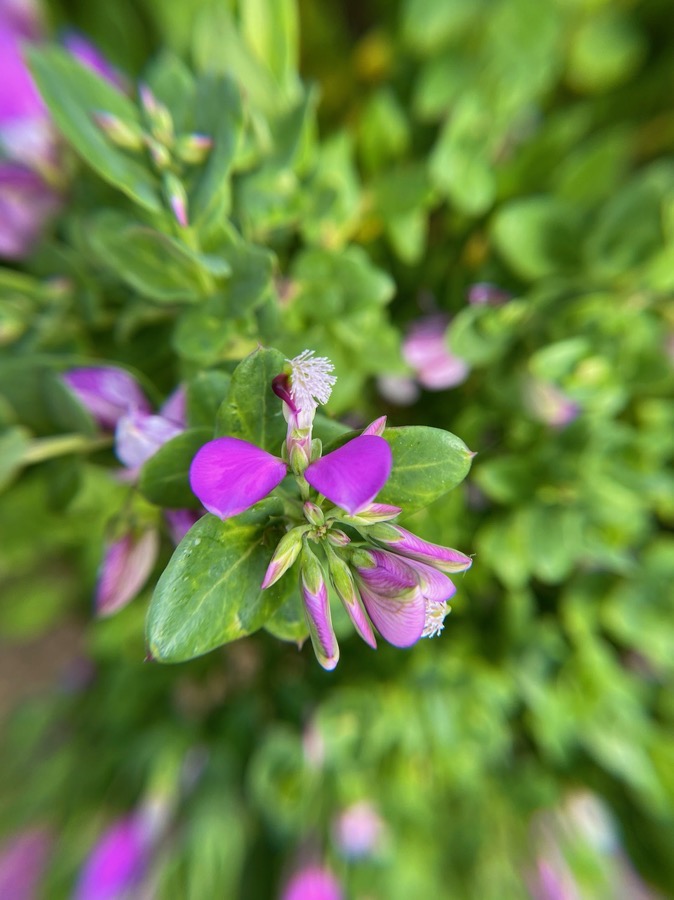 Let's talk through the two lenses and how they worked in my testing. With just the macro lens in the clip, it's very light and something I might tend to carry around with me. There is no lens cap for the macro alone though, which is a shame.
The photos I have taken with this tiny macro lens are really cool. As I said, I can focus up super close. And the images are super sharp and clear. If your subject is close and there's background that's farther away, you'll get a very artsy and stylistic photo. The background looks almost like it all swooshed away from the center point.
I took a shot of some tiny purple flowers in which the flowers are in really sharp focus and the green and purple of the rest of the shrub is out of focus and swooshy like I said.
The artsy-fartsiness of the images may not be what you're looking for but hold that thought. We'll set aside the macro idea for a moment but I promise will come back to it.
Wide-Angle
When you add the wide-angle lens from AMIR to the macro lens, you now have quite the hefty setup. The macro plus the wide-angle plus the clip weighs in at 4.4 oz. To put it in perspective, my iPhone 11 Pro weighs 6.6oz, so that's like adding nearly another 70% on top of the weight of the phone.
I took a couple of side-by-side photos with the wide-angle lens vs. the iPhone 11 Pro's ultra-wide lens. The 0.5x ultra-wide built into the phone took a far superior photo to the AMIR lens. The AMIR 0.6X had a lot of lens aberration around the outer sides of the images. I'm not surprised for the cost of the lens but it would definitely not please the pixel peepers amongst you. Maybe this is why the Olloclip is $100?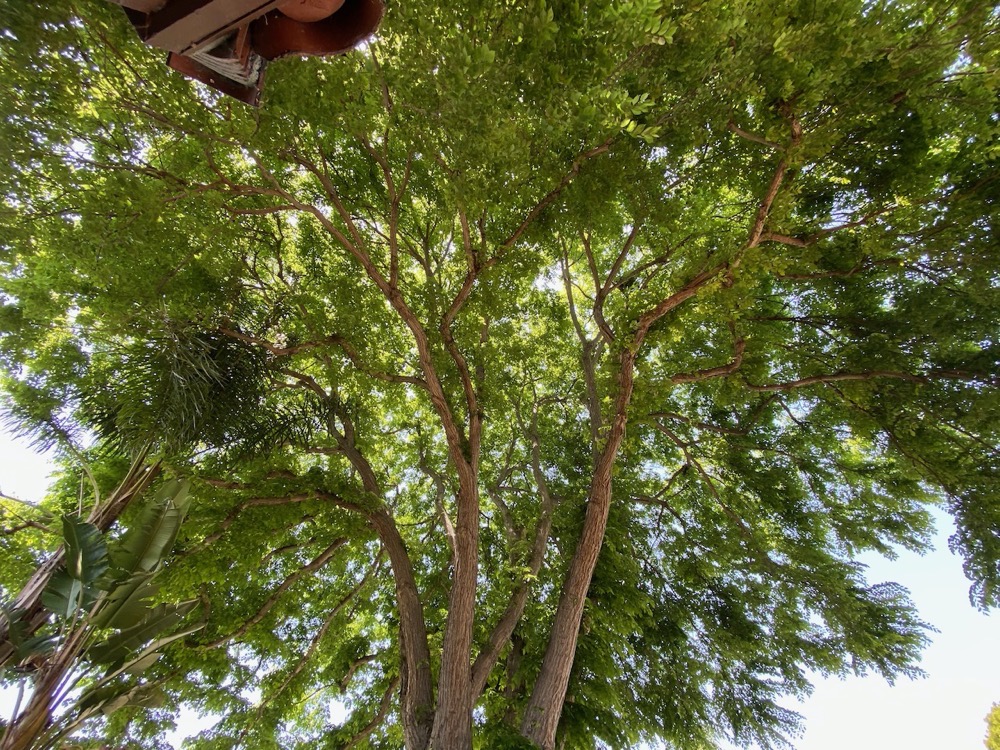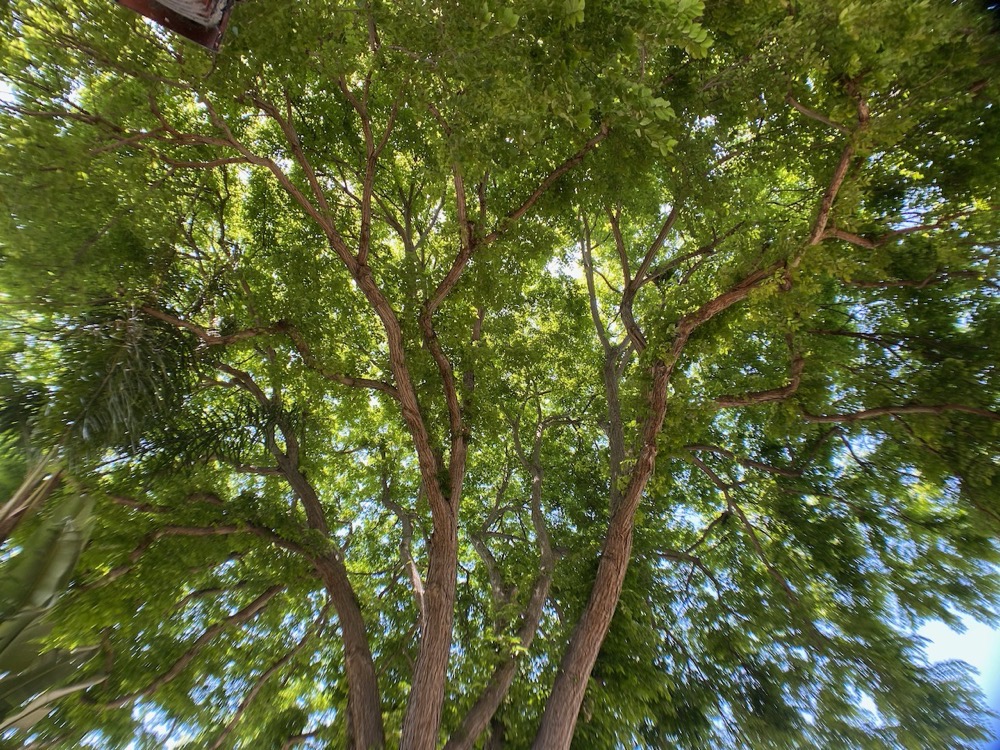 Still, if it's between buying a whole new phone vs. throw a $16 lens on an existing phone you might find it good enough.
One thing I did notice when using the wide-angle lens is that you'll want to experiment with rotating it a bit. In some cases I could see a bright area in the view but if I rotated the clip to be more at a diagonal, the bright area went away. You'll also want to watch out for vignetting around the edges if you don't have it linked up properly.
Macro Shooting With Both Lenses
Let's flip back to macro shooting. I think the sweet spot for me is to actually take macro shots with the wide-angle lens also attached. You can't shoot quite as close up, but it focuses from about 1.5 inches to as far away as you like. This means that you can get much more of the subject into the frame and yet focus on some tiny object. With the wide-angle added to the macro, I found the background bokeh much less artsy-fartsy. A little artsy-fartsy but just not as much.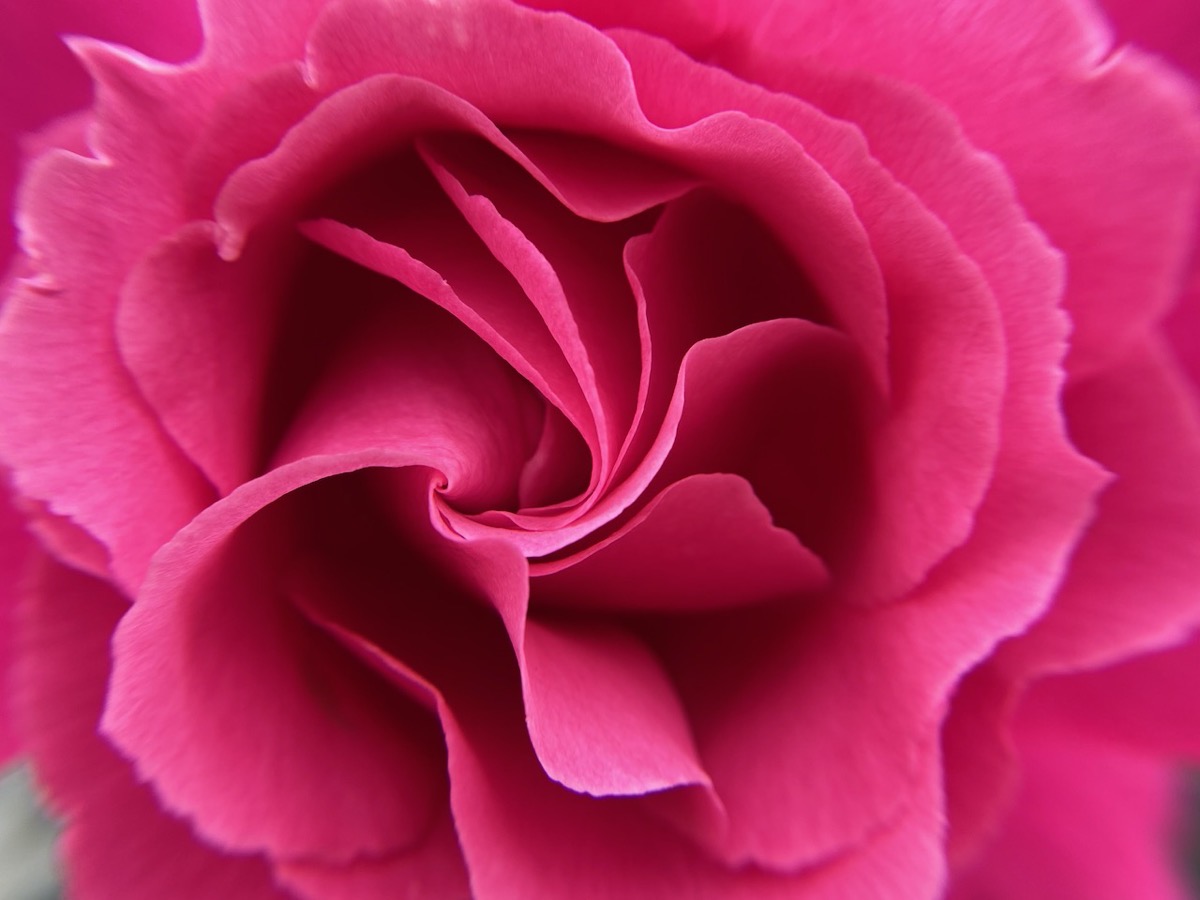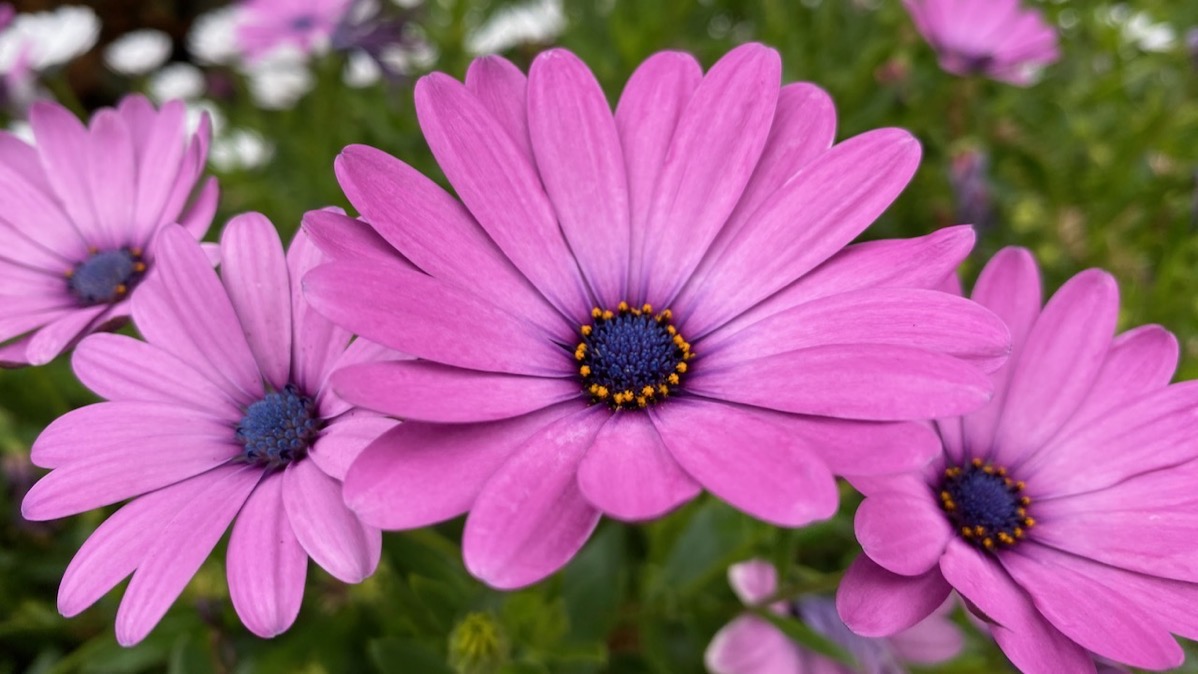 With the lens combo, I was able to get some spectacular shots that I'm really pleased with. It's a little hard for me to remember which photos were which from my walk this morning but if I'm pretty sure most of the really good ones were with both lenses. There's a great one looking right down into the curl of a deep pink rose that I'm in love with and I don't care how it was taken.
Ease of Use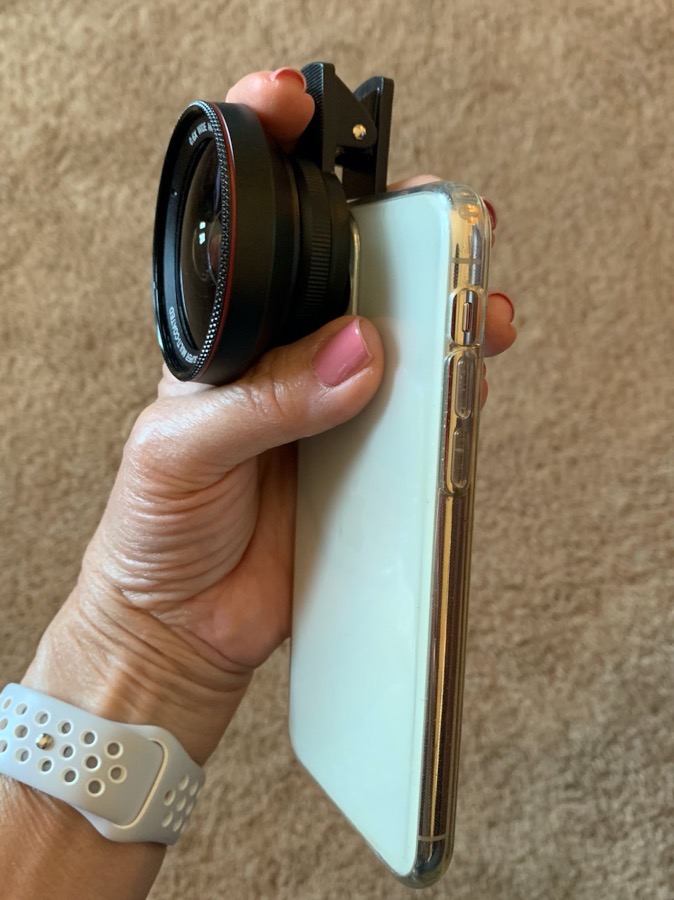 With both lenses attached, the AMIR lens system is a bit ungainly to carry around attached to the phone. It's easy enough to unclip from the phone but if you want it at the ready, it takes a little bit to get the hang of holding it comfortably and securely as you walk around. I found that wrapping my hand around the circumference of the lens with three fingers under the phone and it was quite secure and comfortable.
Switching lenses while walking along was a bit harder than I expected. The wide-angle lens takes 7 hand rotations to remove and put back on. That's great to secure such a big piece of glass but imagine me doing that while holding Tesla's leash! Luckily Steve was holding Tesla for the experimental test run, but I can just see her lunge at a squirrel and my new lens or worse yet expensive phone goes flying!
The bulk of the lenses plus my phone isn't something I can put in my pocket (in the few shorts I own that have pockets) so it's definitely not something I will carry around all the time. I might throw just the macro and clip into my pocket though for the chance of getting a nice bug on a flower from time to time.
Maybe Don't Buy This One
I think the AMIR 0.6X wide-angle and 15X macro lens kit is really fun and totally worth the $16 I paid for it on Amazon, but before you drop down your hard-earned cash, you might want to look at some of the other options they sell. I noticed after I bought this lens kit that there's a link on the page to a newer version for $23 that includes an even wider angle lens, an even more magnified macro, a fisheye lens and a couple more and it comes with a hard carrying case.
But if that's too rich for your blood, and you want a different assortment of lenses, you might want to try the $10 kit I just bought from Criacr. This one has a 12X Zoom lens (which is why I bought it), a fisheye, and what looks like the same macro/wide-angle combo I already have.
The main reason I bring my big-girl camera to events and on trips is for the big 300mm equivalent zoom lens. It's not always practical to have that lens with me so maybe this little 12X zoom clipped to my phone will fill the need in an emergency. I'm sure the quality won't be crazy good but maybe good enough. Especially for 10 whole dollars!
I forgot to mention, the $10 kit comes with a tripod and phone mount and not one but two clips for the phone! The clips look longer too which I think would be better for other brands of phones. The iPhone's primary lens is in the top corner so the clip that came with my $16 kit works fine but many Android phones have the cameras farther down and I'm not sure it would reach.
Bottom line
The bottom line is that I have had way more than $16 worth of fun out of the AMIR (or is it Criacr?) macro and wide-angle lens kit and I've only had it for one day. I can't wait to get my telephoto lens next!
You can check out my "best of" album from my walk with the AMIR lens here: https://www.icloud.com/sharedalbum/#B0KGWUKfSGWmUni.