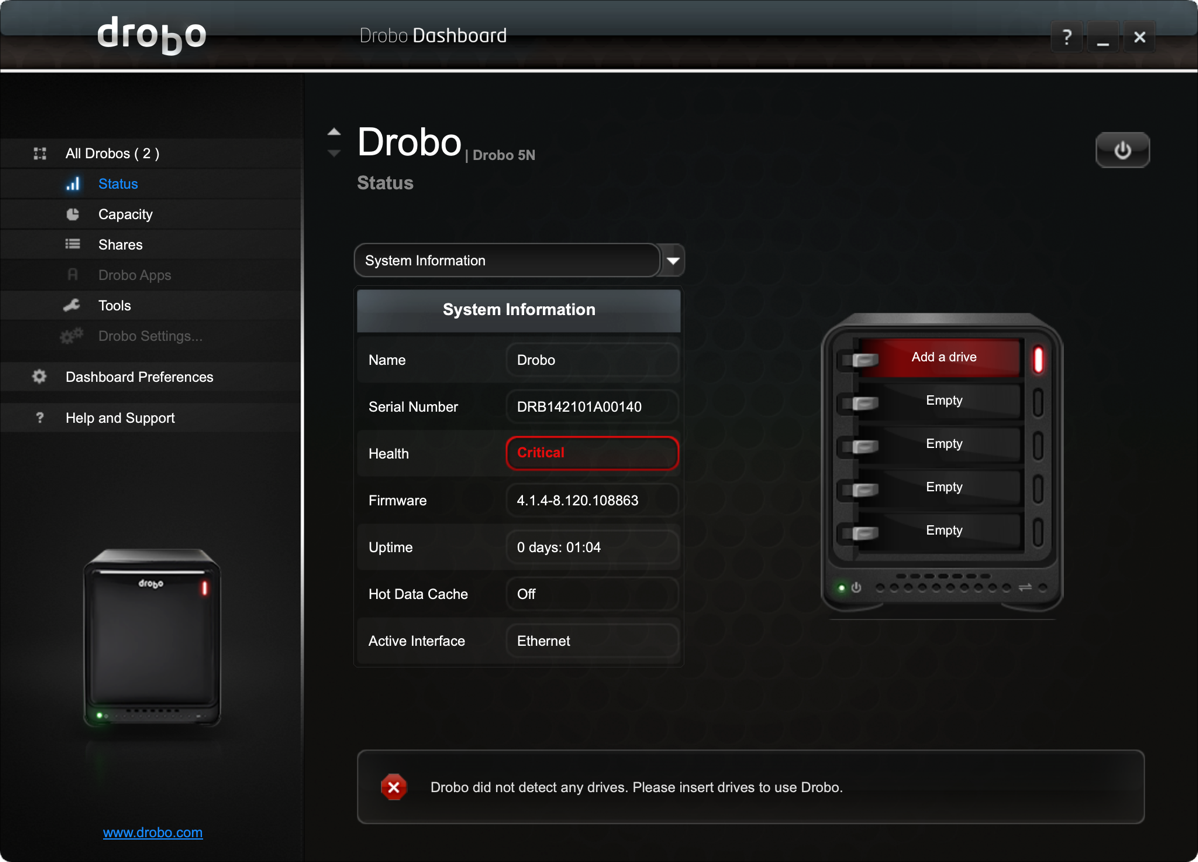 Have you noticed in the last few years, new gadgets and even software don't seem all that different? I went from an iPhone X to an XS and couldn't tell the difference after about a day. I went from the Apple Watch Series 4 to Series 5 and only noticed my battery getting worse. If you have the intelligence and patience to wait longer between upgrades you'll love the speed difference, but are these things fundamentally different? A Series 3 Apple Watch and a Series 5 have the same apps and 90% overlapping functionality, so in some cases you have to know to look for the differences.
Steve and I generate a lot of data. In a typical week where Bart and I record Security Bits and Chit Chat Across the Pond, the NosillaCast files add up to 3GB, and Chit Chat Across the Pond is 4GB. You can imagine that this data would fill up my internal drive on my laptop pretty darn quickly. Steve doesn't create new files every week, but for the months after CES, he creates hundreds of GB of data with the videos he generates.
Many years ago we bought a Drobo FS so we could offload this giant amount of data off of our internal drives. Eventually, we replaced the FS with the Drobo 5N, spending a lot of money to do so, and when I got it all set up, it was essentially the same as the FS except it was way faster. Oh sure, the 5N had official app support while the FS required some jiggery-pokery on the command line, but the apps for the 5N aren't much to get excited about. The FS lived on as a backup to the 5N in our data storage life.
When Drobo offered me a 5N2 to test (and let me keep it which I disclosed loudly in my review), I still had to pay a fortune to fill it with 4TB drives. I forget what they cost back then but today a good 4TB Western Digital Black drive is $170, so 5 of them cost $850. Remember, that's not the cost of the network attached storage (NAS) device, that's JUST the drives to put in the Drobo. I should mention that these were the least expensive, available right now 4TB drives not made by Seagate that I could find.
The Drobo 5N2 is a lovely piece of kit but guess what? The interface is identical to the 5N. I still have to use the Drobo Dashboard software to interact with the device. While that interface has gotten faster over the years, it's still clunky and uninteresting. The apps you can load are few and not terribly useful. I was unable to even find an application that would allow me to back up from the 5N2 to the 5N. These are computers, not just a bunch of disks, so why can't I have some fun with it?
My main interaction with the Drobos though isn't via the Drobo Dashboard. Most of the time I connect to them via the Finder using the handy Go, Connect to Server menu and connecting over SMB. So they look like just a bunch of disk to me. It was about as exciting as going from the iPhone X to the iPhone XS and about the same cost even though I didn't even buy the device itself.
Last week, the Drobo 5N died. One day it simply said that all of my disks were gone. There isn't much you can do about it when a Drobo dies like this. If that Drobo had been my only copy of the data, the only way I could have gotten it back would be to get another Drobo. Luckily it wasn't my only copy, it was my backup of the 5N.
I have to admit that I've been really hoping it would kick the bucket because I really wanted to get a Synology NAS and get away from Drobo. While it does its job ok to store data and give it back to me via the Finder, that's pretty much all it can do. We interviewed the Synology folks a few years ago at CES and I've been listening to Dave Hamilton on the Mac Geek Gab sing their virtues for years now and I have really felt like I was missing out on all the fun.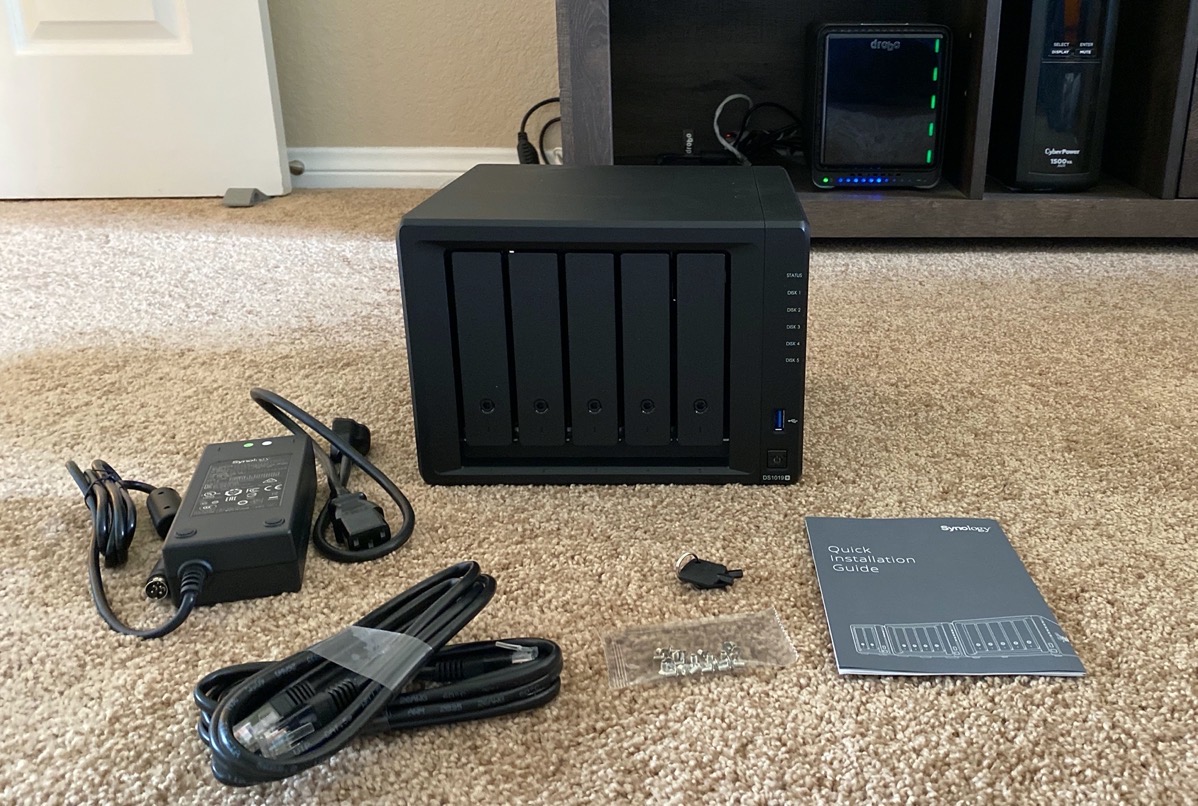 As soon as the Drobo died, I tasked Steven Goetz with choosing a Synology model for me. He's followed along with my Drobo adventures and was the recipient of my then-functioning (and now dead) Drobo FS. Plus he really likes to spend other people's money. I wanted him to research it for me because while Synology has a nice little selection tool, there are soooo many models to choose from I was hoping he'd just narrow it down to a few options for me. I also figured I'd keep him out of my hair for a few days.
About 15 minutes later he sent me his answer, choosing the DS1019+. Of course I challenged him with a bunch of questions but he had all the answers. Synology has a good naming convention. Their NAS devices are called Disk Stations, hence the DS at the front of the model number. The second two digits tell you how many drives you can put in the model. The DS1019+ can't hold 10 drives, but you can add an expansion unit to it to double the storage from the 5 internal disks. With 5 to start with I can replicate the amount of data I could store on the Drobo 5N2.
The last two digits are the model year, so the 19 means it came out in 2019. Finally, the "+" at the end of the model apparently means "spend more of Allison's money." But seriously, he didn't choose from the Value Series, which is below the + Series because the most number of drives you can use is 4. To be honest, I could have lived with that since I'm only using about 60% of the capacity of my Drobo 5N, but hey, go big or go home, right?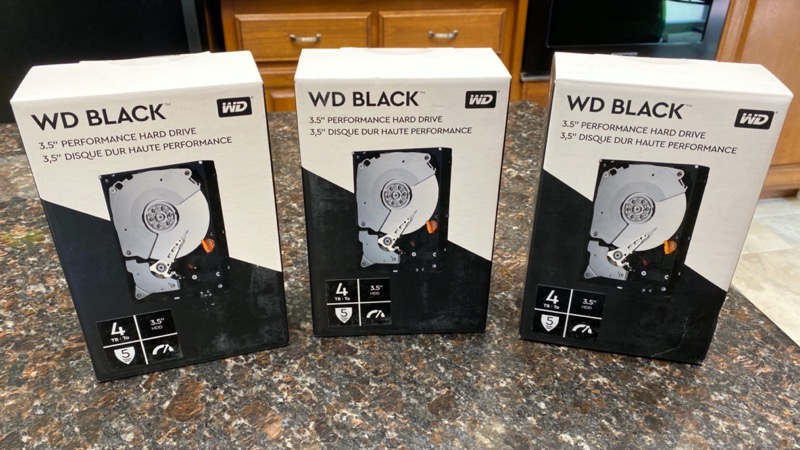 I ordered the Synology DS1019+ for $649 and 3 4TB Western Digital drives for another $500 from B&H Photo. I'd harvested 2 from the dead Drobo so I only needed 3 of them. Funny how my go-to switched from Amazon when they dumped me as an affiliate, isn't it? I'm not bitter, I swear it. But actually, I'm interested in getting the accelerator card for the Synology, and B&H had it for a much lower price than Amazon. I held off on buying it though because Steven explained that the Synology will tell me whether I need it or not. I had just blindly bought them for my two Drobos.
My new Synology arrived this week and Steven and I have been playing around with it for the last few days. As I hoped, the Synology is like nothing I've ever played with before. From a hardware perspective, it's not that much different. You open doors on the front and slide in drives (but stacked side by side instead of one above the other like the Drobo). that's not terribly exciting.
But the software and functionality are completely different. This is going to be as different as going from a Blackberry to an iPhone.
Synology's software is called Disk Station Manager (DSM) which is a web interface that looks like a nice Linux desktop environment. There's a good reason for that. DSM is a Linux desktop environment.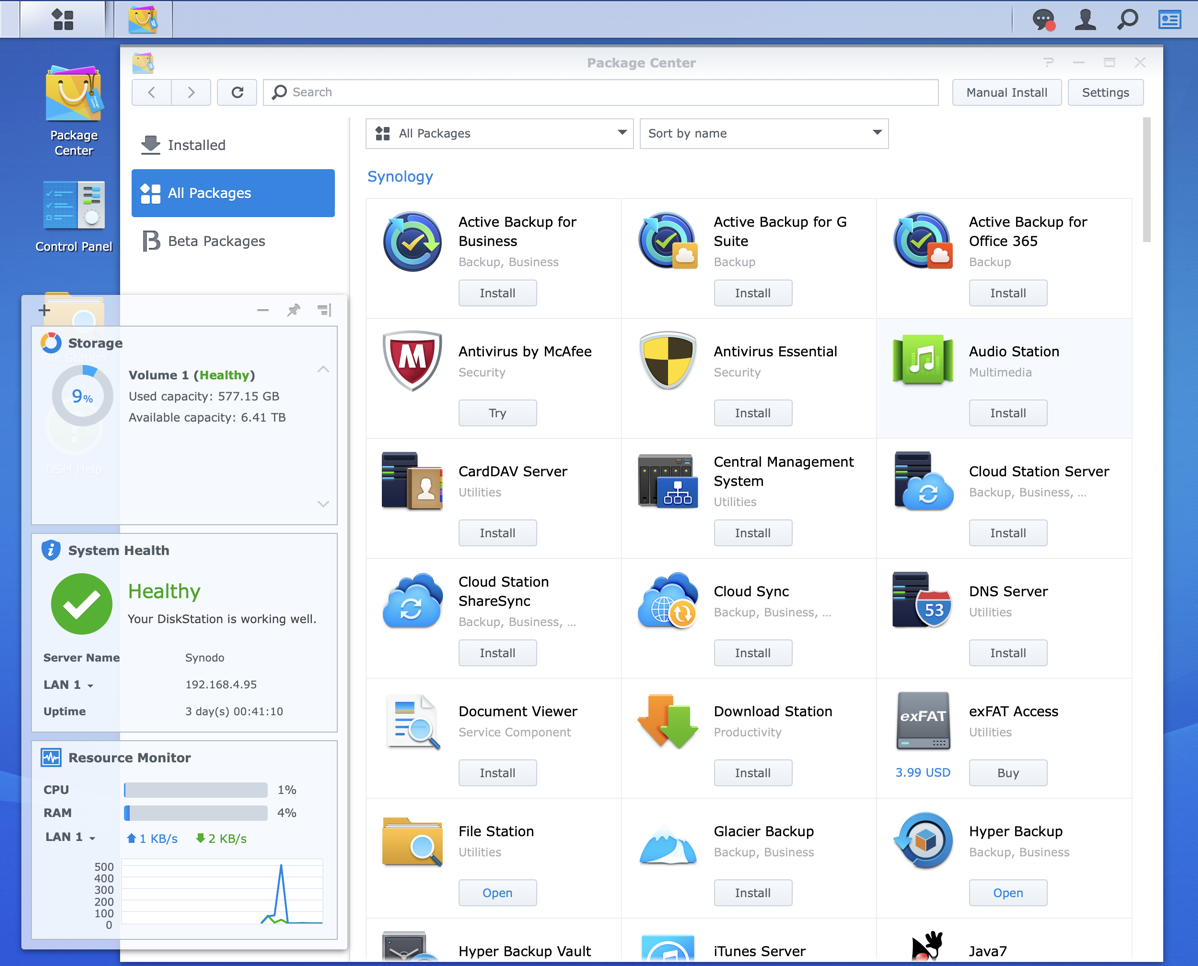 I usually like to do reviews when I can tell you all about something but this one is going to be the gift that keeps on giving. So far, with Steven's help, I've figured out how to make shared folders and copied some of the more critical data from the Drobo 5N to the Synology. For now, I did it the old-fashioned way by mounting both devices and copying using the Finder.
I'm going to have to really shift my brain as I learn about the Synology because it is not just a bunch of disks or JBOD. While those exist, the Synologys are computers with applications and lots of fun tools. I already know that it can serve video and audio and photo files to your network and beyond, you can create your own home cloud service (which is not really a cloud since it's inside your network but provides syncing across devices), you can install an Open Office clone if you want to move away from using Microsoft 365.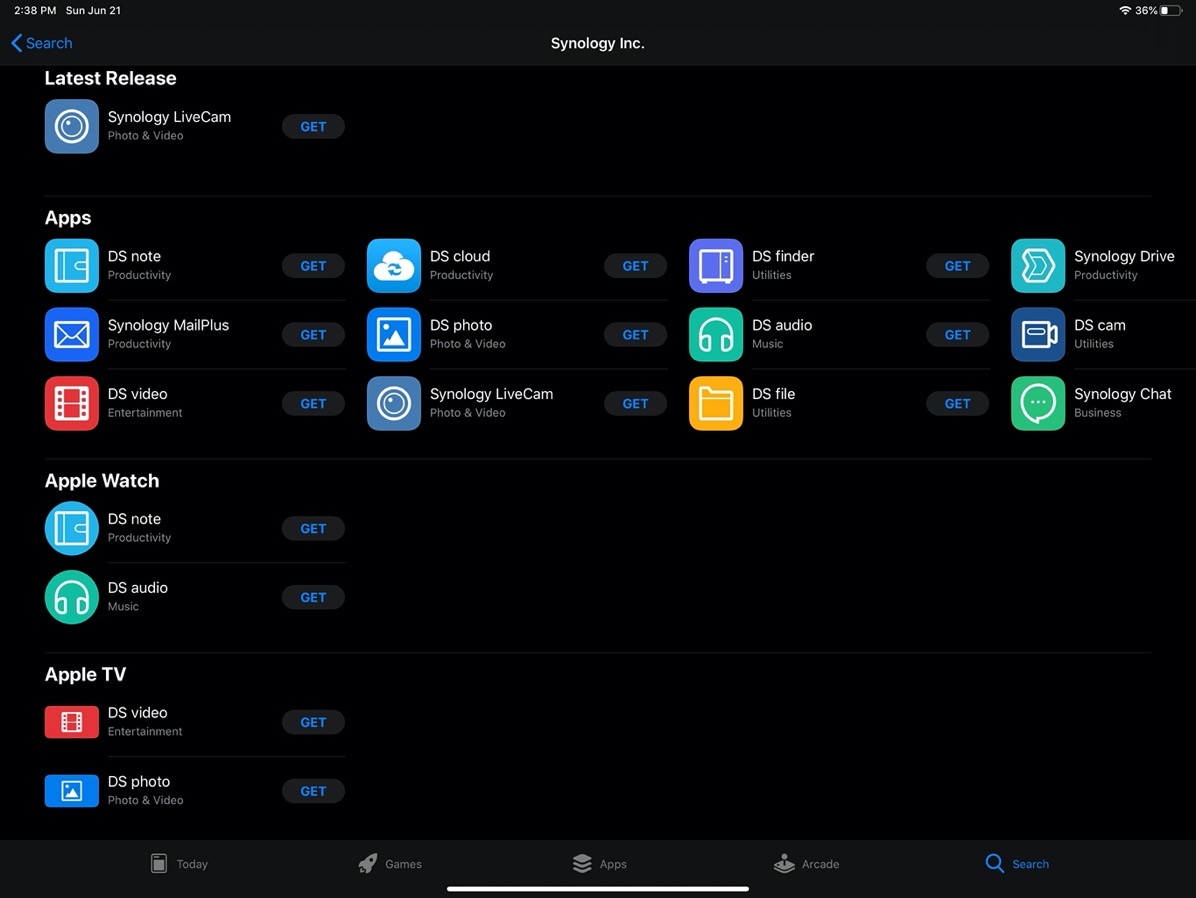 There are even apps for mobile devices that look really fun. I haven't dug into this at all but I found iOS apps, Apple Watch apps and even Apple TV apps. I presume there are equivalent apps for Android as well. That should be hours and hours of entertainment.
But before we could dig into the fun of these apps, Steven and I had an important goal: to get syncing going from the Drobo 5N2 to the Synology Disk Station, and hopefully before I go on vacation on Monday. But I'm sad to say that we failed at our task.
The Drobo 5N2 and Synology do not have a superset of applications that will allow me to sync directly. The Drobo doesn't support rsync which is a pretty low-level standard so that's a shame. The Synology has a backup application called Hyper Backup but we never cracked the code on how to consistently get the Drobo to mount to the Synology and be recognized by Hyper Backup. Maybe someone listening can give us some advice but we're out of ideas on how to do it.
I was trying to avoid using the current solution, which was to run Chronosync on a Mac mini to keep the two Drobos in sync. It works but it's very fragile. Sometimes it's that Chronosync doesn't like a file, sometimes the Drobos don't mount via my script before the sync, sometimes the Mac has rebooted after an update and is waiting for a login password. It's probably at least once a month that I have to go fiddle with the darn thing.
We might see if I can use Carbon Copy Cloner to back up from one to the other but I won't be able to test that until I get back from vacation. The good news is that Steven won't have to follow along with my screenshots comparing to what he can find on the web, he bought his own Synology DS218+ for only $359CAD ($260) on sale on Amazon. He figures they're coming out with a newer 2-bay model soon but he is happy he got a great deal. As I'm checking it, the DS218+ is $300 on both B&H and Amazon. It will be fun to learn with him on this.
So stay tuned for more Synology fun as I finally get to play with something truly new to me.