The Problem to be Solved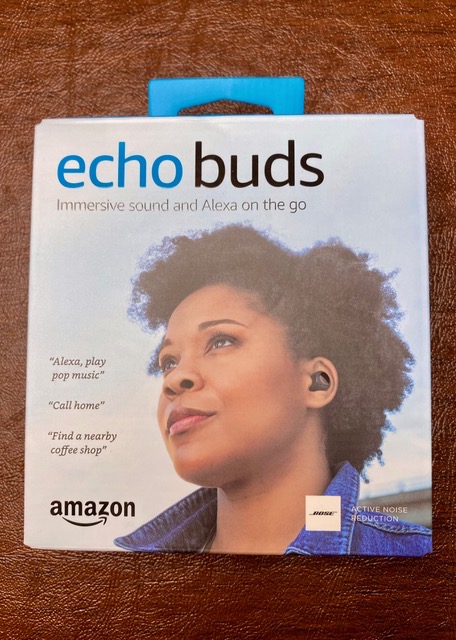 I enjoy being one of those early adopters. It has provided me with boxes full of tech that I have tried and then never use again. It's a bad habit, but one of a few that I still indulge in so cut me some slack.
I did a lot of air travel before COVID, and my collection of old tech fits my history of improved sound and comfort. I have terrible tinnitus from genetics, too many rock concerts, and years of radio work, so I generally look for something that removes jet engine noise. I have a variety of headphones, including a pair of Beats headphones I got from my son's back-to-school deal and a set of Bose wireless Noise Cancellation headphones, which were my go-to for long flights. I've owned Altec, Jaybird, and Apple AirPod earbuds. One time, I found myself at the airport having forgotten my AirPods and using a vending machine to purchase some Powerbeat Pros. I couldn't face a 5-hour flight without a sound source.
I settled on Bose Wireless over-the-ear Noise Cancellation headphones for the best on-plane experience and best noise cancellation for the longest time. My 'downside' is that you can't slip them into your pocket, and the carrying case requires lots of fumbling and a place to stuff it when it comes time to deplane. When Apple came out with AirPods Pro and noise cancellation, I was anxious to see if they could suit me watching films on a plane and without the sound being drowned out by engine noise. The result, Bose was the best at noise cancellation, but the Apple AirPod Pros were sufficient to silence enough of the engine noise that I could substitute the AirPod Pros for the Bose and keep it all in my pocket when I travel.
Amazon Echo Buds
So naturally, I wanted to see (and hear) Amazon's entry into the wireless earbud market, so I purchased a pair of Amazon's Echo Buds (with Bose active noise reduction). The price point of $129 was about half the cost of Apple AirPod Pros and the same as medium-quality wireless earbuds.
Charging Case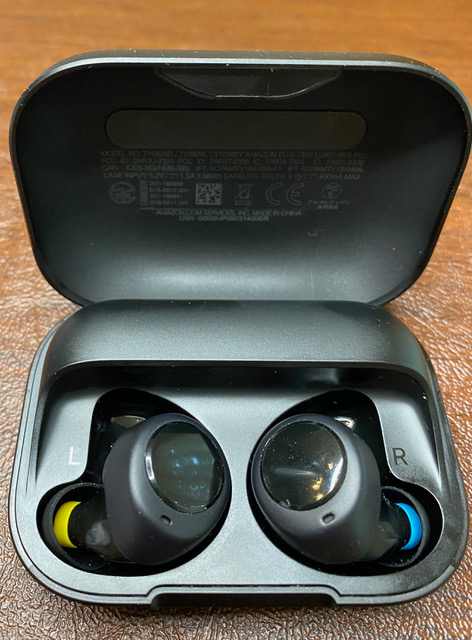 The first thing you notice upon unboxing is the charging case. Echo Buds charging case is roughly twice the size of the original AirPod case but still pocket-manageable. The case is charged using a standard micro USB with a small charging light that seconds as a Bluetooth light.
Charging gives you 5 hours of playback, and 15 minutes of quick charging will provide you with an additional 2 hours of playback. You can return the earbuds to the case for four more full charges, giving you up to 20 hours of playback.
The clamshell case opens to reveal the earbuds that are magnetically held in their ports. They are shaped with an in-ear post that is part of a larger earbud housing that fills the ear from the tragus (that little pointy part on the outside of the ear canal) to the antitragus (the back part of the hollow in your ear).
Each earbud has two microphones on its surface, and one in the ear post to assist in clarity of requests and reduce noise. The earbud fills the open area of your external ear and fits snuggly resting in your ear. They sit flush in the ear, so no white alien antenna projections like AirPods.
Setup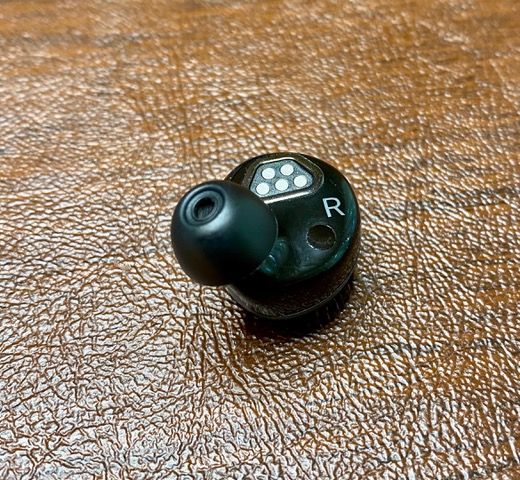 Setting up the Echo Buds is easy by connecting the charging case and earbuds with the Amazon Echo app on your smartphone. Part of setting up the Echo Buds is fitting each bud with the best-sized ear tip to provide the best fit and best sound clarity. Working through the setup, you test one ear and then the other.
There are three tip sizes provided, and that is convenient because apparently my left ear canal is bigger than my right ear canal. Because the Echo Buds fill the whole open ear, there is a bit of getting used to if you have been using smaller earbuds, but in their favor, the size makes their fit secure. The Echo Buds are shipped with three pairs of 'wingtips' or collars that you can add to the housing for a snugger fit. I found that I could get along without the additional 'wingtips' to hold them in my ears.
Alexa App Control
The Amazon Alexa app allows you to do a variety of settings, including turning on or off the Bose Active Noise Reduction, establishing the amount of passthrough of outside noises (even making them amplified above typical levels), or turning off passthrough all together. In settings, you can also set the equalizer levels should you want more bass, midrange, or treble. You can redo your ear sizing test and set the level of the sidetone so you can hear your voice while on a call.
The most valued settings are the tap controls. Each bud has its own two tap controls, a 'double-tap' or a 'press and hold,' allowing four set options. Tap control options include toggling between Bose Active Noise Reduction and Passthrough or Passthrough Pause (to stop the music and hear the outside world), activating Siri voice assistant (for those using iPhones) or using Alexa, Play or Pause your media, jumping to the next track, or returning to the previous track. I really do like the variety of touch actions that are available on this device. As a default, removing either of the Echo Buds out of your ears will pause any media until you replace them.
I am an iPhone owner, and using the Echo Buds with the Siri assistant option is, well, as good as you can expect to get from Siri. I have always had problems with HomeKit and setting up automation, then compounded by Siri's flightiness, and the system never worked for me. Where the Echo Buds shine is using them with Alexa commands. I did manage to set up a few lightbulbs around my house that are activated with Alexa, and the Echo Buds run that flawlessly through voice command.
I found having Alexa in your ears is useful for adding things to my schedule, calling up podcasts to listen to, asking about facts when questions pop into my mind and adding items to my grocery list. Whatever popped into my head, I gave it a try through the Echo Buds. Where I really started to use the Echo Buds was for initiating phone calls. Sound quality for phone calls, combined with noise reduction, is better than most earbuds.
I use the Echo Buds in the evening to listen to streaming media. My wife likes to go to bed early, so I use earbuds to eliminate the noise coming from my office and drifting into the bedroom.
Switching Bluetooth
Here's where I run into problems with Echo Buds. Bluetooth switching is a challenge should I go from the Bluetooth connection with my desktop and want to switch it to my phone.
Apple has made some advances in macOS Big Sur and iOS 14 that allow for seamless switching of AirPods from device to device. Once I leave my computer with the Echo Buds, I have to wake up my phone and connect the Bluetooth to the Echo Buds. Although it is an inconvenience, the switch from device to device is pretty quick, although not automatic.
Sound
Regarding the sound quality, in all honesty, I may not be the best judge, considering the damage already done to my hearing. I ran the Echo Buds through my series of sound checks: Prince, The Rolling Stones, King Crimson, Nine Inch Nails, Queen, Talking Heads, you get the idea, and I was sufficiently happy with the dynamics of what I heard. I know some audiophiles have a much more sensitive ear than I, but for most of us, they will sound great. Balance the good sound quality with Alexa integration and the reasonable price point, and you have a good package.
So will the noise reduction on Echo Buds be sufficient to overcome the plane engine noise? I will have to wait and try it on my next flight. From what I can tell from testing it on the ground, excessively loud noises still make their way through even though I have active noise reduction. I don't think Echo Buds will reduce jet noise as well as my Bose Noise Cancellation headphones, or as well as my AirPods Pros.
Bottom Line
For me, at this point, these won't go in my basement tech box mausoleum yet. The Echo Buds will be my good second pair of earbuds and may take first place, as I learn to integrate them more with Alexa.