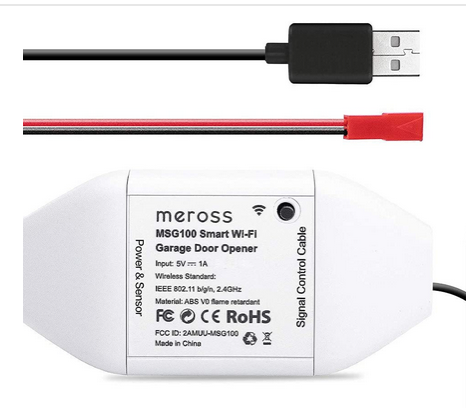 Hi! This is Jill from the Northwoods. About two years ago I went to work with my garage door wide open. I came home and was panicked. Crime isn't too bad near my house but there are a ton of crimes of opportunities here. I have a decent bike that I would hate to lose and some power tools.
I reviewed my cameras in there and found no one went in the garage. What a relief! After that I would constantly think "did I leave my garage door open?" I did some minor things like get a rocker sensor from SmartThings that would tell me if the door was open or closed and that relieved some of my panic.
But it didn't really help that much because it wouldn't notify me if the door opened or closed or if I left my door open, I wouldn't really do anything about it other than to drive home. I wanted a notification as soon as my garage door is opened, and wouldn't it be nice if it told me it was open for a really long time?
I might forget when doing yardwork and forget to close it. I checked into a few garage openers and some were complete garage door systems where you had to replace what you had and some of the reviews weren't great. Some of them cost a lot and there were some significant security concerns. This is a big deal because it grants access to my car and bike and my house. I really wanted something that was more safe.

I came across Meross MSG100 Smart Garage Door Opener Remote. It was exceptionally low cost for a smart device. It works with most garage door openers, so no major hard changes were required.
It supports Homekit, Amazon, Google, SmartThings and If This Then That. The formulas in IFTTT allow you to tell your voice systems to open or close or you can set timers which are also functions in the Meross app itself. You can check and control your garage door anytime. Get notifications when your garage door opens, close or is open for a long time or open overnight.
The installation was easy apart from my fear of being on ladders. I think it took me under 30 minutes. There is a magnet sensor so it can determine if the door is open. It plugs into a regular electric outlet. Then you connect it to their app which then connects it to your Wi-Fi. That's it. and it's done.
I have to say even in the pandemic time it has been handy because I can leave things for people to pick up and open the door when they get there. I can also ask delivery people to put things inside the garage. It's silly how the little things make you feel safer. You can find Meross online and at Home Depot. It costs around $50. Find out more about this item and other smart things at www.meross.com.